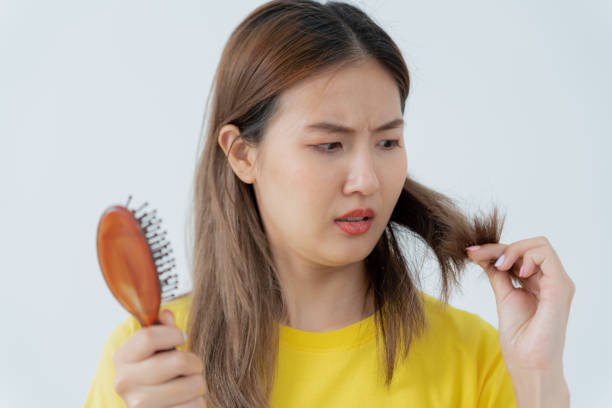 Biotin Deficiency: Causes, Symptoms, and Treatment
What is Biotin Deficiency?
Biotin Deficiency is a condition resulting from inadequate levels of biotin, a water-soluble B-vitamin essential for various bodily functions. It can occur due to factors like a diet low in biotin-rich foods, prolonged consumption of raw egg whites, certain gastrointestinal disorders, or antibiotic use that disrupts the gut's biotin-producing bacteria.

Symptoms of biotin deficiency can include hair loss, brittle nails, skin rashes, neurological issues like depression and numbness, conjunctivitis, and developmental problems in infants. Treatment typically involves biotin supplementation, often leading to a reversal of symptoms. Addressing the underlying causes is also crucial to prevent recurrence.
Causes of Biotin Deficiency
The causes of Biotin Deficiency typically revolve around factors that disrupt biotin absorption or metabolism. These include:
Dietary Insufficiency: A diet lacking in biotin-rich foods, such as eggs, dairy, nuts, and certain vegetables, can lead to deficiency.
Consumption of Raw Egg Whites: Prolonged consumption of raw egg whites can interfere with biotin absorption due to avidin, a protein that binds to biotin.
Gastrointestinal Disorders: Conditions like Crohn's disease, celiac disease, or other gastrointestinal disorders can impair biotin absorption.
Antibiotic Use: Long-term use of certain antibiotics can disrupt the balance of biotin-producing bacteria in the gut.
Understanding these causes is essential in diagnosing and effectively managing biotin deficiency.
Symptoms and Signs of Biotin Deficiency
Biotin, a crucial B-vitamin, plays a significant role in various bodily functions. When there is a deficiency of biotin, it can lead to several noticeable symptoms and signs:
Hair and Skin Problems: Hair loss, brittle and thinning hair, and skin rashes, especially around the eyes, nose, and mouth, are common indicators of biotin deficiency. One can control their hair issues related to Biotin by consuming Biotin Hair Gummies
Neurological Symptoms: These may include depression, lethargy, hallucinations, and numbness or tingling sensations in the extremities.
Conjunctivitis: Biotin deficiency can lead to conjunctivitis, characterized by redness and inflammation of the outer layer of the eye.
Muscle Pains: Some individuals may experience muscle pain and weakness.
Biotin Deficiency Diagnosis
Diagnosing biotin deficiency typically involves a combination of clinical evaluation and laboratory tests. Here are the key aspects of the diagnostic process:
Clinical Assessment: Healthcare professionals begin by reviewing the patient's medical history and conducting a physical examination to identify potential symptoms and signs associated with biotin deficiency, such as hair and skin problems, neurological symptoms, and developmental issues.
Biotin Levels: Blood tests measure the concentration of biotin in the blood. A low biotin level can indicate a deficiency, although the specific reference range may vary among laboratories.
Functional Tests: Functional tests, such as measuring enzyme activity or performing a urine organic acid analysis, can help confirm the diagnosis by identifying metabolic abnormalities associated with biotin deficiency.
Genetic Testing (if necessary): In cases of suspected genetic disorders causing biotin deficiency, genetic testing may be employed to identify specific genetic mutations responsible for impaired biotin metabolism.
Response to Biotin Supplementation: In some cases, the diagnosis may be further confirmed if the patient's symptoms and signs improve significantly with biotin supplementation.
How To Treat Biotin Deficiency
Biotin deficiency is typically treated effectively with biotin supplementation, and it often leads to a significant improvement in symptoms. The treatment approach involves the following steps:
Biotin Supplements: The primary and most direct way to treat biotin deficiency is through biotin supplementation. A healthcare professional may prescribe this, and the dosage will depend on the severity of the deficiency. Biotin supplements are available over the counter but should be taken under medical guidance.
Address Underlying Causes: Identifying and addressing any underlying factors contributing to biotin deficiency is important. For instance, if the deficiency is related to certain medications or gastrointestinal disorders, these issues need to be managed as well.
Dietary Adjustments: Encouraging a biotin-rich foods diet can help maintain adequate levels of this essential vitamin. Foods such as eggs, dairy products, nuts, seeds, and certain vegetables are good sources of biotin.
Follow-Up Monitoring: Regular follow-up visits with a healthcare professional are crucial to assess the progress of treatment. Adjustments to the supplementation regimen may be made as needed.
Benefits of Biotin for Hair, Skin, and Nails
Biotin, a water-soluble B-vitamin, offers several benefits for hair, skin, and nails:

1. Improved Hair Health:
Hair Growth: Biotin is known for promoting healthy hair growth. It plays a role in the synthesis of keratin, a protein that makes up hair strands, making hair stronger and less prone to breakage.
Hair Thickness: Biotin can enhance hair thickness, giving the appearance of fuller and more voluminous hair.
Hair Quality: Biotin contributes to improved hair quality, making it shinier and more resilient.

2. Healthier Skin:

Clearer Complexion: Biotin may help reduce skin inflammation, resulting in a clearer complexion.
Skin Hydration: It supports hydration, helping maintain a healthy and glowing appearance. Consumption of skin gummies can also help to keep the skin healthy.

3. Stronger Nails:
Nail Strength: Biotin is associated with increased nail strength, reducing brittleness and minimizing nail breakage.
Nail Growth: It can also promote nail growth, leading to longer and more robust nails.
4. Preventing Nail and Skin Conditions:
Biotin can be useful in preventing or treating certain nail and skin conditions, such as fungal nail infections and seborrheic dermatitis.
Conclusion
Biotin deficiency is a condition that can have significant consequences for one's overall health and well-being, affecting hair, skin, and nails, as well as causing neurological issues. However, it is typically treatable and reversible with the right interventions.
Recognizing the signs and symptoms of biotin deficiency is crucial for timely diagnosis and treatment. Biotin supplementation is the cornerstone of treatment and can lead to substantial improvements in the associated symptoms.
In conclusion, while biotin deficiency can present challenges, it is a condition with a positive outlook for those who receive appropriate treatment. It underscores the significance of maintaining a balanced diet. Multivitamin gummies, biotin gummies, skin gummies, and iron gummies are a delicious addition to improved health. They offer a convenient way to fill those dietary gaps.


FAQs for Biotin Deficiency
What are natural sources of biotin?
Biotin can be obtained from a variety of foods in one's daily diet. Some natural sources of biotin include:

Eggs: Especially the yolk, which is a rich source of biotin.
Dairy Products: Milk, cheese, and yogurt contain biotin.
Nuts and Seeds: Almonds, peanuts, and sunflower seeds are good sources.
Vegetables: Sweet potatoes, spinach, and broccoli provide biotin.
Meats: Liver, kidney, and other organ meats contain biotin.
Whole Grains: Oats and wheat germ are biotin-rich grains.
Incorporating these foods into your diet can help maintain adequate biotin levels for overall health, including the well-being of hair, skin, and nails.
Can children and infants develop biotin deficiency?
Yes, children and infants can develop biotin deficiency, although it is relatively rare. This may occur due to inborn errors of biotin metabolism, an inadequate intake of biotin-rich foods during early childhood, or prolonged consumption of raw egg whites. Infants with biotinidase deficiency, a genetic disorder that impairs biotin utilization, are at a higher risk.
How long does it typically take to see improvements in symptoms after starting biotin treatment?
The time it takes to see improvements in symptoms after starting biotin treatment can vary from person to person. In some cases, individuals may notice positive changes in hair, skin, and nails within a few weeks to a few months. However, the speed of improvement depends on factors like the severity of the deficiency and the individual's response to supplementation.