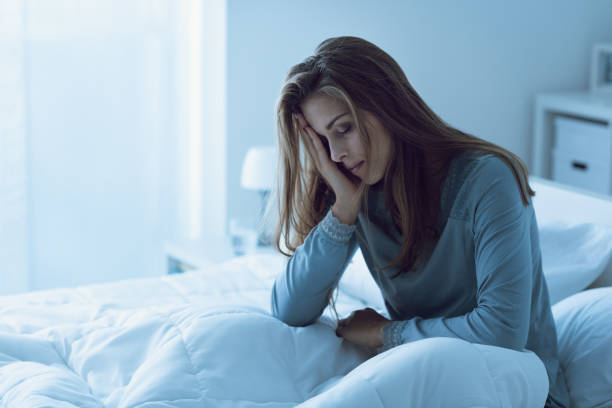 Common Sleep Disorders: Types, Causes, Symptoms & Treatment
Welcome to our comprehensive guide on the most common sleep disorders, we will explore their various types, underlying causes, bothersome symptoms, and effective treatment options. As we delve into the realm of sleep disorders, we'll also investigate whether these gummies can play a role in improving sleep quality. Join us on this enlightening journey to gain insights into sleep disorders and discover how these modern solutions might contribute to restful nights and refreshed mornings. Whether you seek answers, remedies, or simply knowledge, our guide has you covered. Let's embark on this exploration together and unlock the secrets to rejuvenating sleep.
What are sleep disorders?
Sleep is a fundamental component of our daily lives, allowing our bodies and minds to recharge. However, for many, achieving restful slumber can be a daunting task due to various sleep disorders. These disorders can significantly disrupt sleep patterns, leading to fatigue, irritability, and a diminished quality of life. In this comprehensive guide, we will explore the most common sleep disorders, their causes, symptoms, and available treatments.
Major Categories of Sleep Disorders
Insomnia
A prevalent sleep disorder is characterized by persistent difficulty falling asleep or staying asleep, often resulting in daytime fatigue and reduced cognitive function.
Symptoms: Common symptoms include difficulty falling asleep, frequent nighttime awakenings, early morning waking, and daytime sleepiness.

Causes: Insomnia can be triggered by stress, anxiety, depression, poor sleep hygiene, or underlying medical conditions.

Treatment: Managing insomnia typically involves a multi-faceted approach, which may include cognitive-behavioral therapy, medication, and lifestyle changes.

Modern Solutions: In recent years, Melatonin Sleep Gummies and multivitamin gummies have gained attention as potential aids in addressing some of the underlying causes of insomnia. Sleep Gummies often contain melatonin to regulate sleep-wake cycles, while multivitamin gummies ensure essential nutrients for overall well-being, including sleep quality.
Sleep Apnea
Sleep Apnea is a potentially serious sleep disorder marked by interrupted breathing during sleep. This disorder can cause loud snoring and result in disrupted sleep patterns. There are two main types: obstructive sleep apnea (OSA) and central sleep apnea (CSA).

Symptoms: Loud snoring, choking or gasping for air during sleep, and excessive daytime fatigue.

Causes: OSA is often due to the relaxation of throat muscles, while CSA results from issues in the brain's respiratory control center.

Treatment: Lifestyle changes, continuous positive airway pressure (CPAP) therapy, or surgery may be recommended depending on the severity of sleep apnea. By following a few steps you can beat sleep apnea naturally.
Restless Legs Syndrome (RLS)
Restless Legs Syndrome, or RLS, is characterized by an uncontrollable urge to move the legs, typically due to discomfort or unpleasant sensations. These sensations often worsen in the evening or at night.

Symptoms: Unpleasant sensations in the legs, an irresistible urge to move the legs, and relief with movement.
Causes: Genetics, iron deficiency, and certain medications.
Treatment: Lifestyle changes, medication, and addressing underlying causes like iron deficiency.
Parasomnias
Parasomnias are abnormal behaviors that occur during sleep. They can include sleepwalking, night terrors, and REM sleep behavior disorder (RBD), where individuals physically act out their dreams.

Symptoms: Varied, depending on the specific parasomnia.

Causes: Genetics, stress, and certain medications.
Treatment: Treatment may involve addressing underlying conditions, medications, or behavioral therapy.
Circadian Rhythm Sleep Disorders
Circadian Rhythm Sleep Disorders involve disruptions in the body's internal clock, leading to sleep-wake cycle disturbances. Common types include delayed sleep-wake phase disorder and shift work disorder.
Symptoms: Altered sleep patterns that do not align with societal norms.
Causes: Irregular work hours, travel across time zones, and genetic factors.
Treatment: Light therapy, melatonin supplements, and adjusting sleep schedules.
Narcolepsy
Narcolepsy is characterized by excessive daytime sleepiness and sudden, uncontrollable episodes of falling asleep. Individuals with narcolepsy often experience symptoms such as cataplexy (sudden loss of muscle tone) and sleep paralysis.

Symptoms: Excessive daytime sleepiness, cataplexy, sleep paralysis, and hallucinations upon falling asleep or waking up.
Causes: Genetic and autoimmune factors.
Treatment: Medications and lifestyle adjustments to manage symptoms.
How much sleep is required daily?
The amount of sleep required varies with age. Adults generally need 7-9 hours of sleep per night to function optimally, while teenagers may require 8-10 hours, and children and infants may need even more.
What are the symptoms of sleep disorders?
Sleep disorders can manifest through a range of symptoms, including:
Difficulty falling asleep or lack of sleep.
Frequent awakenings during the night
Excessive daytime sleepiness
Loud snoring or gasping for air during sleep
Restless legs or uncomfortable sensations in the legs
Sleepwalking or other abnormal behaviors during sleep
Hallucinations or sleep paralysis upon falling asleep or waking up
Sudden episodes of falling asleep during the day
What causes sleep disorders?
Sleep disorders can have various causes, including:
Stress and anxiety
Depression
Poor sleep hygiene (irregular sleep schedule, excessive caffeine or alcohol intake)
Underlying medical conditions (e.g., sleep apnea, restless legs syndrome)
Medications
Genetics
Environmental factors (e.g., shift work, travel across time zones)
Risk factors for sleep disorders?
Several risk factors can increase the likelihood of developing sleep disorders:
Family history of sleep disorders
High levels of stress or anxiety
Irregular work hours (shift work)
Traveling frequently across time zones
Obesity
Certain medical conditions, such as asthma or chronic pain
Medications that affect sleep
How To Diagnose Sleep Disorders?
Diagnosing sleep disorders often involves a combination of methods, including:

Medical History: A detailed discussion of your sleep patterns, symptoms, and medical history with a healthcare provider.

Physical Examination: A physical examination may help identify any underlying medical conditions that could contribute to sleep problems.

Sleep Diary: Keeping a sleep diary can help track sleep patterns and identify potential triggers.

Polysomnography: This sleep study involves monitoring various physiological parameters during sleep, such as brain activity, eye movement, heart rate, and breathing.

Actigraphy: A wrist-worn device may be used to track sleep-wake patterns over an extended period.

Home Sleep Apnea Test (HSAT): For suspected sleep apnea, a portable monitoring device can be used at home.
How to Treat sleep disorders?
When it comes to addressing sleep disorders, consider incorporating modern solutions like Sleep Gummies and multivitamin gummies into your treatment plan. These supplements can complement traditional therapies and lifestyle changes, potentially improving sleep quality and overall well-being. However, remember that a holistic approach, which may include medication, therapy, and healthy sleep habits, is often the most effective way to manage sleep disorders.
Conclusion
In conclusion, addressing common sleep disorders requires a multifaceted approach. While Sleep Gummies and multivitamin gummies have emerged as potential solutions, they are most effective when integrated into a comprehensive strategy. Incorporating these innovative supplements alongside proven treatments, lifestyle adjustments, and good sleep hygiene practices can pave the way for improved sleep quality and overall well-being. Remember, achieving restful slumber is within reach, and the right combination of solutions can help you on your journey to better sleep. In today's world, innovative solutions like Sleep Gummies, multivitamin gummies, Biotin hair gummies, skin gummies, and Iron gummies have emerged, offering potential avenues to address sleep-related issues and promote overall well-being
FAQs:
Can sleep disorders be cured?
Sleep disorders can often be managed and improved with the right treatment and lifestyle changes. However, the outcome varies depending on the specific disorder and individual factors. Some may find complete resolution, while others may need ongoing management.
How chronic are sleep disorders?
The chronicity of sleep disorders varies. Some individuals may experience occasional sleep disturbances, while others may have chronic and long-lasting issues. Seeking timely diagnosis and treatment can help manage chronic sleep disorders effectively.
Can Ayurveda or any herbs treat sleep disorders?
Ayurveda and herbal remedies, including valerian root and tagara root, are used in traditional medicine to promote better sleep. While some individuals may find relief from these herbs, their effectiveness can vary from person to person. It's essential to consult with a healthcare professional before using herbal remedies for sleep disorders.
Are there any Sleep Hygiene Tips For Better Sleep?
Yes, adopting good sleep hygiene tips can improve sleep quality. These tips include maintaining a regular sleep schedule, creating a comfortable sleep environment, limiting caffeine and alcohol intake, and managing stress.
Is there any food that will help get a good night's sleep?
Some foods contain melatonin which may support better sleep. These include cherries, kiwi, and certain nuts (e.g., almonds). However, dietary effects on sleep can vary among individuals, so it's essential to incorporate melatonin-rich food into your diet.