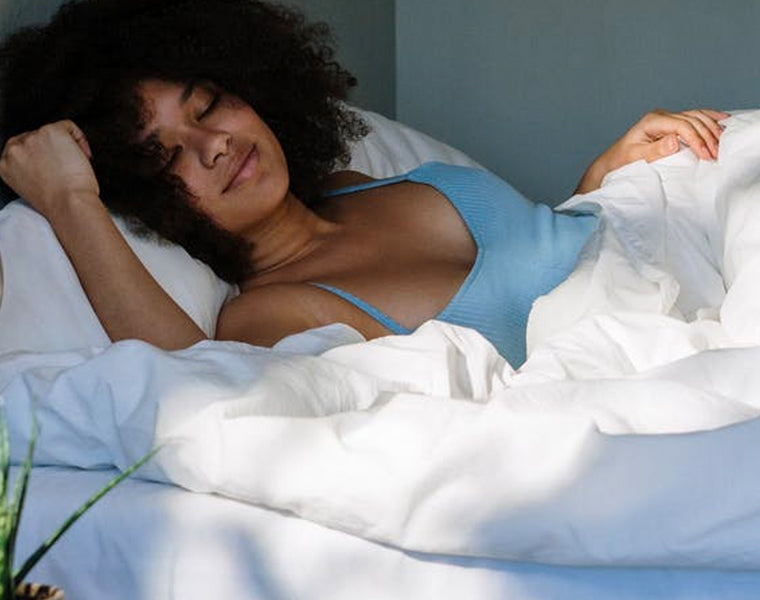 HEALTH I 3 MINS
6 Sleep Hygiene Tips To Help Your Quality Of Sleep
Always being tired is something most people tend to accept as part of a natural transition into adulthood. It's the welcome sign that marks your entrance into having more important things to do with your time, like deadlines, dinners or one more episode. But skimping on sleep will have you going from Sleepy to Grumpy with none of the redeeming dwarfs to get you through your day.
A lack of sleep has been clinically proven to mess up your mood, brain function, hormones and even cause you to gain weight. Whereas enough sleep helps your body repair, keeps you alert, helps boost immunity and elevates your mood. So, if you're tired of, well, being tired, and want to know how to get good sleep, then you've come to the right place.
Set a sleep schedule:
It's not just about quantity; it's also about consistency. Everyone knows that the average adult needs 7-8 hours of rest, but when we get those hours also indicates how much we're getting out of those hours.
Setting a circadian rhythm or a natural sleep-wake cycle is like programming your body clock. Once you get used to your schedule, your body will lull itself to sleep each night, and you'll wake up in the morning refreshed roughly at the same time every day too. (1)
Try and avoid screen-time before bed:
That last episode isn't quite the bedtime story you had hoped for. Blue light or the light emitted from any device's screen is registered as sunlight by the brain. In turn, it blocks the body's production of melatonin, the sleep hormone.
Reducing exposure a couple of hours before bed can actually induce drowsiness and improve the quality of sleep. Avoid the backlit tablet for readers, and e-reader or an audio book is much more sleep-friendly. So maybe skip Netflix and just chill. (2)
Wind down for the night:
You don't want to take your mental stress to bed with you. Stress is a stimulus that fights the hormones that induce sleep. Skip caffeine and maybe opt for a soothing chamomile tea to relieve stress before sleeping. Lavender candles or oils can help set the mood for a sound sleep.
It doesn't have to take 2 hours or 115 sheep counts to get you to doze off. A dark room and a relaxed mind will get you there just fine. (3)
Workout for better sleep:
Aside from the obvious reason that physical exertion will tire you out, exercise has great effects on your ability to sleep. Movement releases endorphins, hormones that help you decompress and increase alertness.
The higher body temperature also indicates to your brain that it's time to be awake. These two responses tend to wear off over the course of the day and begin to facilitate sleepiness. So there you have it, sit-ups could help you lie down. (4)
Make sure your room and bed is cozy:
There are lessons to be learned from the bedtime stories of our youth. The princess not getting to bed because of a pesky pea and Goldilocks not knowing which one is just right. Find the right mattress, something firm enough to not give you back pain but soft enough to be comfortable.
Clean bedding and ventilation enhance the sleeping experience while a cool room sets the tone. Gadgets like a white noise machine or an air purifier aren't necessary but can really take rest and relaxation to another level. Remember puffy pillows, not puffy eyes. (5)
Science can help you sleep better:

Sweet dreams are indeed made of these. Melatonin supplements are packed with the sleep hormone, which is also produced by our bodies. But sometimes due to factors affecting age or even when changing time zones our natural production goes haywire. Supplements can help regulate the production of melatonin and induce sleep. Ours has the added benefit of chamomile and L-theanine to help you curb stress, while the tagara root has been known to act as a natural muscle relaxant.
The power-packed combination of melatonin, Vitamin E, and a host of other goodies makes sure Nyumi's beauty sleep gummies brings rest to the restless. A perfect night cap than works on your skin too, so that your mood isn't the only thing glowing in the morning. (6)
But most importantly, don't let the bedbugs bite.
Conclusion
In conclusion, incorporating good sleep hygiene practices into your daily routine can significantly improve the quality of your sleep and overall well-being. By following these six tips, you can create a healthy sleep environment and establish a bedtime routine that promotes restful sleep:
Stick to a consistent sleep schedule: Maintaining a regular sleep schedule helps regulate your body's internal clock and ensures that you get enough restorative sleep each night.
Create a comfortable sleep environment: Ensure that your bedroom is cool, dark, and quiet. Invest in a supportive mattress, comfortable pillows, and breathable bedding to enhance your sleep quality.
Practice relaxation techniques: Incorporate relaxation techniques such as deep breathing, meditation, or gentle stretching into your bedtime routine to help your body and mind unwind and prepare for sleep.
Manage stress and establish a wind-down routine: Prioritize stress management techniques, such as journaling, reading, or taking a warm bath before bed. These activities can help calm your mind and signal to your body that it's time to relax and sleep.
In addition to these sleep hygiene tips, nutritional multivitamin gummies can be a valuable supplement to support your overall health. Alongside biotin hair gummies, skin gummies, and melatonin sleep gummies, they can provide essential nutrients that may be lacking in your diet. However, it's important to remember that supplements should not replace a balanced diet or professional medical advice.
By adopting these sleep hygiene practices and considering nutritional gummies as part of a healthy lifestyle, you can optimize your sleep quality and wake up feeling refreshed and revitalized each day. Prioritizing sleep and taking care of your body will contribute to your overall well-being and help you lead a more fulfilling life. Sweet dreams!



FAQs
How does exercise helps to maintain sleep hygiene?
Regular exercise promotes better sleep quality and duration by reducing anxiety, promoting relaxation, and regulating the body's internal clock.

What are the possible reasons behind lack of good sleep hygiene?
Possible reasons for a lack of good sleep hygiene include irregular sleep schedule, excessive screen time before bed, high stress levels, poor sleep environment, and unhealthy lifestyle habits.
Are there any dietary considerations that can impact sleep?
Certain dietary considerations such as consuming caffeine, heavy meals, or alcohol close to bedtime can negatively impact sleep quality.

What are the 7 sleeping disorders?
The seven common sleeping disorders include insomnia, sleep apnea, narcolepsy, restless legs syndrome, parasomnias, circadian rhythm disorders, and sleepwalking.