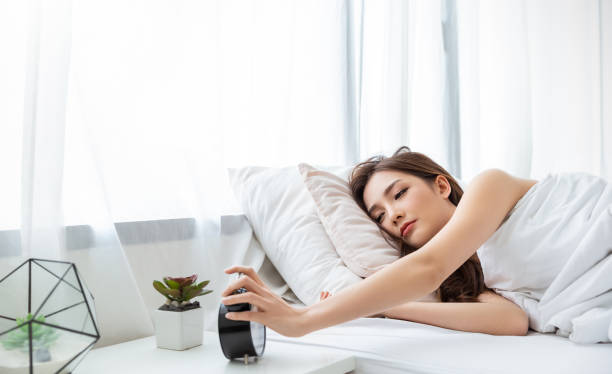 Mysteries of Your Sleep: A Dive into REM and Non-REM Cycle
Sleep, a fundamental aspect of our lives, is often shrouded in mystery. We close our eyes and drift into the world of dreams, but what happens inside our bodies during this enigmatic state of rest? The answer lies in the two primary phases of sleep – REM and Non-REM sleep. In this blog, we will embark on a journey to uncover the secrets behind these cycles, understand their importance, and explore ways to improve the quality of our slumber.
What Are REM and Non-REM Sleep?
The first step in unraveling the mysteries of sleep is to understand the basic components: REM (Rapid Eye Movement) and non-sleep. Non rem sleep meaning is basically Non Rapid Eye Movement. These phases alternate throughout the night, collectively forming what we call the sleep cycle.
The Sleep Cycle
The sleep cycle is a rhythmic pattern that repeats several times during a typical night's sleep. It consists of four stages, with the REM and NREM sleep phases interwoven like a finely choreographed dance.
How much sleep do I need?
Before delving into the specifics of these sleep phases, it's essential to address a fundamental question – how much sleep do we need? The recommended amount of sleep varies with age. On average, adults should aim for 7-9 hours of quality sleep each night. It is important to also keep a good sleep posture. However, individual requirements may differ. It's crucial to listen to your body and determine what leaves you feeling refreshed and alert.
What Is Non-REM Sleep?
Non-REM sleep encompasses three stages, each with distinct characteristics.
Stage 1: Light Sleep
Stage 1 marks the transition from wakefulness to sleep. It's a brief period of light sleep where you can be easily awakened. Muscle activity decreases, and eye movements are slow.
Stage 2: True Sleep
Stage 2 is where you spend the most time during the night. It's characterized by slower brain waves and a decrease in body temperature and heart rate. This stage helps in consolidating memory and processing information, making it essential for cognitive functions.
Stage 3: Deep Sleep
Stage 3 is the deepest and most restorative part of non-REM sleep. It is often referred to as slow-wave sleep due to the slow, high-amplitude brain waves. During this stage, the body repairs and regenerates tissues, and the immune system strengthens.
What Is REM Sleep?
REM sleep, in contrast to non-REM sleep, is known for its distinctive characteristics. It is the stage where dreams occur, and brain activity closely resembles that of wakefulness. Your eyes move rapidly, and your muscles become temporarily paralyzed, preventing you from acting out your dreams.
The Sleep Cycle Repeated
The sleep cycle isn't a one-time occurrence during the night. On average, an individual goes through four to six complete cycles, each lasting about 90 minutes. These cycles alternate between non-REM and REM sleep, with the proportion of each stage changing as the night progresses. Early in the night, non-REM sleep predominates, while REM sleep takes up a more substantial portion during the latter part of the night.
Factors Influencing REM and Non-REM Sleep
Many factors can influence the balance between REM and non-REM sleep. Stress, anxiety, and certain medications can disrupt these phases. Alcohol and caffeine consumption close to bedtime can also interfere with the quality of your sleep. These things can also lead to various types of sleep disorders. A consistent sleep schedule, a comfortable sleep environment, correct sleep postures, and relaxation techniques can help maintain a healthy balance between the two sleep phases.
Tips for Improving REM and Non-REM Sleep
Now that we have explored the intricacies of REM and non-REM sleep, let's discuss how you can enhance the quality of your sleep overall.

Establish a Regular Sleep Schedule: Going to bed and waking up at the same time each day helps regulate your body's internal clock, making it easier to transition between sleep phases.

Create a Comfortable Sleep Environment: Keep your bedroom cool, dark, and quiet. Investing in a comfortable mattress and pillows can also make a significant difference. Factors like sleeping patterns and sleep postures also matter in getting a good sleep

Limit Screen Time Before Bed: The blue light emitted by electronic devices can disrupt your body's natural sleep-wake cycle. Try to avoid screens at least an hour before bedtime.

Manage Stress: Practicing relaxation techniques like meditation, deep breathing, or progressive muscle relaxation can help reduce stress and improve sleep quality.

Stay Active: Regular physical activity can promote better sleep. However, avoid vigorous exercise close to bedtime, as it may be too stimulating.

Watch Your Diet: Avoid heavy meals and caffeine before bedtime. Opt for a light, healthy snack if you need something to eat in the evening. There are various herbs for sleep options available that can be incorporated into the diet to balance your sleep cycle. One can include supplements such as melatonin sleep gummies in their routine to maintain a good sleep cycle.
Can sleep supplements promote both REM and non-REM sleep?
While there are many supplements and herbal remedies that claim to promote better sleep, it's essential to approach them with caution. Not all supplements are effective or safe for everyone. It's advisable to consult with a healthcare professional before using any sleep aids, especially if you have underlying health conditions or are taking medications.
Conclusion
Sleep is a profound and essential aspect of our lives. Understanding the complexities of REM and non-REM sleep can help us appreciate the significance of a good night's rest. By following healthy sleep practices like creating a good sleep environment, good sleep postures, and making adjustments to our lifestyle, we can aim for a balance between these two sleep phases, ensuring restorative and rejuvenating sleep. Remember, there is no one-size-fits-all solution, so listen to your body and find what works best for you. However, women's multivitamin gummies such as melatonin sleep gummies can help to get undisturbed sleep at night. Other supplements like hair gummies, skin gummies, and iron gummies, can be incorporated into your routine for the perfect glow.
FAQ
Why is REM sleep considered important for dreaming?
REM sleep is closely associated with vivid dreaming because brain activity during this stage is remarkably similar to wakefulness. It's believed that the brain processes emotions, memories, and experiences during REM sleep, giving rise to the dreams we remember upon waking.
What role does each stage of sleep play in overall sleep quality and health?
Each stage of sleep serves a distinct purpose in maintaining overall health and sleep quality. Non-REM sleep aids in physical restoration, memory consolidation, and immune system support. REM sleep, on the other hand, contributes to emotional well-being, creativity, and cognitive functions.
How do the body and brain activity change during REM and Non-REM sleep?
In non-REM sleep, brain activity slows down, and muscle activity decreases progressively as you move from light to deep sleep. In REM sleep, brain activity becomes more active and resembles that of wakefulness, while your muscles become temporarily paralyzed to prevent you from acting out your dreams.
How many cycles do we go through in a night?
On average, individuals go through four to six complete sleep cycles in a typical night's sleep. These cycles consist of the alternating stages of non-REM and REM sleep.
Are there any herbs or ayurveda that help to get better sleep?
Herbal remedies and Ayurvedic practices, such as consuming chamomile tea, lavender, or ashwagandha, may help improve sleep quality for some individuals. However, their effectiveness can vary from person to person, and it's essential to consult a healthcare professional before using any supplements or herbal remedies, particularly if you have underlying health conditions.