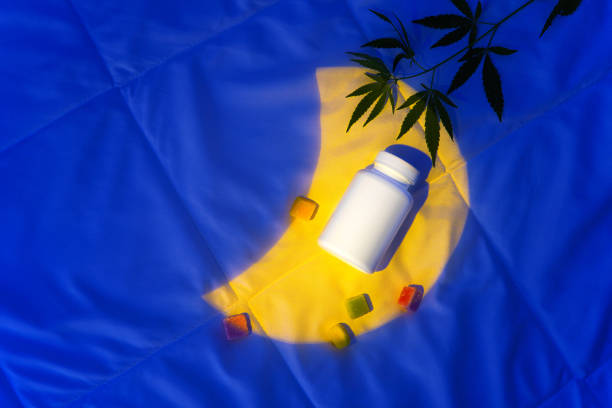 Melatonin vs. Zolpidem: Which Is Better for Sleep?
Difference between melatonin and Zolpidem
Zolpidem and Melatonin are both used to aid sleep, but they work in different ways and have distinct characteristics:
Mechanism of Action: Melatonin is a natural hormone that regulates the sleep-wake cycle. Melatonin supplements can help improve sleep by signaling to the body that it's time to rest. Zolpidem, on the other hand, is a sedative or hypnotic medication that works by depressing the central nervous system, inducing a drowsy state.
Nature: Melatonin is a naturally occurring hormone in the body, often used as a supplement. Zolpidem, however, is a prescription medication and a sedative-hypnotic drug, commonly sold under brand names like Ambien.
Usage: Melatonin is often used for milder sleep disturbances and for managing jet lag or shift work sleep disorders. Zolpidem is typically prescribed for more severe insomnia and is intended for short-term use due to its potential for dependence and tolerance.
Safety: Melatonin is generally considered safe and non-habit-forming. Zolpidem has a higher potential for dependency and should be used under strict medical supervision to avoid misuse or addiction.
What is melatonin? & How does melatonin work?
Melatonin is a natural hormone produced by the pineal gland in the brain, primarily in response to darkness. It plays a crucial role in regulating the body's sleep-wake cycle, helping to control the timing and quality of sleep.

Melatonin works by signaling the body that it's time to rest. The pineal gland releases melatonin into the bloodstream, and its levels rise in the evening, making you feel drowsy. Exposure to light, especially blue light from screens, can suppress melatonin production, making it more challenging to fall asleep. Melatonin supplements are often used to help people with sleep disorders or those experiencing disruptions in their sleep patterns, such as jet lag or shift work. They can mimic the natural rise in melatonin levels to improve the initiation and quality of sleep.
Benefits of Melatonin Supplements?
Benefits of melatonin gummies are: They are especially valuable for individuals with sleep disorders, aiding in the regulation of sleep patterns and reducing the time it takes to fall asleep. Melatonin sleep gummies can also be a helpful solution for mitigating the effects of jet lag, ensuring a smoother adjustment to different time zones. Beyond sleep-related advantages, melatonin supplements may assist in managing certain medical conditions and have potential antioxidant properties, safeguarding cells from oxidative stress and contributing to overall health.
Jet lag
Resets Circadian Rhythm: Melatonin can help reset the body's internal clock, making it easier for travelers to adapt to new time zones and recover from jet lag more quickly. Melatonin for jet lag is easier to consume and more effective
Improved Sleep Quality: It aids in falling asleep faster and enjoying a more restful night, reducing the fatigue and disorientation associated with long flights and time zone shifts.
Minimizes Discomfort: Melatonin supplements can alleviate the discomfort of disrupted sleep patterns, helping travelers transition more smoothly into their new environment.
Insomnia
Regulates Sleep Patterns: Melatonin supplements for insomnia will help to regulate their sleep-wake cycles, making it easier to fall asleep and stay asleep throughout the night.
Enhanced Sleep Quality: They improve sleep quality, reducing the time spent awake during the night, which leads to a more rested and refreshed feeling upon waking.
Reduces Dependency: Melatonin supplements are non-habit-forming, making them a safer and more sustainable option for long-term insomnia management compared to some prescription medications.
Delayed sleep phase disorder
Shifts Sleep Timing: Melatonin can be used to gradually shift the sleep-wake schedule, helping individuals with delayed sleep phase disorder fall asleep and wake up at more socially acceptable times.
Balances Circadian Rhythm: It aids in synchronizing the body's natural sleep-wake cycle with external time constraints, such as work or school schedules.
Improved Daytime Functioning: By assisting with a more regular sleep pattern, melatonin supplements can enhance daytime alertness and productivity for those with delayed sleep phase disorder.
The side effect of melatonin:
While melatonin supplements are generally considered safe when used as directed, some potential side effects may include daytime drowsiness, headache, dizziness, and digestive discomfort. It's essential to start with a low dose and gradually increase if necessary, as excessive melatonin intake can disrupt sleep patterns. Additionally, some individuals may experience vivid dreams or nightmares.
What is Zolpidem? & How does Zolpidem work?
Zolpidem is a prescription medication primarily used to treat insomnia and sleep disorders. It belongs to a class of drugs known as sedative-hypnotics and is commonly sold under the brand name Ambien. Zolpidem works by affecting certain chemicals in the brain, specifically GABA (gamma-aminobutyric acid), which plays a role in regulating sleep. It enhances the calming effect of GABA, thereby inducing a drowsy state and helping individuals fall asleep more easily and maintain a more consistent sleep pattern.
The Benefits of Zolpidem
The primary benefit of Zolpidem, a sedative-hypnotic medication, is its effectiveness in treating insomnia and improving sleep quality. It helps individuals with sleep disturbances fall asleep faster and stay asleep throughout the night, leading to a more restful and restorative rest. Zolpidem can provide relief for those struggling with short-term sleep issues, such as jet lag or temporary changes in sleep patterns, helping to restore their regular sleep-wake cycle and reduce sleep-related discomfort.
Side effects of Zolpidem
Zolpidem, like any medication, can have side effects, and it's important to be aware of these when using it:

Drowsiness and Dizziness: One of the most common side effects of Zolpidem is drowsiness, which can persist into the following day, leading to reduced alertness and coordination. This can increase the risk of accidents and falls.

Next-Day Impairment: Zolpidem can cause impaired cognitive and psychomotor function the next day, affecting tasks that require focus and coordination, such as driving.

Memory and Behavioral Changes: Some individuals may experience temporary memory problems or unusual changes in behavior, such as agitation, confusion, or vivid dreams.

Dependency and Tolerance: Zolpidem has the potential for dependency and tolerance, meaning over time, higher doses may be needed for the same effect, which can lead to misuse or addiction.

Withdrawal Symptoms: Stopping Zolpidem after prolonged use can lead to withdrawal symptoms, including insomnia, anxiety, and rebound insomnia, where sleep issues worsen after discontinuing the medication.

Allergic Reactions: Although rare, some individuals may experience allergic reactions, such as rash, itching, swelling, severe dizziness, or difficulty breathing.
Effects of lack of sleep
The effects of chronic sleep deprivation can be profound and far-reaching:

Cognitive Impairment: Lack of sleep impairs cognitive functions such as memory, attention, problem-solving, and decision-making, leading to decreased productivity and increased mistakes.

Mood Disturbances: Sleep deprivation often results in irritability, mood swings, and increased susceptibility to stress and anxiety. Severe and chronic sleep loss can even contribute to depression.

Physical Health Consequences: Sleep deficiency is linked to a higher risk of various health issues, including heart disease, diabetes, obesity, and weakened immune function.

Impaired Motor Skills: Lack of sleep can lead to reduced motor coordination and slower reaction times, increasing the likelihood of accidents, especially when driving.

Aging Effects: Chronic sleep deprivation can accelerate the signs of aging, leading to wrinkles, dark circles under the eyes, and a generally tired appearance.
Conclusion
In conclusion, melatonin gummies offer a convenient and effective solution for improving sleep quality and managing sleep-related issues. Their appealing taste and ease of consumption make them a preferred choice for those who may find it challenging to take traditional melatonin tablets. The controlled release of melatonin in gummy form ensures a smoother transition into sleep, leading to a more restful and rejuvenating night. Melatonin gummies provide a practical and palatable way to enhance sleep, potentially improving overall well-being and daily functioning. Consuming multivitamin gummies, hair gummies, and skin gummies, daily can help for well-being.
FAQs
Can I combine melatonin with zolpidem?
It's important to understand that the simultaneous use of multiple sleep aids, even if they have different mechanisms of action, can increase the risk of side effects and may not necessarily lead to better sleep outcomes.
What daily dosage of melatonin is suitable?
The appropriate daily dosage of melatonin can vary from person to person and depends on individual factors, such as age, sleep issues, and overall health. However, in general, a low dose is often recommended to start with, typically around 0.5 to 3 milligrams taken 30 minutes to an hour before bedtime.
Are there any natural sources of melatonin in food?
Yes, there are natural food sources that contain melatonin, although the levels are typically lower than what you might find in melatonin supplements. Some of these foods include:

Tart Cherries: Tart cherries, particularly Montmorency cherries, are one of the best food sources of melatonin. They contain moderate levels of melatonin and are often consumed as tart cherry juice.

Grapes: Grapes, especially red and purple varieties, contain melatonin, with the highest concentration found in the grape skins.

Tomatoes: Tomatoes have a small amount of melatonin, and some individuals believe that consuming them may have a mild sleep-inducing effect.

Walnuts: Walnuts contain melatonin in small quantities and are sometimes considered a sleep-friendly snack.
How quickly do melatonin and zolpidem start to work?
Both melatonin and Zolpidem are intended to help individuals initiate sleep more easily, but Zolpidem may be particularly useful for those who need a more rapid effect, while melatonin is often chosen for a gentler and more natural approach to sleep induction.
Who shouldn't take melatonin?
Melatonin is generally safe for many individuals, but there are specific groups who should exercise caution or avoid its use. Pregnant and nursing women should consult a healthcare provider before taking melatonin, as its safety during these periods is not well-established. Children should only use melatonin supplements under professional guidance, considering their age and specific sleep issues. Individuals with certain medical conditions, such as epilepsy or autoimmune disorders.