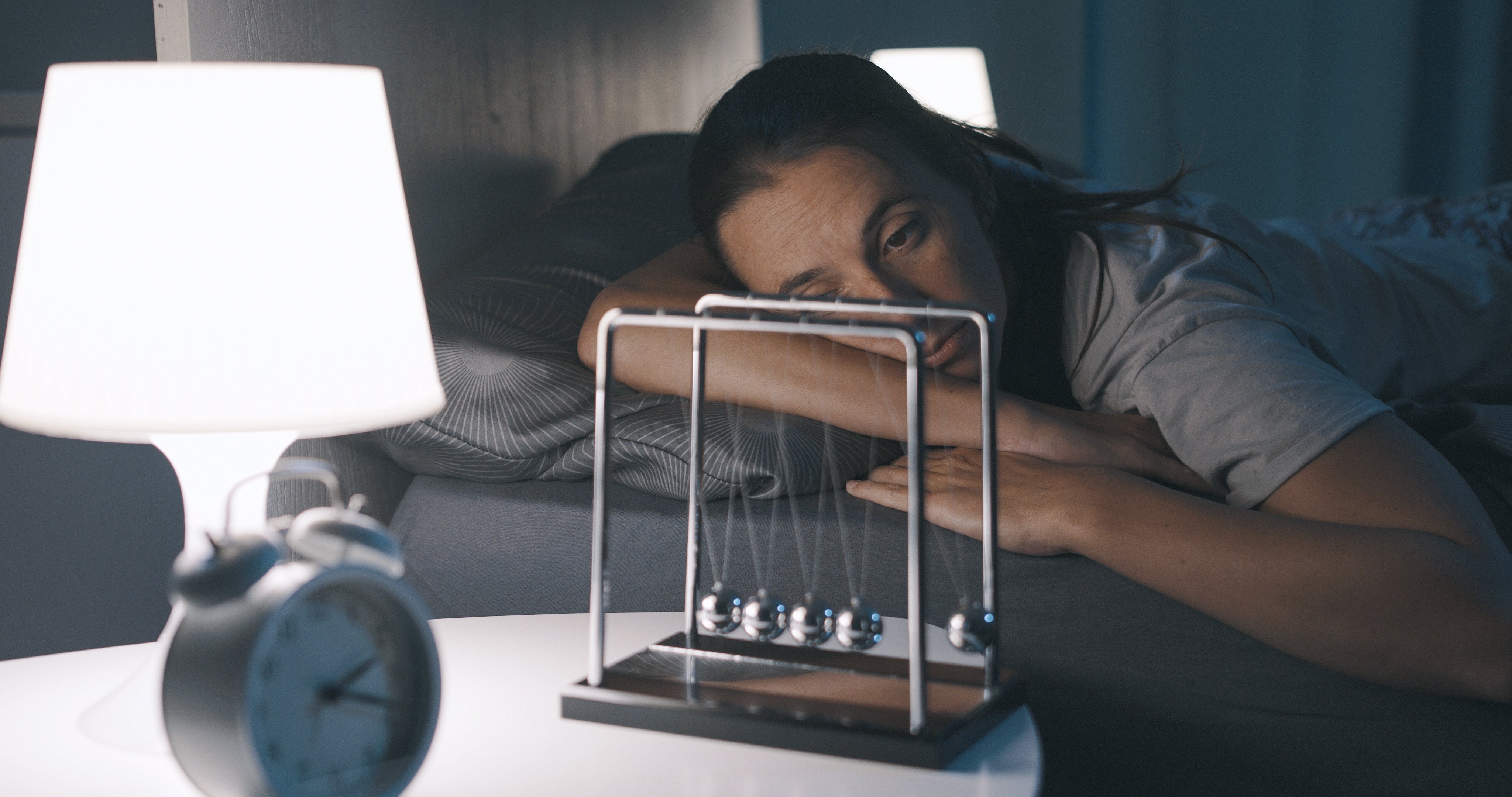 What Is Insomnia? - Symptoms, Causes, And Treatments
Insomnia is a common sleep disorder that affects millions of people worldwide. It is characterized by difficulty falling asleep, staying asleep, or both, which can result in daytime fatigue, irritability, and difficulty concentrating. Insomnia can be acute, lasting for a few nights or weeks, or chronic, lasting for months or even years.
Symptoms of Insomnia
The common symptoms of insomnia include- 
Inability to fall asleep easily at night

Waking up repeatedly at night

Waking up too early in the morning

Feeling restless after sleeping

Experiencing daytime fatigue or drowsiness

Being irritable, anxious or depressed

Difficulty concentrating, remembering or staying attentive

Increased likelihood of making mistakes or experiencing accidents

Persistent concerns or anxiety about sleeping
Causes of insomnia
A number of factors can contribute to the development of insomnia. These include - 
Family history (genetics): 
Sleep traits and conditions, including insomnia, seem to run in families. Twin and family studies have suggested that about a third of the risk of insomnia is inherited. 
Your physical health can affect your ability to sleep. This includes temporary illnesses like minor infections or injuries, or chronic conditions like acid reflux or Parkinson's disease. Certain medications can also lead to insomnia and other sleeping problems. Examples include blood pressure drugs, anti-asthma medications, and antidepressants. 
Mental health conditions

:
Mental health conditions like anxiety, depression, and bipolar disorder frequently co-occur with sleeping problems like insomnia. It is estimated that 40% of people with insomnia have a mental health disorder.
While insomnia may not be directly caused by stressful or challenging life circumstances, it is often observed to be a contributing factor. The body's response to stress can have a significant impact on the quality of sleep, making it difficult to achieve quality sleep.
Brief or temporary lifestyle changes including jet lag, sleeping in an unfamiliar place, or adjusting to a new work schedule (especially shift work) can contribute to insomnia. Long-term changes, like moving to a new city, country or home can also affect sleep.
Regardless of the cause, the effects of insomnia can be significant. Insufficient sleep can impact mood, cognitive function, and overall health. Chronic insomnia has been linked to a variety of health problems, including obesity, diabetes, and cardiovascular disease.
Fortunately, there are a number of strategies that can help manage and treat insomnia. 
1. Sleep hygiene
One of the most important steps in managing insomnia is establishing good sleep hygiene. Sleep hygiene focuses on promoting behaviors that improve sleep quality and quantity while eliminating behaviors that cause sleep problems. Some key elements of good sleep hygiene include:
Establishing a regular sleep schedule:

Try to go to bed and wake up at the same time each day, even on weekends.
Creating a relaxing sleep environment

: Make sure your bedroom is quiet, cool, and dark, and avoid using electronic devices before bed.
Avoid caffeine, nicotine, and alcohol

: These substances can disrupt sleep and make it harder to fall asleep or stay asleep.
Engaging in regular exercise:

Regular physical activity can help improve sleep quality and reduce the symptoms of insomnia.
Managing stress:

High levels of stress can make it difficult to fall asleep or stay asleep. Try relaxation techniques such as deep breathing, meditation, or yoga to help manage stress.
2. Cognitive-behavioral therapy
Cognitive-behavioural therapy (CBT) is a form of psychotherapy that has emerged as a highly effective insomnia treatment.
CBT-i is generally considered a first-line treatment for insomnia because it does not carry the health risks associated with sleep medication. CBT for insomnia involves identifying and changing negative thoughts and behaviors that contribute to poor sleep.
One common technique used in CBT for insomnia is called stimulus control therapy. This involves developing a set of behaviors that signal to the brain that it's time to sleep, such as going to bed only when you're tired, getting out of bed if you can't sleep, and avoiding stimulating activities in the bedroom.
Another technique used in CBT for insomnia is called sleep restriction therapy. This involves limiting the amount of time you spend in bed each night to match your actual sleep time, gradually increasing the amount of time as your sleep improves.
3. Medications 
In some cases, medications may be prescribed to help manage the symptoms of insomnia. There are several types of medications that can be used, including:
Sedatives:

These medications, such as benzodiazepines, work by slowing down the nervous system and promoting relaxation. They are typically used for the short-term treatment of insomnia.

Hypnotics

: These medications, such as zolpidem and eszopiclone, are designed to promote sleep and are often used for the treatment of chronic insomnia.

Antidepressants:

Some antidepressants, such as trazodone, can be used to treat insomnia, particularly in patients with depression or anxiety.

Over-the-counter medications

: Certain over-the-counter antihistamines have sedating properties and can serve as sleep aids. Melatonin supplements also help in balancing the levels of melatonin in your body. While they don't require prescriptions, always speak to a healthcare professional before trying an over-the-counter option.
It's important to note that medication should not be the first line of treatment for insomnia. Lifestyle changes and behavioral therapies are often more effective and have fewer side effects than medication.
Conclusion
In conclusion, understanding insomnia and its impact on our lives is crucial for finding effective solutions. By recognizing the symptoms and causes of insomnia, we can take steps towards better sleep hygiene and seek appropriate treatments. Alongside these efforts, incorporating women's multivitamin gummies, skincare gummies, biotin hair gummies, and sleep gummies into our daily routine can provide additional support. These specialized gummies can help fulfil nutritional needs, promote healthy skin and hair, and aid in achieving a restful night's sleep. Remember, a holistic approach that combines proper sleep practises with targeted nutritional supplementation can contribute to overall well-being and a rejuvenated lifestyle.



FAQs 

What are the 3 types of insomnia?

The three types of insomnia are acute insomnia, chronic insomnia, and comorbid insomnia.


What are the potential psychological factors associated with insomnia?

Psychological factors associated with insomnia may include stress, anxiety, depression, and racing thoughts

What are the primary reasons for insomnia?

Primary reasons for insomnia include stress, anxiety, poor sleep habits, and medical conditions.


At what age does insomnia typically begin?

Insomnia can occur at any age, but it is more prevalent in adulthood


What is considered as insufficient sleep duration to be classified as insomnia?

Insomnia is typically classified as insufficient sleep duration of less than six hours per night.


Are there any alternative therapies that can be beneficial for insomnia?

Alternative therapies like cognitive behavioral therapy for insomnia (CBT-I) and relaxation techniques can be beneficial for insomnia.


What is cognitive behavioral therapy for insomnia (CBT I) and how effective is it?

Cognitive behavioral therapy for insomnia (CBT-I) is a therapeutic approach that addresses sleep-related thoughts and behaviors, and it is highly effective in treating insomnia.

When should someone seek professional help for their insomnia?

One should seek professional help for insomnia if it significantly impacts daily functioning and persists for an extended period.