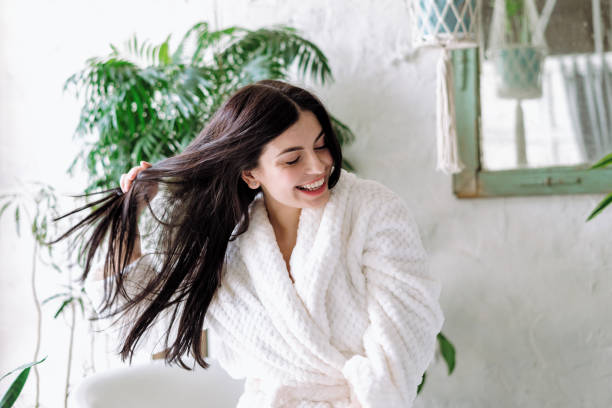 Benefits of Hair Gummies For Healthy and Natural Hair Growth
Having luscious and vibrant hair, that's what we all desire, isn't it? Yet despite those home remedies you tried, nothing fruitful could be experienced. That's where the revolutionary hair gummies should be added to the realm of hair care, offering a delightful and effective way to nurture and enhance your hair naturally. Packed with a potent blend of vitamins, minerals, and essential nutrients, these chewable treats have quickly gained popularity for their hair gummies benefits and ability to promote vibrant hair from within. You can say hello to ultimate hair nourishment and bid adieu to dull hair that's been irking you.
What are Hair Gummies?
The ultimate secret weapon is what your hair's been longing for achieving luscious locks. They are a potent blend of essential vitamins and nutrients like biotin, folic acid, and vitamins A, C, and E amongst others, which provide the nourishment your hair craves. Incorporating hair gummies into your daily routine is a hassle-free way to ensure your hair gets the care it deserves. Say goodbye to dull hair and hello to vibrant voluminous locks that exude confidence.

These chewable wonders not only promote faster hair growth, but also strengthen hair follicles, reduce breakage, and enhance overall hair health. These gummies can be supplemented with a diet packed in biotin-rich foods to experience double the effectiveness and improved hair health.


How Biotin Hair Gummies Promote Hair Growth?
Biotin is the elixir that can quench the thirst of your unhappy and dull hair. Biotin hair gummies, a B-vitamin plays a crucial role in promoting hair growth. These gummies provide a convenient and delicious way to supplement your daily biotin intake. Biotin aids in the production of keratin, the protein that forms the foundation of our hair, making it stronger and less prone to breakage. By boosting keratin production, these gummies help hair grow longer and faster while also improving its overall texture and shine.
Benefits of Hair Gummies
Incorporating biotin hair gummies into your daily routine is an irresistible choice, offering wide-ranging benefits that can transform your hair and overall confidence and well-being. These gummies are specially formulated to nourish your hair from the inside out. Whether you're seeking faster growth, reduced breakage, or a boost in overall hair health, these gummies offer the best solution that's as easy to incorporate into your daily routine as it is effective.
Strengthens Your Hair Follicles
Hair gummies are a game-changer when it comes to strengthening the hair follicles with the unconditional support of the ingredients like biotin and keratin that the gummies are packed with. By nourishing your follicles, these gummies promote thicker, more resilient hair growth, reducing the likelihood of breakage and hair loss. Say hello to a head full of stronger, healthier strands that can withstand the rigors of heat styling and environmental extremities. You can also include some foods for healthy hair like quinoa, spinach, berries, avocados, salmon, greek yogurt, nuts, and seeds for getting those strengthened hair follicles you've been dreaming of!
Enhances Hair Shine and Texture
One of the standout hair gummies benefits is their ability to restore that natural shine and luster to your hair. They contain essential nutrients like vitamin E and omega-3 fatty acids that nourish your hair from the inside out, leaving it looking glossy and radiant. These nutrients not only hydrate your locks from the inside out but also prevent dullness and frizz, leaving you with hair that not just glows but is irresistibly touchable.
Supports Scalp Health
Healthy hair begins with a healthy scalp, and biotin hair gummies understand this crucial connection. Many of these delectable supplements contain ingredients like collagen and antioxidants that promote optimal scalp health. They help keep your scalp moisturized and balanced, reducing the risk of dandruff and itching. A well-nourished scalp sets the stage for beautiful, radiant hair.
Convenient and Delicious Hair Gummies
The best part about incorporating hair gummies into your daily routine is that they're incredibly convenient and delicious. Gone are the days of choking down bitter pills or enduring messy hair masks. These chewable wonders are not only easy to remember but also a delightful treat for your taste buds. It's a guilt-free indulgence that makes hair care feel like a delightful daily ritual. With the convenience of hair gummies, maintaining your hair's health has never been more enjoyable. Additionally, these gummies can work wonderfully when combined with biotin-rich foods like sweet potatoes, green veggies, legumes, bananas, nuts, and seeds.

Also Read -
How Does Gummy Vitamins Work?
Key Insights on Vitamin Deficiency And Hair Loss


How to Choose the Right Hair Gummies?
Choosing the right hair gummies is essential to ensure you get the best results for your hair. Here are some key factors to consider when making your selection:

Consult a Doctor: Before adding a new supplement to your routine be it multivitamin gummies or gummies for hair you must consult a healthcare professional. The reason is that they can suggest you best gummies based on your underlying health conditions or are taking medications. They'll look into your specific hair needs and recommend a product tailored to your unique requirements, ensuring you get the best results.

Ingredients: Look for gummies that contain key hair-boosting ingredients like biotin, folic acid, vitamins A, C, and E, and essential minerals like amla, zinc and iron. Avoid products with artificial colours, flavours, or excessive sugar content. There are also several benefits of Amla for hair.

Additional Nutrients: A good hair supplement may contain other beneficial nutrients like collagen, keratin, or hyaluronic acid to support overall hair health and hydration.

Reviews and Reputation: Research the brand's reputation and read customer reviews to get an idea of the product's effectiveness and any potential side effects. Check for third-party testing or certifications to ensure that the product meets quality and safety standards. Trusted brands are more likely to deliver effective and safe hair gummies.

Dosage Instructions: Follow the recommended dosage instructions carefully to avoid overconsumption or underutilization. Consider the number of gummies to be consumed daily to meet your desired biotin intake, derive the hair gummies benefits, and ensure that the daily dosage aligns with your routine.


Conclusion
Elevating your hair game has never been simpler or more satisfying than with biotin hair gummies. These tiny gummies offer a daily dose of biotin and are renowned for promoting more robust, longer, and more resilient locks. By incorporating biotin-rich foods and hair gummies into your daily routine, you're essentially telling your hair, I've got your back! They are seen as an effortless way to harness the power of this crucial vitamin and achieve radiant hair. Moreover, it nourishes your hair from the inside out, reduces hair breakage, and supports overall hair health.

But the journey to fabulous hair doesn't stop there. To unlock the full potential of your hair, consider the marvelous trio of our three health-packed gummies. For quality sleep which is vital for hair repair and growth, making sleep gummies a nighttime essential is a must. Next in line, our Multivitamin gummies will provide a comprehensive blend of nutrients that further fortify your hair's foundation don't forget our powerful iron gummies, they are the ideal addition that will help you combat iron deficiency which can lead to your hair loss and thinning.
FAQs 
What is the recommended daily dosage of hair gummies?
The recommended daily dosage of hair gummies can vary depending on the specific product and its formulation. Generally, most hair gummy supplements suggest taking 1 to 2 gummies per day. Remember the key to healthier hair is consistency in taking the recommended dosage.
How many months should I take hair gummies?
The duration for taking hair gummies can vary depending on your individual hair goals and needs. Nevertheless, it is important to keep in mind that results can differ from person to person, so it's essential to be patient and consistent with your regimen.
Can I take biotin hair gummies daily?
Yes, you can take biotin hair gummies daily, and it is often recommended for optimal results. Biotin, known for its role in promoting hair health, is water-soluble, in layman's terms your body doesn't store excess amounts, and any unused biotin is excreted in urine. Therefore, daily supplementation helps ensure a consistent intake of biotin, which is essential for supporting hair growth and overall hair health.
Can hair gummies help reduce hair breakage and improve the overall condition of hair?
Absolutely! Apart from including foods for healthy hair, you can also include gummies packed with essential vitamins and nutrients that play a crucial role in strengthening your hair follicles and improving your overall hair health. By providing the necessary nourishment, these gummies help reduce hair breakage, making your strands less prone to damage and split ends.