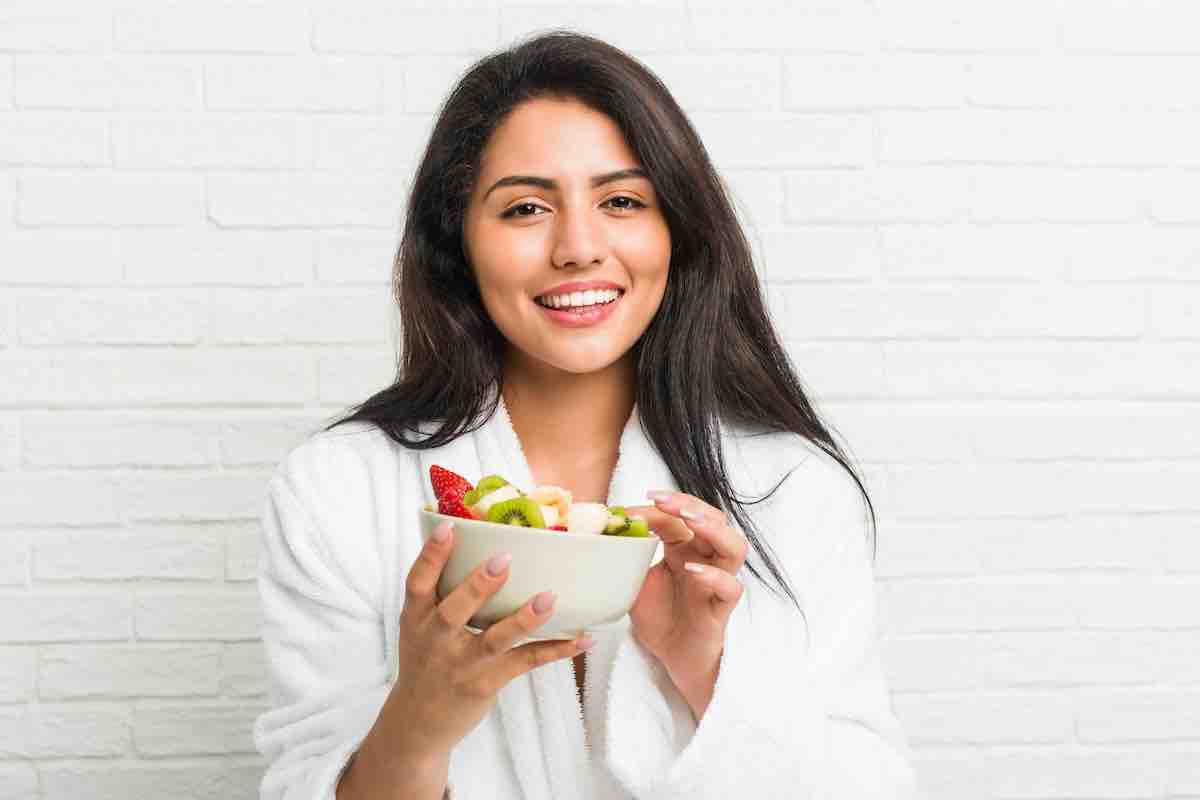 NOURISHMENT I 5 MINS
Essential Nutritions for Healthy Hair
It may not feel like it when you're wishing on a star for longer locks, but hair is one of the fastest growing tissues in our bodies. Growing at an alarming average rate of 6 inches per year, with hair fibre being produced daily on an adult's scalp. So how do we ensure that this tiny miracle builds into the long, lustrous healthy hair of fairytales? Diet, of course. The right nutrition can ensure that the quality of hair on your head isn't compromised and also prevent loss. Remember what you eat becomes you. The right foods can prevent protein and micronutrient deficiencies which result in hair loss. In fact, specific nutritional deficiencies can affect your hair in various ways – be it hair loss, dull hair, rough texture and anything else you can think of. So which nutrients and vitamins should you be getting enough of to ensure holistically healthy hair?
What to eat so that you can have the hair you've always dreamed of:
Protein & Nutrition for Healthy Hair Growth
Protein is vital for cell growth. And if you've ever shopped the hair care isle you know the term keratin, the protein hair gets its structure from. A protein deficiency for keratin causes hair to grow slowly and weakens the strand already there.  Luckily some of our daily staples like dals, pulses, curd, milk and paneer are all protein rich foods. Certain vegetables like broccoli, and grains like quinoa and amaranth are the perfect way to hit your daily protein goals.
Vitamin A
Vitamin A helps skin glands make an oily substance called sebum that moisturises the scalp and prevents hair breakage. It also protects hair follicles from damage caused by free radicals. Vitamin A is all about that moisture, and the best defense against dry hair. Kale is extremely rich in Vitamin A  and the fact that you don't need to eat too much for it to go a long way won't leave a bitter taste in your mouth, literally.
Vitamin C
If you've read our blog before you know all about Vitamin C. But we can't stress enough on just how great it is for collagen production. Healthy collagen helso maintain connective tissue found in hair follicles. Bonus points for Vitamin C helping with iron absorption. As if it wasn't already doing so much for hair health on its own.
Biotin
While our body makes this miracle worker, biotin deficiencies are extremely common. The wonder vitamin for hair is one of the most taken supplements globally for hair loss. Why? Because it works. Many foods like almonds and avocados are rich in biotin but also high in fats. So sometime supplements help you boost that internal production and maintain a healthy head of hair. Biotin works for everything from graying, to hair loss and even texture.
Vitamin E
Honestly, the whole alphabet of Vitamins is great for you, but some are just better for hair than others. Vitamin E helps to maintain the integrity of cell membranes of hair follicles and acts as an antioxidant. Vitamin E also works in sunergy with selenium, which is known to promote hair growth. Nuts are nutritional powerhouses, providing selenium and vitamin E. So maybe skip the brazillian blow dry and reach for the brazil nuts we promise you the effects are far, far better.
Essential fatty acids
Finally! A fat that your body can't make and it's the one you want. Omega-3 fatty acids are important fats that our body cannot make, because you are not a fish. But while fish can make their own Omega 3 they also get the building blocks from seaweed and kelp. Going straight to the source for Omega 3s is the best way to balance your diet and get in a good amount of fibre.
Iron
We know that Vitamin C helps with iron absorption but where do we find that iron to absorb? This very coveted mineral is found in leafy greens, seeds and fruits like raisins and apricots. So load up because when iron levels fall nutrient rich blood supply to the follicle is disrupted, affecting the hair growth cycle that could leads to hair loss.
Zinc
Ever get a fever, or worse, Covid and realise that you've lost a tone of hair. Sadly, it's not in you're head. Falling sick sometimes causes hair loss, Zinc, an overall immunity booster, helps fight this. By bossting your body's immunity it promoted growth of hair tissue. Think of it as immunity for your scalp.
Folate
It sounds so close to follicle how could it not be great? Folate helps to create red blood cells which carry oxygen to the scalp stimulating hair growth. This paired with iron is the dream team for people experiencing hair loss, especially women in their childbearing years.
Conclusion
Nourishing our hair from the inside out is a fundamental aspect of achieving and maintaining healthy, beautiful locks. By incorporating foods such as eggs, fatty fish, spinach, sweet potatoes, and nuts, we can supply our bodies with the vitamins, minerals, and proteins necessary for optimal hair health.

To complement a wholesome diet, the inclusion of targeted gummy supplements can further support our hair, skin, and overall well-being. Hair gummies fortified with biotin, zinc, and B-vitamins can stimulate hair growth and strength, while sleep gummies ensure proper rest for optimal hair and scalp rejuvenation. Skin gummies can foster a nourishing environment for hair follicles, and iron gummies help address deficiencies that might lead to hair loss. Embracing multivitamin gummies ensures a comprehensive approach to overall health, covering any nutritional gaps that our regular diet may leave. With this holistic approach and a commitment to consistent care, we can unlock the full potential of our hair and revel in its radiance.