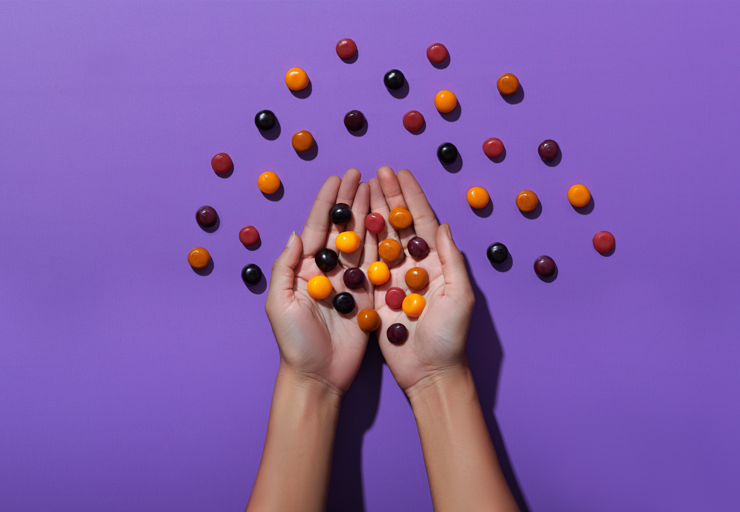 Do Gummy Vitamins Work? Know The Benefits Of Gummy Vitamins.
Vitamins are essential micronutrients that our bodies require to function properly. They help our bodies maintain healthy skin, bones, and muscles, support our immune system and keep our energy levels up. In recent years, gummy vitamins or 'gummies' - as they are commonly known, have become increasingly popular among people looking for the right supplement to add in their diet with vitamins and minerals.
Curious about how traditional vitamins stack up against gummies? Are gummies equally effective as traditional vitamins? 
Here's the differences between Traditional Vitamins & Gummy Vitamin:
1. Traditional Vitamins
Traditional vitamins come in the form of pills, capsules, or tablets. They're usually taken with water and can be found in a variety of sizes and shapes. Traditional vitamins are often sold in bottles or blister packs and are available in a variety of formulations, including multivitamins, vitamin D, vitamin C, and vitamin B-complex.
As compared to gummies, traditional vitamins are more cost-effective and have a better shelf life. 
2. Gummy Vitamins
Gummies are chewable supplements that come in a variety of shapes, colors, and flavors. They are designed to be more appealing than traditional vitamins, especially for children and adults who dislike swallowing pills. Gummies are often marketed as a fun and tasty way to get your daily dose of vitamins and minerals.
Benefits of consuming gummy vitamins
While traditional vitamins have their own set of benefits, there are also some advantages to taking gummies:
Taste:

Gummies are designed to be more palatable and enjoyable to consume than traditional vitamins, which can be difficult for some people to swallow or have an unpleasant taste.

Variety:

Gummies come in a variety of flavors and shapes, which can make taking vitamins more fun and enjoyable.

Digestibility:

Gummies are chewable, which means that they may be more easily digested than traditional vitamins, which can be hard for some people to break down and absorb.

Allergen-free:

Some gummies are made without common allergens such as gluten, dairy, or soy, making them a safer option for people with food sensitivities.

Convenience

: Gummies are easy to take and can be consumed on the go without the need for water or any other preparation.
Are gummies effective as traditional vitamins?
Gummy vitamins can be just as effective as traditional vitamins, but it depends on the specific vitamins and the quality of the product.
Gummy vitamins are a popular alternative to traditional pills, especially for children or adults who have difficulty swallowing pills. To ensure that you are getting the most benefit from your gummies, it's important to choose a high-quality gummy vitamin that contains the recommended amount of each nutrient.
With so many options available in the market, it may get difficult to decide the right gummy vitamins for your health.
When selecting gummy vitamins, it's important to consider a few key factors to ensure that you choose the best option for your needs. Specifically, prioritize high-quality ingredients, nutrient content that aligns with RDA guidelines, and gummies that are customized to meet your individual requirements. For instance, if you follow a vegan diet, seek out gummy vitamins that do not contain any animal products.
Gummy Vitamins vs. Traditional Vitamins: Which Is Better

?

The answer depends on your personal preferences and needs. If you're looking for an affordable and convenient way to supplement your diet with vitamins and minerals, traditional vitamins are a great option. If you have trouble swallowing pills or want a more enjoyable way to get your daily dose of vitamins, gummies may be a better choice.

The Nyumi multivitamin gummies are packed with the benefits of essential nutrients to aid with your hair, sleep, and skin woes to nourish your body from the inside out.

They've been checked not just for their clinically proven nutritional benefits, but also for the quality of their source, bioavailability, and compatibility with other ingredients. The gummies also meet Indian Recommended Dietary Allowance (RDA) regulations to avoid overdoses of any nutrient. 

With a fusion of Indian ingredients such as curcumin (haldi), amla, and tulsi, and advanced Western nutrients like biotin, zinc, and iron, Nyumi provide comprehensive and holistic nutrition with Biotin Skin gummies, Radiant Skin Gummies & Beauty Sleep Gummies. They are also suitable for a variety of dietary restrictions, being vegan, gluten-free, and allergen-free to cater to individual health needs.

 
FAQs
Can gummy vitamins be used as a replacement for a balanced diet?
Gummy vitamins are not intended to replace a balanced diet, but they can supplement it to help ensure adequate nutrient intake.
Can gummy vitamins help boost the immune system?
Gummy vitamins can support overall health and contribute to a healthy immune system when combined with a balanced diet and lifestyle.
How many gummy vitamins should be taken daily to achieve the desired results?
The recommended daily dosage of gummy vitamins may vary depending on the specific product and individual needs, so it's best to follow the instructions provided on the packaging
How long does it take to see results from taking gummy vitamins?
The timeframe for seeing results from gummy vitamins can vary depending on individual factors, but consistent use over several weeks or months is typically recommended for optimal results.
Can gummy vitamins help support healthy hair, skin, and nails?
Yes, gummy vitamins can help support healthy hair, skin, and nails when incorporated as part of a balanced diet and overall wellness routine.
What are the benefits of taking gummy vitamins?
Gummy vitamins offer a convenient and enjoyable way to supplement your diet with essential nutrients, making it easier to support your overall health and well-being.