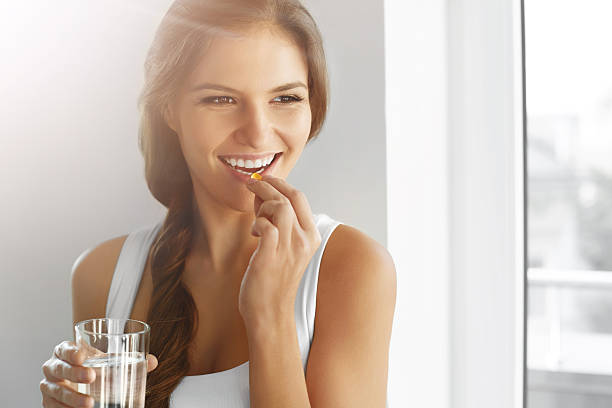 Why Choose Multivitamin Gummies?
Gummy vitamins are trending for several reasons. Firstly, their appealing taste and chewy texture make them more enjoyable to consume, especially for individuals who dislike swallowing traditional pills or capsules. Secondly, the convenience and portability of gummy vitamins cater to busy lifestyles. They're also seen as a more fun and approachable way to incorporate essential nutrients into one's daily routine. Additionally, the variety of flavors and formulations available in gummy vitamins makes it easier for people to find supplements that match their specific health needs and preferences.
Nutrient Gaps in Modern Diets
Modern diets often suffer from nutrient gaps due to several factors. Processed and fast foods, which are prevalent in many diets, are often lacking in essential vitamins, minerals, and fiber. Overreliance on convenience foods can result in inadequate intake of nutrients like vitamins A, C, and D, as well as important minerals like calcium, magnesium, and potassium. Additionally, the excessive consumption of refined sugars and unhealthy fats can displace nutritious whole foods in the diet. Dietary preferences, such as vegan or vegetarian diets, can also lead to gaps in nutrients like vitamin B12 and iron. To address these gaps, it's crucial to prioritize whole, nutrient-dense foods and consider supplementation when necessary like multivitamin gummies
Benefits of Multivitamin Gummies
Multivitamin gummies offer a range of benefits:


Convenient and Palatable: Gummies are easy to chew and have a pleasant taste, which can make them more appealing and easier to incorporate into daily routines. There are various multivitamin gummies for adults available.
Comprehensive Nutrient Intake: They typically contain a mix of essential vitamins and minerals, addressing potential nutrient deficiencies in one convenient form.
Improved Compliance: Gummies' appealing texture and flavor can enhance adherence to supplementation, ensuring consistent intake of vital nutrients.
Customized Formulations: Many brands offer specialized gummies designed for various age groups, genders, and specific health needs, allowing for tailored supplementation.
Better Absorption: Gummies may be easier to digest and absorb for some individuals compared to traditional pills or capsules.
Vegan and Allergen-Friendly Options: There are vegan, gluten-free, and allergen-friendly gummy formulations available, catering to diverse dietary preferences and restrictions.
Enhanced Wellbeing: Multivitamin gummies can help support overall health, immune function, and fill gaps in one's diet, particularly when a balanced diet is challenging to maintain.
Portable and Travel-Friendly: Their convenient packaging and no need for water make them an excellent choice for on-the-go or travel situations.
The Key Ingredient of Multivitamin Gummies
The specific ingredients in multivitamin gummies can vary depending on the brand and formulation, but they typically contain a combination of essential vitamins and minerals. Some of the key ingredients commonly found in multivitamin gummies include:
Vitamins: These can include vitamin A, vitamin C, vitamin D, vitamin E, and the various B-complex vitamins (B1, B2, B3, B5, B6, B7, B9, B12).
Minerals: Multivitamin gummies often contain essential minerals such as calcium, magnesium, zinc, selenium, and chromium.
Antioxidants: Some formulations include antioxidants like vitamin C and vitamin E, which help combat oxidative stress and support immune health.
Trace Elements: These may include trace minerals like iodine, copper, and manganese, which are essential for various physiological functions.
Biotin: Also known as vitamin B7, biotin is often included for its role in promoting healthy skin, hair, and nails.
Folate: A form of vitamin B9 that is crucial for cell division and is especially important for pregnant women.
Iron: Some multivitamin gummies contain iron, which is vital for healthy blood production, but not all formulations include it.
Omega-3 Fatty Acids: Some gummies may also include omega-3 fatty acids like DHA and EPA, which are beneficial for heart and brain health.
How to Choose the Right Multivitamin Gummies?
Multivitamin gummies provides essential nutrition for healthy hair, skin, nail. Here are some key considerations to help you make an informed choice:
Nutritional Goals: Identify your specific health goals and any nutrient deficiencies you may have. Look for a gummy that addresses those needs, whether it's for general wellness, immune support, bone health, or other specific goals.
Age and Gender: Some formulations are tailored for different age groups and genders, so choose one that aligns with your demographic.
Ingredient List: Examine the ingredient list carefully, checking for the vitamins, minerals, and nutrients included. Ensure it contains the essentials you require and excludes any ingredients you may be allergic to.
Form of Nutrients: Consider the bioavailability of the nutrients. Some forms may be better absorbed by the body than others.
Dosage: Pay attention to the dosage of each nutrient in the gummies to make sure it meets your daily requirements. Avoid products with excessively high doses, as this can lead to excessive intake of certain nutrients.
Allergen Information: Check for allergen-friendly options if you have dietary restrictions or sensitivities. Many brands offer vegan, gluten-free, and allergen-free gummy formulations.
Quality and Brand Reputation: Research the brand's reputation for quality and its manufacturing practices. Look for third-party testing and certifications.
How To Incorporate Multivitamin Gummies in Daily Routine?
Incorporating multivitamin gummies into your daily routine is simple and can be made a habit by following these steps:
Consistent Time: Choose a specific time of day to take your gummies, such as in the morning with breakfast or after dinner. Consistency helps establish a routine.
Visible Reminder: Place your gummy container in a visible and accessible location, like next to your toothbrush or coffee maker, to serve as a visual reminder.
Set Alarms or Reminders: Use your smartphone or another electronic device to set daily alarms or reminders to take your gummies.
Pair with Meals: Taking gummies with a meal can enhance their absorption and reduce the likelihood of digestive discomfort. Plus, it's easy to remember when you eat.
Create a Routine: Incorporate your gummies into an existing daily habit, like your morning coffee, so it becomes second nature.
Track Progress: Keep a simple journal to track your daily intake, ensuring you don't miss a day.
How Multivitamin Gummies Works?
Multivitamin gummies work by providing a convenient and enjoyable way to supplement your diet with essential vitamins and minerals. When you consume a multivitamin gummy, the following processes take place:

Ingestion: You chew and swallow the gummy, just like a piece of candy.

Digestion: Once in your stomach, the gummy's ingredients are exposed to stomach acids and enzymes, which start to break down the gummy.

Nutrient Release: The gummy's vitamins and minerals are released and absorbed in your digestive system, similar to how nutrients from food are absorbed.

Nutrient Transport: The absorbed vitamins and minerals enter your bloodstream and are transported to various tissues and organs where they are used for numerous biological functions.

Nutrient Utilization: These nutrients support various bodily processes, such as energy production, immune function, bone health, and overall well-being.

Multivitamin gummies are formulated to fill potential nutrient gaps in your diet, promoting optimal health and helping to meet your daily nutritional requirements.
Multivitamin gummies available for Hair, Skin, Nails, and Skin, Sleep
Multivitamin gummies are available in various formulations tailored to specific health and wellness goals. Here are some Benefits of Gummies For Hair, Skin, and Nails.
FAQs
Are there any differences between multivitamin gummies for men and women?
Yes, there are differences between multivitamin gummies for men and women. Men's formulations may have higher levels of selenium and zinc, less iron, and may include ingredients like lycopene for prostate health. Women's gummies often contain more iron, extra folate for reproductive health, and higher doses of calcium and vitamin D for bone health. These differences cater to gender-specific nutritional requirements and health concerns.
Do multivitamin gummies help boost the immune system?
Multivitamin gummies can support the immune system by providing essential vitamins and minerals that play a role in immune function, such as vitamin C, vitamin D, zinc, and selenium. While they can complement a healthy diet, they should not be relied upon as a sole means of immune support. Adding immunity boosting foods into diet balanced diet, regular exercise, and other healthy lifestyle practices are also crucial for a robust immune system.
How do I choose the right multivitamin gummies for my specific needs?
To choose the right multivitamin gummies for your specific needs, consider factors such as your age, gender, dietary restrictions, and health goals. Read product labels to ensure they contain the vitamins and minerals you require. Also, check Multivitamin Gummies vs. Tablets to make your decision
What are the potential benefits of taking multivitamin gummies?
Taking multivitamin gummies can offer several potential benefits, including filling nutrient gaps in your diet, supporting overall health, enhancing immune function, promoting hair, skin, and nail health, and providing convenience for individuals who struggle with swallowing pills. However, it's important to use them as a supplement to a balanced diet and not as a replacement for whole foods and to follow recommended dosages to avoid excessive nutrient intake.
Are there any herbs that can help with sleep for individuals with chronic sleep disorders?
Yes, several herbs are known for their potential to aid sleep in individuals with chronic sleep disorders. These include valerian root, passionflower, chamomile, and lavender. These herbs are often used in various forms, such as teas, supplements, or essential oils, and can help promote relaxation and improve sleep quality.


What age groups can benefit from taking multivitamin gummies?
Multivitamin gummies can benefit various age groups, including children, adolescents, adults, and seniors. Specific formulations are available to cater to the nutritional needs of each age group. Children may use gummies designed to support growth and development, while seniors may opt for formulations tailored to age-related concerns. However, it's crucial to choose a product that aligns with your age and individual nutritional requirements.