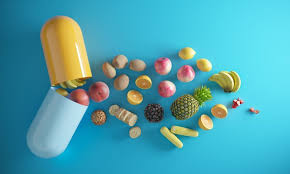 Benefits of Gummies For Hair, Skin, and Nails
Tired of those frizzy hair, dull skin, and poor nail strength? Well, worry no more because you can now get your delicious dose of health benefits from our wellness-packed gummies for hair skin and nails. It's a powerful mix of nutrients which improve the health of our hair, skin, and nails. These gummies are usually formulated with vitamins, minerals, and essential ingredients which contribute to promoting our lustrous hair, strengthened nails, and glowing skin.
Key Nutrients for Hair, Skin, and Nail Health
Always look for hair, skin, nails gummies that are enriched with the following ingredients:

Biotin (Vitamin B7): Biotin is a crucial ingredient that aids in enhanced health of our hair, skin, and nails. It also plays a significant role in the production of keratin which helps in making our hair shiny plus reduces any kind of hair frizziness. One can also depend upon foods for biotin to get this benefit.

Collagen: Collagen is a protein that provides structure and elasticity to the skin. It also contributes to the strength and health of hair and nails. Knowing the Benefits of Collagen to Improve Skin Health is also important.

Vitamin C and E: They are powerful antioxidants that support collagen synthesis, protect the skin from oxidative stress, prevent premature aging, and boost overall skin health.

Your hair needs selenium for hair growth since this mineral acts as an antioxidant and protects the hair follicles from oxidative stress caused by free radicals. This protection can prevent damage to hair cells and support healthy hair growth
Biotin
Benefits of Biotin for Hair, Skin, and Nails

Biotin hair gummies are commonly known for their hair-strengthening and skin-healing properties. A deficiency of this vital component in our body can be troublesome because it can lead to scaly skin, hair thinning, and brittle nails.

Recommended Dosage

The prescribed dosage of biotin for adults is typically between 30 to 100 micrograms (mcg) per day.
Vitamin E
Role in Nourishing Hair, Skin, and Nails

Vitamin E helps in nourishing and moisturizing our skin, scalp and hair follicles. It also promotes healthier hair growth and hydrated nails, making them less prone to breakage and splitting. One should also make sure to know the Benefits of Vitamin E For the Skin.

Antioxidant Properties

Being a potent antioxidant, Vitamin E helps in protecting our skin from damage caused by free radicals, which can lead to premature aging, unwanted wrinkles, and grave skin damage.
Collagen
Benefits for Skin Elasticity and Strength

When buying skin gummies ensure it contains collagen because it is the structural protein that supports our skin's structural integrity and contributes to a skin's elasticity.

Supporting Nail Health

Improved nail health due to collagen support can promote faster, healthier nail growth and reduce nail breakage or brittleness.
Other Supporting Nutrients
Vitamin C

It is an antioxidant that guards the skin against the harmful effects of pollution, UV rays, and smoke. It does so by curbing the free radicals that obstruct our hair growth, aid skin aging, and increase dark spots.

Zinc

Zinc helps maintain our healthy skin by supporting cell renewal and collagen production, contributing to a radiant complexion. It also assists in strengthening our nails and hair.

Omega-3 Fatty Acids

Omega-3 helps in moisture retention in our skin which leads to reduced skin dryness. They also nourish our scalp and hair follicles, contributing to their growth and reducing dryness.
How Gummies for Hair, Skin, and Nails Work
Gummies often contain powerful antioxidants that protect the skin from damage caused by free radicals and contribute to our overall skin health. The gummies also contain Biotin which plays a strong role in keratin production, forming the structural basis of our tissues. The combination of vital nutrients in hair skin nails gummies assists in supporting the overall health of all three.
Choosing the Right Gummies for Hair, Skin, and Nails
Walking through the gummy's ingredient label mindfully is important to ensure that the gummy you choose contains Vitamin A, B5, B6, B12, C, D, E, Biotin, and Zinc. Also, check for potential allergens or sensitivities to avoid any overt reactions/side effects.

Consider your specific concerns regarding your hair, skin, and nails. Some gummies may be formulated to target specific issues, such as hair growth or skin hydration.

In case you have any underlying health conditions or are taking medications, it's essential to consult your doctor to ensure that the gummies are suitable for you.
Incorporating Gummies for Hair, Skin, and Nails into Your Routine
Start by selecting a high-quality gummy product containing all the essential nutrients that your hair, skin, and nails desire from a renowned brand. Also, make sure to follow the instructions mentioned regarding the dosage of gummies to achieve optimal results.
Potential Benefits and Results
The key benefits of consuming biotin hair gummies include supporting our hair growth, reducing hair breakage, and improving overall hair health making them thicker and shinier. Gummies packed with essential ingredients promote skin elasticity, reduce the appearance of wrinkles, and improve skin hydration. They may strengthen brittle nails, reduce nail breakage, and promote overall nail health as well as increased nail growth.
Possible Side Effects and Precautions
Some individuals might be allergic to certain ingredients in the gummies which can cause them rashes, itching, or difficulty breathing. Others may experience mild gastrointestinal discomfort, bloating, or upset stomach, especially if the gummies are taken on an empty stomach. Side effects are likely to happen when gummies interact with the existing medications you consume.
Conclusion
Always remember that while gummies can be a convenient way to supplement your diet, they should be followed by a nutritious meal. Also, be sure to prioritize a healthy lifestyle and quality sleep to experience the best results in enhancing the health of your hair, skin, and nails. Including Multivitamin gummies and sleep gummies in your daily regime would also be a great lifestyle change for nourishing your skin, hair, and nails.
FAQs
What are the key ingredients found in these gummies?
Look for multivitamin gummies that are a healthy mix of Biotin (Vitamin B7), Collagen, Vitamin A, Vitamin C, Vitamin D, Vitamin E, Zinc, Omega-3 Fatty Acids, Folic Acid, and Selenium.
Can men take gummies for hair, skin, and nails?
Yes, gummies for hair skin, and nails are not gender-specific and can be included in daily routine for individuals looking to improve the health and appearance of their hair, skin, and nails.
Can gummies for hair, skin, and nails replace a skincare routine?
No, a skincare routine focuses on external care and takes care of aspects like cleansing, moisturizing, exfoliating, and sun protection. Thus, it can never be replaced by skin gummies.
Are there any side effects of these gummies?
Some of the side effects include gastrointestinal discomfort, interactions with medications, allergic reactions, overconsumption of nutrients, and iron overdose. One can also avoid this by replacing it with iron gummies.
What are the potential benefits of taking gummies for hair, skin, and nails?
Gummies assist in the enrichment, growth, and enhanced health of the hair, skin, and nails. All the major benefits of gummies have already been discussed at length in the blog post.