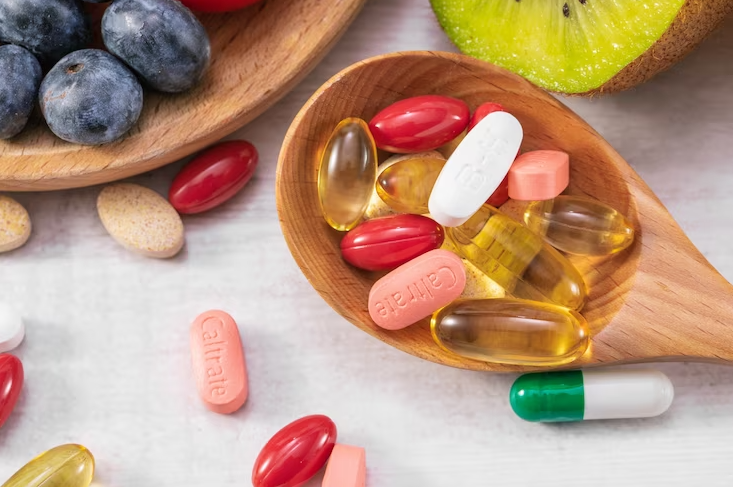 Multivitamin Gummies vs. Tablets: Which Is Right for You?
Multivitamin gummies and tablets are two popular options for people seeking to supplement their nutritional intake, but choosing between the two depends on several factors such as personal preference, nutritional needs, dietary restrictions, medical conditions, and lastly cost.
Benefits and Drawbacks of multivitamin gummies
Multivitamin Gummies Benefits 
Multivitamin gummies have several advantages that make them a popular choice for people seeking to supplement their nutrient intake. Firstly, their chewable form and enjoyable taste make them easier to consume, especially for those who have difficulty swallowing pills. Secondly, the appealing flavours of gummies can make taking daily vitamins a more pleasant experience, increasing compliance and consistency. Thirdly, the convenience of gummies makes them easy to carry and take on the go without the need for water. This makes them ideal for individuals with busy lifestyles or frequent travellers. Additionally, the chewable nature of gummies allows for better absorption and faster release of nutrients in the body compared to traditional tablets. Lastly, gummies can be a suitable option for individuals with specific dietary restrictions, as they are often available in vegetarian, gluten-free, and allergen-free formulations. 
Multivitamin Gummies Drawbacks 
While multivitamin gummies have their advantages, it's important to consider their disadvantages as well. One significant drawback is their sugar content compared to other forms of multivitamins, which may not be suitable for individuals with diabetes, those watching their sugar intake, or those aiming to minimize their overall sugar consumption. Gummies also tend to have a lower nutrient density compared to multivitamin tablets, as the manufacturing process and formulation may limit the amount of vitamins and minerals that can be included. Furthermore, the chewable nature of gummies may contribute to dental concerns, as they can stick to teeth and increase the risk of tooth decay. 
Factors to consider when choosing between gummies and tablets
Personal preferences
The choice between multivitamin gummies and tablets is heavily influenced by personal preferences, including factors such as taste, texture, ease of consumption, and dietary restrictions. Some individuals may prefer gummies due to their chewable form and enjoyable flavors, which can make the experience more pleasant. On the other hand, some people may prefer tablets because they are tasteless and can be quickly swallowed with water. Texture can also be a factor, as gummies provide a softer, chewy consistency, while tablets offer a solid and compact form. Additionally, personal preferences regarding dietary restrictions or preferences, such as sugar intake or veganism, may influence the choice between gummies and tablets. It's important to consider individual preferences and comfort when selecting the form that aligns essential one's needs and overall satisfaction.
Nutritional needs
The decision between multivitamin gummies and tablets should be based on individual nutritional requirements, such as specific nutrient deficiencies, age, gender, dietary restrictions, and health conditions. Just as every person is unique, their nutritional needs for hair growth, skin health, and overall well-being are also distinct and require personalized attention. These factors play a crucial role in determining the most suitable form of multivitamin supplementation. 
 Both forms can provide essential vitamins and minerals, but it's essential to check the specific nutrient content of each product. Individuals with specific nutrient deficiencies or higher nutrient requirements may benefit from the higher nutrient density often found in tablets. On the other hand, gummies can be a suitable option for individuals with milder nutrient needs or those looking for a general multivitamin supplement. Consulting with a healthcare professional or registered dietitian can help assess specific nutritional needs and guide the choice between gummies and tablets to ensure adequate nutrient intake. It's important to remember that the nutrient content can vary between brands and formulations, so carefully reading labels and understanding individual nutritional requirements is essential.
Dietary restrictions
Considering dietary restriction is important especially when choosing between multivitamin gummies and tablets. Individuals with dietary restrictions, such as vegetarians or vegans, should carefully check the ingredient list to ensure that the product aligns with their dietary preferences. Some gummies may contain animal-derived ingredients or gelatin coatings, making them unsuitable for those following a plant-based lifestyle. Nyumi multi-vitamin gummies are vegan, allergen, and gluten free. Additionally, individuals with specific allergies or sensitivities should review the labels for any potential allergens. It's also important to consider sugar intake when choosing between gummies and tablets, as gummies often contain added sugars for taste, which may not be suitable for individuals who need to limit their sugar consumption, such as those with diabetes or those aiming for a low-sugar diet. Understanding personal dietary restrictions and carefully reading labels can help in selecting the most suitable option.
Medical conditions
Individuals with specific medical conditions, such as diabetes or gastrointestinal disorders, should consult with their healthcare professional before selecting a form of a multivitamin supplement. For example, gummies with added sugars may not be suitable for individuals with diabetes who need to manage their blood sugar levels. Similarly, individuals with gastrointestinal disorders may need to consider the digestibility and tolerability of the chosen form, as gummies may contain certain ingredients or additives that could exacerbate symptoms. A healthcare professional can provide personalized advice based on an individual's medical condition, ensuring the chosen supplement form is safe and appropriate. It's important to prioritize health needs and consult with a healthcare professional to make an informed decision.
Cost
Generally, gummies tend to be slightly more expensive than tablets due to factors like additional flavors and ingredients used in their production. However, prices can vary among different brands and formulations, so it's important to compare prices and consider the overall value for money. Additionally, the cost per serving should be taken into account, considering the recommended dosage and the number of servings provided in each package. It's also worth considering any potential discounts or bulk purchasing options that may be available. Ultimately, balancing the cost with other important factors, such as nutritional needs and personal preferences, can help in making an informed decision.
Conclusion
In conclusion, choosing between multivitamin gummies and tablets requires careful consideration of several factors. Personal preferences, such as taste, texture, and ease of consumption, play a significant role in determining the right option. Those who prefer a chewable and flavourful experience may find gummies more appealing, while individuals who prioritise convenience and quick ingestion may opt for tablets. 
Nutritional needs should also be taken into account, ensuring that the chosen form provides the necessary vitamins and minerals in the appropriate quantities. It's crucial to read labels and consult healthcare professionals or registered dietitians to assess individual dietary restrictions, such as sugar intake or vegetarian/vegan preferences, as these may affect the suitability of gummies or tablets. Moreover, individuals with specific medical conditions or allergies should consider their unique requirements and seek professional guidance when selecting a form. Lastly, cost can be a determining factor, and comparing prices, cost per serving, and overall value for money is essential. Ultimately, the decision should be based on a balance of personal preferences, nutritional needs, dietary restrictions, medical considerations, and budget, to ensure the chosen multivitamin form aligns with individual goals and promotes overall well-being.
Nyumi multi-vitamin gummies are thoughtfully formulated to cater specifically to the nutritional requirements of women. These gummies are designed to provide essential vitamins and minerals that support overall well-being, with a particular focus on hair and skin health. Nyumi Biotin Hair gummies are formulated using an enriching blend of Western and Indian ingredients to give you stronger, thicker, and shinier hair. Nyumi Radiant Skin gummies are enriched with Hyaluronic Acid, C3 Complex, and Vitamin C to give you a natural glow from within. Whether you're looking to strengthen your hair, improve your skin's radiance, or support overall vitality, The Nyumi sleep gummies are a fantastic option for women looking for specific nutritional assistance while obtaining enough sleep.
FAQs
Which is more convenient to consume, gummies or tablets?
Ans. It depends on personal preference. Gummies are often preferred for their taste and chewable form, while tablets offer convenience and ease of swallowing. Choose the form that suits your preference and dietary needs.
What vitamins and minerals are commonly found in vitamin gummies?
Ans. Commonly found vitamins and minerals in vitamin gummies include vitamin C, vitamin D, vitamin B12, vitamin A, vitamin E, folic acid, biotin, zinc, and iron. 
How do vitamin gummies compare to traditional vitamin pills or capsules?
Ans. Vitamin gummies and traditional vitamin pills contain similar nutrients, but gummies are typically more enjoyable to consume due to their chewable and flavoured nature. 
Is it safe to take Vitamin gummies for skin and sleep together?
Ans. Yes. It is generally safe to take Vitamin gummies for both skin and sleep at the same time with the help of healthcare professionals. Nyumi offers Rest & Glow gummies for skincare & better sleep.