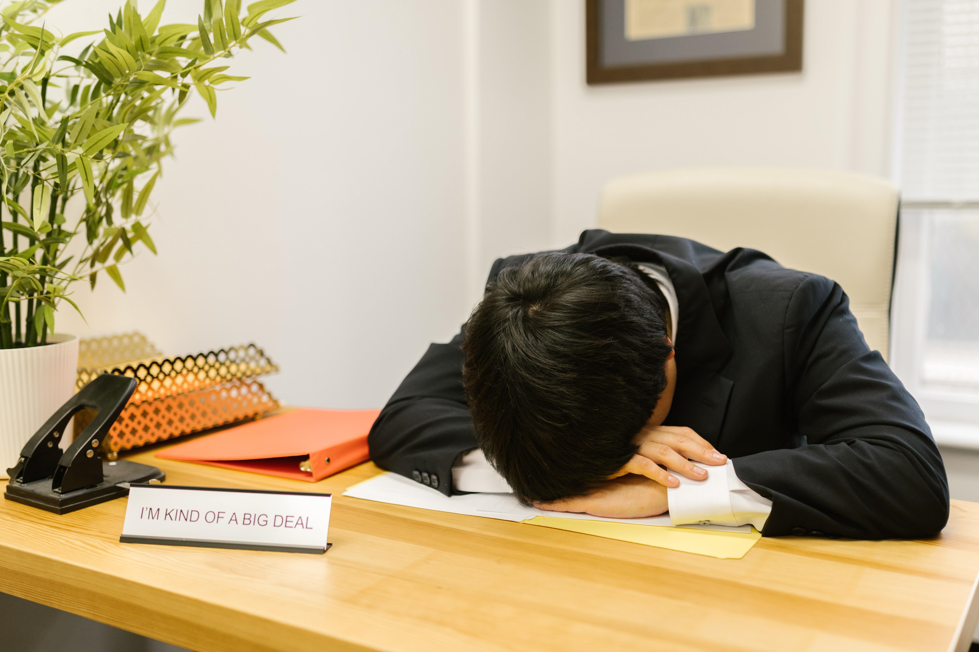 Inemuri: The Japanese Culture of Napping at Work
"I just want to crawl into bed and sleep!" - a feeling that's familiar to many of us during a long workday. But, in Japan, employees are given the opportunity to do just that! 
The concept of Inemuri, or the Japanese art of sleeping at work, might come as a surprise, but it's a widely accepted practice in the country. 
Let us take you through the practice of Inemuri - a unique aspect of Japanese culture. 
What is Inemuri?
Inemuri, the art of napping at work in Japan, is a cultural phenomenon that has become an integral part of the Japanese work culture. 
Does that mean that the Japanese employees are lazy and demotivated? Not at all!
On the contrary, it's a sign of hard work and dedication, as it's believed that the person who can nap anytime, anywhere is truly devoted to their job. It's usually done in public places like the office or public transportation and is not seen as rude or impolite.
Dr. Brigitte Steger, a senior lecturer on Modern Japanese Society at the University of Cambridge, first encountered this practice in the late 1980s, during the time of a massive economic boom in Japan, which greatly impacted the work culture. 
The common Japanese "salaryman" or white-collar worker would strive to be the first to arrive and the last to leave in order to leave a good impression on their superiors. This mindset led to less time spent sleeping and more time at work or socializing with coworkers, often over drinks and dinners. 
So what makes inemuri different from your average nap? 
According to Dr. Steger, inemuri takes the form of subordinate involvement, where it's accepted that one sleeps in the workplace as long as it's not disruptive, and the ability to wake up on short notice. 
In English, it translates to "I am present while sleeping". One who sleeps at work yet performs his tasks as soon as he wakes up is seen as a diligent and efficient worker.
Why is Inumeri an accepted practice in Japan?
Findings reveal that Japan is one of the most sleep-deprived nations in the world. Japanese manage to sleep only 6 hours and 35 minutes every night. 
So, if a person is found taking a quick nap mid-work, it's viewed as a result of working really hard the previous night. 
Are there any rules for Inumeri?
Already planning to shift to Japan for work? Sorry to burst your bubble but there are certain rules to this practice too. 
In Japan, where etiquettes are held in high regard, Inemuri is not just for everyone. 
There's a code of conduct for public napping too. For example, if you are a newbie in the company, you can't practice Inemuri. But, if you rank high on the social ladder, you are allowed to doze off freely. 
Inemuri is not just about sleeping, it's about being present even when you are in deep slumber. So don't expect to just drift away into dreamland. You must be able to return to reality as soon as the situation demands.
Conclusion
In conclusion, the concept of inemuri, or napping at work, in Japanese culture provides valuable insights into the importance of rest and rejuvenation for productivity and overall well-being. This practice is not seen as a sign of laziness but rather as a reflection of a strong work ethic that acknowledges the necessity of taking short breaks to maintain focus and efficiency. By embracing such a cultural approach, other societies can potentially benefit from improved workplace productivity and reduced stress levels. However, it is essential to note that incorporating inemuri into different work cultures may require careful consideration and adaptation to ensure it aligns with the specific needs and expectations of each workforce.

For individuals seeking to enhance their sleep and overall health, the market's availability of hair gummies, sleep gummies, skin gummies, iron gummies, and multivitamin gummies offers enticing options. These products often contain essential nutrients and vitamins that can complement a balanced diet and contribute to improved hair, skin, and sleep quality. However, it is crucial to exercise caution and consult with healthcare professionals before incorporating these supplements into one's routine, as individual needs may vary. In conclusion, while inemuri underscores the significance of rest in a demanding work environment, the diverse range of gummy supplements can serve as valuable tools to support overall health and well-being when used responsibly and in conjunction with a healthy lifestyle.