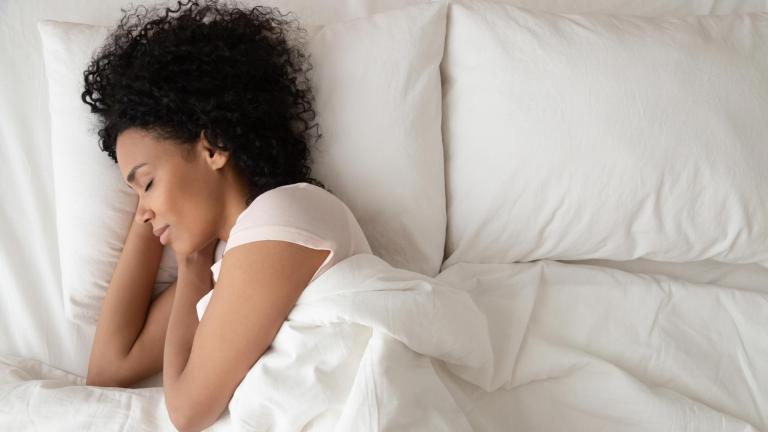 Sleep and Weight Loss: How Quality Sleep Affects Your Daily Routine
Are you facing problems shedding those extra kilos? Or are you still looking for a perfect weight management plan that can help you attain your fitness goals? Well, you can stop getting worked up! Help us help you with our guide on weight loss management. Take it from us – sometimes the best way is just to get more sleep because there is an unsaid correlation between sleep and weight loss.
We are often more concerned about consuming a healthy diet and exercising but tend to overlook taking a quality good night's sleep. This is where we are going all wrong because taking sufficient and sound sleep helps in hormone regulation which controls both our appetite plus metabolism. A good sleep assists us in making healthier food choices and prevents us from indulging in sinful midnight snacking.

This blog post is an in-depth explainer on how catching some extra sleep will help you cut down on that extra weight. We will also discuss how certain multivitamin gummies, and melatonin sleep gummies, can contribute to our improved sleep and overall well-being.
Effect of Sleep Deprivation on Weight
Prioritizing good sleep hygiene can help support healthy weight management and overall well-being because of the sleep and weight loss relationship. Sleep deprivation can have several effects on our weight due to its impact on various physiological and behavioural factors. Here's an in-depth insight into how lack of sleep can affect weight:
Hormonal Imbalance: Sleep deprivation disrupts the hormonal balance namely Ghrelin which stimulates our appetite and increases our feeling of hunger. At the same time, leptin, the hormone that signals fullness and reduces appetite, decreases. Due to this hormonal imbalance, we end up overeating and there's also an increased consumption of calorie-dense foods.
Increased Cravings for Unhealthy Foods: Whenever an individual is undergoing sleeplessness then they are prone to have stronger cravings for high-calorie foods. Moreover, they tend to consume sugary and fatty foods, especially during the late-night time leading to excessive calorie intake, contributing to weight gain over time.
Reduced physical activity: Sleep deprivation can lead to decreased physical activity and overall energy expenditure. Fatigue and reduced motivation to exercise can result in a more sedentary lifestyle, which contributes to weight gain.
Metabolic Slowdown: Sleep is important for weight loss otherwise we may experience slower metabolism, making it more challenging to burn calories efficiently. This can make it more challenging to maintain a certain weight or lose weight persistently.
Stress and Emotional Eating: Sleep deprivation can alleviate stress levels and affect mood. In response to stress, some individuals may engage in emotional eating, consuming comfort foods that are often high in calories and unhealthy.
Insulin Resistance: Chronic sleep deprivation is associated with insulin resistance, a condition that impairs the body's ability to regulate blood sugar levels. Insulin resistance can lead to higher blood sugar levels and an increased risk of weight gain.
Hormonal Factors in Sleep and Weight Loss Relationship
Hormonal factors have an essential role to play in weight management and sleep happens to be a crucial regulator of various hormonal processes. Therefore, a disruption in these hormones can influence appetite, metabolism, and overall weight loss. Discussing a few hormonal factors involved in the sleep and weight loss relationship:


Ghrelin: Ghrelin is also called the hunger hormone because it stimulates our eating patterns. Sleep deprivation has also been shown to increase ghrelin levels, leading to increased feelings of hunger and the likelihood of overeating or making unhealthy food choices Due to this we experience an overall surge in our weight.
Leptin: Sleep and weight loss go hand-in-hand because inadequate sleep can result in reduced leptin levels. Leptin is a "satiety hormone" which regulates our appetite and energy balance by indicating a feeling of fullness. However, decreased leptin levels, reduce the body's ability to sense when it's full after eating, resulting in overeating and weight gain.
Cortisol: Cortisol is a stress hormone that plays a strong role in metabolism, energy regulation, and the body's response to stress. Chronic sleep deprivation can lead to elevated cortisol levels, which may contribute to abdominal fat deposition and weight gain, particularly around the midsection.
Adiponectin: It is a hormone produced by fat cells that helps in regulating glucose metabolism and insulin sensitivity. Adequate sleep is associated with higher levels of this hormone facilitating healthier metabolism and weight management.
Melatonin: Melatonin is produced and released by a small gland located in the brain, in response to darkness. Melatonin secretion follows a distinct pattern and reaches its peak during the night. This increase in melatonin levels sends a signal to the body that it is time to wind down and prepare for sleep. Whereas, lack of sleep can impact metabolism and potentially contribute to weight gain. Thus, it is important to understand that sleep is important for weight loss. Incorporating melatonin rich foods, such as cherries and kiwis, into your evening snacks can promote better sleep quality and regulate your sleep-wake cycle.


Growth Hormone: Growth hormone is released during deep sleep and plays a role in cell regeneration, tissue repair, and fat metabolism. Sleep deprivation can lead to reduced growth hormone secretion, which may affect the body's ability to efficiently burn fat.
Sleep duration and sleep quality
Sleep duration and sleep quality are the two key aspects of sleep that have influenced our overall health and well-being. Both these factors are interconnected and contribute strongly to our various physiological and cognitive processes. Let us try and understand this dynamic:

Sleep Duration: Sleep duration refers to the amount of time spent asleep during a specific period which is usually accounted for in hours. Additionally, the ideal sleep time varies basis the age category, for instance, preschool children are suggested to sleep for 10-13 hours a night, teenagers are recommended to sleep for 8-10 hours per night, adults are suggested 7-8 hours of sound sleep and infants are recommended to relish sleeping like a baby for 12-16 hours per night.

As adults, more so as working adults, we must get quality 7-8 hours of sleep for our body to revitalize, repair, and prepare for the next day's hectic schedule. It also aids in improving our immune function, and hormone regulation, stimulating our cognitive function, reducing stress-related issues, and supporting our healthy metabolism. On the contrary, chronic sleep deprivation can result in obesity, diabetes, cardiovascular diseases, impaired cognitive function, or struggle to lose weight.

Sleep Quality: Sleep quality refers to the subjective sleep experience, including how restful, complete, and rejuvenating it is. It involves factors like maintaining undisturbed sleep throughout the night. Next in line, high-quality sleep involves achieving the right balance of all four sleep stages namely stages 1, 2, and 3 of the Non-Rapid Eye Movement (NREM) Cycle or Deep Sleep/ Rapid Eye Movement (REM) Cycle. Lastly, if you wake up feeling groggy, low on energy, and unfresh, then it's a sign your sleep quality is being compromised.

Certain factors that can severely impact our sleep quality include sleep disorders like sleep apnea or insomnia, and the kind of lifestyle you follow, which can include high screen time before bed or coffee intake. Lastly, high stress levels can hamper a good night's sleep.

Good sleep quality is crucial for ensuring that the time spent asleep is truly restorative. Striking a balance between sleep duration and sleep quality is important for our optimal health. It's possible to get an adequate amount of sleep but still experience poor sleep quality, and vice versa which is why practicing good sleep hygiene is imperative.

This includes reduced screen time before the clock strikes your sleep hour. Also, ensure to not consume heavy meals right before you sleep because it can hinder good sleep and cause digestion problems. You can also create a relaxing and comfortable environment in your room to promote improved sleep.

Avoid stimulating activities before bedtime, and managing stress. You can also include melatonin sleep gummies since they provide vital nutrients and have helped people sleep better, without any disturbance, and are hassle-free.
Strategies for Improving Sleep and Enhancing Weight Loss
A disciplined sleep schedule: Try and make it a point to match your sleep and wake-up time every day. This way your consistent sleep routine will become your habit which will regulate your body's internal clock and improve sleep quality.

Create a sleep-friendly environment: Make a conducive and sleep-friendly bedroom ambiance for inducing sound and enriched sleep. This can include keeping it optimally dark, quiet, and at a temperature that is comfortable for you. You can also use earplugs to obstruct any outside noise from disturbing you and your sleep.

Screen-time limitation before bed: Reducing exposure to all the digital devices emitting radiation at least an hour before bedtime is important since the blue light emitted by these screens interferes with melatonin production.

Prioritize Relaxation Before Sleep: Engage yourself in calming activities before bed, such as reading, meditation, deep breathing, or listening to some soothing music. This will not only relax your mind but also induce quality sleep.

Watch Your Diet and Hydration: Heavy meals, caffeine, and alcohol close to your bedtime are a big no because they can hamper your night's sleep. Intake of alcohol consumption before bedtime can also result in sleep apnea if done regularly. Also, staying hydrated throughout the day is essential but consider reducing fluid intake before bedtime to minimize nighttime awakenings.

Get Regular Physical Activity: Following a regular exercise regime helps in promoting a sound night's sleep. Some of the reasons include the secretion of endorphins which alleviate stress and induce happiness. Exercising also reduces daytime sleepiness which will help you sleep peacefully at night without any disruptions.
.
Consider including melatonin supplements: Melatonin may help regulate sleep patterns, especially for individuals with tight work schedules. It plays a crucial role in regulating the sleep-wake cycle, also known as the circadian rhythm, and establishing a regular sleep pattern. Therefore, you can consider including melatonin sleep gummies and even multivitamin gummies in your diet.

Practicing good sleep hygiene tips, such as maintaining a consistent sleep schedule and creating a calming bedtime routine, can significantly improve your sleep quality and overall well-being.
Conclusion
Incorporating these strategies will help you improve sleep and attain your health goals with better ease and improved results. However, if you ignore the signs of poor sleep quality, then you might even potentially develop a sleep disorder called sleep apnea which is a serious life concern. Thus, ensure following a healthy lifestyle for holistic living.

Apart from using our melatonin supplements which can help optimize sleep patterns and support weight loss, you can consider including our hair gummies and skin gummies, iron gummies for overall well-being. By adding these gummies to your daily routine you will not only experience improved hair and skin's overall quality but see them glow like never before.
FAQs
Does quality of sleep matter for weight loss?
Quality of sleep is a strong factor affecting our weight loss since it alters our appetite-regulating hormones and energy levels. Adequate, restful sleep supports healthy metabolism and muscle repair.
Can sleep affect cravings and food choices?
Sleep impacts cravings and food choices by disrupting appetite-regulating hormones and impairing decision-making abilities, potentially resulting in increased hunger pangs and adopting unhealthy food choices, eventually leading to weight gain.
Does a consistent sleep schedule contribute to weight loss?
You can achieve your weight loss goals by following a consistent sleep schedule which assists in regulating hormones, preventing their imbalance, managing your late-night hunger cravings, and optimizing your metabolism.
Does insufficient sleep slow down metabolism?
Insufficient sleep slows down metabolism and hinders weight management while prioritizing quality sleep supports a healthy metabolic rate and aids weight loss.
How does sleep impact overall energy levels during weight loss?
Sleep can impact our overall energy levels, especially during weight loss by replenishing and restoring the body. By keeping our energy levels high, we can devote time unperturbed to daily activities and exercise.
Does sleep affect the body's ability to build muscle?
Yes, sleep significantly affects the body's ability to build muscle by promoting muscle repair, growth, and recovery processes during periods of rest and deep sleep.