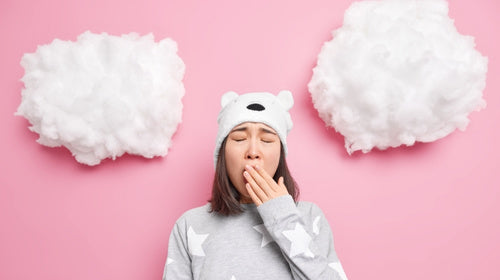 What Does Lack Of Sleep Do To Your Body?
How many times have you stayed up late, binge-watching your favourite show? Or managed to take endless trips to the refrigerator for a midnight snack due to lack of sleep? These instances are all too common in today's world and need to be addressed.
Research suggests that trouble sleeping at night or insomnia can have huge consequences on our overall well-being. Not only can it manifest into various physical issues but it can also affect your mental health. So, how do you know if you are suffering from lack of sleep or sleep loss? If you sleep for less than 7-8 hours per night, then this article is for you. Scroll down to find out what happens to your body when insomnia dominates your life.
What happens when we sleep?
Thanks to our circadian rhythms a.k.a biological clocks, our body knows when it's time to sleep. These clocks are found in various organs with the "master clock" located in the brain. This "master clock" ensures the rest are all in sync. The clocks are triggered by daylight and darkness with the former making us feel more alert while the latter causes drowsiness. Artificial light from phones and laptops, coffee, and alcohol can all affect our internal clock, which is one of the reasons why we feel awake at night.
Causes of lack of sleep
Sleep deprivation and insomnia are caused due to multiple factors. Lifestyle choices, environmental factors, and certain medications all play a role in your lack of sleep at night. In today's world, the most common reason for lack of sleep is work obligations. While everyone is busy hustling by taking up multiple jobs, working extended hours, etc. they are putting sleep on the back burner.
For others, certain medical conditions like sleep apnea — a breathing disorder — hinders the amount and quality of sleep. Anxiety can also lead to less sleep.
What happens when you don't sleep?
Many people don't realize that sleep is not something that should be taken for granted. In fact, it can have repercussions on the body. Just like your body needs food and water to function at its full capacity, in the same way, sleep is equally important to restore the chemical balance within.
While you sleep, your brain creates new thought connections. This helps in retaining new memory and even improves physical health. Keep on reading to find out how lack of sleep affects your physical and mental health.
1. Memory issues
It's no surprise that lack of sleep at night can affect your brain activity. While we sleep, a pathway forms between the nerve cells in our brain. This helps you retain all the new information you learned during the day.
When you don't get enough sleep or suffer from insomnia, it affects your long and short-term memory. This leaves your brain exhausted, making it challenging to go about everyday duties.
2. Change in mood
Have you felt emotional whenever you don't get enough sleep? This is a common side effect of lack of sleep. Those deprived of sleep tend to be short-tempered, frustrated, and easily irritable. Depression and anxiety are also common amongst insomniacs.
3. Low immunity
Falling sick constantly? This is another symptom of lack of sleep. Lack of sleep can take a toll on your immune system and lower your body's defense against pathogens and viruses.
4. Risk of type 2 diabetes
Insomnia can also affect insulin release in the body which is responsible for your blood sugar levels. Sleep disorder increases insulin resistance which in turn leads to higher blood sugar levels causing type 2 diabetes.
5. High blood pressure
Sleeping less than 5 hours every night increases your risk of developing high blood pressure. When you get the required amount of sleep, your blood pressure decreases. Lack of sleep may cause your blood pressure to stay high for long periods of time. This puts you at risk for cardiovascular disease.
6. Weight issues
Research suggests that sleep deprivation can also lead to weight management issues. Chronic sleep loss affects your metabolic rate, resulting in a higher BMI.
Lack of sleep at night affects two specific hormones known as ghrelin and leptin. Ghrelin or the "hunger hormone," tells you when you are hungry while Leptin tells your body when to stop eating. When you are sleep deprived the production of ghrelin is more and leptin is less.
What to do when you can't sleep?
If you're wondering how to cure insomnia quickly, we hate to break it to you but there's no quick-fix
solution
. Time and diligently following a strict schedule are needed to put your internal clocks back on track.
Create a healthy sleep schedule
An important good sleep remedy is to have a rigid wake-up and bedtime routine every day. This helps train your internal clock to fall asleep on time. Allotting a specific time and following the schedule strictly, even on the weekends, will help you get the required hours of sleep and stabilize your sleep routine.
Sleep supplements
Wondering how to cure insomnia without sleep medicines? Try melatonin vitamins. Melatonin is a naturally produced hormone within the body that regulates our body's circadian rhythm. While some people inherently have less melatonin, there are other factors that can also affect melatonin production.
Melatonin gummies
like
Nyumi Beauty Sleep Gummies
are packed with safe ingredients like L-theanine, Chamomile, Melatonin, and more to regulate your sleep-wake cycle, relax the mind and ensure you get sound sleep. These sleep gummies act as a natural sleeping aid and are perfect for those who hate swallowing pills.
Keep a consistent waketime
Your body has an internal alarm, so waking up every day at the same time (yes, even on the weekends) is one of the best sleeping problem solutions. A fixed time helps you sleep better while sleeping in can make it harder to sleep at night.
Indulge in a little R&R
While you're busy hustling through the day, ensure you incorporate some relaxing activities in your daily schedule as well. This can include anything from a warm bath to yoga or meditation or even reading a book before bedtime. These activities relax the mind and help you fall asleep much more quickly. It's safe to say that the amount of sleep we get is as important as the air we breathe. If you're dealing with chronic conditions like sleep apnea, restless leg syndrome, anxiety or depression, it's advisable to consult a doctor.
Conclusion
Recognizing the vital role that adequate sleep plays in maintaining our overall well-being is crucial. The insightful article sheds light on the myriad of effects that sleep deprivation can have on our bodies, from cognitive functions to emotional health. As we prioritize our sleep routine, it's equally important to consider complementary solutions that can enhance our holistic health journey. Incorporating specialized supplements like hair gummies, sleep gummies, skin gummies, iron gummies, and multivitamin gummies can provide targeted support, promoting healthy hair, restful sleep, radiant skin, optimal iron levels, and comprehensive nutrition. By embracing a combination of quality sleep and targeted supplementation, we empower ourselves to embrace each day with vitality and vitality.
FAQs
How does sleep deprivation affect cognitive function?
Sleep deprivation can significantly impair cognitive function, leading to reduced attention, memory problems, slower reaction times, and difficulty with problem-solving.
Can lack of sleep impact emotional well-being and mood?
Yes, a lack of sleep can have a profound impact on emotional well-being and mood. Sleep deprivation often leads to increased irritability, mood swings, heightened stress, and a greater susceptibility to negative emotions like sadness and anxiety.
Does lack of sleep influence productivity and performance in daily tasks?
A lack of sleep can significantly diminish productivity and performance in daily tasks. It impairs focus, decision-making, and problem-solving abilities, leading to reduced efficiency and effectiveness at work or in other activities.
Can insufficient sleep contribute to chronic health conditions?
Chronic sleep deprivation can disrupt metabolic processes, weaken the immune system, and contribute to inflammation, all of which can increase the likelihood of developing these health issues over time.
What are the effects of sleep deprivation on physical health?
Chronic sleep deprivation can disrupt metabolic processes, weaken the immune system, and contribute to inflammation, all of which can increase the likelihood of developing these health issues over time.