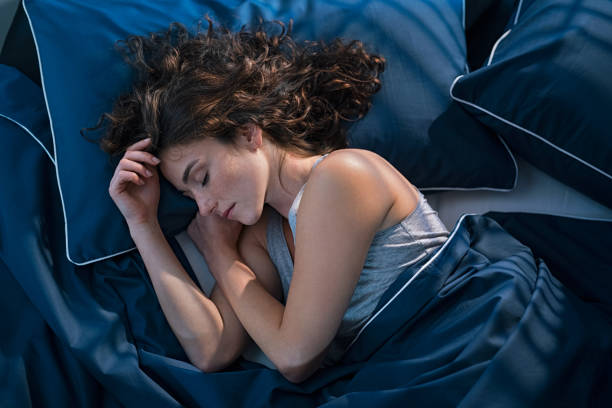 Sleep and stress: How Stress Impacts Your Sleep & Overall Health?
Sleep is probably one of the best rejuvenating activities that any individual can indulge in. Be it after a long day at work or that sweet afternoon nap just after relishing that wholesome lunch. Moreover, good quality sleep is essential for any human to keep their overall well-being in good shape, their body's better recovery, and for the important hormone secretion after our body rests at night. However, nowadays our jobs have become very demanding and our lives stressful. This is where we see a correlation between stressful days and sleepless nights, stress that ends up disrupting our sleep cycle.
Due to persistent stress about a work deadline or some personal havoc, our bodies become locked in a cycle where stress hinders our ability to sleep. Moreover, inadequate sleep exacerbates stress tending to have serious implications on our physical and mental well-being. Sleep deprivation can also result in impairing our brain's ability to regulate emotions leading to heightened anxiety and a reduced ability to cope with challenges.
In this blog post, we will try and dig into a deep understanding of how sleep and stress influence one another, what are the effects of lack of sleep, how stress impacts our sleep quality and finally ways to reduce stress and get sound sleep for better health.
What is the stress-sleep cycle?
Stress reduces sleep which is why it is seen as a double-edged sword severely impacting our sleep cycle. The stress-sleep cycle refers to the interplay between these two factors. It also talks about how stress negatively affects our night sleep quality and how a poor night's sleep can heighten our stress levels to a great extent. Here's how the stress-sleep cycle typically unfolds:

Stress Triggers Poor Sleep: Our body's stress response gets triggered whenever we are stressed, resulting in cortisol hormone release. These hormones prepare our body to combat and fight that stress, making it difficult to relax and fall asleep. High levels of stress can also lead to us being in a constant mode of worry and anxiety, further interfering with the ability to snooze into a restful slumber.

Poor Sleep Increases Stress: Stress and lack of sleep are interrelated since inadequate sleep can result in increased stress levels. This is why taking good quality sleep is essential. Apart from this, it also regulates our emotions and assists in processing stressors but a disrupted sleep can hamper our ability to cope with stressors which make us more irritable, less patient, and poor at handling stress.

Stress Impacts Sleep Quality: Even if you manage to fall asleep, high stress levels can affect the quality of your sleep. Stress can lead to more frequent awakenings during the night, preventing you from reaching the deeper stages of the sleep cycle namely the rapid eye movement of the REM cycle which is crucial for our restoration and hormone regulation.

Sleep Deprivation Exacerbates Stress: As the cycle continues, sleep deprivation accumulates, leading to fatigue and cognitive impairment. This can make you feel more overwhelmed by stressors, as your ability to think clearly and make effective decisions is compromised.
How does stress impact your sleep cycle?
Lack of sleepiness due to stress is a very common phenomenon that significantly impacts our sleep cycle. It also disrupts the natural rhythms and patterns that regulate our sleep. Apart from activating our body's fight response which leads to the secretion of stress hormones like cortisol, our physical state makes it tough to unwind, relax, and sleep peacefully. This disruption leads to difficulties falling asleep and ultimately affects your overall sleep quality. Here is a reason-by-reason explainer on how stress makes it difficult for us to take night rest and impacts our sleep cycle:


Fragmented Sleep: Stress can lead to more frequent awakenings during the night. As stress hormones remain elevated, they can prompt your body to wake up from sleep, even if you're not consciously aware of it. This can result in fragmented sleep, where you experience multiple awakenings, preventing you from reaching the deeper, more restorative stages of sleep.


Reduced REM sleep: Rapid Eye Movement (REM) sleep is a crucial stage of the sleep cycle associated with dreaming, memory consolidation, and emotional processing. Stress can disrupt REM sleep, potentially leading to a decrease in the time spent in this important stage. As a result, you may experience difficulties regulating emotions, managing stress, and processing experiences.


Alteration of overall sleep structure: Stress can alter the overall sleep cycle. It may lead to a shorter duration of total sleep time, an increased time spent in lighter sleep stages, and a reduced time spent in the deeper sleep stage. Due to this disrupted pattern, we end up feeling more tired, there is a sense of fatigue and we experience slow-wave sleep sometimes (Stage 3 / Deepest Stage of the NREM cycle) which results in excessive dreaming and sleepwalking which isn't good for us.


Early Morning Awakening: Experiencing stress can lead to early morning awakening because clearly, it is disturbed sleep. You tend to wake up earlier than desired and have difficulty falling back asleep. This can further disrupt your sleep cycle and contribute to sleep deprivation.
Sleep Deprivation Effects
Sleep deprivation can have wide-ranging negative effects on both your physical and mental well-being. Consistently not getting enough sleep or experiencing poor-quality sleep can lead to various health issues and impair our daily functioning in ways like:


Cognitive Impairment: Due to lack of sleep, we experience difficulties concentrating, our attention span is impacted and so does our decision-making. Our cognitive abilities, problem-solving skills, and memory get significantly compromised as well, making it challenging for us to do tasks requiring a simple mental application.


Mood Disturbances: Sleep deprivation is closely linked to mood disorders such as irritability, mood swings, increased stress, anxiety, and depression. That's because our emotional brain centers become overly reactive, leading to heightened emotional responses.


Slow down our reflexes: Sleep deprivation affects our coordination, balance, and motor skills. Due to this, our ability to respond quickly to unexpected situations stalls resulting in an increased risk of accidents and injuries.


Sleep deprivation can impact our overall health: To begin with, lack of sleep results in a weakened immune system: making us more susceptible to infections and illnesses. Chronic sleep deprivation is also associated with an increased risk of cardiovascular problems, including hypertension, heart disease, and stroke. Sleep helps regulate blood pressure and supports overall cardiovascular health.


Metabolic Disruption: Sleep deprivation can lead to imbalances in hormones that regulate appetite and metabolism, potentially leading to weight gain and an increased risk of obesity and type-2 diabetes. Due to this weight gain, we tend to feel emotionally low and depressed.


Skin Health: Sleep deprivation can impact the health and appearance of your skin, contributing to the development of wrinkles, dark circles under the eyes, and an overall tired and aged appearance. To get your radiating skin back, try our gummies for skin whitening. They will work wonders in improving your skin's overall wellness.


Hormonal Imbalance: It is essential to understand that sleep reduces stress and maintains our hormonal balance. Whereas, sleep deprivation can disrupt the normal production and regulation of hormones throughout the body. This imbalance can have widespread effects on our body which also include excessive secretion of the stress hormone namely cortisol.

Hormonal imbalance can sometimes result in excessive hair damage and the best cure for your untreated hair is biotin hair gummies. These gummies are made from natural ingredients and will assist in improving your hair quality significantly.


Reduced Performance and Productivity: Sleep-deprived individuals often experience decreased work performance, reduced productivity, and difficulties in maintaining focus and engagement. Whether it's at work or any personal commitment, sleep deprivation inhibits us from concentrating or thinking critically resulting in an overall decline in our performance.
How to reduce stress to improve sleep quality?
Stress and lack of sleep usually go hand in hand and create a cycle that seems hard to break. However, by taking proactive steps to reduce stress and by adopting techniques to manage stress we can improve our sleep quality and promote overall well-being.
Limit Screen Time: We need to cut off from the digital world and the world of radiation at least an hour before our bedtime. That is because these digital devices like phones or televisions emit blue light which tends to interfere with the production of the sleep-inducing hormone called melatonin.


Stress Management: It is imperative to engage in stress reduction techniques such as meditation, deep breathing exercises, or listening to soothing music to curtail the lack of sleepiness due to stress. You can also do some journaling, pen down your thoughts about the whole day, or anything that you feel like writing about. Doing this will help you feel relaxed and light. Setting this time aside to rejuvenate and unwind before bed is essential since it signals our body that it's time to call it a day.


Create proper sleep hygiene: This is one of the most crucial sleep hygiene tips which must be included in our regime. It involves creating a disciplined sleep time which we promise to abide by. By establishing a consistent sleep schedule we can set our body clock accordingly and this helps us sleep on time. Next in line, it is important to build a calming sleep-conducive environment in your room. You can build this environment with warm lights, smoke heat-free aromatic smells, and soft music.


Healthy Lifestyle: Regular exercise and a balanced diet that includes melatonin-rich foods for sleep can contribute to better sleep and reduced stress. Avoid caffeine and heavy meals close to bedtime, and aim to get regular physical activity during the day. These activities will act as our natural mood uplifts and reduce the secretion of cortisol (stress hormone). A healthy lifestyle also includes prioritizing self-care be it physical, mental, or emotional well-being.


Consider including natural supplements in the diet: Women's multivitamin gummies are an ideal addition to our daily diet which enriches us with essential nutrients supporting our overall well-being. In addition to this, we can also incorporate Melatonin beauty sleep gummies which assist in stress reduction and improve our sleep quality by helping us relax better.
It's important to follow these good sleep hygiene tips and aim for quality sleep of 7-8 hours to mitigate any negative effects. If you consistently experience sleep deprivation despite making efforts to improve your sleep, consider seeking guidance from a healthcare professional that can address the underlying causes and develop a plan for better sleep.
Conclusion
It is important to understand that taking adequate sleep reduces stress to a great extent. So, when you achieve sufficient quality sleep, it supports your body's ability to regulate stress hormones, promotes relaxation, and rejuvenates your mind and body. Prioritizing sleep and adopting strategies to manage stress, indulging in stress reduction activities, and making healthy lifestyle amendments can help break the cycle of stress and sleep disturbances.

A small recommendation would be to include valerian root for sleep, they are a herbal alternative to your regular medications which can improve sleep quality and reduce our anxiety levels.

You can also incorporate women's multivitamin gummies and beauty sleep gummies to achieve better sleep quality and break free from the cycle of stressful days and sleepless nights. These supplements are packed with vital nutrients that will assist in your holistic well-being enabling us to lead happier and healthier lives.

Apart from these, you can also include gummies for skin gummies, biotin hair gummies, and iron gummies to pamper your skin and hair with exceptional nourishment. These gummies will address your skin and hair issues in a jiffy and also improve their quality, texture, and radiance.
FAQs
Can lack of sleep contribute to increased stress levels?
Yes, lack of sleep contributes heavily to our increased stress levels, since it impairs our cognitive function, emotional regulation, and the body's stress response system, resulting in excessive stress levels.
Does poor sleep quality make stress worse?
Yes, poor sleep quality can aggravate stress levels. That is because it hampers our emotional stability contributing to increased stress levels making it more challenging to cope with stressors and resulting in stressful days and sleepless nights.
Can improving sleep patterns help reduce stress?
Yes, absolutely. Making positive changes to your sleep habits can lead to a reduction in stress levels by regulating the stress hormone, supporting our cognitive thinking, and enhancing our coping mechanisms. You can also think of including beauty sleep gummies for a more enriched and sound sleep at night.
Are there specific sleep disorders associated with stress?
Yes, insomnia, characterized by difficulty falling asleep or staying asleep, is closely related to stress and anxiety. Sleep apnea, a condition involving difficulty breathing during sleep, can be influenced by stress and contribute to its adverse effects on sleep quality. Here are the sleep hacks for insomnia that can help you finally achieve restful nights and improved sleep quality.