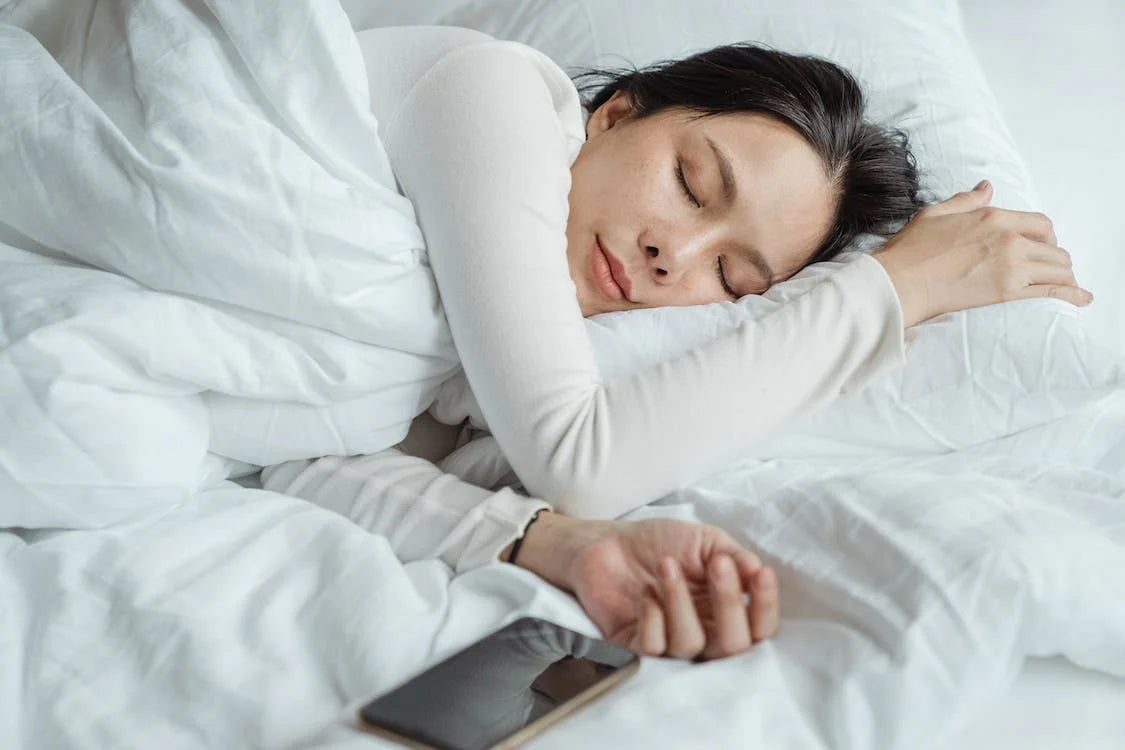 5 Sleep hacks for insomnia from around the world for better sleep
Have you ever stayed up late at night trying to figure out how people world over fall asleep so easily while your mind is clouded with thoughts? Well, in today's fast-paced world, there are many who suffer from insomnia or struggle to get a good 8 hours of shut-eye. We mostly have our lifestyle to blame for it. Irregular or unhealthy eating habits, blue light exposure before bed, taking long naps, using the bedroom to work or eat, and drinking caffeine before bed – these are just a few reasons why lack of sleep has become a global issue. So, how are other nationalities tackling this issue in order to get that beauty sleep? Scroll down to find out the various sleep hacks from around the world and learn about the easiest way you can fall asleep every night. 
5 sleep hacks for insomnia
1. India - Ayurvedic herb 
In Ayurveda, there's a remedy for any possible issue, including lack of sleep. If you thought golden milk is the common Indian sleep life hack to get some shut eye, you're not completely wrong. While it is common, there's another ayurvedic sleep hack that works wonders. We're talking about Ashwagandha. This herb has been used for thousands of years to cure many health issues one of them being to improve the quality of sleep. Certain properties in ashwagandha help reduce stress and anxiety, making it one of the best ways to fall asleep fast.
And it has scientific studies to back it up. Studies conducted on participants showed that ashwagandha:
Reduces the time it takes to fall asleep

Improves quality of sleep

Improves quality of life
2. China - Foot soak
Those who love a good pedicure will love this sleep hack. In China, this common sleep hack involves soaking your feet in hot water in order to get a good night's rest. But it's not just hot water, this soak is filled with herbal roots that are common in traditional Chinese medicine. This is a great way to unwind after a long day. If you want to give this a try, you can add ingredients like Epsom salt or essential oils, like lavender and rose or fruit peels. What's its relation to sleep? Well, it is known to calm the vital energies in the mind and help you relax. 
3. Finland - Sauna 
If a warm foot soak isn't doing it for you, then you can opt for a sleep hack that's common in Finland. We're referring to sauna steam. Research shows that there is a list of benefits associated with saunas and improving the quality of sleep is at the very top. 
Saunas use heat to relax sore muscles, raise body temperature, improve blood circulation and help you fall into a deep slumber. Aside from curbing the issue of lack of sleep and helping you get a good night's rest, saunas also help treat congestion in the chest, improve skin health, lower blood pressure and help with workout recovery. 
4. Japan - Shikibuton
In Japan, they take their mattresses very seriously, as we all should. When it comes to this sleep hack, the shikibuton is their secret weapon. This is a Japanese futon mattress that's used on the floor to help get better sleep. It is made from all-natural ingredients like cotton or wool and is known to reduce lower back pain and even support the spine. 
5. South and Central America - Hammocks
Thinking about the last time you went on a vacation and relaxed on a hammocked the entire day? Well, for people in south and central America, this is a common sleep life hack. While a hammock is known to provide safety and comfort, a 2011 study showed that it can also provide deep sleep. Studies have shown that the swinging motion is associated with sensory stimulation. The evokes a synchronizing action in the brain that reinforces endogenous sleep rhythms. Research also shows that a swinging bed shortens the time taken to fall asleep. 
While some of these sleeping hacks to fall asleep faster may be a bit too tedious to follow on a daily basis, you can try a simpler option. We're talking about sleep supplements. Supplements like sleep gummies are enriched are enriched with melatonin and other essential ingredients to help you fall asleep whenever you want. All you need to do is just pop two gummies and 30 minutes later, you'll be drifting off into dreamland. 
Conclusion:
Prioritizing a restful night's sleep is essential for overall well-being, and the global sleep hacks discussed in this blog offer intriguing insights into achieving better sleep. Alongside these cultural practices, incorporating modern solutions like sleep gummies can further enhance sleep quality. These sleep-specific supplements can complement traditional methods, providing a convenient and effective way to address insomnia and promote relaxation. Additionally, the significance of holistic health cannot be understated, as evident from the growing popularity of multivitamin gummies, iron gummies, and hair gummies. Embracing a comprehensive approach that includes both time-tested practices and contemporary innovations can lead to a more balanced and rejuvenating sleep routine, ultimately contributing to a healthier and more vibrant lifestyle.

For individuals seeking a comprehensive approach to well-being, the amalgamation of ancient wisdom and modern advancements holds the key. The cultural sleep hacks shared in the blog shed light on diverse methods to counter insomnia and improve sleep quality naturally. However, harnessing the full potential of these strategies can be further amplified by introducing targeted supplements like sleep gummies. Such supplements encapsulate the essence of relaxation and tranquility in an easily consumable form, adding a touch of convenience to the pursuit of peaceful sleep. It's also noteworthy that the surge in popularity of products such as multivitamin gummies, iron gummies, and biotin hair gummies, skin gummies underscores a collective shift towards holistic self-care. By embracing a spectrum of practices, from time-honored rituals to contemporary nutraceuticals, individuals can take significant strides towards nurturing both their sleep and overall vitality.
FAQs
What are some natural sleep hacks for insomnia?
Some natural sleep hacks for insomnia include practicing relaxation techniques like meditation and deep breathing, maintaining a consistent sleep schedule, creating a dark and quiet sleep environment, limiting caffeine and electronic device usage before bedtime, and incorporating sleep-promoting foods like herbal teas or light bedtime snacks.
Do relaxation techniques or meditation work for insomnia?
Yes, relaxation techniques and meditation can be effective for managing insomnia. They help calm the mind, reduce stress, and promote better sleep quality.
How can I establish a bedtime routine that aids in falling asleep with insomnia?
Establishing a bedtime routine to help with insomnia involves creating a consistent and calming pre-sleep ritual. Start by setting a regular sleep schedule, avoiding stimulating activities before bed, and practicing relaxation techniques like deep breathing or meditation.
What are the best bedtime sleep hacks for people with insomnia?
The best bedtime sleep hacks for people with insomnia include establishing a consistent sleep schedule, creating a comfortable sleep environment, avoiding stimulants before bedtime, practicing relaxation techniques, and considering the use of white noise or soothing music to aid in falling asleep
Are there any herbs that can aid in treating insomnia?
Yes, certain supplements and herbs can help treat insomnia. Melatonin supplements can regulate sleep patterns, while herbs like valerian root and chamomile have mild sedative effects. It's important to consult with a healthcare professional before using these remedies to determine the right dosage and ensure they're safe for your specific needs.
Popular Searches
Effects of Lack of Sleep  | Foods High in Melatonin | Effects of Sleep Deprivation | Sleep Hygiene Tips | Sleep Syncing | foods for sleep | What is Inemuri? | Benefits of Nap at the Work | Melatonin for Sleep | Beat Sleep Apnea Naturally | What Is Insomnia? | Sleep strategies for new parents | Sleep Benefits of Melatonin | Valerian Root Benefits | Benefits of Collagen Gummies | Sleep and Weight Loss | Sleep and stress