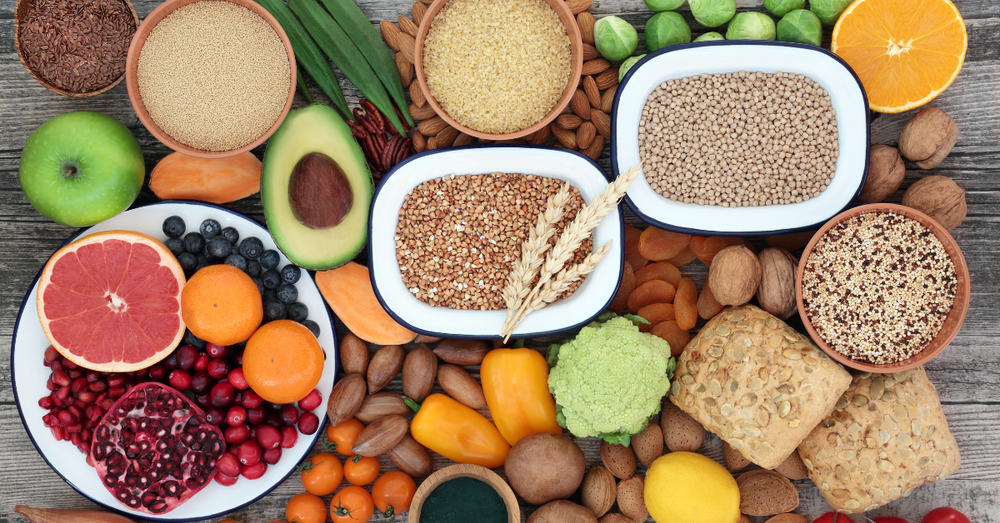 15 Best High Fibre Rich Foods in India
Why Indian Cuisine is Rich in Natural Fibre Sources?
It is always said that you must take a high fibre diet to keep your digestive health happy and in its best condition. Dietary fibre also acts like a prebiotic that helps in providing nourishment for beneficial gut bacteria which help in maintaining a healthy gut environment. Keeping good gut health is crucial because it plays a strong role in supporting our digestion, and contributing to the overall health of the digestive system.

Fibre has multiple benefits to offer which make it an important dietary requirement for enhanced digestive health and promoting our overall well-being. Do you know what's better? It's the fact that we have a wide variety of fibre rich foods in India which makes our diet well-rounded, and balanced and uses a variety of plant-based ingredients. It is what we call 'rich in natural fibre sources' including whole grains, lentils, legumes, and a variety of vegetables.
Benefits of High Fibre Foods
Consuming fibre rich Indian food will enrich you with a range of exceptional benefits which are as under:


Improved Digestive Health: Dietary fibre promotes regular bowel movements and helps prevent constipation and aids in diarrhea prevention by absorbing excess water. You can also include Vitamin-A rich foods like sweet potatoes, carrots, spinach and apricots in your diet. These foods will add sufficient fibre and support the health of your gastrointestinal tract.


Gut Health is taken care of: Taking a diet packed with high fibre vegetables and fruits is good for better gut health. They act as a prebiotic that provides nourishment for beneficial gut bacteria and play a crucial role in maintaining a balanced and healthy gut microbiome.


Blood Sugar Regulation: Soluble Fibre helps in blood sugar level regulation by slowing down the absorption of glucose. This is particularly beneficial for individuals with diabetes or those at risk of developing diabetes.


Lowers Cholesterol Levels: Soluble fibre binds to cholesterol molecules in the digestive tract, helping to remove them from the body. This can lead to lower levels of LDL cholesterol, which is associated with a reduced risk of heart disease.
Traditional Indian High Fibre Foods
Incorporating Fibre rich foods is the best way to go to keep a check on your diet ensuring it's wholesome, nutrient-enriching and caters to your health needs. Additionally, maintaining a high fibre diet can help prevent the development of hemorrhoids in the rectal area by promoting soft bowel movements and alleviating discomfort. The list of foods is as follows:


Whole grains: Whole Wheat, Brown Rice, and Millets like bajra, jowar, and ragi and Barley are rich in dietary fibre because they tend to retain the different layers of the grain kernel namely- bran, germ, and endosperm layers. These layers contain different types of fibre which have different purposes to serve and benefits to offer.


Legumes and Pulses: Legumes form a fundamental part of Indian diets and fibre foods list, offering both soluble and insoluble fibres which can be derived from dals like chana, moong and curries including chickpeas or chana, kidney beans or rajma.


High-fibre vegetables: Broccoli, Spinach, Fenugreek leaves, Carrots, Sweet Potatoes, Cauliflower and Bell Peppers. These veggies can offer a range of health benefits due to their high fibre content, vitamins, minerals, and antioxidants which aid in regular bowel movement.


Fibre rich fruits: Several Indian fruits like guava, apples, pears, pomegranate, and berries are rich in fibre, especially when consumed with their skin intact. Apart from these fruits you can include Nuts and seeds providing additional fibre and healthy fats like Almonds, Walnuts, Flaxseeds and Chia Seeds.



Whole Wheat Roti (Chapati): Traditional Indian flatbreads made from whole wheat flour are a staple source of dietary fiber.

Brown Rice: Unlike white rice, brown rice retains its bran layer, which is rich in fiber.

Oats: Oats are an excellent source of soluble fiber and can be consumed as oatmeal or added to various dishes.

Lentils (Dal): Lentils are high in both protein and fiber, making them a nutritious choice.

Chickpeas (Chana): Chickpeas are versatile and can be used in curries, salads, and snacks. They're rich in fiber and protein.

Black-eyed Peas (Lobia): These legumes are fiber-rich and can be used in various Indian dishes.

Kidney Beans (Rajma): Kidney beans are another legume that's high in fiber and commonly used in Indian cuisine.

Split Peas (Chana Dal): Chana dal is often used in dals and other dishes, providing a good dose of fiber.

Spinach (Palak): Spinach is not only rich in iron but also a good source of fiber.

Fenugreek Leaves (Methi): Fenugreek leaves are often used in Indian recipes and are a decent source of dietary fiber.

Nuts and Seeds: Almonds, chia seeds, and flaxseeds are high-fiber options and can be incorporated into various dishes or eaten as snacks.
How to add High Fibre Foods in Everyday Meals
Incorporating fibre rich India food into your everyday meals isn't difficult. By making a few simple adjustments to your eating habits, you can easily increase your fibre intake which is mentioned herein below:


Start with Breakfast: Choose high-fibre cereals, oatmeal or healthy home smoothie bowls for breakfast. You can add fruits like bananas, berries, or apples, nuts, and seeds to your yoghurt or cereal for extra fibre and enhanced taste. You can also incorporate leafy greens like spinach or kale for an added boost of nutrients.


Snack Smart: Snacking right is another way of adding an ideal amount of fibre into your diet. You can either make flavour-packed salads or whole-wheat sandwiches with vegetables like carrot sticks also one of the Vitamin-A Rich Foods, cucumber slices, or bell pepper strips and add some dips or low-calorie sauces.


Add Legumes to Meals: Incorporate beans, lentils, or chickpeas into your healthy chaat salads, stews, curries and even make bean-based burgers or patties using legumes as the main ingredient. Add lettuce, tomatoes, onions, and other high-fibre vegetables to increase fibre content and make your meals more balanced.
Conclusion
It's important to note that while including foods from the fibre foods list in your diet will offer many benefits. Nevertheless, a well-rounded diet including a variety of nutrients is crucial for maintaining optimal health.

Multivitamin gummies and iron gummies may not directly address your specific digestive issues or provide as much dietary fibre. However, they contain a variety of vitamins and minerals that can support overall health and well-being.

Apart from the aforementioned, you can also try our melatonin sleep gummies skin gummies and biotin hair gummies to enrich your hair and skin health with the best nourishment plus keep them in their best shape.

Sleep gummies can also be a great addition to helping you improve your quality of sleep and your overall well-being. You can also incorporate Vitamin E for skin providing you with antioxidant protection, moisturization & promote skin repair as well healing.
FAQ
What are the primary benefits of incorporating fibre-rich foods into your diet?
Incorporating fibre-rich foods into your diet will improve your digestive health, stabilize blood sugar levels, lower cholesterol, improve blood pressure management and reduce the risk of chronic diseases.
How does dietary fibre contribute to a feeling of fullness and satiety?
Dietary fibre contributes to a feeling of fullness by affecting the digestive process, nutrient absorption, and hormones that regulate appetite.
How does a deficiency in dietary fibre impact digestive health?
A deficiency in dietary fibre can have significant negative impacts on digestive health. Fibre plays a crucial role in maintaining the health and proper functioning of the digestive system.
What is the fibre needed for different age groups?
For children aged 1-3 years: About 19 grams of fibre per day. 4-8 years: About 25 grams of fibre per day. For Boys aged 9-13 years: About 31 grams of fibre per day. For Girls of the same age bracket: About 26 grams of fibre per day. For Boys aged 14-18 years: About 38 grams of fibre per day. For Girls of this age bracket: About 26 grams of fibre per day.