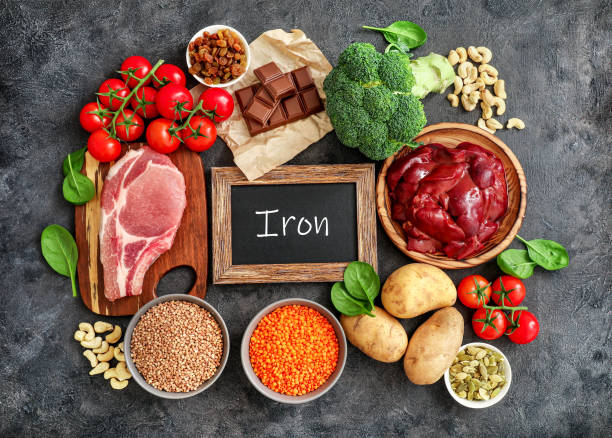 What Is The Role of Iron In The Human Body?
Iron is like an unsung hero in our lives that plays a pivotal role in keeping our well-being. The role of iron in human body is indispensable, touching upon various vital functions that contribute to our overall health. Primarily, iron is a key player in the transportation of oxygen throughout the body. It is a central component of haemoglobin, that binds to oxygen in the lungs and carries it to tissues and organs, ensuring proper cell function and energy production. In this blog post, let us uncover what makes iron an essential component of our lives, delving into its benefits, key functions, the role of iron as well as multivitamin gummies, and discussing ways to add enough iron to our daily lives and much more.
Importance Of Iron In The Human Body?
The importance of Iron in human body can never be neglected because it is a fundamental mineral that holds a key position in the complex machinery of our bodies. Its primary function lies in transporting oxygen from the lungs to the rest of the body through the bloodstream. Hemoglobin, the protein responsible for this vital task, relies heavily on iron. Furthermore, iron is a critical component of myoglobin, a protein that aids in oxygen storage within muscles.

Beyond oxygen transport, iron plays a vital role in the synthesis of DNA, ensuring proper cell growth and development. It also contributes to the efficient functioning of the immune system, helping the body fend off infections and diseases. Iron in human body is also involved in muscle contraction and oxygen storage in muscle tissues, contributing to overall muscle function. Most importantly, Iron acts as a cofactor for several enzymes involved in various metabolic processes. It includes the breakdown of nutrients for energy and the synthesis of important molecules in the body.
Key Functions Of Iron Within The Body
The function of iron in human body extends far beyond its oxygen-carrying role. Iron is a co-factor for enzymes involved in essential biochemical reactions, such as the production of collagen, neurotransmitters, and hormones. It is also integral to the process of energy metabolism, ensuring that our cells have the energy they need to function optimally.

Energy Production: Iron is involved in the electron transport chain, a process in the mitochondria that plays a central role in the production of adenosine triphosphate (ATP), the primary source of energy for cells.

Immune System Function: Iron is essential for the proper function of the immune system. It helps in the formation and function of white blood cells, which are key components of the body's defense against infections.

Brain Function: A key importance of Iron in human body is how it is necessary for the development and function of the brain. It plays a role in neurotransmitter synthesis and myelin formation, which are critical for proper nerve function.

DNA Synthesis: Iron is involved in the synthesis of DNA, the genetic material in cells. It is a crucial component of enzymes involved in DNA replication and repair. Apart from this function of iron in the body, there are lots of others as well.
Different Dietary Sources Of Iron
Maintaining an adequate amount of iron in the human body is essential due to the importance of iron in human body necessitates a balanced and iron-rich diet. There are two types of dietary iron: heme iron and non-heme iron. Heme iron is found in animal products like red meat, poultry, and fish, and is more easily absorbed by the body. Non-heme sources of iron present in plant-based foods like beans, lentils, and fortified cereals, require a bit more effort for absorption.

Legumes: Lentils, chickpeas, and beans (e.g., black beans, kidney beans) are good sources.

Vegetables: Spinach, kale, broccoli, and peas contain non-heme iron.

Fortified Foods: Some cereals, bread, and other grain products are fortified with iron.

Nuts and Seeds: Pumpkin seeds, sunflower seeds, and certain nuts like almonds and cashews are sources of non-heme iron.

Tofu and Soy Products: These plant-based proteins are good sources of iron containing non-heme iron.
Enhance Iron Absorption In The Body
Apart from taking foods high in iron, optimizing iron absorption is vital. Therefore, it is crucial to pair iron-rich foods with those high in vitamin C. Citrus fruits, strawberries, and broccoli, among others, enhance the absorption of non-heme iron. On the flip side, certain substances, such as tannins in tea and coffee, can inhibit iron absorption. Hence, it's wise to consume these beverages in moderation, especially during meals.

Vitamin C: Consuming vitamin C-rich foods alongside iron-rich meals can significantly increase iron absorption in the body.

Avoid Tea and Coffee with Meals: Tannins found in tea and coffee can inhibit non-heme iron absorption. Try to consume these beverages between meals rather than with them.

Avoid Calcium and Dairy with Iron-Rich Meals: Calcium can inhibit the absorption of both heme and non-heme iron. Avoid consuming calcium-rich foods (such as dairy products) or calcium supplements at the same time as iron-rich meals.

Cooking in Cast Iron- Cooking in cast-iron cookware can increase iron content in the food.
Consequences And Symptoms Of Low Iron In Body
An insufficient amount of iron in the body and low iron absorption in the body can lead to iron deficiency anemia, a condition characterized by fatigue, weakness, and pale skin. Other symptoms may include shortness of breath, dizziness, and brittle nails. It is crucial to address these symptoms promptly, as long-term iron deficiency can result in more severe health complications.

Consequences Of Low Iron In the Body include-

Impaired Cognitive Function: Low iron in body can affect cognitive function, leading to difficulties with concentration, memory, and overall mental alertness.

Iron-Deficiency Anemia: A low amount of iron in human body can result in a reduced number of red blood cells and a decrease in the body's ability to transport oxygen, leading to anemia.

Weakened Immune System: Iron is essential for the proper functioning of the immune system. Low iron in body may compromise the body's ability to fight infections.

Symptoms of low iron in the body include-

Fatigue: Persistent and unexplained fatigue is a common and often early symptom of iron deficiency.

Pale Skin and Mucous Membranes: Reduced haemoglobin levels can result in the paleness of the skin and mucous membranes (inside the mouth, eyelids, etc.).

Shortness of Breath: Inadequate oxygen transport to tissues may lead to shortness of breath, especially during physical activity.
When Intake Of Iron Supplements Are Necessary
Just as skin gummies and hair gummies are essential to keep our skin & hair in the best possible condition, gummies for iron and sleep gummies are equally essential to ensure our iron levels in the body are in check. In some cases, dietary adjustments may not be sufficient to meet the body's iron requirements resulting in low iron in body.

This is where iron supplements come into play, offering a convenient solution to replenish iron levels. Iron gummies have gained popularity as a palatable and easy-to-administer option, making them particularly appealing for those who struggle with traditional iron supplements.
FAQs
What is iron?
Iron is a crucial mineral that serves as a building block for haemoglobin, the protein responsible for transporting oxygen in our blood. There is not just one function of iron in human body but too many count including energy metabolism, immune system support, and DNA synthesis.
Where does iron come from?
Sources of iron include both animal and plant-based foods. Heme iron, found in red meat, poultry, and fish, is easily absorbed by the body. Non-heme iron, present in plant sources like beans, lentils, and fortified cereals, requires a bit more effort for absorption.
How much iron do you need?
The recommended daily intake of iron varies by age, gender, and life stage. For adults, it generally ranges from 8 to 18 milligrams. Pregnant individuals and those with certain health conditions might require higher amounts. A balanced diet with iron-rich foods supplemented with iron gummies would usually fulfil these needs.
Can you get too much iron?
Excess of anything is bad, be it the consumption of skin gummies, hair gummies or any foods high in iron. Excessive iron intake can lead to iron overload, a condition that may cause organ damage. This is more likely to occur from high-dose supplements rather than dietary sources. It's essential to avoid foods high in iron or even self-prescribing iron supplements without professional guidance.
How is iron overload treated?
Treatment for iron overload typically involves therapeutic phlebotomy, a process similar to blood donation. This helps in reducing the amount of iron in human body. Chelation therapy, using medications that bind to iron for excretion, may be recommended in severe cases. It's crucial for individuals with suspected iron overload to consult a healthcare professional for proper diagnosis and treatment.