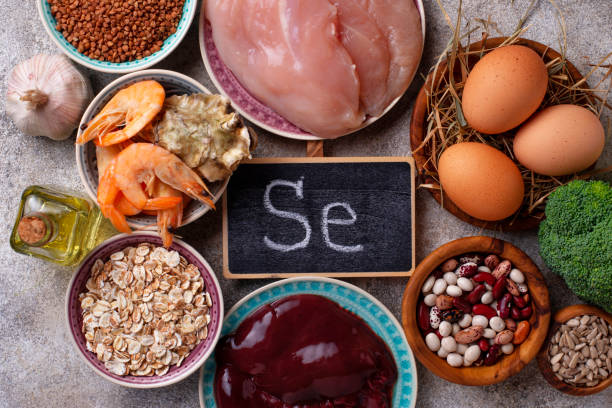 15 Selenium-Rich Foods for a Balanced Diet
What is selenium?
Selenium is a trace element, an essential mineral found in soil, water, and certain foods. It plays a vital role in human health as a key component of various enzymes and proteins, serving as an antioxidant and contributing to immune function, thyroid health, and DNA synthesis. While selenium is necessary for overall well-being, excessive intake can be harmful, so it's important to maintain a balanced diet to meet recommended dietary allowances. Good dietary sources of selenium include nuts, seeds, seafood, poultry, and whole grains.
How much selenium do I need?
The recommended dietary allowance (RDA) for selenium can vary depending on factors such as age and gender. On average, adult men and women should aim for around 55 micrograms of selenium per day. While selenium is essential for health, excessive intake can lead to toxicity, so it's important not to exceed recommended levels. A balanced diet that includes selenium-rich foods like nuts, fish, poultry, and whole grains can help most individuals meet their selenium needs.
Natural Sources of Selenium
Selenium, an essential mineral for human health, can be found in a variety of natural food sources. Among the most notable are Brazil nuts, which are extraordinarily rich in selenium. Seafood, such as tuna, salmon, and shrimp, provides a significant portion of this mineral, making it an excellent choice for those who enjoy fish. Poultry, eggs, and lean cuts of meat, like beef and pork, are also reliable sources. Plant-based options include nuts, seeds, whole grains, legumes, and certain vegetables like spinach. The selenium content in these foods can vary depending on factors like soil quality and geographic location, highlighting the importance of maintaining a diverse diet to ensure adequate selenium intake for overall health and well-being.
15 selenium-rich Indian foods
Here are some rich sources of selenium foods:
Brazil nuts: Brazil nuts are renowned for their exceptionally high selenium content, with just one or two nuts providing your daily requirement. They are a potent source of this essential mineral.
Sunflower seeds: Sunflower seeds are a versatile and convenient source of selenium. They can be enjoyed as a snack or added to salads, providing a healthy dose of this vital nutrient.
Fish (particularly tuna, halibut, and sardines): Fish like tuna, halibut, and sardines are not only rich in omega-3 fatty acids but also selenium, making them a heart-healthy and nutritious choice.
Turkey and Chicken: Poultry like turkey and chicken offer good amounts of selenium. They are lean sources of protein and a versatile addition to various dishes.
Eggs: Eggs, particularly the yolk, contain selenium, making them a valuable part of the diet, supplying both protein and essential nutrients.
Whole wheat bread: Whole wheat bread is a common staple that contributes moderate selenium content to the diet, along with valuable dietary fiber and nutrients.
Brown rice: Brown rice is a whole grain that contains selenium. It's a nutritious and filling option for those seeking a selenium source among their carbohydrates.
Oatmeal: Oatmeal offers a lesser but notable amount of selenium, making it a healthy breakfast choice with the added benefits of fiber and sustained energy.
Cottage cheese: Cottage cheese provides modest selenium levels along with protein, making it a nutritious dairy option.
Spinach: Spinach is a leafy green vegetable that contains selenium, along with a wealth of vitamins and antioxidants, contributing to overall health.
Lentils: Lentils offer plant-based selenium, along with protein and fiber, making them an excellent choice for vegetarians and vegans.
Mushrooms (particularly shiitake mushrooms): Shiitake mushrooms are known for their selenium content and are a valuable addition to dishes for both flavor and nutritional benefits.
Beef: Lean cuts of beef supply selenium along with essential protein, iron, and other nutrients that support muscle and overall health.
Pork: Pork is another animal-based source of selenium, providing a flavorful and versatile option for those seeking variety in their diet.
Selenium Deficiency and Health Risks
Selenium deficiency can lead to various health risks and complications. Since selenium is crucial for several bodily functions, its deficiency may result in weakened immune function, making individuals more susceptible to infections and illnesses. It can also impact thyroid health, potentially leading to conditions like hypothyroidism. Additionally, selenium deficiency has been associated with cognitive decline. To prevent these health risks, it's important to maintain a balanced diet that includes selenium-enriched foods or consider selenium supplementation under the guidance of a healthcare professional, particularly in regions where dietary intake may be insufficient.
How to incorporate Selenium in Different Diets
Incorporating selenium into different diets is relatively easy with a variety of food options available. For omnivores, lean cuts of meat, poultry, and seafood, such as tuna, are excellent sources of selenium. Vegetarians and vegans can turn to plant-based sources like Brazil nuts, sunflower seeds, whole grains, legumes, and shiitake mushrooms. Including these selenium-rich foods in meals, whether it's through salads, stir-fries, soups, or snacks, ensures adequate intake. Additionally, opting for whole wheat bread, brown rice, or oatmeal as part of a carbohydrate source can also boost selenium levels. Maintaining a balanced and diverse diet that incorporates these foods is the key to meeting selenium requirements in different dietary preferences and lifestyles.
Conclusion
In conclusion, selenium is a trace mineral with a profound impact on our health. Its role as an essential component of various enzymes and proteins makes it a vital contributor to immune function, thyroid health, and antioxidant defence. Selenium's potential benefits extend to supporting heart health, reducing the risk of certain cancers, and enhancing cognitive function. There are several benefits of Selenium for hair growth as well. However, it's essential to maintain an appropriate balance, as both deficiency and excess can have adverse effects. The best approach is to acquire selenium through a balanced diet that includes food that contains selenium or supplements. With the right intake, selenium can be a valuable ally in promoting overall well-being and reducing the risk of various health issues. One can also include multivitamin gummies like skin gummies, iron gummies, sleep gummies, and biotin hair gummies for their overall wellness.
FAQ
How does selenium content vary in different types of seafood?
Selenium content in seafood can vary depending on factors like the fish's diet, water quality, and location. Generally, fish that dwell in selenium-rich environments, like oceanic regions, tend to have higher selenium levels. However, variations are common, with some seafood, such as tuna and halibut, being notably rich sources of this essential mineral.
Which nuts and seeds are high in selenium?
Brazil nuts are exceptionally high in selenium, with just one or two nuts providing the daily recommended intake. Sunflower seeds are also a good source of selenium, offering a convenient and versatile way to incorporate this essential mineral into your diet.
What are the symptoms of selenium deficiency, and how can diet help?
Selenium deficiency can lead to symptoms like weakened immunity, muscle weakness, and hair and nail changes. A balanced diet that includes selenium-rich foods like Brazil nuts, seafood, and poultry can help alleviate deficiency symptoms and promote overall health.
Are there any age restrictions for using iron gummies?
Iron gummies are often used by adults and may be considered for children when there is a demonstrated iron deficiency and a healthcare provider's recommendation.
Can iron gummies replace traditional iron supplements or dietary sources of iron?
Iron gummies can be a convenient supplement, but they should not replace traditional dietary sources of iron. Whole food sources provide a broader range of nutrients and are important for a balanced diet. Iron supplements, including gummies, should be considered in cases of diagnosed iron deficiency.
How long does it take to see results when using iron gummies for iron deficiency?
The time it takes to see results when using iron gummies for iron deficiency can vary from person to person. Some individuals can also include iron rich foods to manage the iron deficiency and may experience improvement in symptoms within a few weeks, while for others, it may take several months.
Do iron gummies have a different absorption rate compared to traditional iron pills?
Iron gummies and traditional iron pills often have similar absorption rates when they contain the same form of iron, such as ferrous sulfate. However, gummies may have a slight advantage in some cases due to the absence of the pill's binding agents that can inhibit absorption. Nevertheless, the body's ability to absorb iron depends on various factors, including individual differences and dietary factors, rather than the form of supplementation.