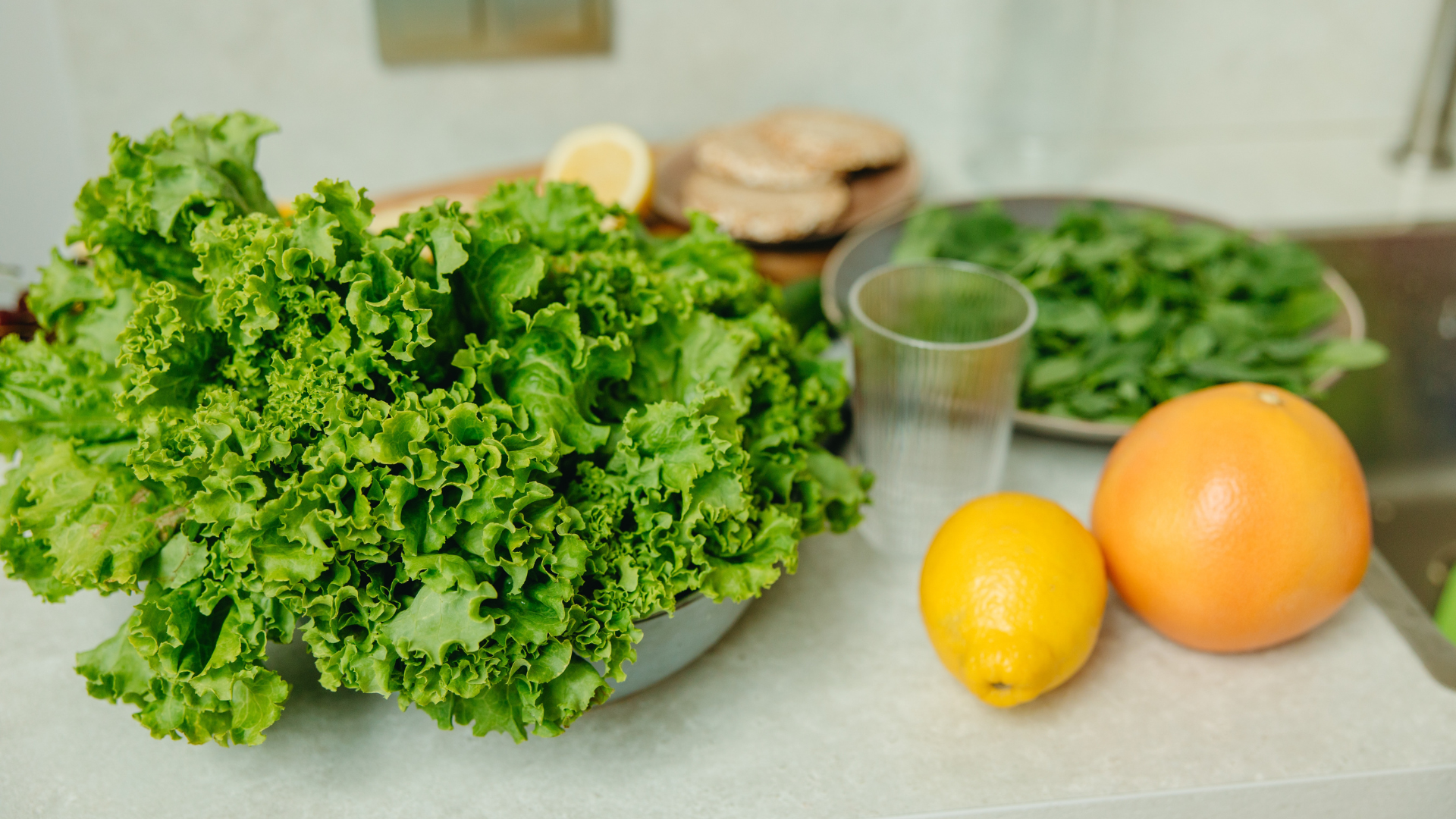 High Vitamin-A Rich Foods For A Healthy Diet
Maintaining a Vitamin-A-rich diet is essential for keeping a healthy vision, boosting immunity levels, and maintaining healthy skin. Vitamin A is an important macronutrient that assists in the wellness of our retinas and prevents age-related macular degeneration. If not addressed timely, then this medical condition could even result in blurred or no central vision in people. Thus, including Vitamin-A rich foods in your meals is essential for keeping eye health in place, cell growth, and the immune functions working orderly. Apart from consuming a nutritious diet, you can include beauty sleep gummies. The supplement is a great addition to improve your quality of sleep, reduce your stress and repair your skin.

In this blog post, we will discuss in-depth, the role of Vitamin-A, the benefits it offers, the proportion of this nutrient required by the body, the condition of Vitamin-A deficiency, and foods that can suffice this vitamin's requirements. Furthermore, we will touch upon the importance of gummies like women's multivitamin gummies. The benefits these gummies extend for keeping our overall health, skin, and hair in good condition.
What is Vitamin-A and How Does It Work?
Vitamin A is a fat-soluble vitamin stored in the liver and has a crucial role to play in various aspects of health and well-being. It exists in different forms, including retinol, carotenoids such as beta-carotene, and a few others. It is important for our improved vision, immune function, cell growth development, and keeping the skin healthful. Vitamin A is known to have antioxidant properties which help in the protection of our cells against the effects of free radicals. Free radicals can contribute to certain long-term diseases and have a role to play in aging as well. Thus, taking a diet infused with Vitamin-A foods and other food rich in vitamins and minerals is important for your overall well-being.

Now, let us understand how this Vitamin works in our body:

Vitamin-A has played a strong role in supporting the vision function of the eyes. It is essential for the absorption of light in the retina, allowing us to see in low-light conditions. Whereas, its deficiency leads to night blindness and other vision problems. Secondly, it acts as an impetus for cell growth and development in the body. It specifically assists in the differentiation of the cells found in the skin, respiratory system, and gastrointestinal tract.

Thirdly, Vitamin-A promotes a healthy immune system and maintains the skin structure which is a shield against pathogens. It also contributes to white blood cell production which plays a vital role in fighting infections. Lastly, it is vital for maintaining healthy skin which supports the production and maintenance of skin cells. It is also involved in collagen synthesis providing structure and elasticity to the skin, ultimately contributing to our skincare.
Benefits of Vitamin-A in the Body
Vitamin A is instrumental in the formation of rhodopsin, a pigment found in the retina of the eye which enables vision in dim or poorly lit conditions. Adequate vitamin-A intake helps prevent night blindness and promotes overall eye health.

It is involved in the production and function of white blood cells which is an integral part of the immune system. It also helps in the development and differentiation of immune cells namely lymphocytes, which are responsible for identifying and eventually fighting off foreign substances like bacteria and viruses.


Vitamin A is known to have a positive influence on the skin by promoting the production of skin cells and contributing to our healthy complexion. It also helps in the regulation of oil production in the skin and substantially reduces the risk of acne.

Vitamin-A foods help in the absorption and utilization of calcium which is an essential mineral to keep up with our bone strength and density.

Vitamin A is also a good source of antioxidants which protects the cells from the oxidative stress damage caused by free radicals. Oxidative damage can lead to the development of cardiovascular diseases, cancer, and other chronic diseases.
How Much Vitamin A is Required?
The Recommended Dietary Allowances (RDAs) for vitamin-A foods in RAE (Retinol Activity Equivalents) are as under. Herein, the conversion factor between micrograms of RAE and international units (IU) is 1 microgram RAE = 3.33 IU.

Infants from 0 up to 4 months can consume 400 micrograms of (RAE) per day, while Infants between the age brackets of 7-12 months can consume 500 micrograms of RAE per day. Next in line, children aged between 1-3 years can take 300 micrograms of RAE per day; children between 4-8 years can take 400 micrograms of RAE per day, and between 9-13 years can take 600 micrograms of RAE per day. Males above 14 years can consume 900 micrograms of RAE per day while females above 14 years can take 700 micrograms of RAE per day. Also, for women who are pregnant or breastfeeding, the recommended intake of Vitamin A foods increases slightly to support the needs of the mother and the developing baby.
What happens if I suffer from a deficiency?
Night Blindness
Inadequate vitamin A levels can impair the synthesis of rhodopsin and lead to night blindness. It is a disorder where it becomes difficult to see in low-light conditions or at night. In a more severe case, it can progress to causing dryness, thickening, and clouding of the cornea, leading to irreversible blindness.
Weakened immune function
Taking Vitamin-A rich foods can play a crucial role in supporting a healthy immune system and its deficiency can weaken the same. Due to weak immunity, we become more susceptible to infections, especially respiratory infections. It can also impair the body's ability to fight off infections and even extend the recovery time.
Skin & Hair Issues
Vitamin-A deficiency can lead to dry, rough, and scaly skin. It may also cause hair follicles to become clogged, leading to dry and brittle hair. Another skin condition that you are prone to experience is the formation of goosebumps-like skin bumps.
Stunted growth and bone development
A deficiency of Vitamin-A can hinder proper bone development and growth. As a consequence, you undergo stunted growth and delayed skeletal development. Additionally, you face tooth development issues and an increased risk of dental problems.
Reproduction issues
Reduced fertility in men and complications during pregnancy in females is the result of Vitamin A deficiency. Apart from affecting the menstrual cycle in women, there is also an increased risk of maternal mortality and birth defects in the developing fetus.
Vitamin-A Rich Foods
Best Vitamin-A foods include spinach, dairy products, green leafy vegetables, and carrots. These foods are rich in beta-carotene which our body uses to convert into Vitamin A. There are 2 forms of Vitamin A- Preformed Vitamin A, found in animal sources, and the second category- Pro-Vitamin A carotenoids present in plant-based foods. Other Vitamin-A foods include:
Carrots
Promote healthy vision and support immune function due to their high beta-carotene content, which the body converts to vitamin A.
Spinach
It is a food rich in vitamins and minerals and supports eye health and also aids in maintaining healthy skin and mucous membranes, thanks to its rich vitamin A and antioxidant content.
Sweet Potatoes
Enhance immune function and promote cell growth and differentiation due to their abundance of vitamin A and other essential nutrients.
Kale
Kale is one of the foods rich in vitamins and minerals and contains significant amounts of vitamin A, promoting eye health and contributing to the maintenance of healthy skin and tissues.
Mangoes
Boost immune function and support eye health with their high beta-carotene content, which the body converts to vitamin A.
Papaya
This health-packed fruit aids in promoting healthy skin, supporting immune function, and protecting against free radical damage.
Fortified Cereals
Fortified with vitamin A, these cereals provide an easy and convenient way to supplement your diet and support your eye health and immune function.
There are several other foods for healthy skin for better radiant skin.
Conclusion
Vitamin A is a crucial nutrient that assists in maintaining overall health and well-being. It plays a vital role in various bodily functions, including vision, immune function, reproduction, and cellular formation. While it is necessary to include vitamin A in your diet, it is also important to maintain an appropriate balance, as excessive intake of vitamin A can have adverse effects as well. A mix of the best Vitamin-A foods would include green leafy vegetables, sweet potatoes, carrots, mangoes, and some protein-rich fish that will provide sufficient Vitamin-A requirement.

Although taking a nutrient-rich diet should be the primary focus but gummies for women can also be a good addition to your diet to meet specific nutritional needs. By maintaining a nutrient-dense diet and incorporating these gummies you can support your overall health and well-being.

You can also think of including our specialized biotin hair gummies and skin glow gummies to cater to your hair and skin health better. These gummies will provide the right dose of nourishment for your hair and skin's enhanced quality and everlasting shine.
FAQs
What is the best vitamin A for acne treatment?
Retinoids derived from vitamin A are known for their beneficial effects on skin health. They promote cell turnover, reduce inflammation, and prevent the formation of clogged pores.
Does Vitamin A improve vision?
Yes, Vitamin A helps in maintaining a healthy vision. It is essential for the proper functioning of the retina, for capturing light and transmitting visual signals to the brain.
How does vitamin A act as an antioxidant in the body?
Antioxidants help neutralize harmful free radicals in the body and prevent them from causing further damage. Free radicals are highly reactive molecules that can cause damage to cells and tissues, leading to oxidative stress and various diseases.
Can vitamin A deficiency impact growth and development in children?
Yes, Vitamin A deficiency can impair proper bone development and lead to stunted growth in children. It can also impact tooth development and increase the risk of dental problems in children. Therefore, food rich in vitamins and minerals must form a part of a diet to increase immunity in children.
How does vitamin A interact with other nutrients, such as vitamin D or zinc?
Vitamin A and Vitamin D are both fat-soluble vitamins that have important roles in immune function and are also vital for maintaining optimal bone health as well as calcium metabolism. Vitamin A interacts with Zinc to support various physiological processes including healthy immune function, bone health, and vision.
What are the recommended daily intake levels of vitamin A for different age groups?
The recommended daily consumption of Vitamin A is 900 micrograms of RAE/day for men above 14. For women aged 14 and above the prescribed consumption is 700 micrograms of RAE/ da. For children, it varies based on their age, and the same has already been mentioned above.
Do Vitamin-A foods help boost the immune system?
Yes, Vitamin A plays an important role in building a robust immune system, and an effective defence against infections.