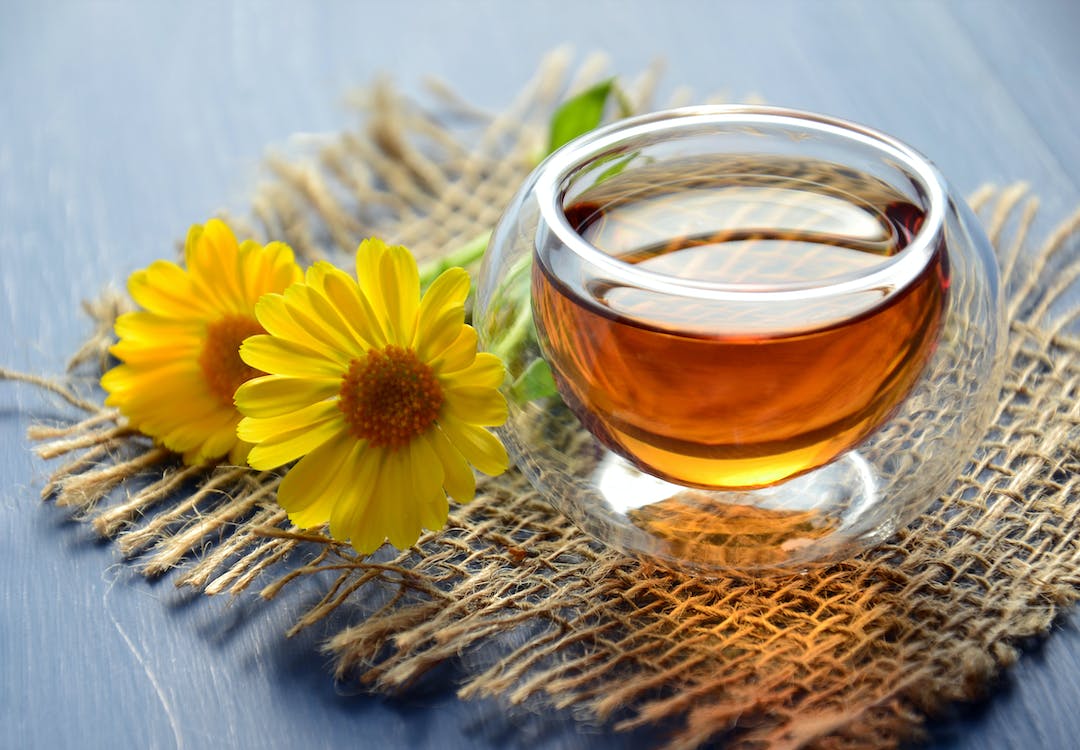 Top health benefits of Chamomile you need to know!
Imagine coming home after a stressful day at work and relaxing on your couch with a steaming cup of chamomile tea. Sounds soothing, right? 
Chamomile is a wonder ingredient touted for its multiple health benefits. 
Chamomile is a flowering plant that is native to Europe and Asia. It has been used for centuries as a natural remedy for a variety of ailments and is known for its calming and soothing effects.
Some potential health benefits of chamomile include:
1. Reduces anxiety and promotes relaxation
Feeling the blues lately? The therapeutic benefits of chamomile are well known as it helps with anxiety and insomnia. It is believed to have a calming effect on the central nervous system, which can help to reduce feelings of stress and anxiety.
2. Relieves digestive issues
Chamomile tea has been used to help with digestive issues such as bloating, gas, and indigestion. It is thought to have anti-inflammatory properties that may help to soothe the digestive system.
3. Reduces inflammation 
Research suggests that chamomile may have anti-inflammatory properties, which makes it useful for reducing inflammation in the body.
4. Improves skin health
Chamomile is often used in skin care products due to its potential to help soothe and reduce inflammation in the skin. Including chamomile in your skin care regimen can prove to be a game changer as it provides relief for conditions such as eczema, and dermatitis, and soothes irritation. 
5. Helps you sleep
For all those struggling to clock-in adequate hours of sleep, chamomile is your ideal sleep buddy! Not only is chamomile light and subtly sweet, but this caffeine-free herb doesn't knock you out, or makes you drowsy. Instead, It gives your mind a subtle comforting effect to help you get enough sleep. Nyumi's melatonin sleep gummies are infused with the goodness of chamomile, theanine, melatonin and other essential nutrients to help you get the rest you deserve!
6. Eases menstrual cramps
Chamomile tea has been traditionally used to help reduce menstrual cramps and other symptoms of PMS (Post Menstrual Syndrome)
Conclusion:
The remarkable benefits of chamomile tea extend far beyond its soothing properties. From aiding in sleep and relaxation to promoting better digestion and skincare, chamomile tea has proven itself to be a versatile and holistic remedy. However, for those looking to complement their wellness journey with modern solutions, the world of gummies offers a range of options. Whether it's improving iron deficiency with iron gummies, nurturing skin health with skin gummies, promoting hair strength with biotin gummies, or ensuring overall well-being with multivitamin gummies, there's a delicious and convenient way to enhance your self-care routine. Embracing these natural remedies and nutritional supplements can contribute to a more balanced and vibrant lifestyle. So why not explore the synergy of time-honored remedies and contemporary innovations for your holistic well-being?