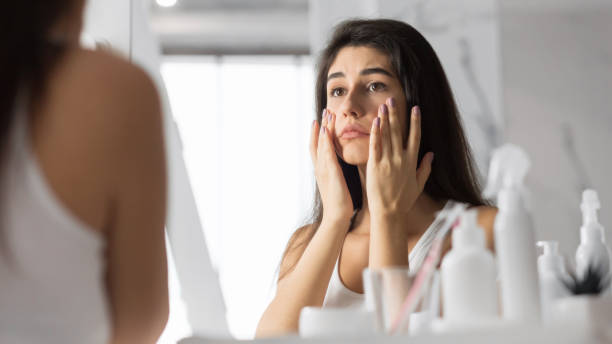 Top 11 Reasons Behind Your Skin Breakouts
Your skin is like a mirror reflecting your overall health and well-being. It's the canvas upon which your lifestyle choices, diet, and genetics are displayed for the world to see. While we all strive for clear and glowing skin, many of us have experienced the frustrating and sometimes embarrassing phenomenon of sudden breakouts on the face. These unwelcome guests, in the form of pimples and blemishes, can affect our confidence and self-esteem. In this comprehensive guide, we will delve deep into the top reasons behind your skin breakouts on the face and explore various strategies, including the use of skin gummies, to help you achieve a clearer, healthier complexion.
From hormonal fluctuations and dietary choices to skincare mistakes and environmental factors, we'll explore the full spectrum of causes behind your breakouts.
1. Poor Skincare Routine
When it comes to maintaining clear and healthy skin, a proper skincare routine is your first line of defence. Neglecting your skin can lead to a host of issues, including sudden breakouts on the face. In this section, we will explore the detrimental effects of a poor skincare routine, focusing on inadequate cleansing, lack of exfoliation, and skipping moisturization.
2. Inadequate Cleansing: The Culprit Behind Clogged Pores
One of the primary reasons for skin breakouts on the face is the accumulation of dirt, oil, and impurities on the skin's surface. Inadequate cleansing allows these elements to linger, leading to clogged pores and, eventually, pimples and blemishes.
Solution:
- To combat inadequate cleansing, develop a daily skincare routine that includes gentle cleansing. Use a mild cleanser that suits your skin type—whether it's oily, dry, or sensitive.
- Ensure you wash your face twice daily, in the morning and evening, to remove sweat, makeup, and environmental pollutants.
- Don't forget to cleanse your face after strenuous activities or workouts to prevent pore congestion.
3. Lack of Exfoliation: Uncovering Fresh, Radiant Skin
A breakout face often includes a mixture of whiteheads, blackheads, and pimples. Without proper exfoliation, dead skin cells can accumulate on the surface, trapping oil and bacteria beneath them, and exacerbating breakouts.
Exfoliation plays a crucial role in preventing different types of pimples on the face. By removing dead skin cells, you reduce the chances of clogged pores and the formation of papules and pustules.
Solution:
Incorporate exfoliation into your skincare routine, but be mindful not to overdo it, as excessive exfoliation can irritate the skin.
Choose between physical exfoliants (scrubs) or chemical exfoliants (products containing alpha and beta hydroxy acids) based on your skin's sensitivity.
Aim to exfoliate 1 time a week to maintain healthy, clear skin
4. Skipping Moisturization: A Dehydration Dilemma
Skin gummies, such as those containing hyaluronic acid, can support skin hydration. However, they should not be a substitute for moisturization in your daily routine.
Hyaluronic acid is a natural component of the skin that helps maintain moisture. Without proper moisturization, your skin may become dehydrated, leading to irritation and an increased risk of breakouts.
Solution:
Moisturization is crucial for all skin types, including oily skin. Opt for a lightweight, non-comedogenic moisturizer that won't clog pores.
Apply moisturizer both in the morning and evening to lock in hydration and maintain a healthy skin barrier.
5. Diet and Hydration
Your dietary choices and hydration levels play a significant role in the health and appearance of your skin. In this section, we will delve into the impact of diet and hydration on skin breakouts, focusing on high-sugar and processed foods, dairy products, and dehydration
6. High Sugar and Processed Foods: A Recipe for Skin Woes
Skin breakouts on the face, including sudden breakouts, are often linked to high sugar and processed foods. Consuming an excessive amount of sugary and processed items can lead to increased insulin levels, inflammation, and excess sebum production—all of which contribute to acne and pimples.
Solution:
Limit your intake of sugary snacks, soft drinks, and processed foods. Opt for whole, unprocessed foods like fruits, vegetables, and lean proteins.
Focus on a balanced diet rich in antioxidants, vitamins, and minerals to support skin health and reduce inflammation.
7. Dehydration: The Silent Skin Aggressor
Hyaluronic acid, often found in skin gummies and skincare products, helps retain skin moisture. Dehydration can hinder the effectiveness of hyaluronic acid, leading to dryness and skin issues. Dehydration can also lead to skipping moisturization, as many people mistakenly believe that oily skin doesn't require hydration. In reality, all skin types need adequate moisture to stay healthy and avoid breakouts.
Solution:
Ensure you drink enough water throughout the day to keep your skin hydrated from within.
Use a suitable moisturizer for your skin type to lock in moisture and maintain a healthy skin barrier.
If you struggle with dehydration, consider incorporating hyaluronic acid supplements into your routine to enhance skin hydration.
8. Environmental Factors
Environmental factors can significantly influence the health and condition of your skin, including sudden breakouts on the face. In this section, we'll explore the effects of pollution, humidity, and sweating on different types of pimples on the face
9. Pollution: Battling the Urban Skin Menace
Exposure to pollution is a common factor contributing to skin breakouts on the face. Airborne pollutants, such as particulate matter and free radicals, can settle on your skin, leading to inflammation, clogged pores, and acne.
Pollution-induced breakouts can manifest as various types of pimples, including papules and pustules. These inflammatory blemishes are often a result of the skin's response to environmental pollutants.
Solution:
Develop a diligent cleansing routine to remove pollutants and impurities from your skin. Double cleansing, using an oil-based cleanser followed by a water-based cleanser, can be particularly effective.
Consider using skincare products containing antioxidants like Vitamin E for skin to help protect your skin from environmental damage.
10. Humidity and Sweating: A Recipe for Clogged Pores
High humidity levels can lead to a sudden breakout on the face, especially in individuals with oily or acne-prone skin. The combination of heat and humidity can cause the skin to produce excess sweat, which can mix with oil and dirt, leading to clogged pores.
During humid conditions, hyaluronic acid for skin becomes even more critical. It helps maintain moisture balance and prevents excessive sweating, which can exacerbate breakouts.
11. Wrong Skincare Products
Selecting the right skincare products is crucial for maintaining healthy and clear skin. In this section, we will explore the pitfalls associated with using the wrong skincare products, focusing on the importance of non-comedogenic products and the potential dangers of harsh ingredients.
Incorporating skin gummies and multivitamin gummies into your daily routine can support your skin's health from the inside out. Ingredients like biotin and collagen can help improve skin's texture and reduce the urge to pick.
Conclusion:
Achieving and maintaining clear, healthy skin is a journey that requires dedication, knowledge, and the right skin care practices. In this comprehensive guide, we've explored the top reasons behind skin breakouts, from hormonal fluctuations and poor skincare routines to dietary choices, environmental factors, stress, and the use of wrong skincare products. By understanding the root causes of skin breakouts and implementing effective solutions, such as proper skincare routines, stress management techniques, and the use of non-comedogenic products, you can embark on your journey to achieving a clearer, healthier complexion. Remember, the path to glowing skin begins with informed choices and consistent self-care.
We also offer a range of skincare gummies, including our biotin hair gummies with biotin for stronger hair, sleep gummies for peaceful sleep, and iron gummies to combat iron deficiency, which can further support your skin's health from within.
FAQ
Why is my skin suddenly breaking out?
Skin breakouts can occur due to various factors, including hormonal changes, diet, stress, or using the wrong skincare products.
How to get rid of breakouts fast?
To address breakouts quickly, maintain a consistent skincare routine, avoid picking at blemishes, and consider spot treatments with ingredients like benzoyl peroxide or salicylic acid.
When will a breakout stop?
The duration of a breakout varies depending on its cause and severity. With proper care and treatment, breakouts typically improve within a few days to a few weeks.
How can I get rid of acne in two days?
While it's challenging to eliminate acne entirely in just two days, you can reduce inflammation and redness by using spot treatments and practicing good skincare habits.
How can stress breakouts appear?
Stress can trigger breakouts by increasing cortisol levels, which in turn stimulate oil production and inflammation in the skin, leading to pimples and blemishes.