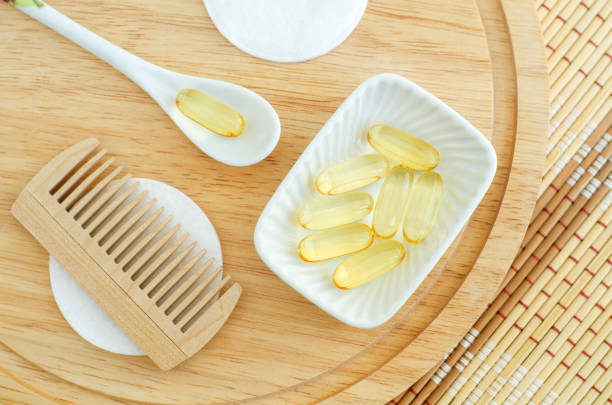 The Best Vitamins for Hair Growth & To Achieve Thicker Hair
Hair growth occurs in a cycle that includes three stages: the anagen (growth) phase, the catagen (transitional) phase, and the telogen (resting) phase.
During the anagen phase, hair follicles actively grow hair. This phase can last for several years, and the length of the anagen phase determines how long the hair can grow.
In the catagen phase, hair growth slows down, and the follicle shrinks. This phase lasts for about two weeks.
During the telogen phase, hair growth stops completely, and the hair eventually falls out. This phase lasts for several months before the cycle repeats.
The Essential Vitamins for Boosting Hair Growth
There are several vitamins good for hair growth and thickness. Some of the most important ones include:
Biotin
Biotin is a vitamin B7 that is essential for hair growth. It is also known as Vitamin H, as it is very important for Hair growth. It helps to strengthen the hair follicles and promotes healthy hair growth. You can find biotin in foods such as eggs, nuts, and whole grains. An easier way to obtain biotin is through supplements like Biotin Hair Gummies
Vitamin D
Vitamin D is important for healthy hair follicles. It can be obtained from sunlight exposure and certain foods such as fatty fish, egg yolks, and fortified dairy products.
Vitamin D supplements should be taken with meals, particularly ones with plenty of healthful fats. Fat helps the vitamin D to be absorbed into the body.
Vitamin E
Early research suggests that vitamin E can help improve overall scalp and hair health.
Vitamin E for hair also helps repair damaged hair by nourishing your scalp, reducing hair breakage, and improving your hair's elasticity and shine.
Vitamin C
Vitamin C is an antioxidant that helps to protect the hair follicles from damage. It also aids in the production of collagen, which contains amino acids that can be used to build keratin. You can find vitamin C in fruits and vegetables such as oranges, strawberries, and bell peppers.
Vitamin C promotes hair health, reduces hair loss, and improves hair growth. Vitamin C deficiency can also result in dry hair and split ends.
Iron
Iron is necessary for the production of hemoglobin, which carries oxygen to the hair follicles. Iron deficiency can cause hair loss, so it's important to ensure you are getting enough iron in your diet. Iron-rich foods include spinach and lentils.
Those who are vegetarian or vegan may want to focus on including foods that are good sources of iron. Plant-derived iron is not absorbed completely by the body, so it's essential to maintain a diet rich in vitamin C to ensure the iron is absorbed completely by the body.
Zinc
Zinc deficiency is thought to be associated with hair loss. It can be found in foods such as pine nuts, soybeans, cashews & Greek yogurt.
Over 2 billion people all over the world suffer from a zinc deficiency, so it's important to have a good diet to ensure you are getting the right amount of zinc.
All these vitamins are good for hair growth and can be easily obtained through hair vitamin supplements like Hair Gummies.
List of foods that contain the vitamins good for hair growth
Spinach
Rich in iron and vitamin A, spinach promotes a healthy scalp and aids in the production of sebum, a natural conditioner for hair. Spinach is also a good source of vitamins K, C, B9, and Magnesium.
Nuts & Seeds
Almonds, walnuts, flaxseeds, and chia seeds are rich in vitamin E, omega-3 fatty acids, and biotin.
These nutrients help nourish the hair follicles, improving hair strength and growth.
Nuts also provide proteins, healthy fats, fibres, and Vitamins and Minerals like Vitamin E magnesium, and potassium.
Avocado
Avocados are packed with essential nutrients such as vitamins B, C, and E, along with healthy fats and antioxidants.
These nutrients nourish the scalp and hair follicles, promoting stronger and healthier hair growth. The high vitamin E content in avocados helps improve blood circulation to the scalp, which stimulates hair follicles and encourages faster hair growth
Additionally, the natural oils in avocados moisturize and condition the hair, reducing breakage and promoting overall hair health.
Whole grains
Whole grains such as oats, quinoa, brown rice, and whole wheat contain essential nutrients like B vitamins (like Biotin), zinc, and iron, which are important for hair health and growth.
Biotin is required for cell proliferation and plays an important part in producing amino acids (protein) which are required for your hair to grow.
Citrus fruits
Citrus fruits such as oranges, lemons, and grapefruits are rich in vitamin C, which plays a crucial role in collagen production.
Collagen is a structural protein that strengthens hair follicles and promotes healthy hair growth. These fruits are also rich in Vitamin C which helps the body absorb iron better. Iron is essential for carrying oxygen to the hair follicles & promotes hair growth.
Carrots
Carrots are a rich source of beta-carotene, which the body converts into vitamin A. Vitamin A is essential for the production of sebum, a natural oil that moisturizes the scalp and keeps the hair follicles healthy. The vitamin A in carrots strengthens the hair strands by promoting the production of keratin, the protein that forms the structure of the hair.
Carrots contain antioxidants that help combat oxidative stress and maintain a healthy scalp. In addition to vitamin A, carrots also contain other essential nutrients like vitamins C and E, biotin, and potassium, which contribute to overall hair health.
The food we eat defines the way we are going to have its benefits. It is recommended to consume a different variety of fresh fruits, nuts, and vegetables in our diet. It is preferred to limit our exposure to processed and fast food so that our body gets the food benefits and reduces the unwanted excess consumption of some unhealthy food ingredients like Sugar, Fats, and refined flour. It's important to maintain a balanced diet to give your body the right amount of vitamins & minerals it needs to give you healthy hair & promote faster hair growth. If maintaining a diet is proving too cumbersome, incorporating biotin supplements & collagen supplements like multivitamin gummies can help you get healthy hair.


Supplements for Hair Growth
There are multiple formats of health supplements – some people may prefer multivitamin gummies or chewable tablets, while others may prefer capsules or tablets. Gummies can be a more appealing option for some people compared to tablets and capsules because they are often flavoured and easier to swallow. Additionally, gummies may be more convenient to take, as they do not require water and can be taken on the go.
Health supplements for the hair can be beneficial if you have a vitamin or mineral deficiency that is affecting your hair health. They can also provide additional nutrients to support healthy hair growth and thickness. Multivitamin gummies, collagen supplements and specifically Biotin gummies for hair are popular health supplements for hair growth.
When choosing a hair supplement, look for products that contain vitamins and minerals such as biotin, vitamin D, iron, vitamin C, and zinc, as these are all important for healthy hair growth.
Hair supplements can provide additional nutrients to support healthy hair growth and thickness, and they can be especially useful if you have dietary restrictions or are unable to consume certain foods due to allergies or other issues.


Tips To Achieve Thicker & Longer Hair
Maintain a healthy diet that includes a variety of whole foods rich in vitamins and minerals necessary for healthy hair growth.


Avoid over-styling and using harsh chemicals on your hair, as this can cause damage and breakage.


Practice good hair care habits, such as using a wide-toothed comb to detangle wet hair and avoiding excessive heat styling.


Get regular trims to prevent split ends, which can make the hair appear thinner and shorter.


Use hair products that are specifically designed to promote hair growth and thickness, such as shampoos and conditioners that contain biotin, keratin, and other nourishing ingredients.


Consider taking supplements such as biotin or other hair growth supplements after consulting with a healthcare professional.


Massage your scalp regularly to promote blood flow and stimulate hair growth.
Remember, hair growth takes time and patience, so be consistent with your hair care routine and give your hair the time it needs to grow and become healthier.
Conclusion
It's always best to get your nutrients from whole foods whenever possible and to include the food, especially with nutrients like biotin, vitamin D, iron, vitamin C, and zinc. All these nutrients work together to maintain a healthy head of hair. Biotin is essential for hair growth & is the best vitamin for hair fall as it supports the production of keratin, a protein that forms the structure of the hair, you can also read Biotin vs Keratin to know more.
Adequate biotin levels contribute to stronger, healthier hair strands and can help prevent hair loss and promote faster hair growth, and here are biotin rich food for hair.
Vitamin D is important for hair growth as it promotes hair follicle stimulation and helps prevent hair loss.
Iron is necessary for carrying oxygen to the hair follicles, supporting their growth, and preventing hair thinning.
Zinc is crucial for maintaining a healthy scalp and supporting hair growth by aiding in the production of new cells.
Adequate levels of these nutrients contribute to overall hair growth and faster hair growth. All of these nutrients are found in various foods and also in supplements like Biotin Gummies. Each hair gummy has all the vitamins and minerals that you need for healthy hair making them the best biotin supplement for hair growth.
Collagen plays a role in promoting hair growth by supporting the production of new hair cells and as we age the collagen naturally produced by our body declines resulting in age-related hair fall. So it's important to get a regular intake of antioxidant-rich foods or supplements like Skin Gummies to ensure collagen production is not compromised.
Good sleep plays a crucial role in promoting hair health. Adequate sleep helps regulate the hair follicle growth cycle, disruptions in sleep patterns also disrupt the growth cycle of hair follicles. During sleep, the body undergoes various repair and regeneration processes. This includes the repair of damaged cells, tissues, and hair follicles. When you get enough sleep, these restorative processes are more efficient, allowing the hair follicles to repair and regenerate properly, which contributes to healthier hair growth. If you are facing issues with regulating your sleep cycle you can try our melatonin gummies which contain melatonin, a naturally occurring chemical that helps your body fall asleep & helps you regulate your sleep-wake cycle for overall better health.
FAQs
Can excessive intake of certain vitamins have adverse effects on hair health?
Excessive intake of certain vitamins can have adverse effects on hair health, so it's important to follow recommended dosage guidelines.
What is the average rate of hair growth in a year?
The average rate of hair growth in a year is about 6 inches or 15 centimeters.
What are the symptoms of vitamin deficiency in hair?
Symptoms of vitamin deficiency in hair can include hair loss, thinning, dullness, and slow growth. Tackle vitamin deficiency with Nyumi Biotin Hair Gummies, it's the best biotin supplement and the best gummy for hair growth in India.
Are there gender-specific hormonal factors that impact hair growth?
Yes, gender-specific hormonal factors like testosterone and estrogen can impact hair growth patterns.
Do hair growth vitamins work for everyone, or are their results subjective?
The effectiveness of hair growth vitamins may vary among individuals, and results can be subjective due to factors like genetics and overall health.