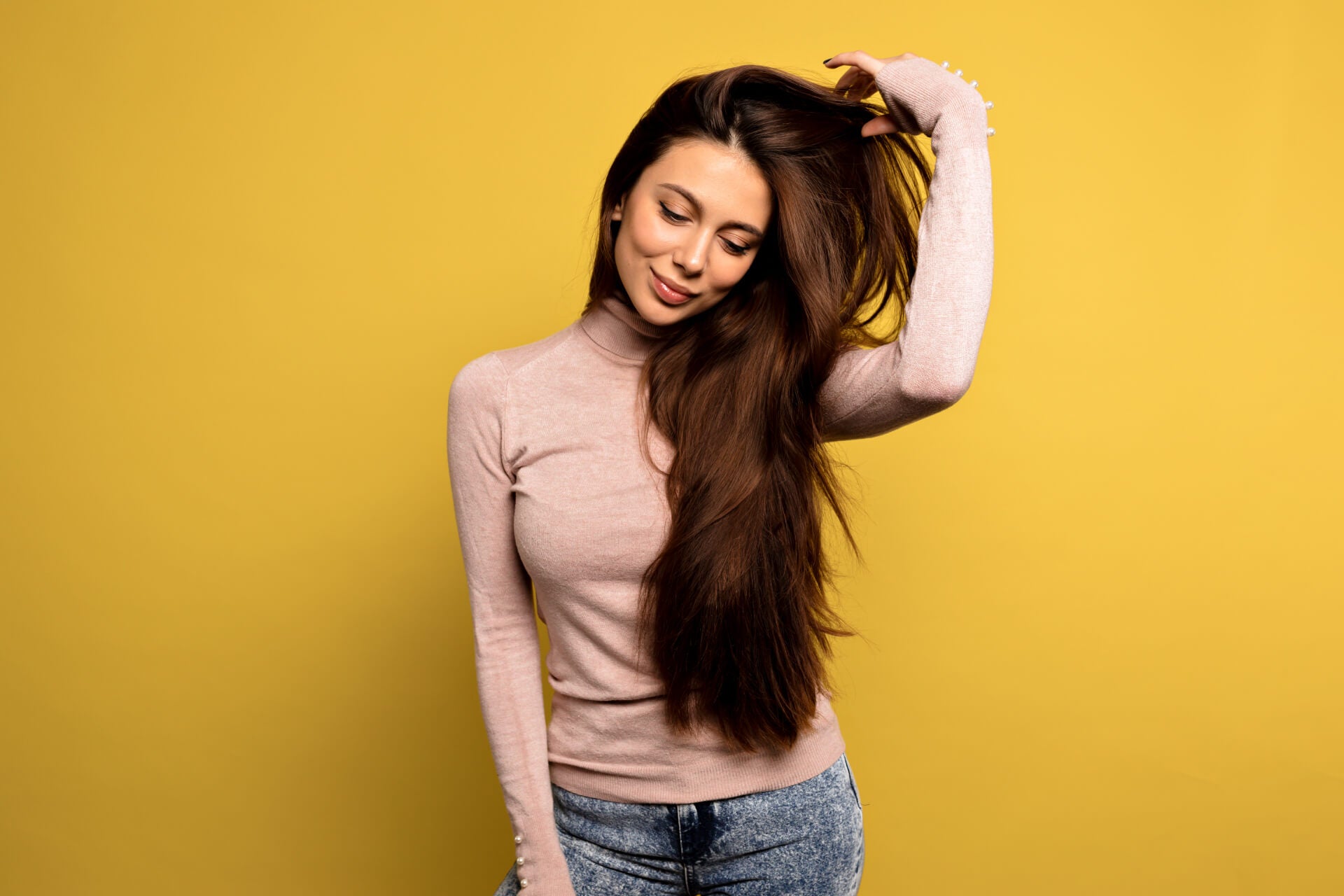 Nutrients & Vitamins For Hair Growth: A beginner's Guide
Multivitamins for hair growth are all the rage right now. These vitamins for hair growth work their way from the inside out, giving your strands the nourishment they need and even preventing that dreaded hair loss. 
Oils, hair masks, chemical-free shampoos — these are all excellent topical hair habits to follow but if you're looking to get to the root of it all, it's time to look within --- all the way down to the hair follicles. 
Our scalp has approximately 100,000 hair follicles. Each follicle is made up of living cells and surrounded by blood vessels that help keep the strands nourished and hold them in place. This creates a good environment for your hair to grow. Here's where nutrients and vitamins for hair come into the picture. They flow through these blood vessels and reach your hair follicles.
Hair Journey Through 3 Distinct Phases:
Below are the stages of hair growth
Anagen (growth phase): New hair is formed at this time, making it the most active phase of the hair growth cycle. Each follicle spends several years in this phase. 

Catagen (transitional phase): This phase starts when the anagen phase ends and can last for up to 10 days. During this time, the hair follicle shrinks and begins to break down. The hair also starts to separate from the bottom of the hair follicle.

Telogen (resting phase): During this phase, the base of the hair follicle becomes inactive. Your hair growth stops and the old hair detaches from the follicle. This is when the new growth phase begins, pushing out the old hair.
Yes, just like any other part of your body, your mane and scalp require the necessary nutrients to stay healthy and happy. If you are tired of seeing excess strands on your hairbrush, keep on reading to find out which minerals and vitamins for hair you need to include in your diet to eliminate your hair woes. 
Minerals & Vitamins for Hair Growth
Vitamin A
Did you know that your hair is the fastest growing tissue of your body? Vitamin A for hair is essential as it helps in cell regeneration and boosts hair growth. Vitamin A also helps in the production of sebum (an oily substance produced in the body) in the skin, keeping your scalp moisturized. 
Foods rich in vitamin A: Foods such as milk, eggs, yogurt, sweet potatoes, carrots, spinach, pumpkin and kale are all rich in vitamin A along with other nutrients. 
Vitamin C
Vitamin C is famously known for its skin-enhancing properties but did you know that it is one of the best vitamins for hair growth? It helps fight free radicles that hinder the growth of your strands. Vitamin C also helps boost collagen in the body which is vital in the production of a protein known as keratin. 
Foods rich in vitamin C: Foods like strawberries, peppers, or citrus fruits are all rich sources of vitamin C.
Iron
When you have an iron deficiency, the production of hemoglobin in the blood decreases. Hemoglobin is important as it carries oxygen for the growth and repair of cells in your body. This also means that it helps in stimulating hair growth. Those suffering from an iron deficiency may face several hair problems including hair loss. 
Foods rich in Iron: Dark leafy greens and legumes like lentils, tofu and beans are rich in iron. 
Biotin
If you're a haircare buff then this may come as no surprise. Biotin is famously known for making your hair stronger, so how does it work exactly?
Well, biotin stimulates keratin production in hair and increases the rate of follicle growth. Since biotin doesn't get stored in the body, you need to get your daily dose of biotin from foods and biotin vitamins. 
Foods rich in biotin: The best natural sources of biotin are eggs, fish, seeds, and nuts but if you're looking for an easier way to include this nutrient in your diet, you can try Nyumi Biotin Hair Gummies. These vitamins for hair growth gummies are rich in biotin, amla extracts, and more to help reduce hair fall, delay premature greying and reduce hair breakage. 
Zinc 
Zinc is a trace element which means the body cannot naturally synthesize it and needs to be supplied through foods and supplements. When it comes to hair, zinc deficiency can hinder tissue growth, repair, and development. When your body gets the required amount of zinc, it helps keep the oil glands around the follicles working properly. 
Foods rich in zinc: Beans, nuts, whole grains and dairy products are great for those who have less zinc. 
As we get older, we are more prone to developing hair issues. Add in environmental stressors, hormones, medication, etc., and you're left with a handful of hair problems. This is why getting your daily dose of nutrients and vitamins for hair growth is vital in ensuring you have a healthy and strong mane. Along with the foods you consume, ensure to add supplements like Nyumi Happy Hair Gummies as well. These hair growth gummies are not only the easiest way to get the necessary vitamins good for hair but they are also a tasty treat.
Conclusion:
Understanding the fundamental role of nutrients and vitamins in promoting hair growth is essential for anyone embarking on a journey toward healthier and luscious locks. As highlighted in Nyumi's comprehensive guide to hair growth essentials, the incorporation of vital elements like biotin, collagen, and antioxidants can lead to remarkable improvements in hair health. Nyumi extends its commitment to holistic well-being by offering an array of specialized gummies. These include skin gummies, sleep gummies, iron gummies, and multivitamin gummies. Seamlessly complementing your hair care regimen, these gummies address various aspects of health to provide a well-rounded approach to beauty and wellness. With Nyumi's innovative offerings, achieving vibrant hair, radiant skin, restful sleep, and balanced nutrition has never been more accessible. Elevate your self-care routine with Nyumi's range of gummies and unlock a new level of vitality and confidence.
FAQs
Can taking excessive amounts of vitamins promote faster hair growth?
Taking excessive amounts of vitamins, including those believed to promote hair growth, is not recommended and can have adverse effects on your health. In most cases, vitamins are most effective when taken at recommended levels
Can an unhealthy diet or nutrient deficiency lead to hair thinning or loss?
Yes, an unhealthy diet or nutrient deficiency can contribute to hair thinning or loss. Inadequate intake of essential nutrients like iron, protein, biotin, and vitamins can weaken hair follicles and lead to hair problems.
Can supplements be taken to fulfill the required intake of these nutrients and vitamins?
Supplements can help fulfill nutrient and vitamin requirements, It's generally best to obtain nutrients through a well-balanced diet, as whole foods provide a broader spectrum of beneficial compounds that promote overall health.
Do supplements for hair growth really work?
Some individuals may experience improvements with supplements containing key nutrients, while others may not see significant results.
Are there any specific foods that are particularly beneficial for hair growth?
Yes, several foods can be particularly beneficial for hair growth. These include foods rich in biotin (eggs, nuts), vitamins (leafy greens, citrus fruits), protein (lean meats, beans), and minerals (spinach, seeds).
Popular Searches
Monsoon Hair Problems | Nutritions for Healthy Hair | Causes Grey Hair | Causes of Hair Breakage | Vitamin Deficiency and Hair Loss | Winter Hair fall  Survival Guide | Biotin vs Keratin | Benefits of Amla for Hair | Tips and Tricks for Healthy Nails | Biotin Rich Food For Healthy Hair Growth | Tips for Reviving Dull Hair | Oatmeal for Healthy Skin and Hair | Benefits of L-Theanine | Post Holi hair care Tips | Benefits of Redensyl for Hair | Flax Seeds Benefits For Skin And Hair | Postpartum Hair Loss | Vitamin B5 for hair | Benefits of Selenium for hair | Ayurvedic Herbs For Hair | Hair fall  Causes & Treatment | curly hair Tips & Tricks | Iron-Rich Foods | Hair Fall Control In Monsoon | Healthy Scalp Tips & Benefits | Biotin Gummies for Hair | How to make hair roots stronger | Benefits of Gummies For Hair, Skin, and Nails | Signs of B12 Deficiency