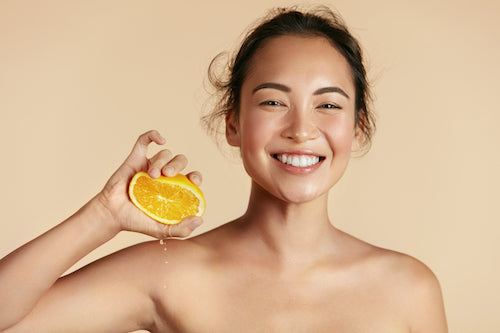 NOURISHMENT I 5 MINS
Vitamin C: Benefits, Sources, Deficiency Causes & More
We've heard the tales of vitamin C being thrown around since our youth. How vitamin c helped sailors prevent scurvy and how an orange could help fight the common cold. Possibly the most popular vitamin, C has made its way into our sports drinks, face creams, lip balms and everyday vocabulary.
But is it just a fad being pushed in places where it may have no real benefit? Or could it actually be the one ingredient that can do everything. Well let's start by debunking that first. No one ingredient can do everything. Like all things good for you vitamin c needs to be consumed properly, the right way to serve its proper function. But when it comes to Vitamin C or ascorbic acid we really do believe there are too many benefits for you to be missing out on them by chasing an illusion. So maybe skip the Vit C serum for some tea on how to use everybody's favourite vitamin : C.
Is Vitamin C a magic cure for the common cold?
The answer is no once you've got the common cold, vitamin C can't magically get rid of it. Makes you question everything you know right? Well, don't. Fun fact: there is no cure for the common cold. But you know what they say, prevention is better than cure. And Vitamin C has been proven to do just that. That's right, taking a daily dose of Vitamin C has been proven to bolster your immune system so that you are less susceptible to humanity's most common reason for the sniffles. Taking vitamin C daily in the correct dosage while you have a cold has also proven to reduce cold severity and duration if contracted. The key here is consistency.
(1)
Vitamin C deficiencies are rare.
Myth. Just because we use the word often doesn't mean we're getting enough of it. Vitamin C deficiencies are far more common that you think. Our bodies can do a lot of things but produce Vitamin C is not one of them. It needs to be obtained regularly through diet in order to not be deficit. Statistics show that 1 in 5 men and 1 in 9 women suffer from deficiency
(2)
. The study also showed that it was more common in certain seasons, like when your citrus fruits aren't as handy. Supplements are a convenient way to make sure you're not at the mercy of your local fruit vendour. Remember baby habits can have big results.
Vitamin C makes your skin glow
Yes, yes and yes. This one is 100% true. Believe everything you heard. Vitamin C taken orally and topically are both great for your skin. While Vitamin C taken orally helps to reverse ageing, boost collagen and the appearance of fine lines, when taken topically it can lightly exfoliate as well as brighten. However Vitamin C is extremely photosensitive and can lose some potency when in its topical state, also products are often mixed with unnatural preservatives to extend their shelf life. So check the label in order to avoid breakouts and get that glow.
Oranges are the best source of Vitamin C
We don't know how oranges got the rockstar reputation of the vitamin c world, but it doesn't seem to be shaking it anytime soon. While citrus is a great source of vitamin C, bell peppers beat them hollow. One cup of chopped raw red bell pepper packs 200-300 milligrams of vitamin C, about 100 more than a cup of OJ. A single piece of Amla contains around 600g of Vitamin C, about 20 times an orange. Supplements are also a great way to ensure you get Vitamin C without having to force feed yourself unpleasant vegetables or overdoing the daily calories.
Vitamin C slows down ageing.
You can't turn back time, and you can't stop the clock. Despite what a lot of products will try and make you believe. But you can take care of yourself so that you age as slowly and gracefully as possible. A big part of that journey is vitamin C. It is a powerful antioxidant that can neutralize harmful free radicals. This takes a load off skin stress and prevents premature ageing. Think of it as a day at the spa for your cells. Vit C is also a building block in collagen which gives skin that structure and bounce. Think of it as a facial from within.
Conclusion
Vitamin C is an essential nutrient that plays a vital role in maintaining overall health and well-being. This blog has highlighted the numerous benefits of Vitamin C, ranging from its powerful antioxidant properties to its role in supporting the immune system and promoting collagen synthesis. By incorporating Vitamin C-rich foods such as citrus fruits, berries, and leafy greens into our diets, we can ensure an adequate intake of this important vitamin.
However, in cases where it may be challenging to meet the daily recommended intake of Vitamin C through diet alone, nutritional multivitamin gummies can be a convenient and effective solution. These gummies, along with specialized variants like hair gummies, skin gummies, and sleep gummies, provide an additional source of essential nutrients, including Vitamin C, tailored to specific health needs.
It's important to remember that while nutritional gummies can be a convenient supplement, they should not replace a balanced diet or serve as a substitute for a healthy lifestyle. A holistic approach to health, including regular exercise, sufficient sleep, and a varied diet rich in whole foods, remains crucial for optimal well-being. By combining a nutrient-rich diet with the targeted support of nutritional gummies, individuals can enhance their overall nutritional intake and support their specific health goals.
FAQs
Which fruit has a higher concentration of vitamin C?
Acerola cherry has a higher concentration of vitamin C compared to other fruits.

What are some early signs or symptoms of vitamin C deficiency?
Early signs or symptoms of vitamin C deficiency can include fatigue, weakness, frequent infections, slow wound healing, and bleeding gums.

What are the primary dietary sources of vitamin C?
Primary dietary sources of vitamin C include citrus fruits (such as oranges and lemons), strawberries, kiwi, bell peppers, and leafy greens like spinach and kale

Which vitamin is for hair fall?
Vitamin E is often associated with promoting hair health and potentially reducing hair fall