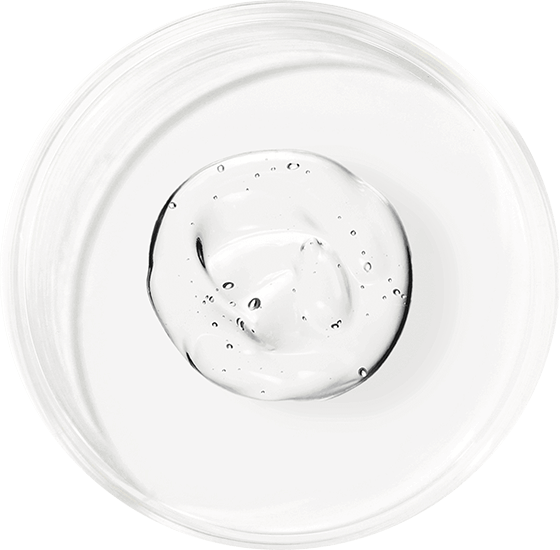 NOURISHMENT I 5 MINS
Hyaluronic Acid: Wonder Ingredient For Glowing Skin
Whether you live in the beauty world or under a rock, chances are you've heard of hyaluronic acid. The new kid on the block, the hottest skincare trend, the buzz of the beauty industry. It's hard to pronounce (hai-uh-luh-raw-nic. You're welcome) and harder to spell, and it sounds like it would do more harm to your skin than good. The funny thing is, it's something that's naturally produced by your body.
What is hyaluronic acid actually?
It is a sugar molecule a.k.a. carbohydrate. Yes, you heard right. The answer to great skin is carbs. Naturally occurring in the skin, hyaluronic acid helps to bind water to collagen, making the skin appear plumper, dewier and more hydrated. Just one HA molecule can hold up to a thousand times its own weight in water1. It's basically a bottle of water for your skin. Exactly like the one that's sitting on your desk, untouched, full of reminders for you to drink. Not only does it firm up your skin, it also acts as a lubrication agent for your joints, nerves, hair, and eyes. It also goes without saying that hyaluronic acid works on all skin types. Think of it as a beauty+brains combination for your skin.
Even though it is an acid, HA doesn't work like one and exfoliate dead skin cells. For all you Hermoine Grangers, the name is derived from the enzyme that synthesizes hyaluronic acid, called 'hyaluronic acid synthase'.
How Does Hyaluronic Acid Work?
Boosts your skin's moisture 
Given its magical ability to retain water, hyaluronic acid completely hydrates the skin and rejuvenates it. You can finally stop chasing that 'fresh no-makeup-makeup look'. 
Reduces the appearance of wrinkles and fine lines 
Water, the answer to everything, is also the answer to tight and taut skin. HA absorbs water, increases moisture and leaves your skin looking plumper and firmer.  It turns those fine lines into a fresh face. And let's be honest, the stress of your life does not need to be plastered across your face. 
Strengthens the protective barrier 
Hyaluronic acid is the fountain of youth. It helps strengthen the skin's natural barrier against pollution, dust, late nights, your boss's jokes, you name it - giving you a more youthful appearance.   
Heals wounds faster 
When your skin is regularly watered, much like a plant, HA regulates tissue repair and regeneration, healing scars faster.
Improves skin texture 
Hyaluronic acid smoothens skin texture when it reduces fine lines and wrinkles. So you can mean it when you say  '#IWokeUpLikeThis'.
What does hyaluronic acid do for you? 
It gives you one less thing to worry about. Takes the inevitable weight of Korean skin goals off your chest. And most importantly, gives you the freedom to say goodbye to all those tabs about 'the answer to glowy skin' or 'how to take care of your skin at 30'. And say hello to tons of free time, stress-free days and definitely more tab space.   
You're probably asking, if my skin is naturally producing hyaluronic acid, why do I need more of it? Because as we grow older (ugh, adulting), our body produces less and less HA. Which means, drier and rougher skin. Life, right? Just when you need more of something, it's gone. That's where our Radiant Skin Gummies come in. Packed with hyaluronic acid, these give your skin all the nutrients it needs in one shot. Studies show [1] that ingesting it orally leads to the improvement in the appearance of skin by actually softening wrinkles and increasing firmness. Want to plump your skin from the inside out? There's a pill for that. 
A hyaluronic acid supplement is to skin, what biotin is to healthy hair. After all, the best way to have healthy skin is to eat a well balanced diet. What you put in your body, will provide your skin the necessary tools to repair and rejuvenate. 

Hyaluronic acid is available in many forms (oral, topical and injections). But ingesting it would mean less time spent researching 'best hyaluronic acid product', and more time spent watching Netflix. No Googling how to use it, apply it, etc. It means more shelf space, for a bottle of wine maybe. No more hoarding sheet masks, under-eye serums and anti-ageing lotions. Our Radiant Skin Gummies with HA have it all. They say there's no such thing as a magic pill. And you've got all the reasons right here, that prove otherwise.
Conclusion
Hyaluronic acid truly stands out as the wonder ingredient for achieving and maintaining glowing skin. Its remarkable ability to retain moisture, plump up the skin, and reduce the appearance of fine lines and wrinkles makes it a top choice for skincare enthusiasts. However, it doesn't stop there. When combined with the benefits of hair gummies, sleep gummies, iron gummies, and multivitamin gummies, it forms a powerful arsenal for overall health and beauty. These supplements work together to promote lustrous hair, restful sleep, radiant complexion, and enhanced nutrient intake. Embracing the potential of hyaluronic acid and the wide range of gummy supplements can lead to a holistic approach to self-care, unlocking the full potential of your well-being both inside and out. So, incorporate this fantastic combination into your daily routine and enjoy the incredible results it brings to your body and skin.
FAQs
Why is Hyaluronic Acid considered a groundbreaking skincare trend?
Hyaluronic Acid's versatility and compatibility with various skin types have made it a groundbreaking trend, providing a non-invasive way to achieve smoother, more radiant skin without the need for invasive procedures.
Is Hyaluronic Acid suitable for all skin types?
Yes, It's a versatile ingredient that hydrates without clogging pores or causing irritation, making it a universal favorite in skincare. However, individuals with sensitive skin should always perform a patch test first.
How to incorporate Hyaluronic Acid into my skincare routine?
Apply a Hyaluronic Acid serum after cleansing and follow with a moisturizer to seal in the hydration. Use it both morning and night for best results
Are there any side effects of using Hyaluronic Acid on the skin?

Hyaluronic Acid is generally well-tolerated, but in rare cases, it may cause mild skin irritation or redness. It's essential to perform a patch test before full application and to consult a dermatologist if you experience any adverse reactions.
How long does it take to see results from using Hyaluronic Acid in skincare?

Most people notice improved skin hydration and a plumper complexion within a few days to a week of incorporating Hyaluronic Acid into their skincare routine. However, the timeline for more significant results can vary and may take several weeks to months of consistent use.