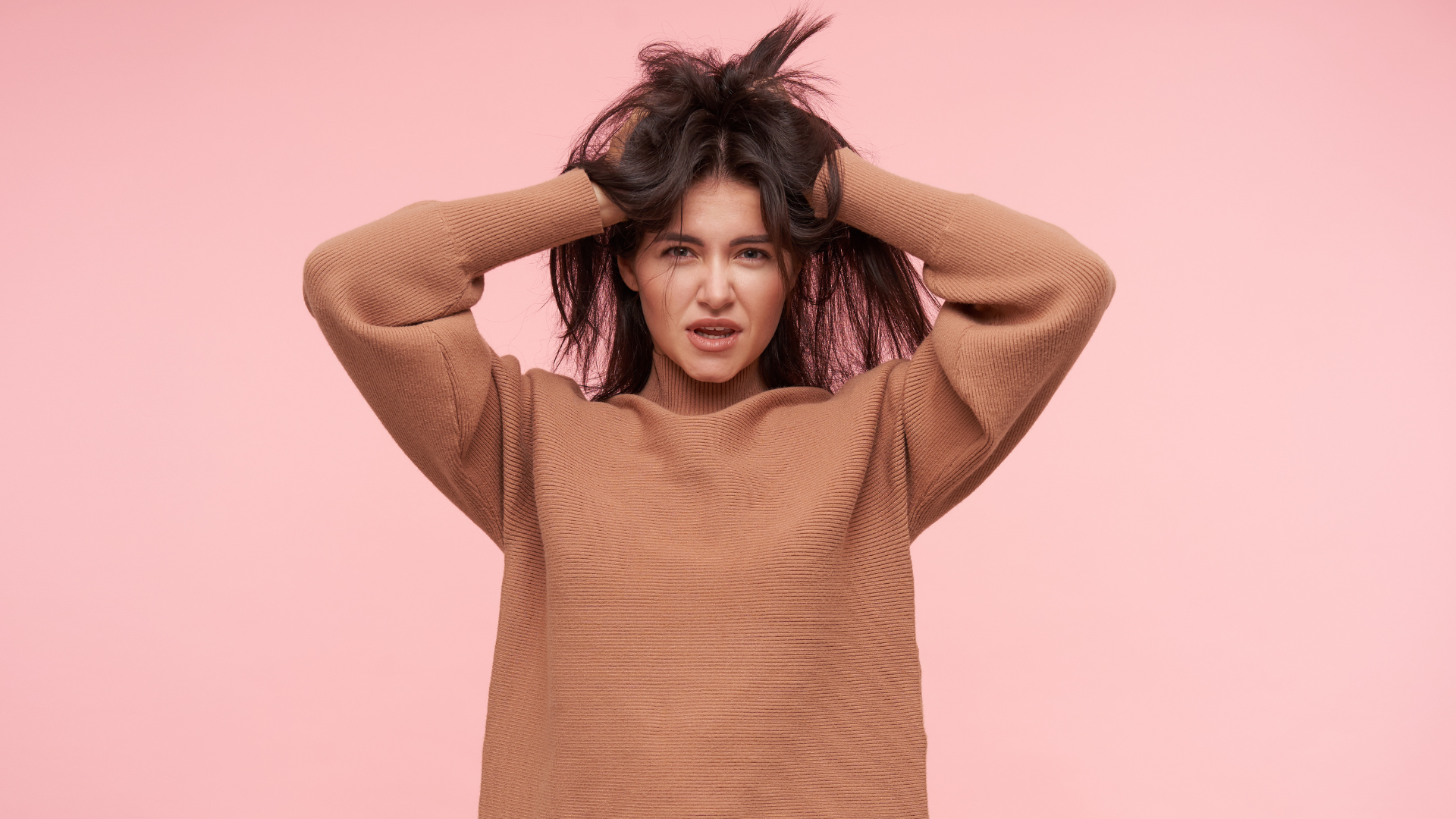 How To Control Hair Fall In Monsoon?
Not only has the monsoon season arrived but also the hair fall issues that come in handy with it. It can also be said as the infamous season brings an array of hair problems along. One of the reasons behind hair fall in monsoon is the high humidity levels in the air which makes our hair weak and brittle. However, your worries can come to a standstill because we have got you covered.
In this blog, we will discuss how to stop hair fall in the monsoon. Additionally, we will also talk about the home remedies you can incorporate into your routine to tackle your hair issues with ease. This blog will enlighten you on how a proper hair care routine can help you prevent hair fall and keep your hair healthy.
Causes of Hairfall in Monsoon
First and foremost are undergoing chemical treatments and using hair styling products. Doing this weakens the hair shaft and can make the hair dry and brittle, eventually leading to more hair fall in the rainy season.
The combination of sweat, oil, and dirt during the monsoon can cause scalp issues such as dandruff, itching, and scalp infections. These conditions can result in hair fall.
High humidity levels are inevitable during monsoons which can make the hair strands weaker, and increase the chances of breakage, leading to excess hair fall
Rainwater and humidity make a lethal combination to build a breeding ground for bacteria and fungus to grow on the scalp. This can further contribute to hair fall.
Increased humidity and moisture in the air
Monsoons are marked by heavy rainfall, high humidity levels, and increased moisture levels in the air. This increased humidity and moisture can cumulatively cause the hair shafts to expand, making them more prone to breakage and resulting in hair fall during monsoon. Additionally, monsoons contribute to our weakened immune system, making us more susceptible to infections, including dandruff. Dandruff when left untreated causes scalp irritation, resulting in hair fall.
Fungal and bacterial infections on the scalp
Moisture is a conducive environment for fungi and bacteria to thrive. Thus, you must ensure to dry your scalp thoroughly after hair wash. You should also avoid covering your head with a hat or scarf when your hair is wet because that can create a moist environment as well.
Using the right set of products and following appropriate treatment is important when suspecting a fungal infection on your scalp. It is also a reminder for you to consult a dermatologist who can recommend shampoos based on your hair type.
A Monsoon hair fall solution is to make an informed choice when buying hair products for yourself. Certain hair products can create a favourable environment for fungal and bacterial growth. Limit the usage of such products and choose those labeled as non-comedogenic or non-acnegenic.
Weakened hair follicles due to vitamin deficiency
Include certain essential vitamins in your diet to promote your hair growth, maintain the health of the follicles and prevent hair fall during monsoon. However, not consuming enough of these essential vitamins in your diet, can lead to problems like thinning locks or bald spots. Thus, ensure to keep a vitamin-rich diet. For instance, Vitamin D stimulates the growth of new cells and its deficiency can lead to weakened hair follicles and increased hair fall. Other vitamins such as biotin) and iron also contributes to maintaining the health of hair follicles. You can also include biotin gummies for hair growth and nourishment.
Environmental pollutants and pollutants in rainwater
Exposure to environmental and rainwater pollutants is unavoidable daily. Therefore, certain precautions can be taken to minimise the damage it causes to your scalp. The first step is to cover your hair either using a hat, scarf, or umbrella. Doing this will protect your hair from direct exposure to pollutants or rainwater and prevent hair fall in the rainy season. Secondly, thoroughly rinse your hair with clean water after being exposed to pollutants or rainwater to remove any residue and minimise the potential damage. You can occasionally opt for clarifying shampoos or scalp treatments for scalp detoxification and restoring health.
How To Stop Hair Fall in Monsoon
It is important to keep your scalp clean and away from moisture during the rainy season. That is because humidity can make you more susceptible to fungal infections, leading to hair loss when left untreated. To avoid this situation, you can use a gentle shampoo regularly which can maintain healthy scalp conditions.
When going out in the rain, shield your head from getting wet by using an umbrella or a hat. This will prevent moisture absorption and hair fall during monsoon.
Massaging your scalp with warm oil will not only nourish your hair follicles but also promote blood circulation. For massaging purposes, you can choose coconut almond, or olive oil. These oils can provide essential nutrients to the hair and prevent hair fall.
Hydration is always the key to helping you maintain the required moisture in your scalp, promote healthy hair growth and reduce the risk of hair shedding
Keep the scalp clean and dry
Cleanliness is very important to keep infections at bay, especially during monsoons. Therefore, you must wash your hair regularly with a product suitable for your hair type to remove dirt, oil, and sweat from your scalp. Cleaning your scalp will facilitate healthy hair growth, prevent clogged follicles, and is also an efficient monsoon hair fall solution. Post your hair wash, use a soft towel to gently pat your scalp and hair to remove excess water. Never get into vigorous rubbing, since it causes friction and leads to hair breakage. Also, allow your hair to air dry naturally whenever possible.
Nourish the hair with proper care
Always use a premium quality conditioner after shampooing your hair to keep your hair moisturized and prevent frizziness. The conditioner also assists in hair detangling which reduces hair breakage during combing and prevents hair fall. Apart from this, you can go with the classic option of hair massaging using nutrient-enriched warm oil. The oil helps in nourishing the hair follicles and promoting blood circulation. You can also leave the oil on your scalp overnight or for a few hours before washing it off for the complete absorption of nutrients.
Protect the hair from excess moisture
Frequent hair washing can deprive your hair of natural oil eventually leading to excessive dryness. On the contrary delayed hair wash or stretched wash intervals can cause dirt, oil, and pollutants buildup, eventually resulting in hair breakage. Therefore, it's important to strike a healthy balance in the head wash frequency to reduce excess moisture. You can also indulge in deep conditioning treatment to not only keep your hair healthy but also seal the moisture in your hair shaft. Don't forget to avoid the excess usage of heat styling tools or chemicals because they end up dehydrating your hair by extracting moisture from your strands.
Maintain a balanced and nutritious diet
Consuming a balanced diet is the key to leading a healthy life and maintaining healthier hair. Thus, ensure including a diet rich in protein, iron, vitamins, and omega-3 fatty acids because they work wonders for your hair. Green leafy vegetables like spinach and kale are must-haves in your diet to detoxify your system and prevent hair fall. Also, not to forget the powerhouse of collagen production namely Vitamin C-rich foods are essential for hair growth as well. Besides this, you can also incorporate biotin gummies for hair growth.
Home Remedies for Hairfall in Monsoon
Before starting any remedial measures for healthier hair, it is important to understand your hair type and its needs. Knowing your hair texture prior will help you select the right treatment, products, and styling techniques to proceed with. Once you're done understanding you can incorporate remedies like coconut milk. Being a healthy fat source it keeps the scalp hydrated and promotes hair growth. Another potent home remedy is eggs, this protein-rich remedy will help you strengthen your hair follicles. You can apply whisked egg mix to your scalp and hair for some time and wash it off with a mild shampoo.
Use of Aloe Vera for Hair
Aloe Vera is a stellar mix of the most enriching vitamins- A, B12, C, E, and folic acid. These nutrients not only help in cell turnover but promote healthy hair growth and shiny air. Hair conditioning with Aloe Vera can prevent both hair breakage and hair loss due to its cooling properties. Apart from this, it also gives your hair a healthier, shinier, and softer look.
Fenugreek seeds for strengthening hair follicles
Fenugreek seeds have long been used to prevent hair fall and promote hair growth. They contain protein and nicotinic acid which assist in hair follicle strengthening hair and enhanced blood circulation in the scalp. You can soak these seeds overnight, apply them in the paste form like a homemade mask, leave them for some time and then wash it with a gentle shampoo.
Onion juice for promoting hair growth
Being rich in sulfur, onion juice can stimulate collagen production, which, in turn, leads to hair follicle strengthening. The juice is also known for promoting hair growth and preventing hair fall. For better hair nourishment, you can mix onion juice with either coconut or olive oil. Apply the mix to the scalp for 20-30 minutes before washing your hair with a mild shampoo.
Green tea rinse to prevent bacterial infections
A green tea rinse can provide your scalp with a refreshing sensation and aid in maintaining a healthy scalp environment due to its antibacterial and antioxidant properties. Additionally, green tea has Vitamin B which assists in reducing hair fall and getting rid of split ends. Green tea is rich in a polyphenol namely EGCG which strengthens hair roots and follicles.
Intake Multivitamin Supplement
Taking multivitamins in the form of multivitamin gummies can be beneficial for overall health and may indirectly support hair health. However, these gummies are to be taken in moderation to absorb its benefits like reduced hair fall and enriched hair growth. You can include supplements like biotin gummies, vitamins A, C, E, Zinc, and Iron in your diet.
When to Consult Hair Care Professional
Hair fall in the rainy season is a very commonly faced issue. However, when the issue aggravates, it calls for some professional help. Issues like persistent dandruff can worsen the scalp conditions and fungal infections on the scalp can cause extreme hair loss. Hair care experts not only help solve your hair problems but guide you to use the right products and a personalised hair care regime to keep your hair healthy and glowing in the long run.
Conclusion
To sum it up, the prevention of hair fall during monsoon season requires you to follow a healthy hair care routine, take a balanced diet, incorporate some effective home remedies, and take nutritional gummies. It's important to wash hair regularly, avoid chemical treatments and heat styling, and maintain scalp hygiene. Additionally, covering hair outdoors and avoiding tight hairstyles can help prevent damage.
You can also try skin gummies, beauty essentials , and melatonin sleep gummies for your overall well-being as well as improved hair and skin quality. These simple tips and tricks will ensure your hair doesn't wear out even in this unfavourable weather and remains healthy as ever.
FAQs
How can a balanced and nutritious diet impact hair health during the monsoon?
A balanced and nutritious diet enriches you with essential nutrients to your hair and scalp hydrated, and hair follicles strengthened plus provides antioxidant protection.
Does curly hair need different hair care?
Yes, curly hair requires different hair care regimes because they are prone to dryness, frizz, and tangling. Some
curly hair care tips
include regular moisturizing, avoiding harsh ingredients, and using a microfiber towel to dry.
How does vitamin deficiency contribute to hair fall during the monsoon?
Vitamin A deficiency can lead to a dry scalp, resulting in brittle hair prone to breakage and hair fall.
Zinc deficiency
can disrupt the hair growth cycle and contribute to hair loss. Iron deficiency can result in weakened hair strands and increased hair fall. Vitamin C deficiency can weaken the hair follicles and contribute to hair fall.
What are the best foods for healthy hair?
Foods for healthy hair are eggs, fatty fish, spinach, green leafy vegetables, sweet potatoes, greek yoghurt, legumes, beans, avocado, bell peppers, nuts & seeds.
Which specific vitamins are essential for healthy hair growth?
Vitamins for hair growth would include- Biotin (Vitamin B7), Vitamin A, C, E, Zinc, and Iron in your diet.