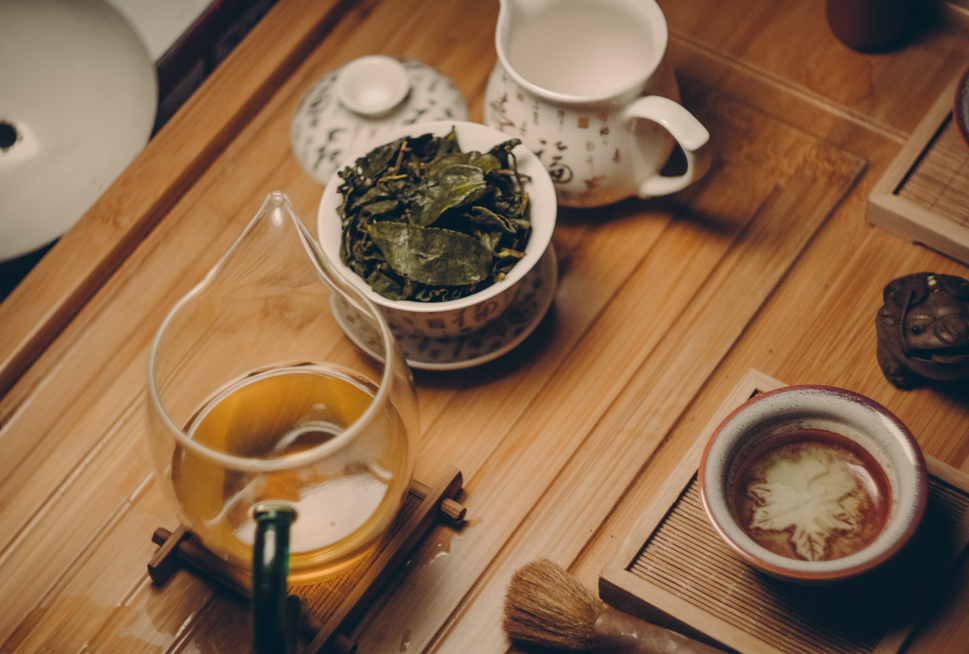 L-Theanine - Key Benefits, Dosage & Side Effects
L-theanine is a naturally occurring, non-protein amino acid found naturally in green tea and some mushrooms. l-theanine is a popular ingredient in functional foods and beverages as well as dietary supplements designed to produce mental and physical relaxation without inducing drowsiness. 
Apart from improving sleep quality, L-theanine offers a host of benefits for overall health and well-being. 
Key Health Benefits of L-Theanine:
- Reduces Stress and Anxiety
:
L-theanine is known for its ability to increase relaxation and reduce stress levels. It does this by increasing levels of the neurotransmitters GABA, dopamine, and serotonin, which are associated with reducing anxiety and promoting relaxation.
- Enhances Brain Function:
Many people drink green tea while working to improve their focus. This is because L-theanine has been shown to improve cognitive function, memory, and focus. It is due to its ability to increase levels of the neurotransmitter dopamine, which is associated with improved cognitive function.
- Supports Cardiovascular Health:
L-theanine may also help reduce levels of "bad" LDL cholesterol in the blood. In a study published in the Journal of Clinical Biochemistry and Nutrition, researchers found that supplementing with l-theanine for 12 weeks significantly decreased LDL cholesterol levels in overweight adults.
- Supports Immune System Function
:
L-theanine has been shown to enhance immune system function by increasing levels of cytokines, which are proteins involved in the body's immune response.
- Lowers Blood pressure
-
The nervous system gets activated by high levels of stress, leading to elevated blood pressure. L-theanine can inhibit the increase in blood pressure through its anti-stress effects on the autonomic nervous system.
Thus, L-theanine may be beneficial for those who experience a rise in blood pressure during stressful situations.
L - Theanine for Sleep 
According to research, L-theanine can affect sleep by influencing several neurotransmitters and promoting relaxing brain activity. 
- Promotes relaxation:
L-theanine is known to promote relaxation by increasing alpha brain waves, which are associated with a relaxed state of mind. This can help calm the mind and prepare the body for sleep.
- Improves sleep quality:
L-theanine has been found to improve the quality of sleep by increasing the duration of deep sleep and reducing the time it takes to fall asleep. 
Deep sleep is the most restorative stage of sleep and is essential for feeling rested and rejuvenated upon waking.
- Enhances mood:
L-theanine has been found to enhance mood by reducing feelings of depression and increasing feelings of well-being. This can help promote a more positive mindset, which can lead to better sleep.
- Non-addictive
:
Unlike many sleep aids, l-theanine is non-addictive and does not cause drowsiness or grogginess upon waking. It is a natural substance that is generally considered safe and well-tolerated.
L-Theanine Dosage for sleep
The recommended dose of L-theanine for sleep is usually 200-400 mg, and it can be taken up to two hours before bedtime. L-theanine has a mild sedative effect and can help you relax and fall asleep. It is known to significantly enhance sleep quality, while also reducing the number of times you wake up during the night. 
L-theanine supplements are generally considered safe when used as directed, so if you're looking for a natural way to improve your sleep, consuming supplements that contain L-Theanine might be a good option. 
Sleep supplements like the Nyumi Beauty Sleep Gummies are enriched with ingredients like L-Theanine, Chamomile, Tagara Root, Pomegranate Extract, and Essential Vitamins to ensure a good night's sleep.
Side Effects of L-Theanine
There are no confirmed or direct side effects of consuming L-theanine. Generally, it's safe to drink teas and take dietary supplements that contain L-theanine. However, pregnant and nursing mothers should consult their healthcare professional before consuming L-Theanine supplements
Conclusion
L-Theanine offers a range of benefits while exhibiting minimal side effects. With its ability to promote relaxation, reduce anxiety, and improve focus, L-Theanine has gained popularity as a natural supplement for stress management and cognitive enhancement. It works synergistically with caffeine to provide a calm yet alert state of mind. However, it is advisable to consult with a healthcare professional before incorporating L-Theanine into your routine Additionally, the use of biotin gummies for hair growth, skin gummies, and nutritional gummies has gained traction among individuals seeking to enhance their beauty and overall health. These Nyumi's mutltivitamin nutritional gummies are formulated with various vitamins, minerals, and antioxidants to support skin health, overall wellness, and provide a flavorful supplement experience.
FAQs
Is it safe to combine L-theanine with other vitamins?

Combining L-theanine with other vitamins is generally safe, but it is advisable to consult a healthcare professional to ensure there are no potential interactions or contraindications.


Is L-Theanine suitable for everyone, including children and pregnant women?

Consult a healthcare professional before giving L-theanine to children or using it during pregnancy.


Can L-Theanine be used as a natural remedy for hypertension?

L-Theanine may have potential as a natural remedy for hypertension, but further research is needed to establish its effectiveness.



What should you avoid mixing with L-theanine?

L-Theanine does not typically have known interactions with specific substances, but it is advisable to avoid excessive caffeine intake as it may counteract its calming effects.



Does L-Theanine have any impact on the menstrual cycle?

L-Theanine does not have a direct impact on the menstrual cycle, but it may indirectly support overall well-being, which could potentially contribute to menstrual cycle balance.