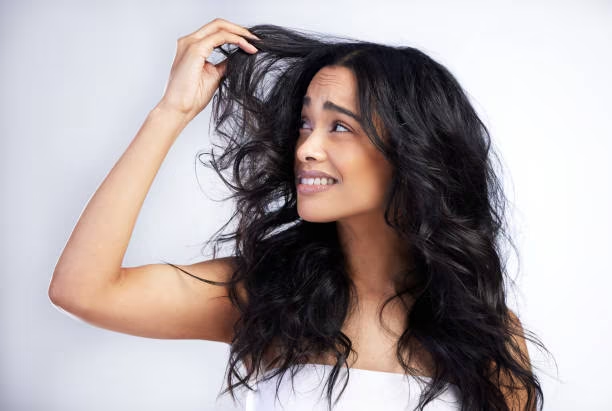 Say Goodbye to Frizz: Your Guide to Reviving Dull Hair
Are you feeling weighed down by your dry, lifeless hair? 
Having beautiful, gorgeous tresses is a dream for many. But, it's not as simple as it seems. 
Our hair is exposed to heat and pollutants on a daily basis, making it dry and frizzy. 
So what's the fix? We've got it right here!
Here is a list of tips to help breathe new life into your hair, giving you the healthy, luscious locks that you've always dreamed of.
1. Revitalize with Deep Conditioning: Transform your dull, dry locks with a luxurious deep conditioning treatment that will moisturize and rejuvenate your hair, leaving it soft, smooth, and glowing with health.
2. Ditch the Heat: In order to maintain strong and healthy hair, steer clear of heat-styling tools. Opt for air-drying or use heat-protectant products to reduce heat damage.
3. Shape Up with Trims: Regular trims will help keep split ends at bay and promote healthy hair growth, resulting in fuller and more vibrant locks.
4. Limit Washing frequently: Overwashing can strip your hair of its natural oils, leading to even drier and lifeless locks. Limit washing to a couple of times a week and opt for gentle, moisturizing shampoos.
5. Rinse with cold water: A cold water rinse can seal your hair cuticles and help lock in moisture, resulting in healthier and more radiant hair.
6. Use natural oils: Indulge in the nourishing properties of natural oils like coconut, olive, and argan oil. Massage a small amount into your hair, let it soak in for 30 minutes, and rinse it out for silky soft hair.
7. Consume Hair supplements: Hair supplements can provide numerous benefits for dry, dull hair, including improved hydration, increased strength, enhanced shine, and a boost in overall hair health. Supplements like Nyumi Biotin Hair gummies are packed with essential nutrients like Biotin, Amla, and Vitamin C, that support healthy hair growth, while also addressing deficiencies that can lead to dryness and brittleness. 
By implementing the above tips and techniques, you can revitalize your dull and damaged hair. Additionally, it is crucial to maintain a healthy and balanced diet and ensure that you remain well-hydrated to achieve a healthier, shinier, and more gorgeous mane.
Conclusion:
Bidding farewell to frizz and reviving dull hair is undoubtedly achievable with the right care and attention. By following the tips and techniques outlined in this guide, you can transform your hair from lackluster to lustrous. And remember, just as your hair deserves the best, so does your skin and overall well-being. Consider incorporating iron gummies, skin gummies, sleep gummies, biotin gummies, and multivitamin gummies into your daily routine for a holistic approach to beauty and health. With the right hair care and the right supplements, you're well on your way to radiant hair and a healthier you.