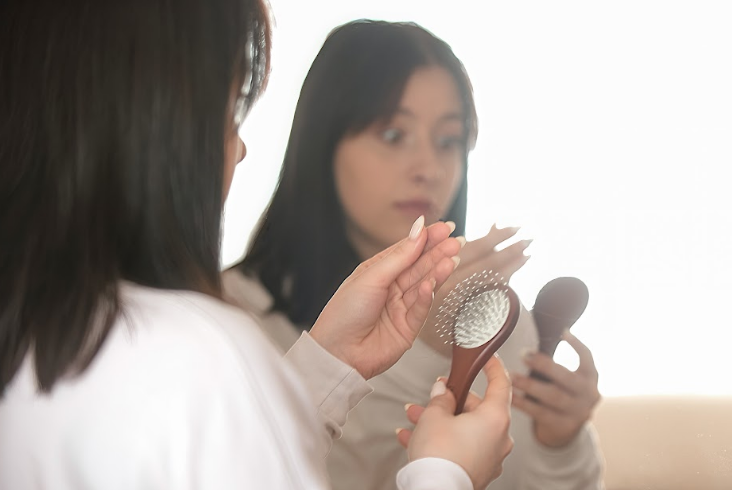 Know The Hairfall Causes, Treatment, & Prevention Tips
Hairfall is a common problem faced by both men and women. It is natural to lose a certain amount of hair every day, but when hair loss becomes excessive, it can cause concern. 
The National Health Portal of India states that it's normal to lose up to 100 strands of hair from the scalp each day. Hair loss is quite prevalent, affecting up to 80% of men and 50% of women, and can be caused by a variety of factors, including genetics, underlying medical conditions, deficiencies, diet, hair hygiene, and life stages such as pregnancy or menopause.
Symptoms of Hair Fall
Hair loss can appear in many different ways, depending on what's causing it. Some of the notable symptoms include - 
Gradual thinning on the top of the head

 
This is the most prevalent form of hair loss and is associated with aging. Men often experience a receding hairline at the forehead, while women typically notice a broadening of their hair part. Frontal fibrosing alopecia is a common hair loss pattern in older women that involves a receding hairline.
Circular or patchy bald spots:

 
Some people develop circular or patchy bald spots on their scalp, beard, or eyebrows. Before hair loss occurs, the skin in the affected area may become itchy or painful.
Sudden loosening of hair: 
A physical or emotional shock can cause hair to loosen, resulting in overall hair thinning. Combining or washing your hair may cause handfuls of hair to fall out, even with gentle tugging. However, this type of hair loss is usually temporary.
Certain medical treatments or conditions like chemotherapy for cancer can result in hair loss all over your body. In most cases, the hair grows back after the treatment is complete.
Causes of Hair Fall
There are multiple factors that can contribute to hair fall. Some of the common causes include
Genetics plays a significant role in determining hair loss. If hair falls runs in your family, you are more likely to experience it. Male pattern baldness is a hereditary condition that affects men and can begin as early as their teenage years. Female pattern baldness is also hereditary and can cause hair thinning all over the scalp.
Unfortunately, there is little that can be done to prevent genetic hair fall. However, there are treatments available that can help slow down or even reverse hair loss. One such treatment is minoxidil, which is a topical solution that is applied directly to the scalp.
Women may experience hair fall during pregnancy or after giving birth due to hormonal changes. Hormonal imbalances such as thyroid disorders, menopause, and polycystic ovary syndrome (PCOS) can also cause hair fall.
To overcome hair fall caused by hormonal changes, it is important to address the underlying hormonal imbalances. This can be done through medications or hormone replacement therapy, as prescribed by a doctor.
Nutritional deficiencies can significantly contribute to hair fall. A lack of iron, zinc, and biotin can cause hair loss. A diet that lacks essential vitamins and minerals can also cause hair fall. To overcome hair fall caused by nutritional deficiencies, it is important to eat a balanced diet that is rich in iron, vitamin B12, biotin, and vitamin D.
Stress is another significant factor that can cause hair fall. When you are stressed, your body produces hormones that can cause hair to fall out. Chronic stress can also lead to hormonal imbalances that can cause hair fall.
To overcome hair fall caused by stress, it is important to manage stress effectively. This can be done through stress management techniques such as meditation, deep breathing, or yoga. Exercise is also a great way to reduce stress and promote hair growth.
Environmental factors such as pollution, exposure to chemicals, and heat styling can also cause hair fall. Pollution can cause damage to the hair follicles and lead to hair fall. Exposure to chemicals such as hair dyes and styling products can also cause hair fall by damaging the hair follicles. Heat styling tools such as hair dryers, curling irons, and flat irons can cause hair fall by damaging the hair shaft.
To overcome hair fall caused by environmental factors, it is important to take steps to protect your hair. This can be done by using natural hair care products that are free from harsh chemicals. 
Alopecia areata is a type of autoimmune skin disorder that results in uneven hair loss on the scalp and possibly other areas of the body. The exact cause of this condition remains unknown, but it is more frequently observed in individuals with other autoimmune illnesses. When the condition causes complete hair loss on the scalp, it is referred to as alopecia totalis.
Various treatments are available for alopecia areata, including the use of corticosteroids administered via injection or topical application to the skin. Other treatment options include anthralin cream (Drithocreme, DrithoScalp, Psoriatic), minoxidil (Loniten, Rogaine), or a combination of these treatment options.
How to prevent hair loss
Excessive hair fall can be distressing for anyone experiencing it, but there are a number of steps that can be taken to prevent it from occurring or reduce its severity. 
Here are some ways to prevent excessive hair fall:
1. Consume a nutrient-dense diet 
It is crucial to consume a diet rich in vitamins and minerals to maintain strong and healthy hair naturally. Some of the essential nutrients include - 
o B vitamins: B vitamins such as folate, B12, B5, and biotin inadequacy have been associated with hair loss. This is because B vitamins play an integral role in many cellular processes. Vitamin B12 is essential for the multiplication of cells, indicative of its need in highly multiplying cells such as hair follicles. 
Vitamin B5 plays a crucial role in the formation of red blood cells, which transport oxygen and nutrients to the hair follicles.
Folic acid and biotin are required in the synthesis of various amino acids –  which are the building blocks for hair protein. 
o Vitamin A, D, E, and C: These vitamins are required for cellular growth and differentiation. This includes hair, which is one of the most rapidly growing tissues in the body. The inadequacy of Vitamin D may also be linked to hair loss. Like several tissues in the body, skin, and hair too require vitamin D for optimum functioning.  Vitamin E contributes to protecting against environmental toxins and serves as an antioxidant. Those with hair loss are reported to have decreased levels of these protective antioxidant enzymes.
Vitamin C is important for collagen synthesis. It also plays an essential role in the absorption of iron which is very important for hair health. 
o Protein-rich foods: Hair is made of a protein called keratin. Hence, inadequate intake of protein-rich foods directly impacts hair strength and growth. Indian diets tend to be low in protein, as we are a country that loves eating carb-rich foods. 
Include protein-rich foods in your diet such as Nuts, beans, Seeds, and dairy products to maintain healthy hair. 
o Minerals: Iron, Zinc, and Selenium: Iron is an important component of hemoglobin in our blood. This, in turn, supplies energy for cellular division and differentiation for hair production. It influences enzymes responsible for hair building. Iron is also involved in the synthesis of new cells which is very important for hair growth. 
Zinc is involved in strengthening bonds between protein molecules. This is necessary for strong hair. Hair regrowth is well established with zinc supplementation.
Selenium plays an important role in protein production, as it is required for the synthesis of more than 35 proteins. Additionally, the benefits of Selenium extend to being a powerful antioxidant that promotes hair growth. By incorporating Selenium into your hair care routine, you can nourish your hair from within, supporting its healthy growth and vitality.
Some of the rich foods sources for hair-friendly nutrients are:
| | |
| --- | --- |
| Nutrient  | Some food sources |
| Protein  | Eggs, meat, poultry, lentils, legumes, dairy  |
| Folate | Green leafy vegetables, chickpeas, kidney beans  |
| B12 | Meat, fish, cheese, eggs  |
| Biotin  | Egg yolk, legumes, nuts  |
| Vitamin A | Cheese, eggs, milk, yogurt  |
| Vitamin D | Oily fish, egg yolks |
| Vitamin E | Nuts and seeds  |
| Vitamin C | Citrus fruits, amla, strawberries  |
| Iron  | Rajma (red kidney beans) , chickpeas, meat, green leafy vegetables |
| Zinc  | Wheat, cheese  |
| Selenium  | Brazil nuts, fish, meat  |
2. Avoid harsh hair treatments
:
Chemical treatments like perms, hair straightening, and coloring can damage hair and lead to breakage and hair fall. Try to limit these treatments or opt for more gentle, natural alternatives.
3. Use natural oils
Natural oils, such as coconut, almond, jojoba, and castor oil, are rich in vitamins and minerals that nourish and strengthen hair follicles, preventing hair loss. Applying these oils to the scalp and hair regularly can also improve blood circulation, which is vital for healthy hair growth.
4. Use gentle hair care products
Use gentle hair care products that don't contain harsh chemicals or sulfates, which can strip hair of its natural oils and cause breakage and hair fall. Look for products specifically designed to promote hair health and growth.
5. Scalp massage
Massaging the scalp with warm oil can stimulate blood flow to the hair follicles,  promoting hair growth and strengthening hair roots.
6. Avoid tight hairstyles
Tight hairstyles like braids, ponytails, and cornrows can put a strain on hair follicles and lead to hair fall. Opt for looser hairstyles that don't pull on the hair or scalp.
7. Get enough sleep
Lack of sleep can contribute to hair fall by affecting the body's natural processes, including hair growth. Aim to get 7-8 hours of sleep per night to help support healthy hair growth.
8. Consume Hair supplements
Supplements are a great way to fill in any nutritional gaps and provide your hair with the essential vitamins and minerals that aid in the prevention of Hair loss. While scouting for supplements for your hair, look for nutrients like Biotin, Zinc, Selenium, and Vitamins A, C, and E as they have been found to significantly boost hair health.
Hair supplements like the Nyumi Biotin Hair gummies are enriched with the benefits of Biotin, Amla, Zinc, Selenium, and essential Vitamins, that support healthy hair growth, while also aiding in the prevention and control of hair fall. 
Unlock the secret to optimal health and beauty with our exclusive line of gummies designed specifically for women. Nyumi multivitamin gummies for women provide a comprehensive blend of essential nutrients, supporting overall well-being and energy levels. For those seeking vibrant, youthful skin, our skin gummies are packed with collagen-boosting ingredients that promote a smooth, radiant complexion. And when it's time to wind down, our melatonin sleep gummies, infused with calming herbs, help you achieve a restful night's sleep, ensuring you wake up refreshed and revitalized. Indulge in the delicious flavors while reaping the benefits of these targeted gummies. Elevate your wellness routine and embrace the power of our multivitamin, skin, and sleep gummies for a healthier, more vibrant you.
FAQs
Is hair loss hereditary? Can it be prevented?
Hair loss can have a hereditary component, but its prevention can be supported through healthy lifestyle habits and appropriate hair care practices.

How much hair loss is considered normal for women?
It is generally considered normal for women to lose around 50 to 100 strands of hair per day
Can hair fall in women be a sign of an underlying health issue?
Yes, hair fall in women can sometimes be a sign of an underlying health issue, and it is recommended to consult with a healthcare professional to rule out any potential underlying causes.
Are there any specific hair care practices that can help reduce hair fall in women?
Maintaining a healthy diet, avoiding excessive heat or chemical treatments, gentle hair handling, and regular scalp care can help reduce hair fall in women.
Are there specific vitamins or supplements that can help prevent hair loss?
Certain vitamins and supplements, such as biotin, vitamins A, C, and E, and minerals like zinc and iron, are believed to support hair health and may help prevent hair loss
Is there a connection between scalp health and hair fall in women?
Yes, scalp health plays a significant role in hair fall in women, and maintaining a clean and well-nourished scalp can contribute to healthier hair growth.
Does genetics play a role in hair fall?
Yes, genetics can play a role in hair fall as certain genetic factors can contribute to hair loss or thinning.