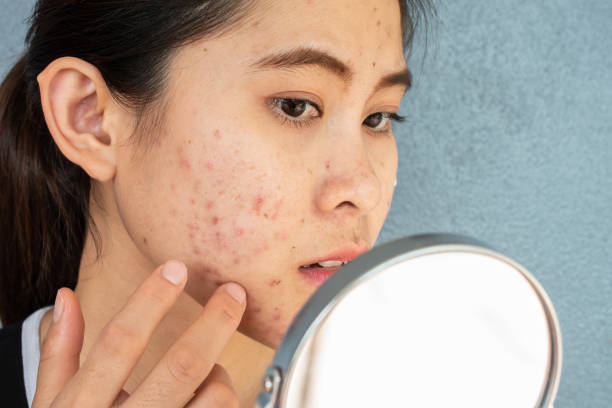 Causes of Pimples on The Face In Adults
While pimples are often linked to teenage years, their appearance in adulthood makes us wonder why this happens.

Why do we get pimples, and what are the specific causes that contribute to their appearance? This blog will delve into the multifaceted nature of pimples, shedding light on influences such as hormonal imbalances, dietary habits including foods that cause pimples, and external factors that can lead to those frustrating blemishes. Understanding these triggers is crucial for developing effective strategies to manage and prevent the formation of pimples, promoting healthier and clearer skin.
Common skin issue of pimples/acne
So let's get right to what are the common causes of pimples:
Hormonal Fluctuations:
Hormonal changes are a major reason for skin breaking out. Hormones, like testosterone, can lead to excess oil production, clogging pores and causing pimples. These changes often happen during puberty, menstrual cycles, pregnancy, or when starting or stopping birth control pills. Keeping hormone levels balanced through a healthy lifestyle can help manage pimples caused by hormonal shifts.
Excess Oil Production:
When the skin produces too much oil (sebum), it can mix with dead skin cells and block pores. This can create a perfect environment for bacteria to grow, leading to pimples. Gentle cleansing and oil-free products can help control excess oil and prevent pimple formation.
Bacteria Buildup:
Bacteria naturally live on our skin, but when trapped in clogged pores, they can multiply and cause inflammation. This results in red and swollen pimples. Washing your face regularly with a mild cleanser can reduce bacteria buildup and prevent breakouts.
Foods That Cause Pimples
Certain foods, like sugary and high-carb items, might contribute to pimples. These foods can raise blood sugar levels quickly, leading to increased insulin production. Insulin can trigger oil production and inflammation in the skin, worsening pimples. Eating a balanced diet rich in fruits, vegetables, and whole grains can help maintain clearer skin.
Improper Skincare:
Using harsh or pore-clogging products can irritate the skin and trigger pimples. Choosing non-comedogenic products and following a regular skincare routine, including cleansing, moisturizing, and sunscreen application, is essential for maintaining healthy skin. It's important to choose the right products to apply to your hair and skin, in recent times multivitamin gummies have grown in popularity and have become essential to beauty routines. Multivitamin gummies nourish hair and skin from within and promote overall well-being with far fewer side effects as compared to topical hair or skin products.
Lack of Hydration:
Not drinking enough water can lead to dehydrated skin, causing it to produce more oil to compensate. This can contribute to pimples. Staying hydrated supports overall skin health and can help prevent breakouts.
Not Removing Makeup:
Leaving makeup on overnight can clog pores and lead to pimples. Always remove makeup before bed and follow a proper cleansing routine.
Stress:
Stress can disrupt hormone levels and trigger inflammation in the body, potentially leading to pimples. Practicing stress-reduction techniques, such as exercise, meditation, and adequate sleep, can contribute to clearer skin. Increased stress leads to poor sleep patterns and that's where our sleep gummies come in. Melatonin sleep gummies allow you to correct your sleep pattern and lead to stress reduction over time. Good sleep is important for healthy skin because it's during this time that your body prioritizes the repair of damaged skin cells, so a lack of sleep hampers this process.
Poor Lifestyle Habits:
Smoking, excessive alcohol consumption, and lack of exercise can negatively affect skin health, potentially leading to breakouts. One of the tips for glowing skin is adopting a healthier lifestyle, including regular physical activity and avoiding harmful habits.
Lack of Proper Moisture:
Not providing enough moisture to the skin can lead to the overproduction of oil, as the skin tries to compensate for the dryness. Using products with ingredients like hyaluronic acid for skin hydration can maintain a healthy moisture balance, preventing pimples and promoting radiant skin. You can try our radiant skin gummies which contain a potent formulation containing hyaluronic acid for skin and vitamin E for skin which are essential ingredients to improve collagen synthesis in your body. Collagen is vital for maintaining youthful, glowing skin.
The misconception that only teenagers experience pimples

The common belief that pimples are exclusive to teenagers has led to a widespread misconception about adult skin health. Contrary to this belief, adults can also experience pimples due to various factors. While it's true that hormonal changes during adolescence often trigger breakouts, adults are not immune to skin issues. As age advances, hormonal fluctuations, stress, and improper skincare routines can lead to those unwelcome blemishes. Moreover, adult skin, like teenage skin, benefits from proper care and nourishment. Vitamins like vitamin E for skin health can play a crucial role in maintaining a clear complexion. Instead of relying solely on skin gummies or other quick fixes, considering a balanced diet with foods for healthy skin, such as fruits, vegetables, and foods rich in antioxidants, can contribute to skin vitality. Additionally, adopting a few simple tips for glowing skin, like regular cleansing, moisturizing, and using sunscreen, can help combat adult pimples and promote overall skin radiance. In essence, acknowledging that adults too can experience pimples challenges the misconception that these skin issues are limited to teenage years, highlighting the importance of consistent skincare and a holistic approach to nurturing skin at any age.
Introduce the focus of the blog: causes of pimples in adult individuals
Hormonal fluctuations, excess oil production, bacterial growth, and dietary choices are among the key culprits. The misconception that acne is exclusive to youth is debunked as adults grapple with these skin issues due to stress, lifestyle, and hormonal shifts. Let's look at some of the reasons for skin breaking out in adults:
Hormonal Fluctuations
Hormonal imbalances are prominent causes of adult pimples. Hormones like testosterone can stimulate the skin's oil glands, leading to increased oil production. This excess oil, when combined with dead skin cells, can clog pores and create an environment conducive to pimple formation. Hormonal changes during the menstrual cycle, pregnancy, or even due to underlying health conditions can trigger these imbalances. The resulting breakouts are often concentrated around the chin, jawline, and forehead areas.
Menstrual Cycle
Menstrual cycles impact hormone levels, particularly estrogen and progesterone. Just before menstruation, these hormones fluctuate, and the increase in progesterone can cause the skin's oil glands to produce more sebum. This excess oil can mix with bacteria and lead to inflamed pimples or acne.
Pregnancy
Pregnancy brings about significant hormonal shifts, leading to an increase in androgens. These hormonal changes can lead to heightened oil production, increasing the likelihood of pimples. Pregnancy-related stress can also play a role in exacerbating breakouts. It's worth noting that certain acne medications are not safe during pregnancy, so consulting a healthcare provider is crucial for managing pimples during this period.
Stress and Lifestyle Factors
Factors like stress and lifestyle choices such as diet, exercise, and sleep patterns can significantly impact skin health. Diets high in sugary and processed foods can lead to insulin spikes, causing inflammation and increasing oil production, thereby contributing to pimples. Lack of sleep and inadequate hydration can also compromise the skin's health, making it more prone to breakouts. Regular exercise, on the other hand, can help manage stress levels and promote better blood circulation, which can positively influence skin health.
Stress
Stress triggers the release of stress hormones like cortisol, which can affect the body's oil production and inflammation levels. Elevated stress levels can lead to increased oiliness, clogged pores, and ultimately, pimples. Additionally, stress can compromise the skin's natural barrier, making it more susceptible to irritations and breakouts.
Diet
A poor diet can play a pivotal role in the development of pimples in adults due to its impact on hormone levels and inflammation within the body. Consuming foods that cause pimples, such as those high in refined sugars and unhealthy fats, can lead to spikes in blood sugar levels. This, in turn, prompts the body to produce more insulin, a hormone that can trigger an increase in oil production in the skin. Excessive oil on the skin's surface can clog pores, providing a breeding ground for bacteria and leading to the formation of pimples. opting for a healthier diet rich in fruits, vegetables, whole grains, and lean proteins can contribute to clearer skin. Additionally, some individuals can turn to supplements like skin gummies, which contain essential vitamins and minerals like hyaluronic acid, vitamin C, and vitamin E for skin health.
Sleep Deprivation
A lack of sleep can significantly contribute to the formation of pimples in adults due to its impact on the body's ability to repair and regenerate the skin. When we don't get enough sleep, the body produces an excess of stress hormones like cortisol. Elevated cortisol levels can lead to increased oil production in the skin, which can clog pores and contribute to pimple formation. Moreover, inadequate sleep compromises the body's ability to manage inflammation, making the skin more susceptible to breakouts. Solutions like melatonin sleep gummies, contain ingredients that support relaxation and improve sleep quality. These multivitamin gummies include melatonin, an essential hormone that helps regulate the sleep-wake cycle.
Skincare and Makeup Products
Skin and makeup products can sometimes contribute to the development of pimples due to their potential to clog pores, irritate the skin, or create an environment conducive to bacterial growth.
Comedogenic Ingredients
Some skincare and makeup products contain comedogenic ingredients, meaning they tend to clog pores. When these products are applied to the skin, they can block the hair follicles and pores, trapping oil, dead skin cells, and bacteria inside. This can lead to the formation of whiteheads, blackheads, and eventually, pimples.
Improper Cleansing
Failing to thoroughly cleanse the skin at the end of the day allows makeup, dirt, and pollutants to linger on the skin's surface. This can mix with the skin's natural oils, leading to clogged pores and the formation of pimples. Moreover, if makeup is not completely removed, it can mix with sweat and sebum produced overnight, further worsening pore blockages. Proper cleansing, ideally with a gentle cleanser suitable for your skin type, helps remove impurities and unclog pores, preventing pimple formation.
Heavy Makeup
Using heavy makeup products, particularly those that are oil-based or comedogenic (pore-clogging), can create a barrier on the skin's surface. This barrier traps oil, dirt, and dead skin cells, preventing them from being naturally shed and causing pores to become blocked. Consequently, these blocked pores become a breeding ground for bacteria, leading to inflammation and the development of pimples. It's essential to choose makeup products that are labeled as non-comedogenic or oil-free to minimize the risk of pore blockage
Hormonal Changes (Other Than Menstrual)
Hormonal changes beyond menstruation and pregnancy, such as those associated with conditions like Polycystic Ovary Syndrome (PCOS) and menopause, can play a significant role in the development of pimples. These conditions can disrupt the delicate balance of hormones in the body, leading to increased oil production and pore blockage, which are the main causes of pimples in adults.
Polycystic Ovary Syndrome (PCOS)
PCOS is a hormonal disorder that affects women, often causing elevated levels of androgens (male hormones) in the body. These higher androgen levels can lead to excessive oil production by the skin's oil glands. The excess oil, along with an increased likelihood of skin cell turnover irregularities, can clog pores and result in pimples. Moreover, PCOS can lead to insulin resistance, which triggers further oil production and inflammation, worsening the pimple problem.
Menopause
During menopause, the body experiences a decline in the production of estrogen and progesterone. This hormonal shift can lead to a relative increase in androgens, causing changes in the skin's oil composition and production. The skin might become drier overall, but oil glands can become more active in certain areas, leading to breakouts. Collagen production also decreases during menopause, which can affect the skin's texture and make it more prone to developing pimples. To improve your body's ability to produce collagen, it's important to take supplements like our collagen-building skin gummies.
Environmental Factors
Environmental factors can significantly contribute to the development of pimples by affecting the skin's balance and its interaction with external elements. Pollution, toxins, humidity, and climate play distinctive roles in aggravating pimple formation.
Pollution and Toxins
Pollutants in the air, such as particulate matter, dirt, and chemicals, can settle on the skin's surface. These pollutants can mix with the skin's natural oils and clog pores, creating an environment conducive to pimples. Moreover, they can trigger oxidative stress and inflammation, further worsening existing acne breakouts and potentially leading to the development of new pimples.
Humidity and Climate
High humidity levels can intensify oil production in the skin. Excess humidity can make the skin's surface more prone to oil buildup, which can clog pores and create a favorable environment for bacterial growth. Consequently, this can lead to the development of pimples and acne. In humid climates, it's important to maintain a consistent cleansing routine to prevent oil and sweat accumulation. Different climates can impact the skin in various ways. In hot and humid climates, as mentioned earlier, excessive sweating and oil production can contribute to pimples. On the other hand, in cold and dry climates, the skin's natural barrier can become compromised, leading to dryness and potentially triggering increased oil production to compensate.
Conclusion
In conclusion, a lot of factors cause pimples in adults, mainly factors such as hormonal imbalances, dietary choices, lifestyle habits, and environmental influences. Hormonal fluctuations, beyond menstruation and pregnancy to conditions like PCOS and menopause, affect the skin's equilibrium, impacting oil overproduction and creating pore blockages. The misconception that pimples exclusively afflict teenagers is debunked as adults too grapple with hormonal uncertainties.

External triggers, including makeup products, stress, and environmental elements, further amplify the complexity of adult acne. Improper use of makeup can lead to clogged pores and inflammation, while stress negatively impacts hormones, increasing breakouts. Environmental factors, such as pollution and humidity, compound these challenges, underlining the importance of daily skincare routines in protection against these elements. Skin gummies complement topical routines greatly by giving you the right nutrients to nourish your skin from within.

A healthy diet is crucial, as foods that cause pimples cause insulin surges, increasing inflammation and affecting oil production. However, nutritional supplements, ranging from vitamin E for skin health to iron supplement, biotin hair gummies, and multivitamin gummies, fortify the skin's defense against pimple formation.

Ultimately, multifaceted solutions are required to deal with the formation of pimples in adults. By embracing a holistic approach of proper nutrition, healthy habits, choosing the right skincare products, and a diligent skincare routine, you can achieve healthy and radiant skin.
FAQs
How To Remove Dark Spots Caused By Pimples?
Topical treatments are great for removing dark spots caused by pimples. Consider using treatments like topical creams containing ingredients like retinoids, vitamin C, or niacinamide. Sunscreen is vital to prevent further darkening.
Does Coffee Cause Pimples?
Coffee itself is unlikely to directly cause pimples. However, excessive consumption might lead to dehydration and stress, potentially worsening skin health. Moderation and a balanced diet are key to avoiding pimples caused by food habits.
Why Am I Getting Painful Pimples On My Body?
Pimples are generally painful because they are an immune response of the body causing swelling, redness, and pain. Larger and deeper pimples like cystic acne, can be particularly painful depending on their location and extent of inflammation.
Why Is My Pimple Itchy?
Pimples are itchy because of the irritation that the inflammation causes. Our body's immune response to a pimple's formation can trigger an itching sensation. Scratching pimples is not advisable as it can worsen inflammation, and break the skin.
Which Hormone Causes Pimples?
Androgens which are a group of male hormones trigger pimples. They stimulate the skin's oil glands to produce more sebum, which can lead to clogged pores and the development of pimples. Hormonal fluctuations, such as those during puberty, menstruation, and conditions like PCOS, can increase androgen levels and contribute to acne.
What Causes Whiteheads And Blackheads?
Whiteheads and blackheads are types of non-inflammatory acne lesions caused by similar factors. In whiteheads, the pore's opening is narrow, trapping the debris beneath the skin's surface.