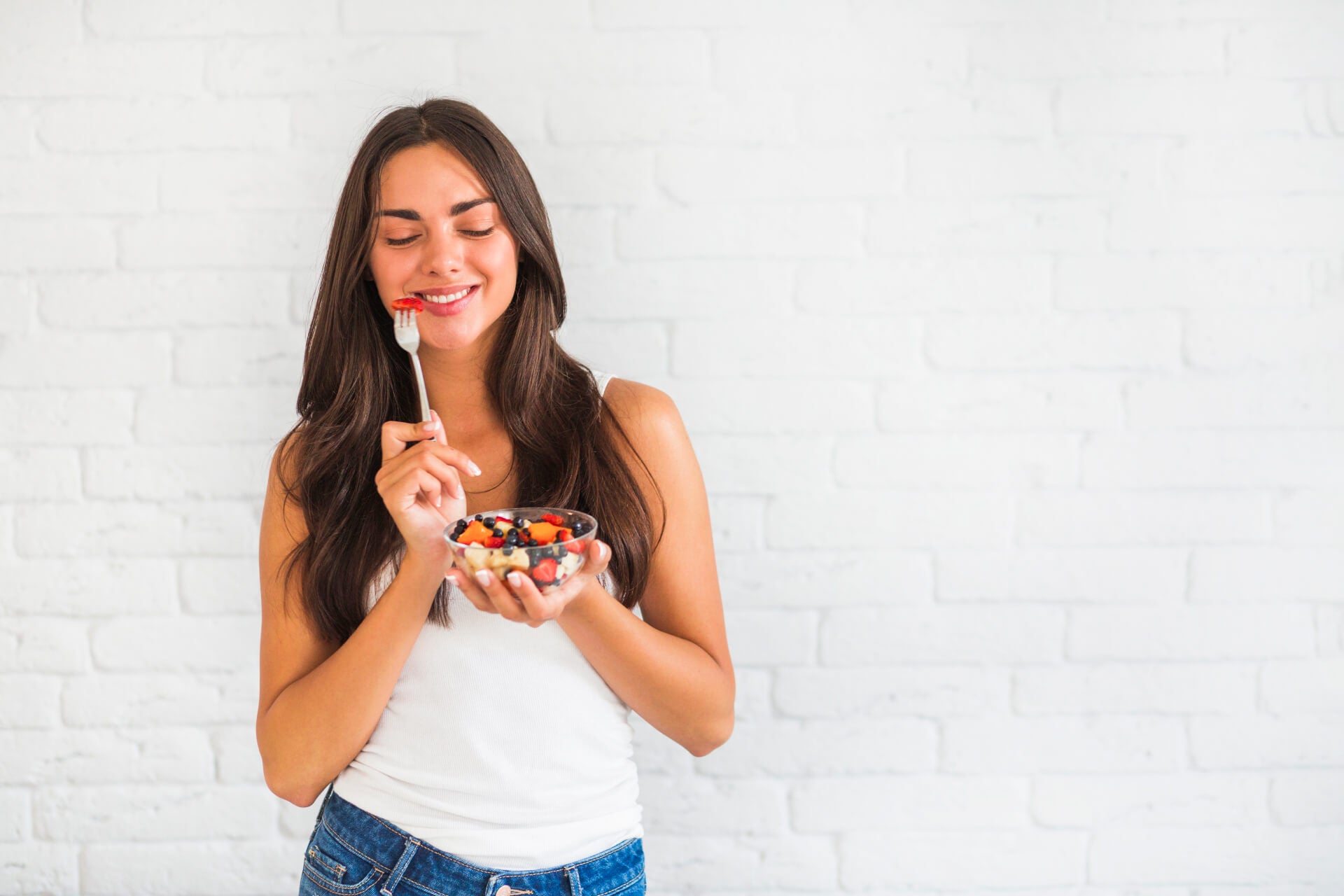 10 Best Foods For Healthy Skin
Skin is in and it looks like this trend is not going away anytime soon. It's 2022 and people are starting to realise that the benefits of all those expensive topical products in their bathroom cabinet come with limitations and provide only temporary relief. If you want to get rid of your skin issues for good, it's important to take a closer look at your diet. The path to healthy skin starts with consuming foods for skin that possess the right vitamins and nutrients. Your skin consists of 3 layers — epidermis (top layer), dermis (middle), and hypodermis (bottom later). Topical products only penetrate the first layer, leaving the dermis and bottom layer lacking the necessary nutrients. Here's where foods for skin come to the rescue. If your body is not absorbing enough nutrients, it will lead to various skin conditions. Highly processed foods or refined carbs come under the foods bad for skin list as over time, they can cause mild inflammation in the body and aggravate skin problems such as acne. Scroll on down to learn about the best foods for skin repair that you need to add to your diet today!
10 Nutrient-Rich Foods For Healthy Skin
1. Avocados
While avocados are taking over the 'gram, they are more than just an internet fad. Avocados are high in healthy fats, vitamins E, and C all of which play a vital role in maintaining skin health and vitality. They possess vitamins for good skin that help speed up skin repair and even reduce issues like eczema and acne. One of your skin's biggest enemies happens to be the sun's harmful UV rays. They are known to penetrate through the skin's surface, damaging skin cells which leads to premature ageing. Avocados are one of the best foods for skin as they possess compounds that reduce UV-induced cellular damage and help in protecting your skin from oxidative damage. Note: While foods like avocado help reduce UV-induced cell damage, they are not a substitute for sunscreen. You still need to protect your skin from the sun's rays every time you step out.
2. Almonds
Almonds are rich in
Vitamin E for skin
and unsaturated fatty acids which are ideal for maintaining healthy skin. Studies have also shown that eating almonds regularly may also lead to enhanced protection from UVB photodamage.
3. Flax Seeds
Flax seeds have come under the spotlight for good reasons. They have plenty of health benefits as they contain the necessary vitamins for good skin and now you can even add them to the list of best foods for skin list. These seeds are rich in a specific omega-3 fatty acid called alpha-linolenic acid (ALA) which is good for maintaining healthy skin and reducing skin sensitivity.
4. Soybeans
Soybeans are another healthy skin food that has a long list of health and skin benefits. They contain compounds called isoflavones, which may play an important role in protecting the skin against wrinkles and improving skin elasticity. Soybean also pumps in estrogen, keeping wrinkles, fine lines, discolouration, and dark spots at bay, making it one of the most efficient foods for glowing skin.
5. Tomatoes
Tomatoes are one of the best foods good for skin as they are rich in vitamin C and Carotenoids along with lycopene. Beta carotene, lutein, and lycopene are known to protect the skin from sun damage, prevent wrinkles and maintain overall skin health.
6. Broccoli
This green veggie is packed with essential vitamins and minerals like zinc, vitamin C, and A all of which are important for healthy skin. It also contains lutein, which is a carotenoid that helps protect your skin from oxidative damage and prevents dryness. Sulforaphane is another compound found in broccoli and is known to neutralise harmful free radicals in the body. But the benefits don't end there! Broccoli comes on the list of best foods for healthy skin as it's a good source of selenium. This trace element plays an important role in fighting free radicals and protecting the skin from premature wrinkles.
7. Dark chocolate
When we think of vitamins for skin, many think of boring, bland food, which is not at all true and this next food for healthy skin proves it. You can now have chocolate without the guilt! The link between dark chocolate and skin health is amazing. Dark chocolate contains flavonols that can protect the skin against sun damage, improve blood flow to the skin, and increase skin density and hydration.
8. Citrus fruits
For skin buffs, this next food for glowing skin comes as no surprise. Citrus fruits are one of the best collagen-rich foods that work amazingly well for achieving glowing skin. They are rich in vitamin C and play an important role in stimulating collagen production. Let's face it, most of us do not live a hassle-free life. This is why you find many vitamin C tablets in the skin market. After all, a hectic lifestyle is not an excuse to compromise on your daily nutrition. Sometimes even a healthy diet is not enough to fill in the nutritional gap. In order to ensure that your skin gets all the vitamins for good skin, it's best to invest
in supplements
like
Skin Gummies
. These gummies are not only great for those who don't have time to follow a healthy diet but even for those who do. These gummies for skin are rich in vitamins C, E, A, and Hyaluronic acid to keep the skin nourished, firm and glowing.
9. Garlic
Garlic can do more than just add flavour to your food. This is another skin-friendly food you need to add to your diet for glowing skin. It is high in sulphur which helps synthesise and prevent collagen breakdown. Garlic also has antibacterial, antifungal, antiviral, and antiseptic properties that kill acne-causing bacteria.
10. Capsicum
When it comes to the best foods for skin, not many are aware of the benefits of this veggie. Capsicums are rich in vitamins and nutrients that help boost immune function, collagen synthesis, nutrient metabolism, and more. It is also rich in antioxidants which protect your cells from harmful oxidative damage.
Foods To Avoid For Clear Skin
Now that you know which foods are good for you, here's a list of bad foods for skin you need to avoid as they bring about a range of skin and health issues.
1. High glycemic index foods
These foods can cause a spike in blood sugar levels, resulting in the body producing more insulin. Excess insulin increases the production of androgen hormones and sebum (oily substance) in the skin, which then leads to acne and breakouts. High blood sugar levels can also cause glycation. This is when the sugar molecules attach to collagen in the skin, causing the collagen to harden. It then breaks, resulting in wrinkles and fine lines.
2. Refined sugar
Those sugar cravings may damage your skin. Sugar breaks down collagen and elastin in your skin. These 2 proteins are responsible for giving your skin shape, structure, and firmness. Lack of them can result in premature ageing which is why it's important to stay away from these foods.
3. Processed meats
Bacon, hotdogs, and other such processed meats may taste delicious but it's bad for your skin. They contain high levels of nitrates and sodium which can cause a range of skin issues. Nitrates cause inflammation and wrinkles while too much sodium can lead to premature ageing, dryness and even trigger conditions like eczema.
4. Spicy foods
Next on the list of foods bad for skin is spicy food. Yes, spicy may taste delicious but for a few, it can lead to a bunch of health issues and even skin problems. It can irritate your skin, increase inflammation, disturb your pH levels, and even trigger acne. Your skin says a lot about your diet, as it absorbs all the nutrients from the foods. If achieving healthy skin is on your radar, try adding these foods that contain the necessary vitamins for skin to your daily diet and notice how your skin changes for the better.
FAQs
Can supplements be used as an alternative to consuming these foods for skin health?
Add collagen builder skin gummies supplement in a healthy diet for skin health, providing essential nutrients. However, they should not replace a balanced diet rich in skin-friendly foods, such as fruits, vegetables, and nuts, which offer a broader spectrum of benefits.
Can these foods be consumed in any form, such as cooked or raw?
Yes, cooking can enhance flavors and make certain nutrients more accessible, but raw options can provide a different texture and taste profile.
Are there any recommended serving sizes or portions for these foods?
Recommended serving sizes for these foods vary, but generally, a balanced diet includes 5-9 servings of fruits and vegetables daily, with portions based on individual calorie needs.
Are these foods suitable for all skin types?
Nutrient-rich foods can generally benefit most skin types by providing essential vitamins and minerals that support skin health.
How long does it take to see the effects of these foods on the skin?
It can vary widely depending on factors such as individual genetics, current diet, and the specific nutrients being consumed. A sustained balanced diet is key to achieving and maintaining good skin health.