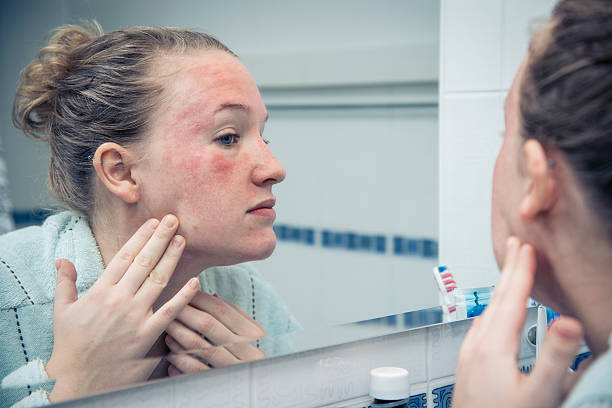 Dry Skin (Xeroderma): Definition, Causes, Treatment & More
Imagine your skin as both a resilient fortress and a sensitive canvas, harmonizing to protect and reflect your inner vitality. This remarkable organ, our body's first line of defense against external threats, not only safeguards us but also mirrors our overall health and well-being. Yet, in the daily battles of life, many find themselves engaged in a ceaseless struggle to maintain healthy, radiant skin. This struggle intensifies when the unwelcome specter of dry skin, scientifically known as xerosis, makes its presence felt.

Dry skin is more than a cosmetic concern; it is a condition that can bring discomfort, relentless itching, and, if overlooked, potentially lead to more severe dermatological issues. In the pages of this comprehensive guide, we embark on a voyage of discovery into the intricate world of dry skin. Together, we will delve into the essence of dry skin, unraveling its identity, recognizing its symptoms, and uncovering the multifaceted causes lurking beneath the surface. From environmental forces that assail our skin to the choices we make in our daily lives, from the foods we consume to underlying medical conditions, we will dissect the diverse factors contributing to the unwelcome arrival of dry skin.

As we journey through this exploration, we will illuminate the role of age-related transformations and genetic predispositions in the saga of skin dehydration. Armed with a profound understanding of the underlying causes, we will navigate toward the shores of solutions. We will explore effective treatments, and in a twist of modern innovation, we will introduce you to the world of skin gummies, biotin hair gummies, sleep gummies, and multivitamin gummies. These novel remedies may hold the key to revitalizing your skin from within, complementing traditional external treatments.
What Is Dry Skin?
Dry skin, medically referred to as xerosis, is a common dermatological condition characterized by a lack of moisture and natural oils in the skin. This deficiency in skin hydration can lead to a range of symptoms, including itching, flaking, redness, and discomfort. Dry skin often appears rough and can become more problematic during certain seasons or due to specific factors.

The skin is the body's largest organ and serves as a protective barrier against external elements. It consists of three primary layers: the epidermis (outermost layer), the dermis (middle layer), and the subcutaneous tissue (innermost layer). Each of these layers plays a role in maintaining skin health and function.

In the context of dry skin, the outermost layer, the epidermis, is of particular importance. It contains cells known as keratinocytes that produce a protein called keratin. Keratin helps form a protective barrier that prevents water loss from the body and shields the skin from environmental factors such as bacteria, UV radiation, and chemicals.
Causes of Dry Skin
Dry skin, as a common dermatological condition, manifests through a range of symptoms that can vary in severity. Understanding these symptoms is crucial for identifying and addressing dry skin effectively, considering its various causes, including dehydration in the skin, vitamin deficiency, and more.

Flakiness and Peeling
One of the most noticeable symptoms of dry skin is flakiness and peeling. Dry skin lacks the necessary moisture to maintain healthy, smooth skin cells. As a result, dead skin cells may accumulate on the skin's surface, causing it to appear rough and flaky.

Itching and Irritation
Dry skin often leads to itching and irritation. When the skin is dehydrated or lacks essential oils, it can become more sensitive and prone to itching. Scratching can further damage the skin and worsen the condition.

Rough Texture
The skin's texture can change when it becomes dry. Instead of feeling smooth and soft, it may become rough and uneven.

Cracks and Fissures
In severe cases of dry skin, particularly on the hands and feet, cracks and fissures may develop. These can be painful and may increase the risk of infection.

Scaling
Scaling refers to the formation of small, dry scales or patches on the skin's surface. These scales can become more noticeable during periods of extreme dryness.

Fine Lines and Wrinkles
Dry skin can exacerbate the appearance of fine lines and wrinkles. When the skin lacks moisture, it becomes less pliable, leading to more prominent signs of aging.

Sensitivity to Skincare Products
Dry skin is often more sensitive to skincare products, including cleansers and lotions. Some products may cause stinging, burning, or increased irritation when applied to dry skin.

Dark Spots
In some cases, dry skin can lead to the development of dark spots or patches, known as hyperpigmentation. These areas may appear darker than the surrounding skin due to increased melanin production.

It's important to note that dry skin symptoms can vary from person to person and may also depend on the underlying causes of dryness.

Lifestyle and Hygiene Habits
Our daily lifestyle choices and hygiene habits can significantly impact the health and moisture levels of our skin. These habits can either contribute to skin hydration or exacerbate dryness, making it essential to understand their role in the development and management of dry skin. In this section, we will explore how lifestyle and hygiene practices influence skin health and discuss strategies for maintaining well-hydrated skin.
Hot Showers
While hot showers may be relaxing, prolonged exposure to hot water can strip the skin of its natural oils and disrupt its moisture balance.
Overwashing
Excessive washing, especially with harsh soaps and cleansers, can remove the skin's protective oils and contribute to dryness.
Hydration: Adequate hydration is fundamental for skin health. Water is essential for maintaining the body's overall moisture balance, including the hydration of your skin. Dehydration can lead to dry skin, so it's crucial to drink enough water daily. While the "eight glasses a day" rule is a good guideline, individual water needs can vary based on factors such as age, activity level, and climate.

Vitamins and Minerals: Several vitamins and minerals are essential for skin health. Here are some key nutrients to focus on:
Vitamin E: This antioxidant vitamin helps protect the skin from oxidative damage and may help maintain skin moisture. Foods rich in vitamin E include almonds, sunflower seeds, and spinach.
Vitamin C: Vitamin C is essential for collagen production, which contributes to skin elasticity. Citrus fruits, strawberries, and bell peppers are excellent sources of vitamin C.
Vitamin A: This vitamin supports skin cell turnover and is found in foods like sweet potatoes, carrots, and spinach.
Zinc: Zinc is vital for skin repair and maintenance. It can be found in foods like beans, nuts, and whole grains.
Antioxidants: There are several antioxidant kin benefits. Antioxidant-rich foods help protect the skin from oxidative stress, which can contribute to dryness and premature aging. Berries, green tea, and dark leafy greens are great sources of antioxidants.

Collagen-Boosting Nutrients: Collagen is a protein that provides structural support to the skin. Consuming nutrients that support collagen production, such as vitamin C, amino acids (found in protein-rich foods like lean meats and legumes), and collagen supplements, may help maintain skin elasticity and hydration.

Biotin: Biotin, part of the B-vitamin complex, is believed to promote healthy skin, hair, and nails. It can be found in foods like eggs, nuts, and sweet potatoes. Some individuals also opt for biotin supplements or biotin hair gummies to support skin health.

Age-Related Factors
As we age, the skin undergoes changes that can contribute to dryness:

Reduced Oil Production
With age, the sebaceous glands produce less sebum (natural oil), making the skin more susceptible to dryness.

Thinning Skin
Aging can lead to thinner skin, which is more prone to moisture loss and environmental damage.

Genetic and Hereditary Factors
Genetics can also play a role in an individual's predisposition to dry skin. Some people have a genetic tendency to produce less sebum, making them more prone to dryness.
How to Treat Dry Skin Issues?
Once you've identified the underlying causes of your dry skin, you can implement an appropriate treatment plan:

Hydration
Addressing dehydration is fundamental to treating dry skin. Ensure you drink an adequate amount of water daily to maintain overall hydration. Additionally, use a high-quality moisturizer to lock in moisture and prevent water loss from the skin.

Gentle Cleansing
Opt for mild, hydrating cleansers that won't strip your skin of its natural oils. Avoid hot water, which can further dehydrate the skin.

Topical Treatments
Consider the use of topical treatments to alleviate dry skin symptoms:

Emollients: Emollient creams and ointments help soften and hydrate the skin, making it feel more comfortable.

Humectants: Humectants like hyaluronic acid attract and retain moisture in the skin, promoting hydration.

Topical Steroids: In cases of severe dryness and inflammation, a dermatologist may prescribe topical steroids to reduce redness and itching.

Nutrition: If your dry skin is related to vitamin or nutrient deficiencies, consider dietary changes or supplements. Skin gummies or multivitamin gummies containing essential vitamins can help support skin health.

Skincare Adjustments
Review your skincare routine and products
Choose moisturizers with ingredients like ceramides, hyaluronic acid, and glycerin, which are effective for dry skin.
Avoid products with harsh ingredients, excessive fragrances, or alcohol, as they can exacerbate dryness.
Conclusion
Dry skin, a common dermatological condition, can be a source of discomfort and concern. However, armed with knowledge about its causes and effective treatment strategies, managing dry skin becomes not only feasible but also achievable. In this comprehensive guide, we've explored the diverse factors that can contribute to dry skin, ranging from dehydration in the skin and dietary deficiencies to environmental influences and skincare choices. Dry skin and dehydrated skin are often mistaken for one another, but it's crucial to understand the differences between dry and dehydrated skin.

In cases where dietary factors are at play, consider incorporating nutrient-rich foods into your diet or consult with a healthcare provider about supplements like iron gummies or multivitamin gummies to support your health.
FAQs:
What is the easiest way to get rid of dry skin?
The easiest way to alleviate dry skin is to prioritize hydration. This includes both internal hydration, achieved through adequate water intake, and external hydration, which involves using a high-quality moisturizer. Additionally, adopting a gentle skincare routine that avoids harsh cleansers and over-exfoliation can help maintain skin moisture and alleviate dryness.

Can diet and hydration really make a difference in combating dry skin?
Absolutely, diet and hydration play a significant role in combating dry skin. Ensuring you consume a balanced diet rich in essential vitamins, minerals, and fatty acids nourishes your skin from the inside out. Staying well-hydrated by drinking enough water supports overall skin health.

Does coconut oil work well for dry skin?
Coconut oil can be an effective natural moisturizer for some individuals with dry skin. It contains fatty acids that help lock in moisture and soften the skin. However, it may not be suitable for everyone, as it can be comedogenic and may clog pores in some cases. It's advisable to perform a patch test and monitor how your skin reacts to coconut oil before using it extensively.

What type of soap or body wash is best for individuals with dry skin?
Individuals with dry skin should opt for mild, hydrating cleansers or body washes that do not strip the skin of its natural oils. Look for products that are labeled as "moisturizing" or "hydrating" and avoid those containing harsh ingredients or excessive fragrances, as they can exacerbate dryness. Gentle, fragrance-free options are typically the best choice for dry skin.