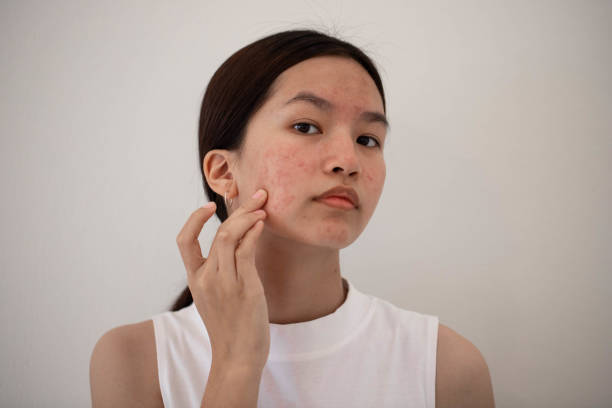 Acne Prone Skin Care Routine Just in 7 Steps
Acne-prone skin can be a frustrating and confidence-denting issue for many. But fear not, a well-crafted skincare routine tailored to acne-prone skin can work wonders. In this guide, we'll walk you through the essential steps and products to help you achieve clearer, healthier skin. Along the way, we'll also explore the role of skin gummies, biotin hair gummies, sleep gummies, and
multivitamin gummies
in supporting your skin's journey to radiance. These will help you build an effective skincare routine for acne-prone skin.

Understanding Acne-Prone Skin: Before diving into your skincare routine, it's crucial to understand what acne-prone skin is. Acne-prone skin is characterized by an increased likelihood of developing clogged pores, blackheads, whiteheads, and acne lesions. It often appears oily and is prone to inflammation and breakouts.
The challenges of dealing with acne-prone skin
Dealing with acne-prone skin can be challenging due to several factors:


Persistent Breakouts:

Acne-prone individuals often experience recurring breakouts, which can be frustrating and impact self-esteem.


Skin Sensitivity:

Many acne treatments can cause skin dryness, redness, and sensitivity, making it essential to find products that balance acne control without over-drying.


Complexity of Acne Types:

Acne can manifest in various forms, such as blackheads, whiteheads, cysts, or pustules, each requiring different approaches for treatment.


Scarring:

Severe acne can lead to scarring, which can be difficult to address and may require additional treatments.


Oily Skin:

Excess oil production is common in acne-prone skin, leading to a shiny appearance and a predisposition to clogged pores.


Hyperpigmentation:

After breakouts, acne-prone skin may develop dark spots or post-inflammatory hyperpigmentation (PIH), which can take time to fade.


Need for Professional Guidance:

In some cases, it may be necessary to consult a dermatologist for prescription treatments or guidance on managing severe acne.
Dealing with acne-prone skin involves finding a balance between effective treatments, proper skincare, and self-care practices to maintain skin health and boost self-confidence.
The importance of a customized skincare routine
A customized skincare routine is a tailored approach to skincare that takes into account an individual's unique skin type, concerns, and goals. Unlike one-size-fits-all approaches, a personalized routine is designed to address specific needs, whether it's managing acne, combating signs of aging, or achieving a radiant complexion. To create a custom routine, factors such as skin type (e.g., oily, dry, combination), sensitivity, age, and any existing skin conditions are considered. This approach ensures that the chosen products and treatments are well-suited to the individual, maximizing their effectiveness while minimizing the risk of adverse reactions. Customized skincare recognizes that everyone's skin is unique, and by catering to those unique needs, individuals can achieve healthier, more radiant skin.
What are acne and its causes?
Acne is a common skin condition characterized by the presence of pimples, blackheads, whiteheads, and often, inflammation. It typically occurs when hair follicles become clogged with oil and dead skin cells, leading to the growth of bacteria. Acne can affect people of all ages but is most prevalent during adolescence and early adulthood due to hormonal fluctuations. Several factors contribute to the development of acne, including excess oil production, clogged pores, bacterial overgrowth, inflammation, hormonal changes, genetics, and even certain medications or skincare products. Understanding the causes of acne is essential for effective prevention and management, as it allows individuals to adopt tailored skincare routines and seek appropriate treatments to maintain clear and healthy skin.
Different types of acne:
Acne is not a one-size-fits-all condition; it comes in various forms, each with its characteristics and treatment approaches. Here are the different types of acne:


Whiteheads:

Whiteheads, also known as closed comedones, are small, flesh-colored or white bumps with a closed pore. They form when oil and dead skin cells clog a hair follicle and trap bacteria inside. Whiteheads are typically not inflamed and appear as small, raised bumps on the skin.


Blackheads:

Blackheads, or open comedones, are similar to whiteheads but have an open pore. The dark color is not due to dirt but results from the oxidation of melanin in the clogged pore. Blackheads are commonly found on the nose, chin, and forehead and may be more visible than whiteheads.


Pimples (Pustules):

Pimples are raised inflamed lesions with a white or yellow center and a red base. They develop when bacteria within a clogged pore multiply, leading to inflammation. Pimples are often tender to the touch and can be painful.


Cysts:

Cystic acne is severe and characterized by large, painful, pus-filled lumps beneath the skin's surface. These deep, inflamed lesions result from a more significant infection within the hair follicle. Cysts can be prone to scarring and may take longer to heal.


Nodules:

Nodular acne consists of hard, painful, deep-seated lumps beneath the skin's surface. Similar to cysts, nodules develop from the inflammation of hair follicles but are generally larger. They can persist for weeks or months and are known for their potential to cause scarring.

Each type of acne requires a specific approach to treatment and management. While mild forms of acne like whiteheads and blackheads may respond well to over-the-counter products containing salicylic acid or benzoyl peroxide, moderate to severe acne, such as pimples, cysts, and nodules, may require prescription medications like antibiotics, retinoids, or hormonal therapies. Consulting a dermatologist is crucial to determine the most suitable treatment plan based on the type and severity of acne, helping individuals achieve clear and healthy skin.
Factors contributing to acne:
Acne is a multifactorial skin condition influenced by a combination of factors. Genetics plays a significant role, as individuals with a family history of acne are more prone to developing it themselves. Hormonal fluctuations, especially during puberty, menstruation, pregnancy, or certain medical conditions like polycystic ovary syndrome (PCOS), can trigger excess oil production, a primary driver of acne. Lifestyle factors such as diet, stress, and exposure to environmental pollutants can exacerbate acne by promoting inflammation or clogging pores. Additionally, skincare habits, including the use of pore-clogging products or harsh cleansers, can contribute to acne development. Understanding these factors and their interplay is essential for creating effective acne management strategies, which often include a combination of proper skincare, lifestyle modifications, and, in some cases, medical treatments to achieve clearer and healthier skin.
Why is having a specific skin care routine essential for individuals with acne-prone skin?
Having a specific skincare routine is essential for individuals with acne-prone skin because it allows for targeted and consistent management of breakouts and skin health. Acne-prone skin often requires a delicate balance of addressing excess oil production, unclogging pores, and reducing inflammation, which can be achieved through the use of suitable products and treatments. A tailored routine ensures that the products chosen are non-comedogenic and designed to address the unique needs of acne-prone skin, minimizing the risk of further breakouts. Moreover, consistency in skincare is vital to see improvements and prevent new acne lesions from forming. A well-established routine can also help manage other concerns such as post-inflammatory hyperpigmentation or acne scarring. Consulting a dermatologist can provide personalized guidance and recommendations, tips for glowing skin optimizing the chances of achieving clear and healthy skin for those with acne-prone skin.

Below are the routines to be followed for - ACNE PRONE SKIN
Morning Skin Care Routine
A morning skincare routine for acne-prone skin should focus on gentle cleansing, oil control, hydration, and sun protection. Here's a basic morning routine:
Cleansing
Start with a gentle, sulfate-free cleanser to remove any excess oil and impurities. Avoid harsh scrubbing, as it can irritate acne-prone skin.
Exfoliation
Exfoliation, done 2-3 times a week, can help remove dead skin cells and keep pores clear in an acne-prone skincare routine.
Treatment Products
Apply a lightweight acne treatment serum containing ingredients like salicylic acid or benzoyl peroxide. These can help unclog pores and prevent breakouts. Be sure to follow the instructions on the product. There are many serums for acne-prone skin available today.
Moisturisation
Even if you have oily skin, moisturizing is essential to keep your skin hydrated and balanced. Choose an oil-free, non-comedogenic moisturizer to prevent clogged pores. Some people even use hyaluronic acid for skin moisturisation.
Sun Protection
Finish your morning routine with a broad-spectrum SPF 30 or higher sunscreen. UV rays can worsen acne and lead to post-inflammatory hyperpigmentation. Opt for a sunscreen that is non-comedogenic and provides broad-spectrum protection.
Choose Non-Comedogenic Makeup
If you wear makeup, choose non-comedogenic, oil-free, and mineral-based products. Avoid heavy foundations and opt for lightweight, breathable options.
Conclusion
To support your skin from within, consider incorporating skin gummies, multivitamin gummies, and biotin hair gummies into your routine. These supplements can provide essential vitamins and minerals that contribute to skin health. For example, biotin supports healthy hair and skin, while multivitamins can address any nutrient deficiencies that may affect your skin's condition. Melatonin Sleep gummies can help you achieve a good night's rest, which is crucial for overall skin health.
Achieving clear, radiant skin for acne-prone individuals requires patience and a consistent skincare routine. By following the steps outlined above and considering the benefits of skin gummies, multivitamin gummies, biotin hair gummies, and sleep gummies, you can take significant strides towards healthier, blemish-free skin. Don't forget that consulting a dermatologist for personalized advice can also be a valuable part of your journey to clearer skin.
FAQ -
Do I need to use sunscreen daily for acne-prone skin?
Yes, daily sunscreen is crucial for acne-prone skin to prevent further breakouts and protect against post-inflammatory hyperpigmentation.
Should I avoid makeup if I have acne-prone skin?
You can still wear makeup with acne-prone skin; just choose non-comedogenic and oil-free products to minimize the risk of clogged pores and breakouts.
When should I seek professional help for my acne?
You should seek professional help for your acne if over-the-counter treatments haven't worked after several weeks or if your acne is severe, painful, or leaving scars. A dermatologist can provide specialized guidance and treatments.
How can I keep my acne-prone skin hydrated without making it oily?
To keep acne-prone skin hydrated without excess oil, use an oil-free, non-comedogenic moisturizer and hydrating serums containing hyaluronic acid.
Is Vitamin C good for acne?
Yes, there are various benefits of Vitamin C for acne-prone skin due to its anti-inflammatory and antioxidant properties, which can help reduce redness and promote healing.
What should I avoid for acne-prone skin?
Incorporate high nutritious food for healthy skin and prevent acne breakouts, avoid high-sugar and processed foods, as they can trigger inflammation and worsen acne-prone skin.