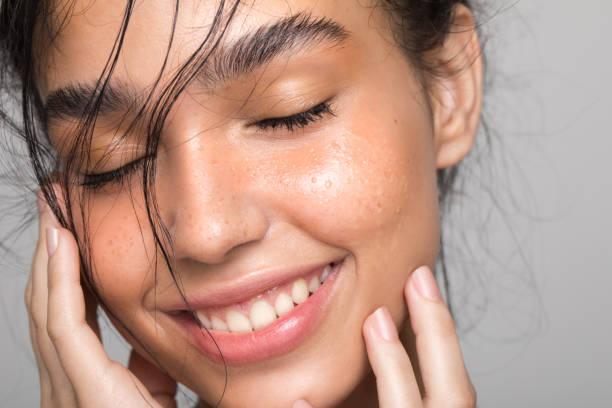 How to Have Radiant Skin and Age Gracefully?
How to Have Radiant Skin? To get radiant skin and age gracefully, it's essential to prioritize a few key practices. Nourish your body with a balanced diet rich in antioxidants, vitamins, and minerals. Staying hydrated is crucial, so drink plenty of water to keep your skin supple and glowing. A consistent skincare routine that includes gentle cleansing, moisturizing, and sunscreen application is paramount to protect your skin from environmental damage. Moreover, don't underestimate the power of quality sleep and stress management, as they play a significant role in skin health. Lastly practice self-care because a joyful heart reflects on your face, enhancing your natural beauty.
What is radiant skin?
What is radiant skin? Radiant skin refers to skin that has a healthy, youthful, and glowing appearance. It is often characterized by a smooth, even-toned complexion that reflects light well, giving the skin a luminous and vibrant look. Radiant skin is typically free from blemishes, dryness, and other imperfections. Several factors contribute to radiant skin, including- Good skincare, Hydration, Diet, Sun Protection, Skin Exfoliation, Adequate Sleep, Managing Stress Well, Keeping Lifestyle In Check, and taking the best quality multivitamin gummies.
Causes of Skin Aging
Skin ageing is a complex process influenced by various internal and external factors. The primary causes of skin ageing include:

Natural Aging: Intrinsic ageing is an inevitable part of the natural ageing process. As we age, the production of collagen and elastin, which provide skin with elasticity and firmness, decreases. This leads to the development of fine lines, wrinkles, and sagging skin.

Poor Skincare: Neglecting a proper skincare routine that includes cleansing, moisturizing, and sun protection can contribute to skin ageing. You can also plan to include skin gummies in your diet to get a remarkable and radiant skin glow!

Sun Exposure: Prolonged and unprotected exposure to the sun's harmful UV rays is a major contributor to premature skin ageing. UV radiation can damage collagen fibres and result in the breakdown of elastin, leading to sagging skin and wrinkles.

Environmental Factors: Pollution, harsh weather conditions, and exposure to environmental pollutants can accelerate skin ageing by increasing oxidative stress and inflammation.

Inadequate Hydration- Neglecting the benefits of drinking water is a strong contributing factor that can result in signs of uncalled-for ageing, dull skin, and lack of nourishment.

Genetics: Genetic factors play a role in how your skin ages. Some individuals may be genetically predisposed to age more slowly or quickly than others.

Hormonal Changes: Hormonal fluctuations, such as those that occur during menopause, can lead to changes in skin texture and moisture levels, contributing to the ageing process.

Stress: Chronic stress can lead to skin problems like acne and exacerbate existing skin conditions, making the skin appear older.

Diet and Nutrition: A diet lacking in essential nutrients, antioxidants and collagen-rich foods can affect skin health and accelerate the aging process.

Sleep Deprivation: Lack of sleep can hinder the skin's natural repair and regeneration processes, leading to dull, tired-looking skin.

Also Read:
What Does Lack Of Sleep Do To Your Body?
Effects & Symptoms of Sleep Deprivation
Daily Skincare Routine
If how to get glowing skin is your question then the simple answer to that is following a daily skincare routine. It involves a series of steps aimed at cleansing, moisturizing, and protecting your skin from environmental factors. Typically, a basic routine includes cleansing to remove dirt and impurities, followed by toning to balance the skin's pH, applying serums or treatments to address specific concerns, and finishing with a moisturizer and sunscreen during the day. Consistency is key, as a daily routine helps maintain skin health, prevent breakouts, and combat the signs of ageing, leaving you with a complexion that looks and feels its best.
Hydration and Nutrition
How to Have Radiant Skin? Well, a skincare routine begins with the basics - hydration and nutrition. Proper hydration is essential for maintaining skin health. Drinking an adequate amount of water helps keep your skin moisturized from the inside out, promoting a youthful and radiant complexion. Additionally, incorporating foods rich in antioxidants, vitamins, and omega-3 fatty acids into your diet can do wonders for your skin. These nutrients help combat free radicals and inflammation, contributing to a healthier, more radiant complexion.
Sun Protection
Sun protection is a non-negotiable component of any effective skincare routine. Prolonged exposure to the sun's harmful UV rays can lead to premature ageing, sunspots, and even skin cancer. To shield your skin from these threats, regularly use broad-spectrum sunscreen with an SPF of 30 or higher. Sunscreen should be applied daily, even on cloudy days, and reapplied every two hours when outdoors. Alongside sunscreen, consider wearing protective clothing and accessories like wide-brimmed hats and sunglasses to further minimize sun damage.
Skincare Products and Ingredients
Selecting the right skincare products and understanding their ingredients is crucial for a successful routine. Gentle cleansers, free from harsh chemicals, help remove impurities without stripping the skin's natural moisture. Incorporating a moisturizer with hydrating ingredients like hyaluronic-acid-for-skin can lock in moisture, preventing dryness and flakiness. Moreover, serums with potent antioxidants and Vitamin E will be great additions to your daily routine. That's because you will experience the Benefits of Vitamin E For Skin to combat free radicals, minimize oxidative stress & promote collagen production for firmer skin. Lastly, include exfoliating agents to remove dead skin cells, revealing a smoother, more radiant complexion.
Lifestyle Habits
How to get glowing skin? Beyond topical treatments, lifestyle habits play a significant role in maintaining healthy skin. Prioritize getting enough restorative sleep, as it allows the body to regenerate and repair skin cells. Managing stress through relaxation techniques like meditation or deep breathing exercises can help reduce inflammation and prevent stress-induced breakouts. Regular exercise promotes circulation, delivering essential nutrients to skin cells and imparting a healthy, radiant glow. Avoiding tobacco and excessive alcohol consumption also safeguards skin integrity, as these substances can compromise blood flow to the skin.
Professional Skin Care Treatments
For those seeking advanced skincare solutions, professional treatments can be beneficial. Dermatologists and estheticians offer a range of treatments, such as chemical peels and laser therapy, to address specific skin concerns. These treatments might provide efficient results when complemented with your at-home skincare routine plus an inclusion of our nurturing multivitamin gummies, helping you attain improved skin health.
Embracing Aging Gracefully
How to have radiant skin is a frequently stumbled upon question, but right now it is about embracing ageing with utmost grace because it is an integral aspect of any skincare routine. Celebrate the journey of ageing by embracing self-care practices that prioritize health and well-being. Focus on maintaining skin health with the inclusion of our nutrient-packed, high-quality skin gummies to witness the best results. Remember, confidence is the most radiant accessory one can wear, and taking care of your skin means coming a step closer to self-love. Embracing the changes that come with age fosters a positive relationship with oneself and allows your inner beauty to shine through, regardless of external appearance.
How To Get Radiant Skin?
How to get glowing skin? To achieve glowing and radiant skin, adopt a holistic approach that includes a balanced diet, hydration, sun protection, and a consistent skincare routine. Cleansing and moisturizing daily, wearing sunscreen and exfoliating occasionally are key steps in maintaining skin health. Additionally, prioritize a healthy lifestyle by staying hydrated, avoiding smoking and excessive alcohol, and committing to a well-rounded skincare regimen tailored to your skin type and concerns. This combination will help you achieve the coveted glow and radiant complexion you desire.

Cleanse Regularly: Cleanse your face daily to remove dirt, oil, and impurities, preventing clogged pores.

Exfoliate Weekly: Exfoliation once a week removes dead skin cells, promoting a smoother and brighter complexion.

Moisturize Daily: Hydrate your skin daily with a suitable moisturizer to maintain its natural moisture barrier.

Sun Protection: Wear sunscreen daily to shield your skin from harmful UV rays, preventing premature ageing and sun damage.

Healthy Diet: Consume a balanced diet rich in antioxidants, vitamins, minerals and collagen rich foods to support skin health.

Hydration: Stay well-hydrated by drinking enough water throughout the day to keep your skin moisturized from within.

Avoid Smoking and Excessive Alcohol: Smoking and excessive alcohol consumption can accelerate skin ageing, so limit or avoid them.

Skincare Routine: Establish a consistent skincare routine tailored to your skin type and concerns.

Water Intake: Ensure adequate water intake to keep your skin hydrated and glowing from the inside out. Never forget the benefits of drinking water, so don't just read but keep yourself hydrated.
External resources to apply on the skin for a radiant glow
Moisturizers: High-quality moisturizers help keep your skin hydrated and supple, contributing to a healthy and radiant complexion.

Serums: Serums are packed with active ingredients like antioxidants, and hyaluronic-acid-for-skin, which can brighten and rejuvenate your skin.

Sunscreen: Broad-spectrum sunscreen with an SPF of at least 30 is crucial to protect your skin from UV damage, prevent premature ageing, and maintain a radiant complexion.

Face Oils: Natural oils like argan oil, rosehip oil, or jojoba oil can provide nourishment and moisture to your skin, promoting a healthy glow.

Face Masks: Sheet masks, clay masks, and hydrating masks can give your skin a quick boost of hydration, brightness, or firmness, depending on the type of mask used.

Retinoids: Retinoids can improve skin texture, reduce fine lines, and stimulate collagen production, resulting in a more youthful and radiant appearance.

Include foods for healthy skin: From Antioxidant-rich foods like green tea extract, and niacinamide to health-packed green leafy veggies, your skin craves these health treats!
FAQs
A daily skincare routine help improve skin radiance?
Yes, a daily skincare routine can be the best solution for how to have radiant skin. It can help improve skin radiance by cleansing, moisturizing & protecting your skin from environmental damage.
Is radiant skin good?
Radiant skin is a sign of good skin health, as it often indicates that the skin is well-hydrated, free from blemishes, and has an even tone and texture.
Are there any vitamins that support glowing skin?
Vitamins like vitamin C and vitamin E are known to support glowing skin by reducing oxidative stress and promoting collagen production. Moreover, the Benefits of Vitamin E For Skin and hyaluronic-acid-for-skin are endless which makes them potent additions to your daily regime.
What vitamins and minerals do you focus on for skin health through your diet?
For skin health through diet, focus on vitamins A, C, and E, along with minerals like zinc and selenium and collagen rich foods like legumes, citrus fruits, eggs and dairy products. These nutrients help maintain skin's elasticity, protect against UV damage, and support overall skin health.