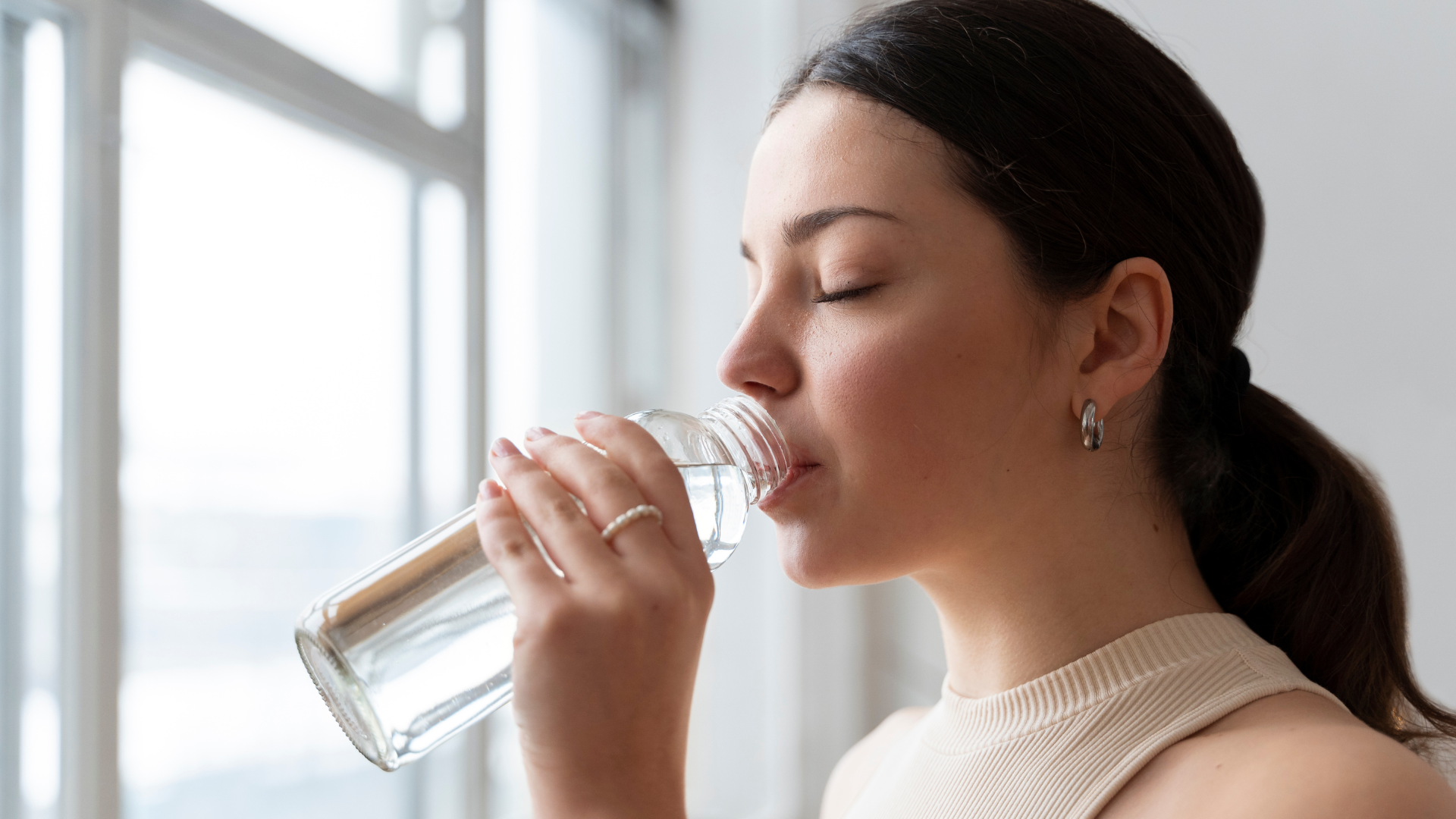 Benefits of Drinking Water For Skin
An individual's survival is difficult without a proper water intake and it wouldn't be wrong to call it the driving force of our lives. Water is involved in a plethora of physiological processes, including but not limited to body temperature regulation, transportation of key nutrients and oxygen to the entire body, and much more. Apart from this, there are benefits of drinking water for your skin as well. It plays a very strong role in keeping the skin healthy and flawless and that's because over a quarter of an individual's skin is made up of water. To top it all, water is a living example that proves skincare need not always be expensive. You don't have to spend boatloads of money to make your skin radiate and keep it in good shape.
Enclosing the remarkable benefits of hydration for skin.
The Role of Water in Skin Health
One of the key benefits of drinking water for skin is detoxification. It is a key process that our body undertakes wherein water removes any form of impurities embedded in our body. It acts as a helping hand that flushes out the toxins from our body and curtails the risk of skin problems and inflammation that may arise. So, whenever our body is deprived of water, both our bodily functions and skin gets affected which results in breakouts, wrinkles, and dullness. These are the unwanted guests we don't wish to welcome and want to get rid of at the earliest.
Properly hydrated skin also tends to make our skin cells plump and keeps flaky skin afar. Moreover, water helps in the enhanced regulation of sebum production which is a natural oil emitted by the skin. By doing this, the issues of excessive oil and clogged pores are massively dealt with. Thus, you experience clearer skin free from acne breakouts of the likelihood of their eruption.
Hydration and Skin Appearance
A well-hydrated skin is more likely to have a more radiant and healthy-looking appearance. Not only does hydrated skin contribute to a healthy-looking complexion but also gives an effortless skin texture. Also, to bring the biological terms in place, well-hydrated cells can reflect light better and tend to give your skin a natural glow.

When your skin is adequately moisturized, it reflects light more evenly, giving it a natural glow. On the other hand, dehydrated skin can appear dull, lackluster, and rough.
Hydration and Skin Aging
It will not be wrong to say that ample water intake slows down skin aging. On the contrary, dehydrated skin tends to lose skin elasticity and stability over a prolonged period. The result is sagging skin and a more aged look which isn't appreciated for obvious reasons.
Proper hydration supports the production of collagen, a protein that helps maintain the skin's structure and firmness. It also promotes healthy cell regeneration, which is essential for maintaining a youthful complexion. Additionally, hydrated skin facilitates the shedding of dead skin cells and the growth of fresher ones. This can contribute to a brighter, smoother, and more even-toned complexion. Ultimately what you see is younger and more vibrant skin. One can also find the same benefits in collagen supplements as well.
Improved Skin Texture
Your saviour 'water' is here to help you combat your struggles with an uneven and rough skin texture. Its hydrating weapon will assist you in keeping any form of discolouration or irregularity in skin texture at a distance. With your well-hydrated skin, you will have a more even tone and smoother texture. The skin would also appear plumper and its surface will look smooth as cream, eliminating the scope of any dry patches or appearance of roughness.
The benefits of drinking water for your skin include facilitating the natural exfoliation process by flushing out dead skin cells from the body. By promoting cell turnover, water helps reveal fresh and healthy skin, leaving you with a vibrant and smooth texture.
Enhanced Nutrient Absorption
An important thing to factor in is that apart from consuming a nutrient-rich diet, its breakdown and absorption by our skin are significant. This is where water acts as the prime facilitator. It not only aids in enhanced digestion and food breakdown but also the transportation of essential nutrients to the skin cells. By delivering nutrients and oxygen to the skin, it enriches our overall well-being and supports various cellular processes. A few to mention are collagen production and tissue repair.
Therefore, water plays a vital role in accelerating nutrient absorption in our bodies. Through enhanced skin nourishment, we experience improved skin health and alleviation of skin problems including dryness, flakiness, and any form of infection eruption.
Increased Skin Elasticity
An intake of an appropriate quantity of water facilitates collagen production which is an essential protein providing skin its elasticity. This protein also aids in providing the skin with the requisite structure. Sufficient collagen levels can also prevent skin sagginess and promote a more youthful appearance.

Collagen production through proper hydration also results in maintaining skin elasticity, making it appear firmer and reducing the appearance of fine lines and wrinkles. By keeping the skin's hydration in check, the skin also becomes less prone to skin damage resulting from environmental factors or skin exposure. Increased elasticity also helps your skin maintain its firmness and suppleness, giving you a vibrant as-ever look.
Reduction in Dark Circles and Puffiness
More often than not, our skin swells up due to water retention. Well, if you'd like to ask why that happens, it's because our body is protecting us when we are dehydrated. This is why staying hydrated is important and that should never be neglected. Additionally, hydration supports the body's natural detoxification processes. This purifying process includes flushing out toxins, enhancing waste product removal, and improving the delivery of oxygen and nutrients to the skin.

Apart from this, it improves good circulation throughout the body, including the under-eye area. Due to enhanced circulation, there is a reduction in the appearance of dark circles. For improved results, you must combine staying hydrated with a good sleep regimen, practising good skincare, consuming a balanced diet, and reducing your screen time.
Improved Overall Skin Health
Keeping the skin's pH levels in place is an important metric because it helps your skin fighting-off any free radicals or harmful microbes. These free radicals have a strong tendency of damaging the skin and hampering the skin-health. However, it is important to know that the pH of the skin should never be on the higher side because then it is unable to protect your skin against bacteria.
Thus, for healthier skin, skin pH levels must be balanced. Additionally, well-hydrated skin reduces any form of skin irritation or inflammation. The reason is, dehydrated skin is more susceptible to irritation, redness, and inflammation. While, by staying properly hydrated, you can maintain a healthy moisture barrier, protecting the skin from external irritants and minimizing the occurrence of any skin infection.
Prevents Dry Skin
With extremely hectic work routines, consciously taking care of our skin is often neglected. In addition to this, exposing ourselves and the skin to pollutants and inconducive environmental conditions can impact our skin severely. This leads to deteriorated skin health, unwanted patchiness, and dull skin which we never asked for.

This is where water enters to rescue our skin from any of this unwanted skin dryness. It keeps the skin hydrated which in turn retains the skin's ability to hold moisture. Consuming an adequate amount of water helps to maintain the moisture barrier in our skin, reducing water loss and preventing dryness. Moreover, the outermost skin layer acts as a barrier safeguarding the underlying skin layers from any form of moisture loss and external irritants. Proper hydration protects skin barrier naturally allowing it to function effectively in preventing water evaporation from the skin.
Smaller Pores
One of the common symptoms of dehydration is making your skin pores appear more prominent. So, when the skin is devoid of moisture, it can hamper the role of the sebaceous glands. These glands produce sebum, an oily substance that protects the skin from drying out. However, in case of dehydration, glands produce excessive oil as a compensatory mechanism leading to clogged pores.
Thus, by keeping proper hydration, you can help prevent excessive oiliness and reduce the appearance of enlarged pores. A well-hydrated skin also promotes better skin elasticity, making the skin appear plumper. Thus, the size of the pores will diminish in size.
Prevents acne and pimples
Water is the best companion to keep acne and pimples away since they have multiple roles to perform. Some of them are enhancing the skin's function to act as a barrier, toxin flush out, and regulation of oil production. To begin with, building a strong skin barrier prevents pollutants or any environmental irritants from hampering skin quality. The skin acting as a natural defense also prevents the likelihood of breakouts or inflammation.
Detoxification is another function that is performed by water, leading to reduced build-up of waste products that contribute to acne development. Finally, dehydration triggers more oil production leading to acne breakouts and this can be easily dealt with by staying well-hydrated. Balancing the production of skin oil minimizes the risk of clogged pores and acne formation. This can also be considered a home remedy for acne.
Reduces wrinkles
Reducing wrinkles is also one of the important benefits of drinking water for the skin. That's because dehydration can promote the appearance of fine lines and wrinkles and when the skin lacks moisture, it can make fine lines more noticeable. By staying hydrated, you can facilitate collagen production and improve skin elasticity. Thus, your skin will appear plumper, evading the signs of aging cropping up and wrinkles will become less noticeable.
To keep those unwarranted wrinkles at bay, a viable solution is to properly hydrate. Apart from adequate water consumption, work towards keeping a comprehensive skincare routine. Do not forget to wear good SFP sunscreen and maintain a healthy lifestyle. Bringing these lifestyle changes will significantly contribute to wrinkle reduction and enhance your overall skin health
Heal Sunburn
Keeping yourself properly hydrated contributes to keeping the bodily functions going and in good kilter. From improved circulation, immune function, and overall organ health, water has a gamut of benefits to offer. Thus, when the body's overall health is good it supports the healing process better, including the healing of burn injuries.

Proper hydration is essential to keep the cell function at its best and assist in tissue regeneration. Thus, a good water intake ensures that our body is in the ideal condition to repair damaged tissues, including those affected by burns.
Conclusion
In a nutshell, it is important to understand that water is primitive in keeping our lives healthy. Moreover, water is essential for keeping rejuvenated and glowing skin healthy. Other benefits of drinking water for your skin include enhancing the skin moisture which leads to reduced skin flakiness or dryness. Hydration also aids in the body's thorough detoxification, toxin removal, and impurity cleansing. It is also beneficial. Water is also instrumental in reducing the occurrence of wrinkles, fine lines, puffiness, and frightening dark circles. Improved skin complexion, texture, and skin elasticity are some other core benefits of water.

Apart from keeping your water consumption in check, you must also include natural food for glowing skin and enriching skin gummies in your diet. These gummies will nourish your skin and give you a dose of essential nutrients, vitamins, and antioxidants for your fuller and healthier skin.

You can include our range of beauty essentials like radiant skin gummies for keeping your skin hydrated and melatonin sleep gummies for enriching your good night's sleep. Apart from these gummies, you can also include biotin gummies for hair they promote healthier hair growth.
FAQs
In what ways does dehydration negatively affect your skin?
Dehydration has a vast variety of disadvantages that deters our skin health. The negative impacts include increased flakiness, acne breakouts, puffiness, dark circle emergence, and more susceptibility to inflammation and allergies. Fine lines and wrinkles are some other unwanted guests that you will have to entertain.
What is the ideal amount of water to consume for better skin?
An ideal amount of water to consume as recommended by the experts is 3.7 litres for men and 2.7 litres of water for women. This recommended water intake would also include consuming beverages, fruits, and vegetables with high water content.
How soon can you expect to feel hydrated after drinking water?
The usual time it takes for you to feel hydrated is half an hour. This can be seen as an ideal period for water to reach the bloodstream and begin the process of hydration. Complete rehydration can take a bit longer but the prime stage of hydration is attained within 30 minutes. Thus, it is recommended to keep consuming water for the entire day.
What type of water is most beneficial for maintaining the health of your facial skin?
Clean and filtered lukewarm water is the most ideal type of water for the skin.
What foods, besides water, promote radiant skin?
A strawberry is a natural food for glowing skin that also provides a good source of antioxidants in your diet. Leafy green vegetables are also great for collagen production and attaining a desirable skin texture. Nuts and seeds protect you from oxidative damage which is again great for the skin. Lastly, sweet potatoes are a good addition to keep those signs of aging at bay and skin radiating. You can also add women's multivitamin gummies to add a dose of nutrition to your diet and revitalize your skin health.
Do collagen gummies promote better skin health?
Collagen gummies are known to be a good source for keeping the skin healthy and glowing. One of the key benefits that collagen gummies provide us with is improved skin elasticity which alleviates skin dullness and the occurrence of fine lines or wrinkles.