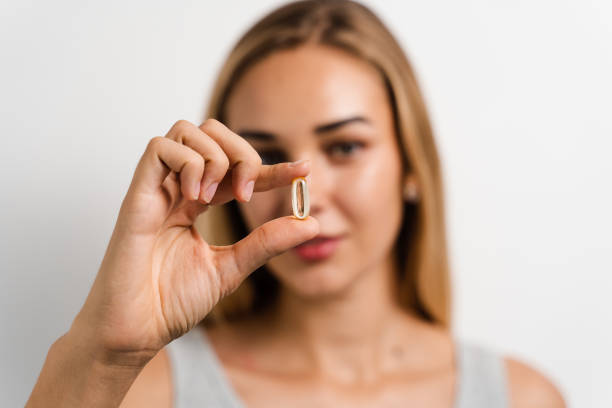 Collagen vs. Biotin for the Skin and Hair: Which Is Better?
It is vital to know that collagen and biotin have different roles to play and different purposes to serve. Although both of them are beneficial for skin and hair health they are not mutually exclusive, and some people may choose to take both or just one of the supplements.

The choice between collagen vs. biotin depends on your specific health needs and concerns. Some people might find combining these supplements more effective for their enhanced skin, hair, and hair health. In addition to this, a well-rounded nutritious diet, hydration, exercise, and quality sleep induced by sleep gummies can contribute to overall skin and hair health.

However, if you still have to take your pick and are specifically looking to improve skin elasticity while also supporting hair growth and strength, then collagen supplements could be a good option. On the other hand, if you primarily want to address hair health and reduce brittleness, biotin supplements may be more suitable.
What are collagen and biotin?
Simply put, Collagen is a complex protein and a vital component of various tissues in the body. These tissues include skin, bones, tendons, ligaments, cartilage, blood vessels, and organs. This vital protein component is made up of amino acids, which are the building blocks of protein. Biotin, also known as vitamin B7 is a water-soluble vitamin that is not stored in the body and serves as a coenzyme involved in various metabolic processes in the body. This is the most basic difference between biotin and collagen.
Collagen
Collagen being a protein acts as a fundamental building block for various tissues. It provides structural support, strength, and elasticity to these tissues. It may improve skin elasticity, hydration, and firmness, potentially reducing the appearance of wrinkles. Collagen is also beneficial for joint and bone health. It may help alleviate joint pain and stiffness while strengthening bone health by supporting cartilage health.
Biotin
Biotin assists in the metabolism of fatty acids, which are necessary for energy production and various cellular processes. It also supports the metabolism of amino acids resulting in protein synthesis and other vital cellular functions. Also, important to note that Biotin is known for promoting healthy hair growth and reducing hair brittleness in case you're thinking about collagen vs. biotin for hair. Furthermore, it supports nail health and helps strengthen nails. Including Biotin-rich foods in your diet is an effective way to elevate your biotin levels.
Collagen vs Biotin: Differences and Complementary Roles
Collagen's primary role is to maintain the structural integrity of the body tissues, ensuring they have the necessary strength and flexibility to withstand stretching and compression. It plays a crucial role in wound healing, tissue repair, and overall tissue health too. The foremost function of Biotin is to convert the nutrients from food into glucose and fatty acids which are then used by the body to produce energy. This is the second difference between biotin and collagen.

While collagen and biotin have distinct roles, they can complement each other to support overall skin, hair, and nail health. Collagen provides the structural foundation for all three while biotin supports the production of proteins like keratin, promoting healthy hair and nail growth.
Choosing Between Collagen and Biotin
Still, wondering about collagen vs. biotin? To solve this confusion better and address your skin health collagen would be an ideal choice. Collagen is a structural protein that supports skin elasticity and hydration, reducing the signs of ageing. Collagen also supports joint health and bone strength, making it beneficial for individuals with joint pain or people with weak bone health.

On the contrary, if your main concern is hair and nail health, biotin may be more suitable. Biotin is known for promoting healthy hair growth as well as thicker and voluminous hair while reducing hair brittleness. Biotin is also known to enhance nail health and help strengthen nails.
How To Incorporate Collagen and Biotin into a Beauty Routine
Apart from taking a collagen and biotin-rich diet, you can add collagen and biotin supplements in the form of skin gummies and biotin hair gummies to your daily routine. Follow the recommended dosage provided on the supplement packaging or consult with a healthcare professional for personalized advice.

You can try including skincare products that contain collagen or render benefits of collagen builders. These products can help improve skin elasticity and hydration. You can similarly search for some biotin-infused hair products to promote healthy hair growth.
Conclusion
Which one is better two is not the right question because our body demands different types of vitamins and minerals to function properly. Biotin, like all B vitamins, helps your body convert food into energy while collagen helps in building our body's connective tissue.

You can include both iron gummies and multivitamin gummies for your nourished skin, hair, and nail growth. Try these gummies out and experience the delightful change yourself.
FAQ
Can I get collagen and biotin from my diet?
Biotin is found in eggs, nuts, sunflower seeds, fish, mushrooms, sweet potatoes, and legumes, and collagen in citrus fruits, papaya, egg whites, fish, leafy green vegetables, and cauliflower. So, you can include these foods in your diet and combine them with multivitamin gummies.
Are there any natural food sources rich in collagen or biotin?
You can consume fish, chicken, egg yolks, nuts, seeds, avocado, citrus fruits, and green leafy vegetables for both collagen and biotin.
Can I take collagen and biotin together?
Yes, you can take collagen and biotin supplements together. Many people choose to combine these two supplements to support overall skin, hair, and nail health.
Which type of collagen is best for hair growth?
Biotin hair gummies may contain nutrients that can nourish hair strands and follicles, providing them with the necessary building blocks for healthy growth and maintenance.
Do collagen and biotin supplements have any antioxidant properties?
While collagen itself is not an antioxidant it can indirectly help combat oxidative stress. Similarly, biotin itself is not an antioxidant but it helps in the metabolism of macronutrients, including fats which can help neutralize free radicals.
Are there any side effects of taking collagen or biotin supplements together?
Some people choose to take both collagen and biotin supplements as a part of their overall health and beauty regimen. However, it's essential to consult your doctor before including supplements in your diet, especially if you have specific health concerns or conditions.