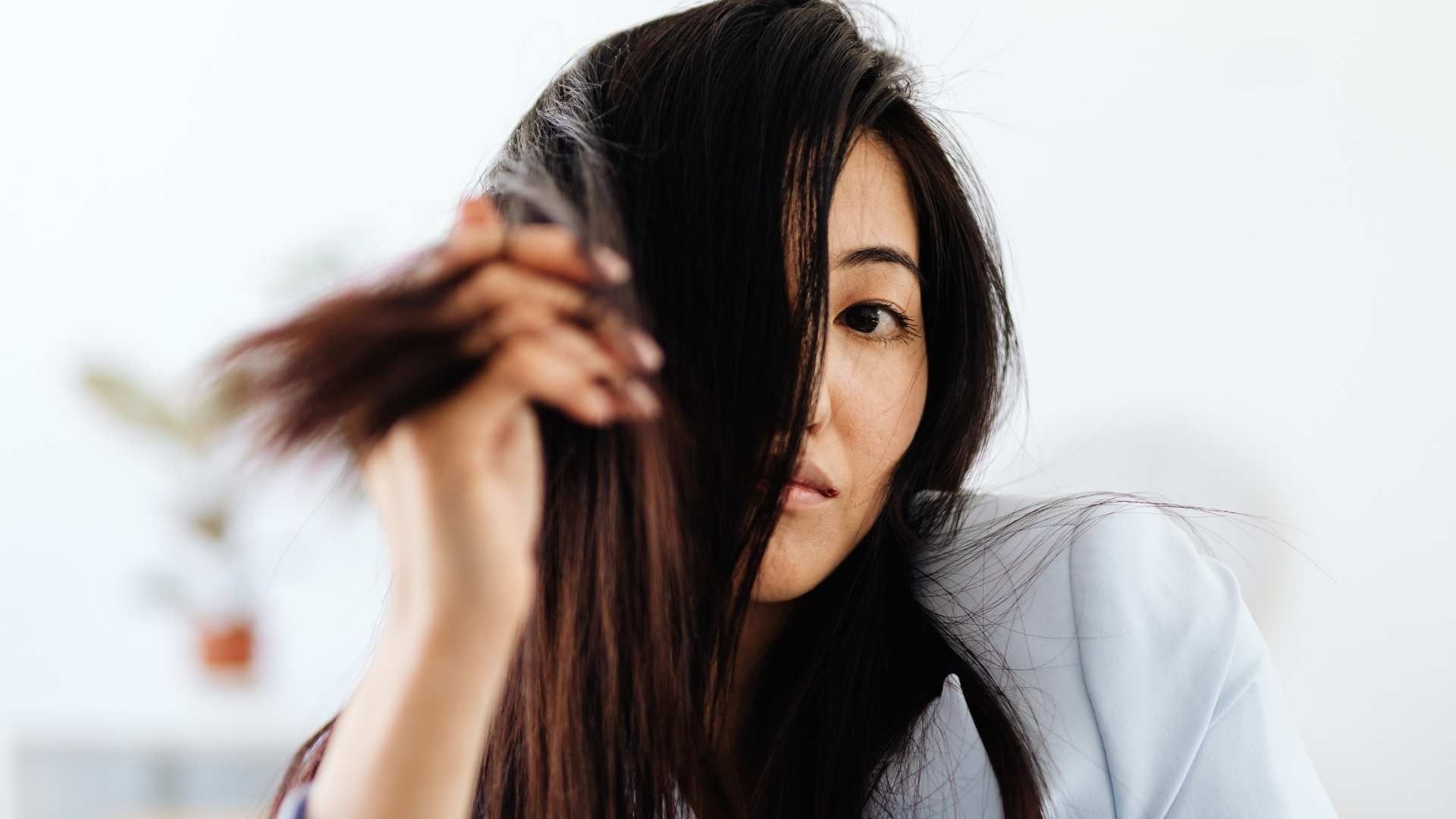 Grey hair in your 20s stressing you out?
"Why do I have grey hair at 20?" — is this question living rent-free in your mind? Then this article is just for you! If you already have a couple of grey strands, you probably remember the shock that took over when you found your very first grey hair. This is especially true if you are still in your 20s. When it comes to hair, the second most common worry after hair fall is worrying about premature grey hair. While it's entirely normal for hair to lose pigments as we cross 30, in today's world, there are many who are dealing with grey hair at a much younger age. So why is this suddenly so common and is there a way to reverse or delay the appearance of premature grey hair? Keep on reading to find out the answers.
What causes premature grey hair in your 20s?
Firstly, we just want to state that white hair or grey hair at a younger age should not affect your confidence in any way. That being said, it's acceptable to get to the bottom of why it is happening.
It's no surprise that white hair or grey hair is more noticeable on those with darker hair colours like black or coffee brown. While greying is mostly associated with those above the age of 50, grey hair can happen to anyone, regardless of age. As you lose melanin in the hair shaft, it gives it this new colour. Aside from colour, they vary drastically from the rest of the strands on your scalp. The feel and texture are also different compared to the pigmented strands. Grey hair is much more coarse, thin, and less manageable. If you're wondering what causes grey hair in 20s, there are many factors involved. We've noted down a few that can affect colour pigmentation and eventually lead to premature grey hair.
1. Genetics
For this, you might want to check with others in the family, to learn if premature grey hair is hereditary. Your genetics play an important role in a lot of health-related issues, and this includes your hair. If you noticed white hair or grey hair in your 20s, check with your parent or grandparents if they had early greying as well.
2. Stress
If it doesn't run in the family then it's time to check your lifestyle. It's no longer surprising to hear people in their 20s dealing with a lot of stress and facing various health complications due to it. While chronic stress can lead to some major health problems like lack of sleep, anxiety, and even high BP, it can also lead to minor issues like premature grey hair.
Certain research papers have also proved that there's a connection between stress and the depletion of stem cells in the hair follicles. This is what causes grey hair in your 20s.
3. Autoimmune disease
When dealing with an autoimmune disease, the body's immune system attacks its own cells. This can lead to a variety of hair issues like alopecia, vitiligo, and premature grey hair.
4. Thyroid disorder
Your thyroid gland helps control many bodily functions and this includes affecting the colour of your strands. Issues like hyperthyroidism or hypothyroidism can cause hormonal changes leading to lower melanin production. This eventually leads to premature grey hair.
5. Vitamin B-12 deficiency
Grey hair at an early age can also indicate that you're dealing with a vitamin B-12 deficiency. This nutrient assists with the formation of healthy red blood cells which carries oxygen to the cells including those in your hair. A deficiency can affect this process and lead to lower melanin production.
How to tackle or reverse premature grey hair naturally?
1. Eat more antioxidants
"You are what you eat" – with the growth of natural beauty treatments, this line has gained popularity. When it comes to hair and skin, what you eat can affect how it looks and feels. A nutrient-filled diet can play a major role in reducing oxidative stress while preventing white or premature grey hair in the process.
Some
antioxidant-rich foods for hair
that you can include in your diet to reduce the chances of premature grey hair are fresh fruits and vegetables, green tea, olive oil, fish etc.
2. Get your daily dose of vitamins
Vitamin supplements are not only great for those with vitamin deficiencies but also for those who eat a healthy diet. There are many factors that can reduce the nutrients in the foods as well and here's where supplements come to the rescue. The purpose of these supplements is to bridge the nutritional gap within the body. Supplements rich in vitamins like biotin, vitamin D, vitamin E or vitamin A are all great for delaying premature grey hair.
Biotin Hair
Gummies
are enriched with the power of Indian herbs and western ingredients like biotin and amla amongst others to delay greying and nourish your strands from within.
3. Avoid harsh hair treatments
Bleaching, hair styling too often, and using chemical-filled shampoos can all affect your hair and eventually lead to premature greying.
4. Stop smoking
Free radicals present in Tabacco are known to reduce melanin production in the body. Studies also show that smoking can damage blood cells which leads to hair loss.
5. Check with your medical professional
Since certain medical conditions can also cause premature greying, it's best to get the right diagnosis from a doctor.

The media has portrayed anything to do with ageing as bad. The truth is premature grey hair is nothing to be embarrassed about. Your main focus should just be on giving your body the right nutrients to keep your strands healthy.
Conclusion:
Understanding the factors behind premature graying of hair in your 20s is essential for maintaining overall well-being. While genetics certainly play a role, several other elements contribute to this phenomenon. Ensuring a healthy lifestyle, proper nutrition, and addressing potential deficiencies are key steps to consider. Incorporating supplements like melatonin sleep gummies, skin gummies, iron gummies, and multivitamin gummies can provide a holistic approach to supporting your body's needs. By nourishing your body from within, you can potentially mitigate premature graying and promote both healthy hair and general vitality for years to come.
FAQs
Are there any medical conditions that can cause premature greying of hair?
Yes, several medical conditions can contribute to premature greying of hair, including autoimmune disorders like vitiligo and thyroid conditions such as hyperthyroidism or hypothyroidism.
How can I manage the emotional stress associated with grey hair in my 20s?

Managing the emotional stress of premature grey hair in your 20s can involve self-acceptance. Focusing on inner qualities can boost self-confidence and reduce stress associated with appearance.
Should I consult a dermatologist regarding my premature grey hair?
While premature greying is often a natural part of aging, if you have concerns or it's accompanied by other unusual symptoms, consulting a dermatologist or healthcare professional can be beneficial.
What are some temporary solutions to conceal grey hair in your 20s?
Temporary solutions like trying semi-permanent hair dyes or using hair sprays specifically designed to cover grey roots.These options offer a quick fix without the commitment of permanent color changes.
Which vitamin deficiencies play a role in premature greying?
Premature greying can be linked to deficiencies in vitamins like B12, D, and minerals like copper and zinc. These nutrients play a role in melanin production, the pigment responsible for hair color, and their deficiency can contribute to the premature loss of hair color.