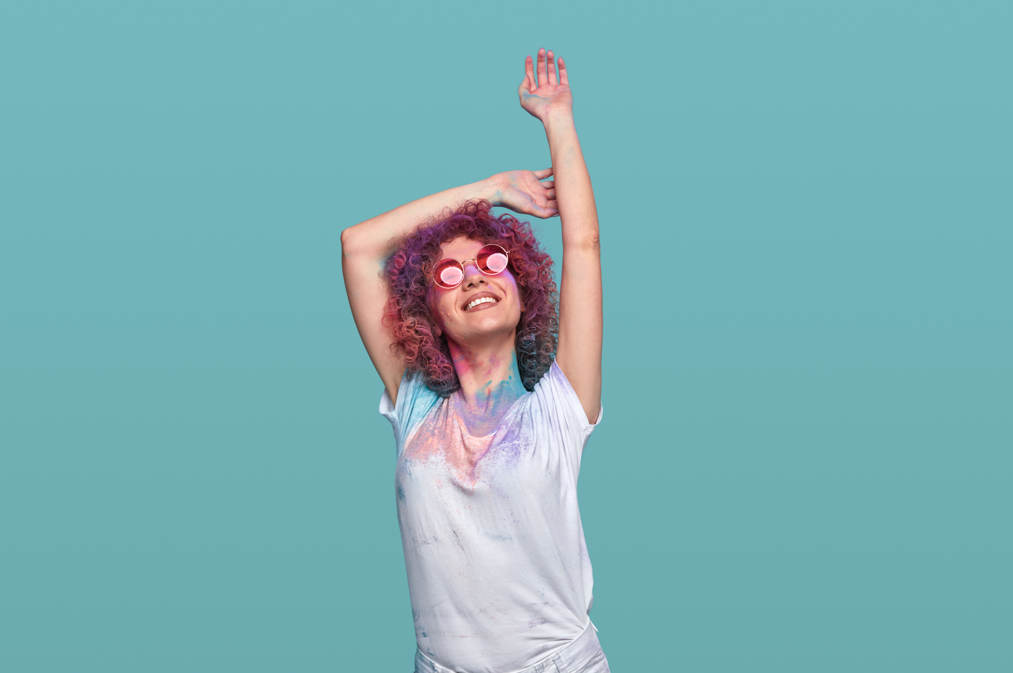 Post Holi hair care Tips to restore hair health
Holi, the festival of colors, can be an absolute delight, but it can also wreak havoc on your hair. The colors used during Holi, whether synthetic or natural, can leave your hair dry, damaged, and prone to breakage.
Post-Holi hair care routine
Fortunately, there are several tips and tricks you can use to revive your hair post-Holi and restore its health and shine. 
1. Start with a Pre-Holi Hair Care Routine:
Preparing your hair before Holi can go a long way in protecting it from damage. Apply coconut oil, olive oil, or any other natural oil of your choice, and leave it overnight before playing with colors. This will create a protective barrier, preventing the color from penetrating deeply into the hair shaft.
2. Rinse Your Hair First:
Use lukewarm water to rinse your hair thoroughly before shampooing. This helps to get rid of any large chunks of color, which might be stuck to the hair and prevent them from further settling into the hair.
3. Use a Mild Shampoo:
Choose a mild shampoo that is gentle on your hair and scalp. Harsh chemicals can strip your hair of its natural oils and further damage it. Gently massage the shampoo onto your scalp and hair, ensuring that it reaches every strand.
4. Condition Well
:
After shampooing, condition your hair well to restore its moisture and shine. You can also use a deep conditioning mask to provide extra nourishment to your hair. Leave the conditioner or mask for a few minutes before rinsing it off thoroughly.
5. Avoid Heat Styling:
Avoid using heat-styling tools like straighteners or curling irons, as these can cause further damage to the hair.
6. Apply Coconut Oil :
Coconut oil is a natural and effective remedy for revitalizing hair that has been damaged by Holi colors. The oil contains lauric acid, which penetrates deeply into the hair shaft, nourishing it from within and preventing breakage. 
7. Brush Gently
:
Use a wide-toothed comb to untangle your hair, starting from the ends and working your way upwards. Do not tug or pull at the knots, as this can lead to breakage and split ends.
8. Opt for Natural Remedies: Consider using natural remedies like aloe vera, yogurt, honey, or lemon to nourish and hydrate your hair. These natural ingredients are rich in vitamins and minerals, which help repair damaged hair and restore its health and shine.
 Conclusion
In conclusion, taking care of your hair post-Holi is crucial to restore its health and vitality. Incorporating these post-Holi hair care tips can help you revive your hair and prevent damage caused by the festivities. Additionally, if you're looking to enhance hair growth and overall hair health, consider adding Biotin hair gummies to your daily routine. Along with Biotin gummies, you can also explore Nyumi's other multivitamin nutritional gummies that cater to skin health, hair, skin, and nail strength. By combining proper post-Holi hair care and the use of targeted nutritional gummies, you can promote the health and radiance of your hair and support your overall well-being. Give your hair the nourishment and care it deserves. By adopting a comprehensive hair care regimen and integrating biotin gummies into your routine, you can nourish your hair from within and stimulate growth. Don't forget to explore the wide range of gummy supplements available, including skin gummies for a radiant complexion, nutritional gummies for overall wellness, and sleep gummies to promote a restful night's sleep. By incorporating these gummy supplements into your daily routine, you can take proactive steps towards enhancing both your hair and overall well-being.
A little extra TLC for your hair post-Holi can go a long way in repairing the damage caused by the colors and restoring your hair's health and shine. With these tips, you can ensure that your hair bounces back to its gorgeous self in no time! 



FAQs
Are there any specific hair care products recommended for post-Holi care?

After Holi, using clarifying shampoos, deep conditioning treatments, and gentle hair care products can help remove color and restore moisture to the hair.


Can I use a leave-in conditioner or hair serum to protect my hair after Holi?

Using a leave-in conditioner or hair serum after Holi can provide an additional layer of protection and hydration for the hair.


How can I protect my hair from sun damage after playing Holi?

To protect your hair from sun damage after playing Holi, wear a hat or use a hair sunscreen spray with UV protection.


How long does it take for the hair to recover after Holi?

The time it takes for hair to recover after Holi varies, but with proper care and maintenance, it typically takes a few weeks to restore its health and vibrancy.


Are there any DIY hair masks or treatments that can help restore hair health after Holi?

DIY hair masks using ingredients like yogurt, honey, and coconut oil can help restore hair health after Holi by providing hydration and nourishment.


Should I avoid chemical treatments, such as hair dye or bleach, immediately after Holi?

It is advisable to avoid chemical treatments like hair dye or bleach immediately after Holi to prevent further damage to the hair.