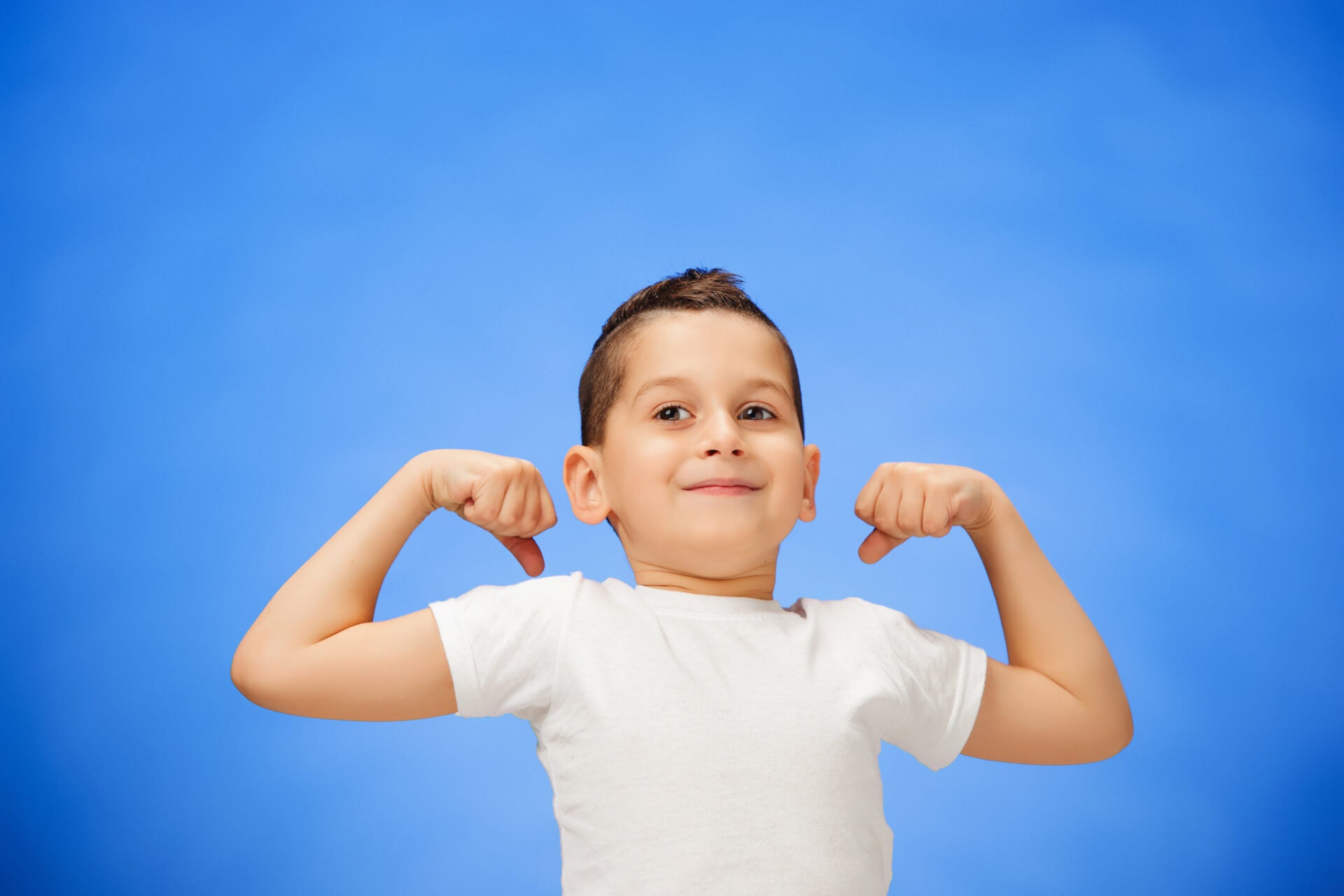 6 Ways To Boost Immunity in Children
Nothing about the past two years has been normal but now thanks to the vaccines, we're finally going back to that pre-pandemic life. While adults have access to the vaccine, kids below the age of 12, however, are yet to get their dose and with schools reopening, their best defence against any illnesses right now is their own immune system. This is why parents are frantically looking for answers on how to boost the immune system quickly for their kids. Luckily, there are immunity booster foods, supplements and certain lifestyle habits that help build the body's defence system. Scroll down to find out the best immune boosters that can help keep your child healthy.
How Does The Immune System Develop?
Immunity starts developing even before birth, and builds with age which is why immunity-boosting foods and vitamins are needed to help the child build their natural defence system. During the last trimester of pregnancy, the mother's antibodies get passed on to the unborn infants through the placenta. After birth, as the baby gets exposed to various pathogens, the body creates blueprints to fight them. The first exposure to bacteria is in the birth canal. This triggers the preliminary immune response. Those born via cesarean are not exposed to bacteria in the same way and may thus have a delayed initial immune development. As all infants have weak immune systems in the initial few months of life, mothers' breast milk provides them with unique immunity. This is because breast milk contains antibodies.
The child's immunity is then further strengthened via vaccinations. These provide mild exposure to certain pathogens, to aid the immune system in designing antibodies against them.
Functions Of The Immune System
The immune system is a complex biological system made up of various cells, organs and proteins in the body that work together to eliminate outside invaders. This can be anything from viruses, bacteria, fungus, or toxins.
When exposed to threats, your immune system produces specific antibodies (soldiers) that help disable the infection. It also allows for faster, easier production of antibodies in case the body is exposed to a similar threat in the future. 
Factors That Strengthen Immunity In Children
As the child grows, various factors help strengthen their immunity. A strong immune system has the capacity to fight various diseases and reduce recurrent infections. There are various factors that can help support the immune system:
1. Adequate nutrition:
To increase immunity in child, It is vital to ensure that the child is eating enough, and meeting their 
daily calorie and protein requirements. This can be met by broadly ensuring three main meals (breakfast, lunch, dinner) with two/three snacks throughout the day.
Small children are not able to take large quantities at a time, so small and frequent meals are very important.
2. Variety in the diet:
Anti-inflammatory
immune-boosting foods
are a great way to boost a child's immunity. Even as early as 6-7 months of age, it is advisable to ensure variety in the foods (e.g. different fruit and vegetable purees) provided to the infant. It's vital to include all food groups in their diet.
This, in turn, will ensure adequate amounts of carbohydrates, proteins, fats, vitamins and minerals are being consumed; which are vital for optimum immune function.
The different food groups are:
Cereals
Vegetables
Fruits
Dairy- milk, yogurt, cheese etc.
Protein-rich foods- meat, poultry, eggs, lentils, nuts etc.
3. Eat foods rich in immunity-supporting nutrients
There is a wide variety of immunity booster foods available on the market. You can also take it up a notch and increase vitamins and minerals in the body by opting for supplements to boost the immune system as well. Here are the natural ways to boost children's immune system ny incorporating vitamin in daily routin.
Vitamin C
It plays a very important role in the production of certain immune cells.
Foods rich in vitamin C are Indian gooseberries (amla), citrus fruits, strawberries etc. 
Nyumi
Core Immunity Gummies
are also
 rich in vitamin C and other potent ingredients to help boost the immune system.
Vitamin D
It plays a role in enhancing the ability of the immune cells to capture pathogens. The body has the ability to make vitamin D from sunlight when it is exposed to it.
Foods rich in vitamin D are oily fish, meat and egg yolks.
Vitamin A
It plays a role in regulating a particular type of immune cell: NK immune cells.
Foods rich in vitamin A are dairy, eggs and oily fish.
Zinc
It plays a vital role in the growth and development of immune cells.
Foods rich in zinc are nuts, seeds, soybean and eggs.
Selenium
It has antioxidant properties that help lower oxidative stress in your body.
Foods rich in Selenium are Brazil nuts, eggs, shellfish and chicken.
4. Adequate sleep:
Children should get restful sleep. This helps the body to repair and eliminate toxins. The following is recommended:
Infants under 1 year: 12-16 hours of sleep
Children 1-2 years old: 11 to 14 hours of sleep
Children 3-5 years old: 10-13 hours of sleep
Children 6-12 years old: 9-12 hours of sleep
Children 13-18 years old: 8-10 hours of sleep
5. Maintaining good hygiene:
In an attempt to limit the spread of infections, the following is recommended:
Washing hands before and after eating.
Washing hands after using the washroom.
Teaching young girls to wipe from front to back, after passing bowels or urinating.
Very young infants should avoid coming in contact with sick people, chemicals, pollutants and cigarette smoke.
6. Maintaining a vaccination schedule:
The vaccination schedule prescribed by the pediatrician should be followed, as it is planned. Following the prescribed schedule gives your child the best chance of developing a strong, healthy, and robust immune system.
If the child is given the vaccine too early, the body may have inadequate amounts of antibodies.
If the vaccination is given too late, there is an increased risk of the child getting infected.
As children venture out into the new normal, make sure to keep these different aspects of immunity in mind to help boost their immune system.


Conclusion
In conclusion, boosting immunity in children is crucial for their overall health and well-being. By implementing a few simple strategies, parents and caregivers can help strengthen their child's immune system and reduce the risk of illness. Alongside healthy lifestyle practices such as a balanced diet, regular exercise, and adequate sleep, incorporating nutritional multivitamin gummies can be a convenient and enjoyable way to support immune health.
Nutritional multivitamin gummies are a popular option as they provide essential vitamins and minerals that may be lacking in their diet. These gummies are designed to supplement the child's nutritional needs, ensuring they receive adequate nutrients for optimal immune function. They can contain a range of vitamins, such as vitamin C, vitamin D, zinc, and antioxidants, which are known to boost immune system activity.
Additionally, specialized gummies like hair gummies, skin gummies, and sleep gummies can further enhance overall well-being. Hair gummies often contain biotin, vitamins A and E, and other nutrients that promote healthy hair growth. Skin gummies may include vitamins C and E, collagen, and other ingredients that support skin health and elasticity. Sleep gummies may contain melatonin or other natural sleep-promoting substances, aiding in better sleep quality and ultimately contributing to a stronger immune system.
However, it is important to note that while gummies can be a convenient option, they should not replace a healthy and balanced diet. It's essential to encourage children to consume a variety of nutrient-rich foods, including fruits, vegetables, whole grains, lean proteins, and dairy products. Gummies should be seen as a supplement, not a substitute, for a well-rounded diet.
Incorporating nutritional multivitamin gummies, hair gummies, skin gummies, and sleep gummies can be a useful addition to the immune-boosting regimen.
FAQs
What are the best foods to boost immunity in children?
To boost immunity in children, incorporate a variety of nutrient-rich foods into their diet. Include fruits and vegetables like berries, citrus fruits, and leafy greens that provide essential vitamins and antioxidants. Additionally, include sources of lean protein such as poultry, fish, and beans, as well as whole grains for sustained energy.
How does sleep impact a child's immune system?
Adequate and quality sleep is crucial for a child's immune system as it plays a vital role in the production of cytokines, proteins that aid the immune system in fighting off infections and illnesses. During sleep, the body also undergoes essential processes, such as tissue repair and the release of growth hormones, which contribute to overall immune function.
How can I help my child build immunity naturally through diet and lifestyle?
To naturally boost your child's immunity, focus on a well-balanced diet rich in fruits, vegetables, whole grains, and lean proteins. Incorporate immune-boosting foods like citrus fruits, yogurt, and leafy greens. Ensure they get adequate sleep, engage in regular physical activity, and maintain good hygiene practices.
Are there immunity-boosting activities suitable for different age groups of children?
Yes, immunity-boosting activities can be tailored to different age groups of children. For younger children, activities that promote physical movement, outdoor play, and a balanced diet rich in vitamins and minerals can contribute to a robust immune system. Older children may benefit from additional strategies such as stress-relief techniques, adequate sleep, and age-appropriate exercises that support overall well-being and immune function.
What are some common signs of a weakened immune system in children?
Common signs of a weakened immune system in children may include frequent and prolonged illnesses, slow recovery from infections, susceptibility to infections that other children easily overcome, and a general lack of energy. If a child consistently exhibits these symptoms, it's crucial to consult with a healthcare professional to assess and address potential underlying health issues affecting their immune system.
Popular Searches
How To Prevent UTI | Supplements Vs Food | Immunity Boosting Foods | Tips To Boost Immunity | UTI Prevention in Women | Stress Management Techniques | Benefits of Chamomile Tea | Bakuchiol vs. Retinol | Hibiscus for Good Health | Benefits of Licorice Root | Foods to boost mental health | Self-care practices | Fight PMS  Naturally | Ways to Boost Vitamin D Levels | Zinc Deficiency | How To Choose The Right Supplements | How To Read supplement labels | Benefits Of Gummy Vitamins | Multivitamin Gummies vs. Tablets | Vitamin-A Rich Foods | Best High Fibre Rich Foods