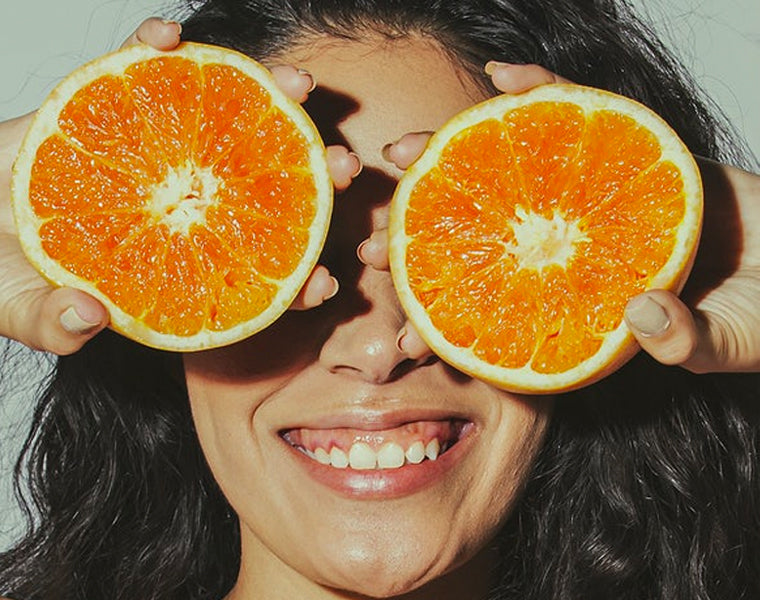 NOURISHMENT I 3 MINS
Top 9 Tips To Boost Immunity Naturally
Say goodbye to the seasonal sniffles.


Think of your immune system as the frontline of the battle between you and well, all illness. These soldiers' daily job is to protect your body from potentially harmful pathogens. Everything from viruses, parasites, fungi, bacteria, and even sunburn has it out for you. Yes, you've made some enemies.


Don't panic: your first line of defence knows just how to respond to keep you functioning as you should. But that doesn't mean you should take advantage of it because this isn't an unconditional love situation. At some point, it will buckle, leaving you with a blocked nose to remember the good old days. We don't want that to happen, and so we've got some tips to show your immune system that you care. Learn how to increase immunity at home in the most simple and natural ways.
Natural Ways To Boost Your Immunity At Home:
Get In A Good Night's Sleep:

Become best friends with your bed. When we sleep, our bodies produce a bunch of hormones, proteins and blood cells that all contribute to building immune response. These cells keep your body alert in case of any suspicious activity.
Now, we know sleeping may not be the coolest thing to do on a Friday night, but it is the most rewarding and helps in boosting immunity. Try and get in the recommended hours of sleep consistently to keep your system functioning just right.
Get Moving Or Break A Sweat:
Walk, run, skip, lift, stretch, bounce, jump, or dance. Whatever your choice of movement, we approve. Regular exercise increases blood flow, cleanses the body of toxins and briefly elevates body temperature, strengthening anti bodies. It also releases serotonin and dopamine, otherwise known as the happiness molecules.
That's right, while the thought of working out may not make you happy, the actual act most certainly will as it will surely help you boost your immunity.
Make Sure Your Stress Levels Are In Check:
Between work stress, life stress, news stress and health stress, there's very little scope for no stress. All that stress exposes your body to a steady stream of the stress hormone that suppresses the immune system's ability to fight antigens.
No, don't go stressing about stress. Before you get yourself worked up and more susceptible to infections, may we suggest taking a deep breath? Meditating, cutting down screen time, chamomile tea and even essential oils can all help you decompress. Take a few minutes out of your day to focus on yourself, something as simple as taking a walk could help curb your stress hormones.
Spend More Time In The Great Outdoors:
Anyone struggling to keep their houseplants from withering, knows that when it comes to nurture, no one does it better than Mother Nature. Connecting with nature has been scientifically proven to elevate your mood, boost creativity and better overall brain function. Breathing in phytoncides, airborne chemicals produced by plants, has also shown an increase in our levels of white blood cells, which helps us fight off infections and diseases. Talk about a breath of fresh air.
Eat More Fibre:
Eating the rainbow isn't just colourful; it's nutritious. Foods like fruits, vegetables, legumes and grains are rich in antioxidants that trigger anti-inflammatory proteins and promote good gut health.
Fibre assists the digestive tract in retaining the nutrients it needs and ridding the body of waste. A strong stomach microbiome can prevent harmful pathogens from entering your digestive tract .
Drink Your Liquids:
There's no avoiding it; water is the answer to everything. The miracle liquid helps to carry oxygen to your body's cells; it breaks down your food, helps absorb nutrients and washes out waste. Is there anything it can't do? Probably not.
We know it's hard to meet your daily targets, but infused water, tea or even supplements can make the hydration process more fun and effective.
Cleanliness Keeps Bacteria Away And You Healthy:
If Covid 19 has taught us anything, it's that personal hygiene and cleanliness is everything. Washing your hands needs to be part of your lifestyle, pandemic or not.
This works for obvious reasons; we touch things with bacteria and infections and then touch our faces. Without even realizing it, you're introducing all that bacteria to their new home.
Look On The Bright Side:
With more and more research coming out, it's obvious: what happens in your head affects the body. When facing a health crisis, actively cultivating positive emotions can boost the immune system and counter depression. Studies have shown that negative emotions led to a weaker immune response.
Positive people might lead healthier lifestyles by coping better with stress, avoiding unhealthy behaviours, thus improving their health and emotional well-being. So remember, even when no one is listening to your negative thoughts, your body is.
Remember, What You Eat Becomes You:
Diet sometimes doesn't help us get enough of our daily dose of vitamins, minerals or antioxidants. And when we chase down one, it can feel like we're completely overlooking another. Just when you think you've had enough of Vitamin C, your zinc isn't enough.

Staying healthy shouldn't stress you out or make you lose sleep – as we've learned, both will defeat the purpose. Supplements can help speed the process along. They have been proven to increase absorption of the required vitamins and minerals, which helps to boost your immunity.

Conclusion
Additionally, maintaining proper hydration, managing stress levels, and incorporating regular exercise into your routine can further enhance your immune system. Prioritizing good hygiene practices, such as washing hands frequently and maintaining a clean environment, also plays a crucial role in preventing the spread of illnesses. Furthermore, getting sufficient exposure to sunlight for vitamin D synthesis and ensuring adequate rest and sleep are essential for immune function. By adopting these practices alongside the use of nutritional multivitamin gummies, skin gummies, hair gummies, melatonin sleep gummies, and beauty essentials, you can proactively support your body's natural defence mechanisms and promote overall immunity.
FAQs
How can I check my immunity level?
Check your immunity level with our convenient at-home test kits to support your health while enjoying our delicious gummies

Can maintaining a healthy weight boost immunity naturally?
Maintaining a healthy weight can support immune function, but it is just one factor among many that contribute to overall immune health.

What are some common signs of a weakened immune system?
Some common signs of a weakened immune system include frequent infections, slow healing of wounds, chronic fatigue, recurring illnesses, and allergies.

What are the different types of immunity and how do they function?
Innate immunity is immediate and nonspecific, while adaptive immunity is specific and involves memory cells for long-term protection against pathogens.
What factors determine an immunity level?
Several factors determine the level of immunity in an individual, including genetics, age, overall health, nutrition, sleep patterns, stress levels, exercise, and exposure to pathogens.
Popular Searches
How To Prevent UTI | Supplements Vs Food | Immunity Boosting Foods | Boost Immunity in Children | UTI Prevention in Women | Stress Management Techniques | Benefits of Chamomile Tea | Bakuchiol vs. Retinol | Hibiscus for Good Health | Benefits of Licorice Root | Foods to boost mental health | Self-care practices | Fight PMS  Naturally | Ways to Boost Vitamin D Levels | Zinc Deficiency | How To Choose The Right Supplements | How To Read supplement labels | Benefits Of Gummy Vitamins | Multivitamin Gummies vs. Tablets | Vitamin-A Rich Foods | Best High Fibre Rich Food