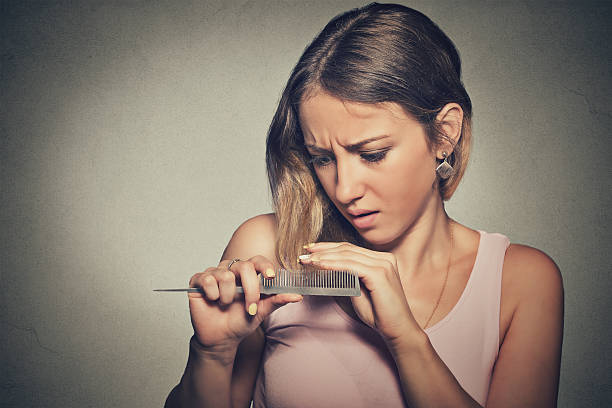 8 Common Hair Care Mistakes To Avoid
Hair is often considered our crowning glory, and it's no surprise that many of us invest time, money, and effort into maintaining its health and appearance. However, despite our best intentions, we often make common hair care mistakes that can damage our locks and hinder our hair goals. In this comprehensive guide, we'll explore eight of the most prevalent hair care mistakes and how to avoid them, while also discussing the role of nutrition and hair and nail supplements which have ingredients like biotin and multivitamin gummies in promoting hair health
1. Overwashing and Underwashing
Overwashing:
Overwashing your hair is one of the common hair care mistakes that many people make. When you wash your hair excessively, you strip away its natural oils, which act as a protective barrier and keep your hair healthy and moisturized. This can lead to dryness, brittleness, and increased susceptibility to damage, especially at the ends. Overwashing may also trigger your scalp to produce more oil to compensate for the loss, which can result in an oily scalp and hair.
To prevent overwashing, choose a shampoo that suits your hair type and washing frequency. Opt for sulfate-free shampoos, as they are gentler and won't strip your hair of its natural oils.
Underwashing:
On the contrary, underwashing means not washing your hair frequently enough, and it can lead to a range of issues. When sweat, dirt, and oil accumulate on your scalp and hair, it can result in a greasy and unkempt appearance. This buildup may also contribute to different types of dandruff, an itchy scalp, and even an unpleasant odor. Moreover, underwashing can lead to product buildup, making your hair feel heavy and look dull.
To address under washing, determine your hair type and lifestyle to establish an appropriate washing frequency. For those who are concerned about overstripping natural oils, using a mild, hydrating shampoo can help cleanse your scalp effectively without over-drying.
2. Using the Wrong Shampoo and Conditioner
Selecting the wrong shampoo and conditioner for your hair type is a common hair care mistake that can negatively impact your hair's health and appearance. Different hair types require different types of care:
If you have dry hair, you need a moisturizing shampoo and conditioner to provide hydration and prevent further dryness and breakage.
For oily hair, opt for a clarifying or balancing shampoo and conditioner to control excess oil production.
Those with fine hair should look for volumizing products that won't weigh down their strands.
If you have colored hair, choose a shampoo and conditioner designed to protect and extend the life of your color.
To cater to the specific needs of your hair, consider using products infused with ingredients like biotin for hair growth and multivitamin gummies to provide essential nutrients. This not only addresses your hair care needs but also aligns with the concept of Food for healthy hair.
3. Heat Styling Abuse
The frequent and excessive use of heat styling tools, such as flat irons, curling irons, and hair dryers, is a common hair care mistake that can lead to significant damage. Heat can remove moisture from your hair, leaving it dry and brittle. This dryness makes your hair more prone to breakage and can result in split ends. Heat styling can also expedite the fading of hair color, making it lose its vibrancy.
To minimize the detrimental effects of heat styling:
Limit the use of heat styling tools to special occasions or when necessary.
Apply a heat protectant spray or serum before using heat styling tools to create a protective barrier.
Explore heat-free styling options, such as braids, twists, or air drying, to give your hair a break from excessive heat exposure.
4. Ignoring Regular Trims
Neglecting to trim your hair regularly is another common hair care mistake that can hinder your hair's overall health and appearance. Contrary to the belief that skipping trims promotes hair growth, it can actually lead to more significant problems.
When you avoid regular trims, split ends are allowed to persist and even worsen over time. These split ends can travel up the hair shaft, causing more extensive damage that may eventually require more significant trimming or even haircuts. Furthermore, hair that is not regularly trimmed can appear flat and lifeless, as split ends make it difficult to style.
To rectify this mistake:
Schedule regular trims with a professional hairstylist, typically every 6-8 weeks or as advised based on your hair type and its condition.
Regular trims ensure that your hair remains healthy and manageable while preventing split ends from worsening and contributing to hair breakage.
5. Not Protecting Hair from Environmental Damage
Environmental factors can have a profound impact on the health and appearance of your hair. Neglecting to protect your hair from these elements is a common mistake:
UV Damage: Prolonged sun exposure can be harmful to your hair, particularly if it's color-treated. UV rays can break down the proteins in your hair, leading to dryness, brittleness, and color fading. To protect your hair from UV damage, consider wearing a wide-brimmed hat and using hair products with UV protection.
Pollution: Air pollution can deposit tiny particles on your hair, making it appear dull and lifeless. To mitigate this, rinse your hair thoroughly after exposure to pollution and use clarifying shampoos occasionally to remove buildup.
Extreme Weather: Harsh weather conditions, such as extreme cold, heat, or humidity, can affect your hair's moisture balance. Cold, dry air can lead to dryness and breakage, while excessive humidity can cause frizz and unmanageability. Combat these effects by using deep conditioning treatments or hair masks to restore moisture and maintain hair health.
To protect your hair from environmental damage, consider using hair products that contain natural ingredients like biotin for hair growth and hair gummies for women to strengthen and nourish your hair.
6. Too Many Hair Products
The temptation to try various hair products is common, but using too many products simultaneously can be counterproductive. When you use an excess of hair care products, you risk product buildup on your hair and scalp. This buildup can lead to greasiness, weigh down your hair, and make it appear lifeless. Furthermore, using multiple products at once increases the chances of allergic reactions or irritation, particularly if you have sensitive skin or a sensitive scalp.
To address this mistake:
Simplify your hair care routine by using only the necessary products. Identify your hair's specific needs and focus on addressing those without overwhelming your hair with unnecessary products.
Experiment to find the right combination of products that work best for your hair type, incorporating those enriched with biotin and multivitamin gummies for enhanced nourishment.
7. Tight Hairstyles and Hair Accessories
Certain hairstyles and hair accessories may look stylish but can put undue stress on your hair and scalp, leading to damage over time. Tight hairstyles, such as tight ponytails, braids, or cornrows, can cause hair breakage, especially around the hairline and edges. Prolonged tension on the scalp can also lead to discomfort and, in severe cases, contribute to hair loss.
To address this mistake:
Opt for looser hairstyles that do not pull on your hair or scalp. Styles like loose braids or buns are gentler alternatives.
Use hair accessories that are gentle on your hair, such as scrunchies, soft hairpins, or fabric-covered elastic bands. These accessories minimize tension and reduce the risk of damage.
8. Neglecting Scalp Health
Scalp health is paramount for the overall well-being of your hair. Neglecting proper scalp care is a common mistake that can result in various issues affecting your hair's appearance and vitality.
Ignoring scalp health can lead to different types of dandruff, itchiness, and flakiness. An unhealthy scalp can also hinder the proper functioning of hair follicles, potentially leading to hair loss or thinning.
To rectify this mistake:
Maintain good scalp hygiene by regularly washing your hair with a gentle shampoo appropriate for your scalp type.
Address any scalp issues promptly with suitable treatments or remedies, considering ingredients like biotin hair gummies and multivitamin gummies to support overall hair health.
Conclusion
By avoiding common hair care mistakes and embracing a holistic strategy, you can enhance the vitality and appearance of your hair. Remember that understanding your hair type, practicing good hygiene, and nourishing your body with the right nutrients are key elements in the journey to vibrant and lustrous locks. Ultimately, your hair's health reflects the care and attention you invest in it, so make choices that promote its longevity and radiance.
FAQs
What can damage my hair?
- Overuse of heat styling tools like curling irons and flat irons.
- Excessive washing and the use of harsh shampoos.
- Tight hairstyles that put stress on your hair.
- Neglecting regular trims, leading to split ends.
- Poor nutrition and a lack of essential nutrients.
- Exposure to environmental stressors like UV rays and pollution.
How can I get rid of hair fall?
- Maintain a balanced diet with nutrients like biotin, protein, and vitamins.
- Use a gentle, sulfate-free shampoo and conditioner.
- Avoid excessive heat styling and tight hairstyles.
- Get regular trims to prevent split ends.
- Manage stress through relaxation techniques.
What are the foods for healthy hair?
- Protein-rich foods like lean meats, fish, eggs, and beans.
- Biotin-rich foods like eggs, nuts, and whole grains.
- Omega-3 fatty acids are found in fatty fish, flaxseeds, and walnuts.
- Foods high in vitamins A and C, such as carrots, citrus fruits, and leafy greens.
- Iron-rich foods like lean meats, beans, and spinach.
Should I prioritize a supplement or a healthy diet for natural hair growth?
Both a healthy diet and hair and nail supplement can support natural hair growth. However, it's generally advisable to prioritize a balanced diet rich in essential nutrients. Supplements like biotin or multivitamin gummies can complement your diet, especially if you have specific deficiencies. Consult a healthcare professional before starting any supplements.

We also offer a range of other gummies, including our sleep gummies with melatonin, Iron gummies to combat iron deficiency, and skin gummies to support your skin's health from within.