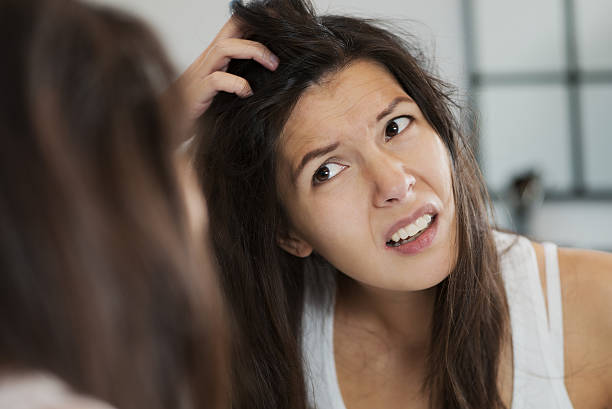 Different Types of Dandruff and its Impact
Dandruff is a common condition that affects the scalp, causing small, white flakes of dead skin to appear in the hair and on clothing. There are two main types of dandruff in hair: oily skin dandruff and dry skin dandruff. These different types of dandruff have various impacts on scalp health and hair.
Dry Skin Dandruff
Oily Dermatitis Dandruff
Psoriasis-Related Dandruff
Contact Dermatitis Dandruff

Biotin hair gummies support scalp health by providing the body with biotin, a B vitamin that plays a role in maintaining healthy skin and hair. Biotin helps convert nutrients into energy, promoting a nourished and healthy scalp. Biotin helps minimize dryness and irritation on the scalp, factors that can cause dandruff.
Dry Skin Dandruff

Dry skin dandruff emerges from scalp dryness, causing smaller, white flakes. Cold weather and harsh shampoos can worsen it, resulting in an itchy and tight scalp. Dry skin dandruff is common in people with dry scalps. It occurs when the skin on the scalp becomes dry and flakes off. This can happen due to factors like cold weather, using harsh shampoos, or not moisturizing the scalp enough. Dry skin dandruff can make the scalp feel tight and itchy. The flakes from this type of dandruff are usually smaller and whiter than the flakes from oily skin dandruff.
Causes
Low Sebum Production:
Sebum is an oily, waxy substance produced by the skin that helps moisturize and protect the skin and hair by forming a natural barrier that prevents excessive moisture loss and keeps the skin supple. When the skin on the scalp doesn't produce enough sebum, it becomes dry and prone to flaking. This can be caused by genetics, hormonal imbalances, aging, or harsh hair care practices that strip away natural oils.
Cold Weather or Low Humidity:
Cold climates and low humidity levels can rob the scalp of moisture, leading to dryness and flaking. The dry air evaporates moisture from the skin's surface, causing dandruff.
Overwashing or Harsh Shampoos:
Frequent washing with harsh shampoos can strip the scalp of its natural oils, disrupting its moisture balance and causing dryness and flakiness. It's important to understand a proper hair care routine to minimise over-washing your hair. Washing your hair frequently is not necessary for cleanliness. People with oily scalps might overwash to remove excess oil, not realizing it can lead to more oil production due to the scalp compensating. Balancing washing frequency with scalp type and needs is crucial for hair health.
Hot Water Showers:
Hot water can strip the scalp of its natural oils, leaving it dry and prone to dandruff. Lukewarm water is gentler on the scalp. This is crucial for preventing dry scalps because the skin's natural oils help keep it hydrated and supple. Lukewarm water also doesn't cause the same level of irritation as hot water, reducing the risk of inflammation and dryness.
Skin Conditions (Eczema):
Eczema or dermatitis can affect the scalp, causing dryness, itching, and flaking. These conditions disrupt the skin's barrier function, leading to moisture loss.


Poor Diet and Lack of Hydration:
A lack of essential nutrients and hydration can impact overall skin health, including the scalp. Diets lacking in healthy fats and hydration can contribute to dry skin and dandruff. Adding oatmeal to your diet can be a beneficial step as it provides essential nutrients, particularly fiber, which can promote better digestion and overall skin health. In addition to incorporating oatmeal multivitamin gummies like hair gummies, iron gummies, and skin gummies can bridge gaps in your diet and ensure you're getting the right nutrients for a healthy scalp.
Underlying Health Conditions:
Certain medical conditions like hypothyroidism, diabetes, or immune system disorders can lead to dry skin on the scalp and contribute to dandruff.
Allergic Reactions:
Sensitivity to hair care products or their ingredients can cause contact dermatitis, leading to scalp dryness, redness, and flaking. It's important to read the list of ingredients of your hair care products so that you can avoid allergens specific to your body. You won't have any problems incorporating our biotin hair gummies as they are allergen & gluten-free!
Ageing:
As people age, our body's ability to produce collagen decreases, which means that the skin's natural ability to retain moisture also decreases, which can result in a drier scalp and dandruff. This is where our collagen builder skin gummies come in, they have a potent formulation of hyaluronic acid & vitamin C for skin which promotes hydration and supple skin.
Treatment
There are many treatments that you can consider for tackling dry skin dandruff:
Hair Care Products:
Use gentle, moisturizing shampoos that contain ingredients like glycerin, aloe vera, or hyaluronic acid to hydrate the scalp. Applying natural oils like coconut oil, jojoba oil, or argan oil to the scalp can help moisturize and soothe dryness. Stay away from harsh shampoos with sulfates or alcohol, as they can further dry out the scalp.
Hydration:
Drink plenty of water to keep your body and skin hydrated from within. Taking in collagen supplements to improve your body's ability to maintain its collagen production. This is key to having healthy, hydrated skin that is nourished from within. Consistently taking our skin gummies will enable your body to get the right vitamins and minerals needed for collagen production.

Balanced Diet:
Include foods rich in healthy fats, vitamins, and minerals to promote overall skin health. You can opt for multivitamin gummies such as hair growth gummies and iron gummies to simplify your diet and get the right amount of nutrients your scalp needs to keep it healthy.
Humidifiers:
Use humidifiers in dry environments to maintain moisture levels. This can be a great way to reduce the probability of getting a dry scalp in cold weather areas.
Limit Washing Frequency:
Reduce the frequency of hair washing to prevent excessive oil stripping. As we've mentioned above, over-washing is one of the main causes of dry skin formation on your scalp. It's important to balance out your hair-washing frequency to maintain a healthy scalp.

Biotin hair gummies or biotin-rich foods can support scalp health, Biotin supports the skin's barrier function, helping to lock in moisture and prevent dryness. It can indirectly reduce dry skin on the scalp, potentially alleviating dry skin dandruff. Skin gummies with biotin can benefit overall skin health, helping maintain moisture and reducing the likelihood of dryness.
Oily Dermatitis Dandruff

Oily dermatitis dandruff, linked to excessive scalp oil, often results from yeast overgrowth due to a humid environment. This leads to greasy, larger yellowish flakes and itching.
This type of dandruff is more common in people with oily scalps. It happens when the scalp produces too much oil, which can lead to a buildup of oil and dead skin cells. The excess oil provides a good environment for yeast called Malassezia to grow. This yeast can cause irritation and inflammation, leading to dandruff. Oily skin dandruff can make the scalp feel greasy and itchy. It might also cause redness and discomfort.
Causes
Excessive Sebum Production
When our skin produces too much sebum (natural oils) on the scalp, it creates an environment for a yeast called Malassezia. This type of yeast can irritate and lead to dandruff. To maintain a healthy scalp, it's important to strike a balance in sebum production.
Hormonal Changes:

Hormonal fluctuations, such as during puberty or pregnancy, can increase sebum production, contributing to oily skin and dandruff. Opt for mild, anti-dandruff shampoos containing ingredients like ketoconazole, zinc pyrithione, or salicylic acid to target yeast growth. Incorporate foods or multivitamin gummies rich in antioxidants like vitamin C; omega-3 fatty acids and Vitamin B to support a healthy scalp.
Humid Environment:
Warm and humid conditions create an ideal habitat for Malassezia to grow, leading to increased oiliness and dandruff. If you live in a humid area, avoid heavy hair styling products, instead opt for lightweight and non-greasy conditioners that won't weigh down your hair and scalp.
Poor Scalp Hygiene:
Infrequent washing or inadequate cleansing can allow oil and dead skin cells to accumulate, worsening dandruff. Incorporate an anti-dandruff shampoo containing ingredients like ketoconazole, zinc pyrithione, or salicylic acid to control yeast and fungal growth on the scalp.
Treatment
There are various treatments available to avoid cases of oily dermatitis dandruff:
Usage of Right Hair Care Products
Use mild, pH-balanced shampoos that cleanse without stripping the scalp's natural oils. Choose shampoos with active ingredients like ketoconazole, zinc pyrithione, or salicylic acid to control yeast and fungal growth. Consider using a gentle exfoliating scrub designed for the scalp to remove dead skin cells and prevent buildup.
Healthy Balanced Diet
Consume biotin-rich foods or foods rich in omega-3 fatty acids, vitamin B, and antioxidants to support overall hair and skin health. Skin gummies and other supplements can help in increasing the intake of potent antioxidants like vitamin C for skin health. Skin health gummies will also enable your skin to hydrate itself from within and improve bodily functions that repair and maintain skin.
Stress Management
Consider practicing stress-reduction techniques, as stress can worsen dandruff. Stress can also lead to health problems. During hormonal changes, people may observe more stress and irregular sleep, this is where melatonin sleep gummies can help regulate your sleep-wake cycle and reduce stress build-up caused by a lack of sleep.
Biotin Hair Gummies
Biotin helps maintain balanced oil production, reducing the risk of excessive oiliness that can contribute to dandruff. Biotin supplements should be used as part of a comprehensive approach that includes proper hygiene, suitable products, and a balanced lifestyle like some solutions we've mentioned above.
Psoriasis-Related Dandruff
Psoriasis-related dandruff happens when someone has a skin condition called psoriasis. Psoriasis makes the skin cells grow too quickly, causing thick, scaly patches on the skin. When it affects the scalp, it can lead to dandruff. People with psoriasis-related dandruff might have red, flaky areas on their scalp that are covered in silvery-white scales. This can be itchy and uncomfortable. People who are more likely to have psoriasis-related dandruff include those with a family history of psoriasis or certain immune system issues. Seeing a doctor can help manage this type of dandruff.
Cause
Immune System Abnormalities:
In people with psoriasis, the immune system sends faulty signals that speed up the growth cycle of skin cells. Instead of taking weeks to grow, new skin cells are produced in just days, resulting in a buildup of cells on the surface.
Genetics:
Psoriasis tends to run in families. If you have close relatives with psoriasis, you're at a higher risk of developing it. Certain genetic variations are associated with an increased susceptibility to psoriasis.
Trigger Factors:
Various triggers can cause psoriasis flare-ups on the scalp. These triggers include stress, infections, skin injuries (like cuts or burns), and certain medications.
Autoimmune Response:
Psoriasis is an autoimmune disorder, where the immune system mistakenly targets healthy skin cells as if they were harmful cells. This leads to inflammation and rapid skin cell growth.
Genetic Mutations:
Specific genetic mutations affect how skin cells behave and respond to inflammation. These mutations contribute to the abnormal growth of skin cells seen in psoriasis.
Inflammatory Chemicals:
In psoriasis, there is an overproduction of inflammatory chemicals in the skin. These chemicals cause blood vessels to widen, leading to redness and swelling.


Environmental Factors:
Certain environmental factors, like cold and dry weather, can trigger or worsen psoriasis symptoms. These conditions can lead to skin dryness and contribute to flare-ups.
Treatment
Topical Treatments:
Prescription creams or ointments containing corticosteroids, vitamin D analogs, or tar can help reduce inflammation and slow down skin cell growth on the scalp. Regularly applying a moisturizer or emollient can help reduce dryness and itching. Over-the-counter or prescription shampoos containing ingredients like salicylic acid, and coal tar can help lift scales and ease itching.


Light Therapy (Phototherapy) and Systemic Medications:
Controlled exposure to UVB light can slow down the rapid growth of skin cells in psoriasis-affected areas. In severe cases, oral or injected medications that affect the immune system's response may be prescribed by a doctor.
Stress Management:
Managing stress through relaxation techniques or mindfulness can help prevent flare-ups. Ensuring that you're getting enough sleep is crucial to reduce stress build-up, consider safe sleeping aids like our sleep gummies to improve sleep quality and balance out your sleep-wake cycle.
Biotin Rich Foods:
While biotin doesn't directly treat psoriasis, it supports healthy skin and may aid in managing its symptoms. Incorporating biotin-rich foods into your diet can be beneficial. Foods like nuts, seeds, and leafy greens are good sources of biotin.
Contact Dermatitis Dandruff
Contact dermatitis Dandruff happens when the skin on the scalp reacts to certain substances, like shampoos, conditioners, or hair products. These substances can cause irritation or an allergic reaction, leading to redness, itching, and flaking on the scalp. People with sensitive skin or those who frequently use hair products are more likely to suffer from this. Imagine if your skin gets itchy and red after wearing a certain type of jewelry – that's similar to what happens on the scalp with contact dermatitis dandruff. The best way to avoid this is to use products that are gentle and free from ingredients that your skin doesn't like. If the problem persists, a doctor can help figure out which specific ingredient might be causing the trouble.
Cause
Allergic Contact Dermatitis:

Allergic contact dermatitis occurs when the skin reacts to a substance, like certain chemicals or ingredients in products, triggering an immune response. The immune system treats the substance as harmful, leading to redness, itching, and inflammation. It's like the body's defense system overreacts to something that's not dangerous. This type of reaction usually happens after repeated exposure to the substance. Common culprits include fragrances, preservatives, metals, and plant extracts. People with sensitive skin or a history of allergies are more likely to experience allergic contact dermatitis, which can affect the scalp and cause symptoms like dandruff and irritation.
Irritant Contact Dermatitis:
Irritant contact dermatitis occurs when the skin reacts to a substance that damages its outer layer, irritating it. This reaction doesn't involve the immune system like in allergies but rather is a direct response to the substance's harshness. It's like the skin gets upset from being exposed to something aggressive like strong chemicals, detergents, and certain alcohols found in products. Prolonged or repeated exposure to these substances can lead to redness, dryness, and itchiness. People with sensitive skin, frequent product use, or specific work environments are more prone to this type of dermatitis, including scalp irritation and dandruff.
Treatment
Identify Problem Ingredients:
It's important to identify ingredients that cause reactions and avoid hair care products that contain them. Document the products you use and note when flare-ups occur. Look for patterns to narrow down potential culprits. Read product labels to spot these ingredients. Patch test products or consider sampling to ensure that you make the right choice while buying products that are good for you.
Topical Treatments:
Switch to hypoallergenic, fragrance-free, and mild hair products to minimize irritation. Prescription creams or ointments can help reduce inflammation and itching on the scalp. Applying cool, damp cloths or compresses can soothe irritated skin and alleviate itching. Also consider using gentle, hypoallergenic moisturizers to keep the scalp hydrated and prevent dryness.

Hair growth gummies that contain biotin can support scalp health. Biotin may help maintain skin integrity, potentially reducing irritation from contact dermatitis. Skin health gummies can also benefit overall skin well-being. However, addressing contact dermatitis requires avoiding triggers and using suitable products.
How to get rid of dandruff?
Dandruff is a common issue, and it's estimated that around 50% of the global population may experience dandruff at some point in their lives. Now that we have seen what are the different types of dandruff in hair, let's look at how can you reduce instances of dandruff on your scalp:
Using the Right Hair Care Products
Choose shampoos containing active ingredients that help control yeast growth and exfoliate dead skin cells. To avoid contact dermatitis-related dandruff this is crucial. Being aware of what ingredients could cause a reaction and lead to irritation and dryness is key to choosing the right hair care product for your hair care routine. You can also read our blog on healthy scalp tips for other ways to maintain a healthy head of hair.
Regular Washing and Gentle Scrubbing
Wash your hair regularly to prevent oil buildup and keep the scalp clean. Gently massage your scalp while shampooing to remove flakes and improve blood circulation. It is important to note that over-washing your hair can lead to more dandruff and irritation, so balancing your hair-washing frequency is key. Wash your hair with lukewarm water, as hot water can strip the scalp of natural oils.
Proper Nutrition
Biotin, present in biotin hair gummies, supports skin health and oil balance. Biotin helps keep the scalp moisturized, reducing dryness that can lead to dandruff. It contributes to overall skin well-being, which may help minimize dandruff formation. Similarly, skin gummies aid in maintaining a healthy scalp environment by promoting hydration and improving collagen production. Consume Vitamin A-rich foods, Vitamin E, and zinc to support a healthy scalp. Iron is also beneficial to a healthy scalp because it plays a crucial role in maintaining overall skin health and promoting proper hair growth. Iron is essential for the transportation of oxygen to cells, including those in the scalp. Adequate oxygen supply to the hair follicles supports their metabolic processes and promotes hair growth. Consider opting for iron gummies as a convenient solution to tackle iron deficiency and promote a healthy scalp.
Conclusion

In conclusion, dandruff, a common scalp condition, can arise from various factors including oily or dry skin, psoriasis, and contact dermatitis. Its impact on scalp health and hair appearance can lead to discomfort and self-consciousness. Effective management strategies involve using gentle shampoos, maintaining proper hygiene, and addressing underlying causes. As discussed, biotin hair gummies can play a role in promoting scalp health by supporting oil balance and overall skin well-being. Complementary solutions such as skin gummies contribute to the nourishment of the skin, including the scalp. Additionally, adopting stress management techniques, including the use of sleep gummies to regulate sleep patterns, can contribute to a holistic approach to reducing dandruff instances. It is essential to tailor treatments to individual needs and consult professionals for persistent or severe cases of dandruff.




FAQ
How frequently should one wash their hair to prevent or manage dandruff?
Washing hair 2-3 times per week with a gentle, anti-dandruff shampoo can help prevent and manage dandruff. Finding a balance that suits you is key to maintaining a healthy scalp.
How does climate affect dandruff?
Climate can impact dandruff. In dry, cold weather, the scalp may become drier, leading to flaking. In humid conditions, excessive sweating can trigger yeast growth, causing dandruff. Finding the right balance of moisture and hygiene is crucial to managing dandruff based on the climate you're in.
Are there natural remedies for dandruff?
Yes, there are natural remedies for dandruff such as apple cider vinegar, tea tree oil, aloe vera, coconut oil, and omega-3 fatty acids. Biotin and collagen supplements like biotin hair gummies and skin gummies can help in case you're unable to find these in your locality or if you're finding it difficult to incorporate them into your daily routine.
Can stress contribute to dandruff?
Yes, as we have mentioned above, increased stress related to lack of sleep or hormonal changes can result in dandruff formation.
What's the difference between dry scalp and dandruff?
Dry skin refers to a lack of moisture in the outermost layer of the skin whereas dandruff is a skin condition that affects the scalp and involves the shedding of visible flakes of dead skin cells.
Is it necessary to use specialized dandruff shampoos?
For people suffering from multiple instances of dandruff, it's important to use anti-dandruff shampoos. While choosing a shampoo, read through the list of ingredients and avoid strong chemicals that can harm your scalp. Different types of dandruff require different solutions as mentioned above in our blog.
Can dandruff cause hair loss?
Dandruff does not directly cause hair fall, but if it is untreated and is a chronic problem, itching caused by it can lead to hair damage resulting in increased hair fall.