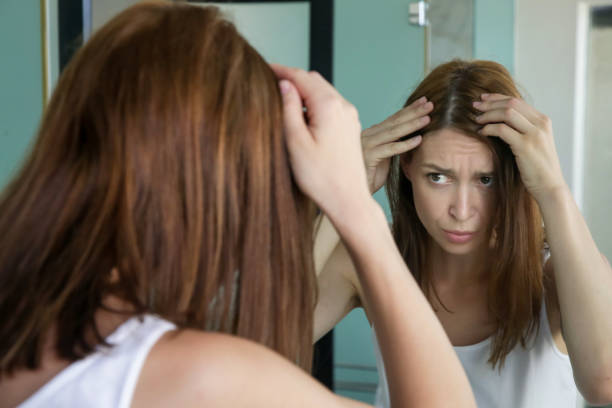 Fight Gray Hair with Biotin Hair Growth Gummies
Tired of battling that pesky gray hair that seems to pop up out of the blue? Well, worry no more, it's time to break your association with them and say hello to vibrant, youthful hair with Nyumi Biotin Hair Gummies! Our revolutionary formula is here to transform your hair care routine, making it easier than ever to maintain your natural hair colour and promote overall hair health. Our Biotin hair gummies for gray hair are packed with the power of biotin and are both a delicious and convenient way to fight against gray hair. Get ready to flaunt a head full of beautiful hair that gets you compliments and makes you feel confident.
What Causes GrayHair?
Want to prevent graying of hair? Well, these stubborn factors might make it hard for you. First and foremost is the natural aging process wherein melanin, the pigment responsible for hair colour, decreases over time. In addition to this, genetics, overtly high-stress levels, underlying health issues, and vitamin deficiencies can also contribute to premature graying, making it a complex interplay of both genetic and environmental factors.
Stress
Ever wondered what causes those pesky grey hair to sneak into your once-naturally vibrant locks? Well, a major culprit is stress. The hustle and bustle of modern life can take a toll on your hair's natural pigmentation. When you're stressed, your body produces more free radicals, which can interfere with the production of melanin and in turn your hair's colour. So, whether it's work deadlines or life's daily challenges, those gray strands might just be stress-induced. So, a quick tip to prevent gray hair? Incorporate stress management techniques into your daily lives.
Health Issues
Gray hair in women and men can be linked to underlying health issues. Your body often prioritizes vital functions over maintaining your hair's colour. Health conditions like thyroid disorders or anaemia can disrupt the balance of hormones and nutrients essential for hair pigmentation. So, if you've been pondering the premature greying of your hair, it might be time to consult a doctor to rule out any underlying health concerns.
Genetics
Genetics plays a significant role in the occurrence of gray hair women and men. If in case your parents or grandparents experienced early greying, there's a high probability that you might follow suit. The genes you inherit can influence the rate at which your hair loses its colour, so don't be too hard on yourself, just blame it on your DNA!
Vitamin Deficiencies
Despite endless reasons, you can never forget the importance of consuming a balanced diet. That's where vitamin deficiencies come into being and contribute to greying hair. Lack of essential nutrients like B vitamins, copper, and iron can impede melanin production, causing your hair to lose its natural colour. So, if your diet lacks these vital nutrients, it's time to consider supplementing more biotin rich foods with your regular diet to support your hair's natural colour.
Symptoms of GrayHair
Grey hair isn't just about a colour change; it can come with some noticeable symptoms too. First and foremost, you'll see the silver strands emerging from your natural colour. Additionally, many people experience a change in hair texture; grey hair can be coarser and more unruly than the natural pigmented part. Some may even notice an increase in hair shedding or thinning as they go grey. These symptoms are all part of the natural ageing process and may be frustrating at times, but we've got a solid efficient solution to this, gummies for healthy hair.
Average Age for Getting Gray Hair?
The average age for getting grey hair varies from person to person, but it begins in the late 30s to early 40s. However, it's essential to note that there's variation and some individuals may notice their first gray hair even earlier. Surprisingly, grey hair in your 20s isn't unheard of either. While it's less common, factors like deteriorating environmental conditions, genetics, surmounting stress levels, and health issues can sometimes lead to premature greying. It's a reminder that we need to seriously inculcate some lifestyle changes to avert these signs and curb those silver strands from popping up. So, grey hair in your 20s or even later in life, it's all part of the unwelcome concept- of aging, but you must embrace it with grace!
The Role of Biotin in Hair Health
Biotin, a vital B vitamin, is an unmatched companion towards your quality hair health. It's the nutrient responsible for promoting strong and beautiful locks. Biotin gummies for gray hair support the production of keratin, making it less prone to breakage and helping it grow longer. This powerhouse also helps in improving hair texture, adding a lustrous shine, and reducing brittleness.
Biotin hair gummies for Gray Hair
When it comes to tackling grey hair and promoting vibrant locks, gummies for healthy hair are the chewable wonders that provide a daily dose of magic for your hair. Biotin is a water-soluble B vitamin in the world of hair health. It aids in the production of keratin, the protein that makes up your hair, giving it strength and resilience. With biotin gummies, you're not only nurturing your existing hair but fortifying your follicles to support the growth of healthy, colourful strands.

Nonetheless, the benefits don't stop there. Biotin is known to improve overall hair texture, making it smoother and shinier. It also helps in reducing hair shedding, so you can say goodbye to seeing those hair strands on the comb. Plus, these gummies are not just about looks; they assist in your hair's structural integrity, ensuring it endures time. So, if you want to keep those greys at bay grab biotin gummies for gray hair your key to looking & feeling fabulous!
Benefits of Biotin Hair Gummies
Vibrant Locks: Achieve lusciously vibrant and naturally glowing hair as biotin revitalizes your strands, making them appear healthier and more youthful.

Say Goodbye to Gray: Biotin can prevent graying by providing your hair follicles with the nourishment they need to maintain their natural colour and luster.

Stronger Strands: Get hair that's not just beautiful but also strong. Biotin fortifies your hair, reducing breakage and promoting resilience.

Convenience Matters: Say farewell to messy hair treatments and pills. These gummies are easy to incorporate into your daily routine, ensuring consistent results.

Time-Saving Solution: Simplify your beauty regimen with these convenient gummies, saving you precious time without compromising on results.

Trusted Ingredients: Our best gummies for hair growth are crafted with carefully selected, high-quality ingredients, ensuring you get the best for your hair.
Tips for maintaining GrayHair
Moisturize and Condition: Gray hair tends to be drier and brittle. So use hydrating shampoos and deep-conditioning treatments to maintain its softness and manageability.

Heat-Free Styling: Minimizing heat styling tools can help prevent gray hair. Embrace your hair's natural texture to reduce damage & breakages, letting your grey locks shine.

Nutrition Matters: A balanced diet rich in vitamins- A, C, D, and E, protein and Biotin rich foods can help maintain the sheen, colour and strength of your grey hair. Supplement this rich diet with multivitamin gummies for women and experience solid results!

Gentle Care: Be gentle when brushing and detangling your hair, as grey hair is more prone to breakage. Use a wide-toothed comb and start from the tips, working your way up.

Stress Management: Manage stress through relaxation techniques like yoga or meditation. Stress can accelerate the greying process, so finding ways to unwind is vital.
Conclusion
With our hectic schedules, it is challenging to maintain a balanced diet. That's where these gummies shine brighter than ever by filling the nutritional gaps and supporting immune function, supporting our hair health, skin vitality, and even energy levels. In a world where self-care often takes a backseat, don't worry, the best gummies for hair growth make it effortless to prioritize your health. So, whether it's for lustrous hair or overall wellness, these biotin-packed gummies are a must-addition to your daily routine, making self-care a sweet.

Next in line are multivitamin gummies for women, a game-changer for people. Packed with essential nutrients like biotin, iron, and a host of vitamins, they're a convenient addition to your daily routine. Biotin rich foods like eggs and nuts, when incorporated into these gummies, support the production of healthy hair pigments, delaying the onset of grey strands. Iron gummies provide a gentle, easy-to-absorb form of iron that prevents fatigue and ensures healthy circulation. Also, introducing our melatonin sleep gummies for a comprehensive approach to your well-being. You can elevate your skincare routine with delicious skin gummies that contain collagen.