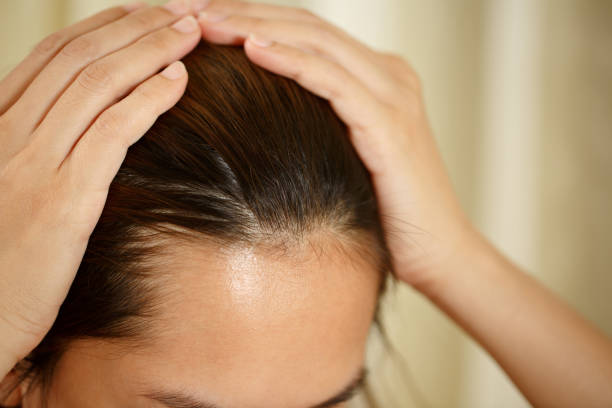 What is Scalp Pain? Causes, Treatment, and More
What is scalp pain?
Scalp pain, also known as cephalalgia, refers to discomfort or soreness experienced in the skin, tissues, or muscles covering the skull. It can manifest as a dull ache, sharp throbbing, or a burning sensation and may result from various factors, including tension, stress, muscle strain, scalp infections, or underlying medical conditions. Scalp pain can be localized or spread across the entire head and can often be managed with appropriate pain relief measures or by addressing the underlying cause.
Common Causes of Scalp Pain
There can be several reasons for scalp pain can include tension or stress-related muscle tightness, which can lead to tension headaches. Scalp infections, such as fungal or bacterial conditions, may also result in pain and discomfort. Skin conditions like psoriasis or eczema can cause itching and pain on the scalp. Additionally, trauma, such as hair pulling or wearing tight hairstyles, can lead to scalp pain or other reasons for sore scalp. It's important to identify the underlying cause to effectively manage and alleviate scalp discomfort.
Types of Scalp Conditions
Dandruff: A common condition marked by flaky, itchy skin on the scalp, often caused by excess skin cell turnover or fungal growth.

Psoriasis: An autoimmune disorder that can affect the scalp, causing red, scaly patches and sometimes intense itching.

Seborrheic Dermatitis: This chronic condition results in oily, yellowish scales and redness, commonly found on the scalp, eyebrows, and other oily areas of the skin.

Scalp Acne: Similar to facial acne, this condition can lead to painful pimples or pustules on the scalp due to clogged hair follicles.

Folliculitis: Inflammation of hair follicles, often caused by bacterial or fungal infections, resulting in red, pus-filled bumps on the scalp.
Hair Care Practices
Regular Shampooing: Washing your hair with a suitable shampoo helps remove dirt, excess oil, and product buildup, keeping your scalp and hair clean.

Conditioning: Using a conditioner after shampooing can help keep your hair hydrated, smooth, and manageable, reducing frizz and breakage.

Gentle Handling: Avoid vigorous rubbing when drying your hair, and use a wide-toothed comb to detangle to prevent hair damage.

Heat Protection: Minimize heat styling, and when necessary, use heat protectants to shield your hair from damage caused by blow dryers, curling irons, and straighteners.

Healthy Diet: A balanced diet rich in nutrients like vitamins, minerals, and proteins is crucial for overall hair health. Staying hydrated and reducing stress can also promote healthier hair.
Medical Conditions
Medical conditions refer to a wide range of health issues or illnesses that affect the normal functioning of the body. These conditions can be acute, such as infections or injuries, or chronic, like diabetes or hypertension, and they often require medical evaluation and treatment. Accurate diagnosis and appropriate medical care are essential for managing and mitigating the impact of various medical conditions on an individual's well-being.
Lifestyle Factors and Scalp Pain
Lifestyle factors can significantly influence scalp pain. Stress, poor nutrition, and inadequate hydration can contribute to tension headaches or exacerbate conditions like dandruff and seborrheic dermatitis. Additionally, habits like wearing tight hairstyles or excessive heat styling can lead to scalp discomfort and hair damage. Maintaining a healthy lifestyle can help prevent and alleviate scalp pain.
Diet and Hydration
Diet and hydration play a crucial role in scalp health. Inadequate water intake can lead to dry, itchy scalp, while a nutrient-deficient diet may result in conditions like dandruff and hair loss. A balanced diet rich in vitamins, minerals, and hydration can promote a healthier scalp and reduce the risk of scalp pain and discomfort.
Sleep and Rest
A lack of quality sleep and rest can exacerbate scalp pain and discomfort. Sleep deprivation and poor sleep quality can lead to heightened stress levels, which may trigger tension headaches and exacerbate conditions like scalp psoriasis or seborrheic dermatitis. Adequate rest and a regular sleep schedule are essential for overall well-being and can help alleviate or prevent scalp pain associated with stress and inflammation.
Exercise and Physical Activity
Regular exercise and physical activity can positively impact scalp pain by reducing stress and tension throughout the body. Exercise promotes the release of endorphins, which act as natural pain relievers, potentially alleviating tension headaches. Additionally, improved blood circulation resulting from exercise can enhance the health of the scalp, reducing the risk of conditions like dandruff or folliculitis. However, it's important to strike a balance, as excessive sweating during workouts can also contribute to scalp issues if proper hygiene and care are not maintained.
How to Treat and Manage Scalp Pain?
Identify the Underlying Cause: Determine if the pain is due to stress, an infection, a skin condition, or other factors, as this will guide treatment.

Use Appropriate Products: Choose shampoos, conditioners, and styling products suitable for your scalp type and condition, and consider medicated options for specific issues.

Practice Good Hygiene: Maintain clean hair and scalp, and avoid overwashing, as well as using hot water and harsh chemicals that can worsen pain.

Seek Medical Advice: If scalp pain persists, consult a healthcare professional or dermatologist for a proper diagnosis and personalized treatment plan, which may include medication, lifestyle changes, or specific therapies.
Home remedies to get rid of scalp pain
Warm Compress: Applying a warm, moist cloth or heating pad to the affected area can help relieve tension and ease scalp pain.

Tea Tree Oil: Diluted tea tree oil can be massaged into the scalp to alleviate itching and inflammation associated with conditions like dandruff and scalp psoriasis. Remember to perform a patch test to ensure no adverse reactions.

Aloe Vera Gel: Aloe vera's soothing properties can provide relief for scalp pain, especially for conditions like sunburn or minor irritation. Simply apply a small amount of aloe vera gel to the affected area.
Self-assessment and awareness
Identify the Pain: Be mindful of any discomfort, itching, or soreness on your scalp. Recognizing the type, location, and intensity of the pain is the first step.

Triggers and Patterns: Pay attention to when the pain occurs. Does it relate to stress, certain hairstyles, specific products, or environmental factors like sun exposure? Identifying triggers can help you make necessary lifestyle changes.

Regular Scalp Checks: Inspect your scalp regularly for any visible changes, such as redness, flaking, or unusual lumps. Use a mirror or ask someone for assistance if needed.

Consult a Professional: If you notice persistent or severe scalp pain, consult a dermatologist or healthcare provider. They can provide a proper diagnosis and guidance for treatment.

Lifestyle Adjustments: Maintain a balanced lifestyle with a healthy diet, stress management techniques, and adequate sleep to promote scalp health and reduce the risk of pain.
Seek Professional help
Seeking professional help for persistent or severe scalp pain is crucial. A dermatologist or healthcare provider can conduct a thorough examination, diagnose the underlying cause, and recommend appropriate treatments. It's important not to delay seeking medical advice, especially if the pain is interfering with your daily life or if you notice any unusual symptoms on your scalp. Professional guidance ensures you receive the most effective and safe treatment to alleviate scalp pain and address any underlying issues.
How Hair Dye Works
Hair dye works by using chemical compounds to alter the color of the hair. These compounds, such as ammonia or hydrogen peroxide, penetrate the hair shaft, lift the existing pigment, and deposit new color molecules. The resulting color change depends on the dye's formulation and the original hair color, allowing for a wide range of shades and effects.
Hair Dye and Its Effects on the Scalp
Irritation and Allergic Reactions: The chemicals in hair dye can cause skin irritation or allergic reactions on the scalp. Symptoms may include redness, itching, burning, or rashes. It's essential to perform a patch test before using hair dye to check for sensitivity.

Dryness and Hair Damage: Hair dye can strip the scalp and hair of natural oils, leading to dryness and potential damage. Conditioning treatments can help mitigate this effect.

Chemical Burns: In rare cases, hair dye chemicals, especially if used incorrectly, can lead to chemical burns on the scalp. This is why following product instructions and ensuring proper application is crucial.

Scalp Infections: Damaged or irritated skin from hair dye can make the scalp more susceptible to infections, particularly when exposed to external contaminants.
What are the causes of Hair Loss and Factors?
Hair loss can result from various causes and factors, including:

Genetics: Hereditary factors play a significant role in male and female pattern baldness, leading to gradual hair thinning and loss.

Hormonal Changes: Imbalances in hormones, such as during pregnancy, menopause, or thyroid disorders, can contribute to hair loss.

Medical Conditions: Conditions like alopecia areata, scalp infections, and certain autoimmune diseases can lead to hair loss.

Stress and Diet: High stress levels and poor nutrition can impact the hair growth cycle, potentially causing shedding.

Medications and Treatments: Some drugs and medical treatments, including chemotherapy, can lead to hair loss as a side effect.
Tips to Minimize Potential Hair Loss
Balanced Diet: Maintain a diet rich in essential nutrients, including protein, vitamins, and minerals, which are crucial for healthy hair growth.

Gentle Hair Care: Avoid harsh styling, tight hairstyles, and excessive heat or chemical treatments that can damage the hair and scalp.

Stress Management: Practice stress-reduction techniques such as yoga, meditation, or exercise to help minimize stress-related hair loss.

Regular Scalp Care: Keep the scalp clean and healthy, and seek professional advice for any scalp conditions or persistent hair loss.
Other Hair Supplements to reduce the Hair fall?
Several hair supplements and vitamins may help reduce hair fall when taken as part of a balanced diet:

Biotin: Biotin, also known as vitamin H, supports hair growth and can help reduce hair fall when there is a deficiency.

Vitamin D: Adequate vitamin D levels are essential for hair follicle health, and a deficiency may contribute to hair loss.

Iron: Iron is crucial for transporting oxygen to the hair follicles. An iron deficiency can lead to hair shedding.

Zinc: Zinc plays a role in hair tissue growth and repair and may help reduce hair loss when there is a deficiency.

Omega-3 Fatty Acids: Omega-3s, found in fish oil supplements, can help improve hair density and reduce hair fall.
Diet & Vitamins to reduce the Hair fall
A diet rich in vitamins and nutrients can help reduce hair fall. Focus on foods high in biotin, vitamin D, iron, and zinc, as they support hair health. Additionally, include sources of omega-3 fatty acids, like fatty fish or flaxseeds, to promote hair density and minimize hair loss.
Conclusion
In conclusion, understanding the causes and treatments of scalp pain is essential for maintaining overall hair and scalp health. Various factors, such as stress, infections, skin conditions, and lifestyle choices, can contribute to discomfort and pain in the scalp. Identifying the root cause is pivotal for effective treatment. From home remedies to professional interventions, there are numerous strategies available to alleviate and manage scalp pain. By adopting a holistic approach that encompasses proper scalp care, and stress management. In today's world, innovative solutions like hair gummies, multivitamin gummies, sleep gummies, skin gummies have emerged, offering potential avenues to promote overall well-being.
FAQ
Are there any scalp conditions that can lead to pain?
Yes, several scalp conditions can lead to pain, including scalp psoriasis, seborrheic dermatitis, and folliculitis. These conditions can cause itching, inflammation, and discomfort in the scalp.
How do I differentiate between scalp pain and a headache?
To differentiate between scalp pain and a headache, consider the location and nature of the discomfort. Scalp pain is typically localized to the skin and tissues covering the head, often associated with itching or tenderness. Headaches, on the other hand, often involve deeper sensations of pressure or throbbing and are experienced throughout the head.
What is the connection between scalp pain and hair loss?
Scalp pain and hair loss can be interconnected, as certain conditions that cause scalp pain, like inflammation or infections, may also disrupt the hair growth cycle, leading to temporary or permanent hair loss. Additionally, excessive scratching or stress-related scalp pain can contribute to hair damage and shedding.
Can certain hair products or styling techniques cause scalp discomfort?
Yes, certain hair products containing harsh chemicals, such as dyes or relaxers, and styling techniques like tight braids or weaves can lead to scalp discomfort, often causing irritation, itching, or even pain. Choosing gentler products and styles can help minimize these issues.
How can I relieve the pain in my hair roots?
To relieve pain in your hair roots, consider gentle scalp massages, using a mild, moisturizing shampoo, and avoiding tight hairstyles. If the pain persists, consult a healthcare professional to address any underlying scalp conditions or issues.