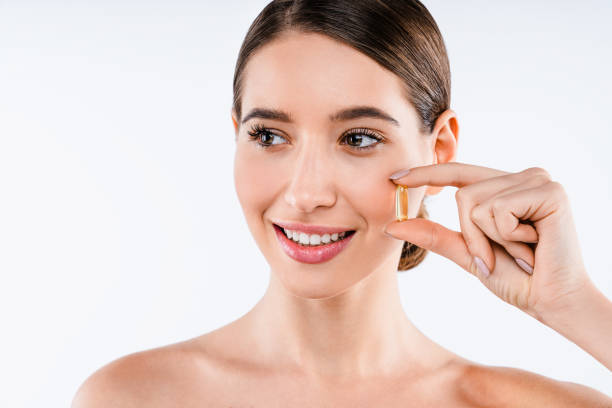 Why You Should Try Gummies for Hair and Skin?
Are you ready to unlock the secret to radiant hair and glowing skin? Then look no further, the delectable world of gummies is here to welcome you! These delightful treats aren't just a tasty indulgence; they're your ticket to luscious locks and a complexion that turns heads. Gummies offer a unique and hassle-free approach to nurturing your hair and skin from the inside out. So, you can bid goodbye to a complicated regimen and hello to a convenient solution with gummies for hair and skin, which will have you looking and feeling your best.
What Are Hair and Skin Gummies?
How to get glowing skin naturally? Skin gummies are a scrumptious addition to beauty and wellness. These tasty, bite-sized treats are specially formulated with a blend of multivitamins, minerals, and essential nutrients that promote healthy glowing skin. Additionally, you can incorporate hair gummies which provide a convenient and enjoyable way to support your beauty skin and hair goals from within. Forget about complicated skincare routines because, with hair and collagen skin gummies, you can nourish your body with the goodness it craves that keeps you looking and feeling your absolute best.
The Benefits of Hair and Skin Gummies
How to get glowing skin naturally? Discover the best self-care with multivitamin gummies loaded with essential vitamins and nutrients that promote hair strength, growth, and skin radiance. Enjoy the perks of glowing skin and luscious locks, all packed into one irresistible and convenient gummy solution.
Improved Hair Health
Imagine waking up to hair that's not just beautiful but noticeably healthier and more vibrant. These tasty little gummies are like a daily dose of love for your strands, packed with essential nutrients that promote growth, strengthen follicles, and enhance texture and shine. With hair gummies, the path to your best hair ever is both effortless and irresistible.
Promotion of hair growth
Imagine waking up to fuller, more luxurious locks! Gummies for Hair and skin are like nature's little hair growth boosters. Packed with biotin, vitamin E, and other essential nutrients, they revitalize your hair follicles. With these little wonders, you can say goodbye to lackluster strands.
Strengthening of hair follicles
Stronger, more resilient hair starts at the root! Biotin Hair gummies provide the essential building blocks your follicles need, reducing breakage and preventing hair loss. These gummies ensure that every strand is healthy, resilient, and ready to withstand the stresses of daily life.
Enhancing hair texture and shine
Say hello to your hair's new best friend! Hair gummies are the best glowing skin tips which work wonders in transforming dull and lifeless hair. These gummies nourish your hair, making them not only stronger but also softer. It will infuse your locks with a dazzling shine and a silky, touchable texture that'll have heads turning wherever you go.
Reduction in skin dryness
It's not just about your hair, it's about your skin too! With a boost of hydration from ingredients like hyaluronic acid and omega-3 fatty acids, they lock in moisture, and combat dryness, leaving your skin supple, smooth, and irresistibly touchable as well as radiant.
Potential benefits for acne-prone skin
Struggling with acne-prone skin? Hair gummies might just be the best addition you've been searching for. Packed with skin-loving nutrients, our hair and collagen skin gummies might just be your new best friend if you're dealing with acne-prone skin. Some gummies contain skin-friendly nutrients which can help regulate oil production and reduce breakouts.
How To Choose the Right Gummies
Identify Your Goals: Start by identifying your specific health and beauty goals, whether it is improved hair health, enhanced skin radiance, or addressing acne. Knowing your objectives will guide your selection.

Quality Matters: Opt for biotin hair gummies and collagen skin gummies from reputable brands that adhere to high-quality manufacturing standards and have certifications to ensure purity.

Read the Label: Always check the product label for ingredients and nutritional information. Look for gummies that contain key vitamins and nutrients relevant to your goals. Consider gummies with collagen, hyaluronic acid, and vitamins C and A.

Consult a doctor: If you have specific health concerns or are unsure about which gummies are right for you, a doctor can provide personalized recommendations based on your unique needs.

Customer Reviews: Reading reviews from other users can offer insights into the effectiveness and taste of the biotin hair gummies and skin gummies you're considering.
How to Incorporate Hair and Skin Gummies into Your Routine
Incorporating hair and skin gummies into your daily routine is a breeze. Whether it's part of your morning ritual or an afternoon treat, these beauty boosters seamlessly fit into your lifestyle. You can include these hair and skin gummies with Iron-rich food to unlock the potential of your inner beauty. No mess, no fuss – just a simple and enjoyable way to invest in your hair and skin health. Also, no matter how you choose to incorporate them, the key is consistency.
Conclusion
Glowing skin tips? Well, make self-care a daily delight by incorporating hair and skin gummies into your routine. Experience the incredible benefits for yourself – from promoting hair growth to enhancing skin health. Unlock the glow you've always dreamed of. It's time to let your inner radiance shine!

For a beauty regimen that's as unique as you are, consider the power of biotin hair gummies, collagen skin gummies, and iron-rich food. While Biotin strengthens your hair, collagen works its magic on your skin's elasticity and glow. Additionally, combine these with iron-packed foods like spinach and green-leafy vegetables to boost overall vitality. That's because, in the end, it's not just about looking your best; it's about feeling your best too.