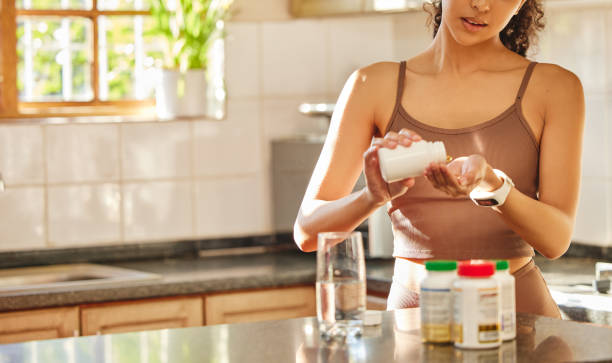 6 Best and Essential Supplements for Women
Best Supplements for women

Our diet is not always complete with all the micro and macro nutrients in place as required by our body. This is where supplements walk in and enrich us with essential nutrients that may be lacking in our diets. Women especially may have specific nutritional needs due to factors like menstruation, pregnancy, breastfeeding, and menopause which might be challenging to be procured solely from food. That's how supplements help bridge nutrient gaps and ensure adequate intake of essential vitamins, minerals, and other nutrients.

So, when you take a supplement, they provide concentrated doses of specific vitamins, and minerals which are absorbed by your body and are then used for various physiological processes. Moreover, since supplements have an important role in maintaining our overall vitality and well-being, that's why choosing the best supplements for women is a crucial decision to make.


Essential Nutrients Need for Women

Women can have very specific nutritional needs at different stages of their life. Thus, consuming a balanced diet including a variety of nutrient-rich foods is crucial for meeting these needs. Here are some essential nutrients that must form a part of every woman's diet:


Calcium: Calcium is crucial for maintaining strong bones, especially important for women because they are at higher risk of osteoporosis, so calcium intake is vital. Taking Vitamin D is equally essential because it helps the body absorb calcium, supports bone health, and immune function, and may have a role in mood regulation.
Iron: Iron is essential for oxygen transport in the blood and energy production. Women tend to lose iron during their menstrual cycle and thus might require higher intake. Iron gummies can also help address iron deficiencies and prevent anemia.
Vitamin A, C & E: While Vitamin A is important for clear vision, proper immune function, and steady skin health, Vitamin C and E are antioxidants that help protect cells from damage, support skin health, and are involved in collagen production for healthy skin.
Vitamin B7, B9 & B12: Aids in the metabolism of carbohydrates, fats, and amino acids. It's also important for maintaining healthy hair, skin, and nails. Vitamin B9 & B12 are essential for DNA synthesis, cell division nerve function, and red blood cell production.
List of Supplements To Improve The Women's Health

Some of the best supplements for women that can fulfill the nutrient requirement, and which must complement a balanced diet and a healthy lifestyle are as under:


Iron supplements may be recommended for women with iron deficiency or anemia, particularly during pregnancy or menstruation when the bodily iron needs increase.


Calcium and Vitamin D Supplements must be included in the diet to support bone health, especially for women with low dietary calcium intake.


Omega-3 Fatty Acid Supplements are important for heart health, and brain function, reducing inflammation and may alleviate menstrual symptoms. A few of the sources of Omega-3 include fatty fish (like salmon), flaxseeds, and walnuts.


Probiotic supplements are a must-have because they contain good bacteria that can support our overall gut health and immune function. They are great for women experiencing gastrointestinal issues.


Collagen may improve skin hydration, elasticity, and overall appearance. It also supports hair and nail health by providing essential amino acids that contribute to their strength and growth. That's where skin gummies can come to your rescue.


Biotin is involved in keratin production, a protein that makes up hair. Therefore, you can consider taking biotin hair gummies to keep your hair healthy and prevent hair loss.
Multivitamins For Comprehensive Nutrient Support

A comprehensive option for women to ensure they are obtaining a wide range of essential nutrients is by consuming multivitamins for women. They are useful if you have known specific nutrient deficiencies that make it challenging to get all the necessary vitamins and minerals from your diet alone.

For women, certain nutrients like magnesium, iron, zinc, selenium, calcium, and folic acid are especially important at different life stages. For others, vitamins such as A, B-complex, B6, B12, C, D, and E might be more effective and required. However, it is always better to ensure that you get a decent proportion of all the requisite vitamins and minerals daily because every nutrient has an essential and a different purpose to address.
Omega-3 Fatty Acids

Omega-3 Fatty Acids play a significant role in promoting and maintaining women's overall health. These essential fatty acids are not produced by the body and must be obtained through diet or women's health supplements since they play multiple roles:


Heart Health- Omega-3s are known to have a positive impact on heart health by reducing the risk of cardiovascular disease, lowering triglyceride levels, reducing blood pressure, and improving our overall heart function.


Brain Function & Mood- Adequate intake of omega-3 fatty acids has been associated with improved cognitive function and reduced risk of cognitive decline. Additionally, it may play a role in managing mood disorders such as depression and anxiety.


Skin Health- Omega-3 contributes to maintaining healthy skin by supporting its structure, moisture retention, and overall appearance. They can also be beneficial in managing skin conditions like dryness and eczema. Apart from Omega-3, you can also consider adding skin gummies to your diet to nourish your skin health and quality.
Calcium And Vitamin D For Bone Health
Calcium and vitamin D are essential nutrients for maintaining strong and healthy bones. These two nutrients work wonders in synergy to support bone health.
Calcium is a vital mineral that is required for various physiological processes in the body, with a significant portion stored in bones and teeth. It's essential for maintaining bone density and strength. Additionally, calcium is instrumental for muscle function, nerve transmission, and blood clotting.
While calcium is necessary for bone structure, vitamin D ensures that calcium is absorbed from the digestive tract into the bloodstream. Without sufficient vitamin D, the body's ability to absorb calcium is limited, regardless of how much calcium is consumed. It is also important to understand that maintaining strong bones is a lifelong endeavour, and adopting healthy lifestyle habits plus consuming a balanced diet and the right women's multivitamin gummies can significantly contribute to your bone health.
Iron For Energy And Iron-Deficiency Prevention

Iron has a very strong role to play both in the production of red blood cells as well as transporting oxygenated blood throughout the body. We must include iron in our diet, here's a sneak peek at the role of iron in sufficing our energy needs & how to prevent iron deficiency:

The primary function of iron in energy production is its role in oxygen transport which is why having adequate iron levels in the body is crucial. Furthermore, iron is a key component of hemoglobin that facilitates oxygen supply to the whole body. Thus, with low iron levels in the body, our cells would be deprived of their fuel leading to fatigue, weakness, and reduced energy levels. Here are the right steps to adopt that will help us prevent iron deficiency:


Eat Iron-Rich Foods: Include foods in your diet that are naturally rich in iron like Meat, seafood, poultry, beans, lentils, and leafy greens like spinach and kale. Lastly, nuts and seeds are also iron-rich and must be taken in your daily diet regime.


Pair Iron with Vitamin C: Vitamin C helps your body absorb iron better. So, eat foods rich in vitamin C along with iron-rich foods to derive their best benefits.


Iron Supplements: It's best to consult a medical professional who can recommend you if consuming women's health supplements rich in iron is required in your case and check if your diet alone isn't providing you with enough iron.
Probiotics For Gut Health And Immune Support

Probiotics are beneficial bacteria that help us maintain a healthy gut and strong immune function. Our gut has millions of bacteria out of which some are good and some aren't. Probiotics ensure the good bacteria outnumber the bad ones. They break down our food and make sure our digestion works well to prevent issues like bloating, gas, and discomfort. It also creates a protective barrier in our gut lining to support a healthy environment for our gut.

Probiotics also play an important role in boosting our immunity system and helping them stay guarded against any antigens or foreign bodies. Sometimes, our immune system can cause inflammation, that's where probiotics step up and keep this inflammation in check.
Collagen for skin elasticity and joint health

Collagen is a key component of the skin's structure. It helps maintain the skin's strength, flexibility, and elasticity. Over time, as we age, our body naturally produces less collagen, leading to wrinkles, sagging, and a loss of skin elasticity. This is why having optimal collagen levels is important plus it helps our skin's plump and firm appearance.

Think of collagen as the cushion in our joints which provides soft padding that assists in our joint's smooth and comfortable movement. However, as we get older, the collagen in our joints can wear down, leading to discomfort and reduced mobility. That's why collagen can help in joint lubrication and you can obtain the best collagen for women through supplements.
B Vitamins for energy and metabolism
B Vitamins can help our body break down carbohydrates, fats, and proteins from food to create energy which powers our body to help us carry out every life activity seamlessly. They also play a key role in boosting our metabolism. Different types of B vitamins have different functions, but they work together keeping our body smooth working.
B vitamins are important for making healthy red blood cells which carry oxygen around our body. They are also important for keeping our brain and nerves in fine shape and improving our coordination. Some B vitamins, like B6 and B12, can affect your mood and help your body manage stress. They're like little stress-busters that keep you feeling balanced.
Considerations and Safety Guidelines

Before starting any supplement like weight loss supplements for women, you must consult with a doctor or a dietitian who can identify your needs and give recommendations. Always choose reputable supplement brands that assure you quality & purity. Stick to recommended dosages and never overdo it. Always complement these supplements with a healthy lifestyle & a balanced diet that fills your nutrient gaps without harming your health.
Conclusion

Choosing the multivitamin for women requires an informed approach and seeking professional guidance to make a decision that aligns with your individual health goals. However, you must prioritize a nutrient-rich diet first. For targeted needs, consider calcium and vitamin D for bone health, omega-3 fatty acids for heart and brain support, and iron for energy and vitality and you can also think of buying weight loss supplements for women.

Women's multivitamin gummies offer a convenient and enjoyable way to supplement daily nutrition. Biotin hair gummies can promote healthy hair growth, while melatonin sleep gummies can aid in achieving better sleep quality. Finally, consuming skin gummies containing vitamins and antioxidants can help support skin health
FAQs
What are the best supplements for women in their 20s and 30s?
The best supplements for women in their 20's and 30s can include- Women's Multivitamin Gummies, Vitamin D, Vitamin C, Omega-3 fatty acids, Iron, Calcium, B Vitamins, and probiotics
What are the top supplements for healthy hair, skin, and sleep in women?
You can add skin gummies, melatonin sleep gummies & biotin hair gummies to ensure your skin, hair, and sleep are nourished well and are in their healthiest state.
Without consulting a doctor, is it safe to take a multivitamin?
Yes, but it is always recommended to seek professional advice to avert any unwanted side effects and take supplements that best work for your condition.
What is the recommended limit of supplements I can take?
The recommended limit of supplements varies, so it's best to follow the dosage instructions on the packaging or consult with a healthcare professional for personalized guidance.