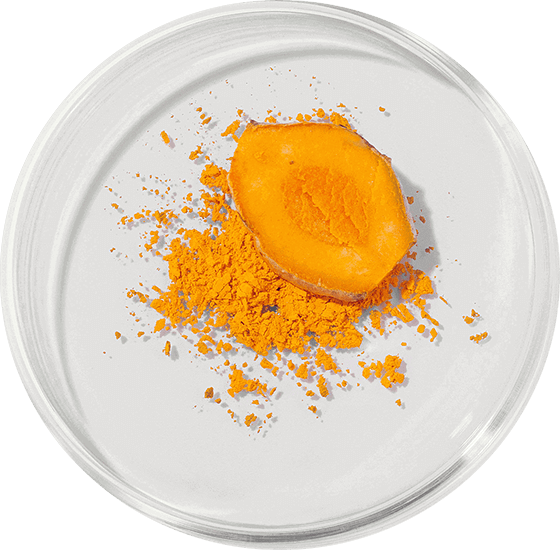 NOURISHMENT I 6 MINS
Top 10 Amazing Benefits of Curcumin
Yellow is the new black
They say that variety is the spice of life, but one look at turmeric's laundry list of benefits would have you guessing otherwise. The South East Asian root is known for its myriad of benefits all thanks to its most active and potent component: curcumin.
Curcumin is what gives turmeric its colour, your curry its flavour and the world of alternate medicine some serious validation. Though it has been around for over 4000 years, modern science has found a way to extract this most valuable ingredient of turmeric and exploit it for all its worth. Which as you'll find out is a lot.
What are some of the benefits of curcumin?
curcumin is a powerful anti-inflammatory compound:
While inflammation in the body lets us know that we're fighting foreign invaders, too much inflammation causes stress on our systems. Curcumin takes some of the load off by stopping those harmful enzymes that aggravate inflammation.
rich in the super nutrient anti-oxidants:
Anti-oxidants are a good influence on unstable atoms called free radicals. Free radicals when left unchecked go around wreaking havoc, until it causes damage to the body's cells. Luckily for you, curcumin won't let that happen. It lends an electron to the free radical to stabilize it, like a pacifier to crying baby.
it is a powerful anti-allergen:
If you reach for the tissue box with the slightest change in weather, you know all about allergies. Those seasonal sniffles are your body's way of telling you it's uncomfortable by producing something called histamines. Causing a whole host of discomforts like hives, sniffles, inflammation and more. Curcumin acts as a natural anti-histamine, curbing allergies.
We know what you're thinking, with it being anti-allergen, anti-inflammatory and full of anti-oxidants, is there anything it's pro?
curcumin is a secret to good skin health:
While all the good work curcumin is doing is on the inside, your skin is where it'll show. By curbing the buildup of free radicals curcumin helps delay signs of ageing, sagging, fine lines and loss of collagen. Finally a change you can see. Sure, haldi facials work, but that tends to be short lived when compared to the overhaul curcumin does from within. You can still face mask once in a while, just not in a white t-shirt!
it is good for your gut:
The ancient concoction of turmeric and milk has made its way from ancient Ayurveda onto the menu of Starbucks. Digestion is complicated, curcumin helps detangle the process by padding your system with all the vital minerals and vitamins it needs to keep things moving. So trust your gut and get that latte.
Curcumin boosts metabolism and helps with weight loss:
Don't quit the gym just yet. Just add curcumin to your work out of the day to boost results. Curcumin suppresses just the right inflammatory markers that play a role in obesity, in turn reducing fat tissue growth. It also helps prevent packing the pounds back on. Think of it as an added push for those pushups.
makes you happy:
The opposite of Monday blues? The mellow yellows. Curcumin makes you happier, and not just because of its bright colour. Curcumin can increase levels of the brain's happy chemicals which aid in fighting depression. There has to be a reason smiley faces are yellow, this could be it.
keep your liver functioning as it should:
The fat soluble ingredient ensures the smooth flow of the bile duct. We know, it sounds gross. But it's like the drain pipe of your liver, cleansing it of harmful toxins that would otherwise cause damage. Things like alcohol and antibiotics can cause a build up, curcumin helps to keep things moving, so that you can keep live(r)ing your best life.
curcumin has been known in some cases to fight cancer cells:
While there are no cures for cancer, there are treatments that thwart the growth and development of cancer cells. Curcumin does that at an extremely micro molecular level. It's said to work against lung, breast, prostate, and colon cancers in particular. But it also works to bolster other treatments like chemotherapy, making the body more receptive to it.
curcumin has been clinically proven to fight certain fungi:
We hate to break it to you but you're full of fungus. Before you take any drastic measures, know that a lot of it is necessary but an excess amount of microbials cause things like yeast infections, skin diseases and that white film on your tongue in the morning that doesn't help the breath. Curcumin does have some anti-fungal properties known to curb strains of fungus. The results were found even more effective when paired with Vitamin C, a combination that can be found in our radiant skin gummies.
curcumin boosts immunity:
This one comes as no surprise. After battling cancer cells, eradicating free radicals, fighting fungus and boosting your mood, a better immunity is bound to be the by product. We know, now it's just showing off. But it's true all its qualities lead to the blessing of better immunity.


A curcumin supplement taken daily has proven to moderate the immune system and strengthen it. And thanks to all its other functions it has also taken a load off stress off the immune system.
Before you jump on the curcumin bandwagon and double your curry, latte and tea intake. There are a few things to take into consideration.


Realistically, it would be difficult for you to get the amount of curcumin your body needs from food alone. The curcumin content in turmeric isn't that high at about 3% of its weight. Being fat soluble in nature you would need to consume it with foods high in fats to maximise absorption. But even then you would need a ridiculous amount of both to get the job done. But fret not, low absorption isn't going to stand between you and a great everything day. Supplements high in free curcumin in its low dose form is a great way to make sure your body is getting, and absorbing, what it needs. A few capsules a day as part of your home remedy to boost immunity can have your body functioning as it should.


While we do have gummies that cater to specific needs, curcumin caters to all needs as you've learned. So when it comes to variety, curcumin is clearly the spice of life.
Find Curcumin in our Skin and Immunity gummies.

Conclusion
In conclusion, curcumin, the active compound found in turmeric, offers an array of amazing benefits that can positively impact our overall health. From its potent anti-inflammatory properties to its potential in preventing chronic diseases, curcumin has demonstrated its value as a natural remedy. Research has shown promising results regarding curcumin's effects on brain health, including improved memory, cognitive function, and potential relief from symptoms of depression and anxiety. These findings present exciting possibilities for curcumin as a natural supplement for those seeking to support their mental well-being. By incorporating curcumin into a balanced diet or considering curcumin supplements, individuals can take proactive steps toward maintaining a healthy cardiovascular system. However, it is crucial to bear in mind that the effectiveness of curcumin may vary from person to person, and it is always advisable to consult with a healthcare professional before starting any new dietary regimen or supplement routine. Furthermore, complementing curcumin with other nutritional supplements like multivitamin gummies, biotin hair gummies, gummies for skin whitening, and melatonin gummies can provide additional support for overall health and well-being.
FAQs

Can curcumin aid in maintaining a healthy heart?
Yes, curcumin has shown potential in supporting heart health by its anti-inflammatory and antioxidant properties.

What are the benefits of curcumin consumption?
Curcumin consumption may offer benefits such as anti-inflammatory effects, antioxidant activity, potential cancer prevention, improved brain function, and enhanced joint health.

When is it not recommended to consume curcumin?
It is not recommended to consume curcumin if you have gallbladder issues, are on blood-thinning medications, or have a history of kidney stones, without consulting a healthcare professional.

Which foods contain curcumin?
Foods that contain curcumin include turmeric, curry powder, and certain Indian dishes that incorporate turmeric as a spice.