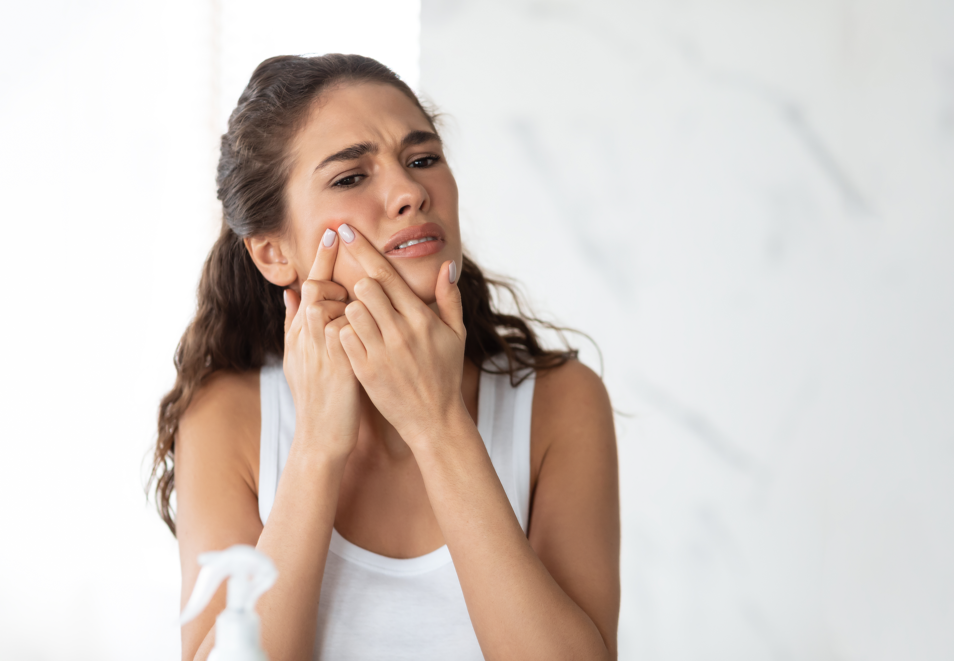 How To Get Rid Of Acne? - Best Home Remedies For Acne
Woke up with a fresh breakout again? Well, acne can be quite an unwelcome guest. It's hard to resist the urge to frantically scour the internet for quick solutions when a pimple pops up overnight. Unfortunately, acne has a knack for showing up at the most inconvenient times, like when you're short on time and patience and just need it gone!
If you're in need of a quick fix to calm down an acne flare-up - look no further! We talked to our expert Dr. Niti Desai to round up the best ways to get rid of acne and achieve clear, pimple-free skin. Check them out 


Way to Get Rid Of Acne & Achieve achieve Clear Skin
Keep your face clean

. Washing your face twice a day with an oil-free cleanser is a must. Cleaning the skin thoroughly before bed, including removing makeup is an important step that you definitely shouldn't skip.

 Perspiration, especially when wearing a hat or helmet, can make acne worse, so wash your skin as soon as you come back from the outdoors.
Be gentle with your skin

. Use gentle products, such as those that are alcohol-free. Avoid using products that irritate your skin, which may include astringents, toners, and exfoliants. Scrubbing your skin can make acne worse. Avoid the temptation to scrub your skin with harsh exfoliants. 
Use makeup sparingly.

Choose makeup that is labeled as "non-comedogenic," i.e it shouldn't cause acne. As far as possible do not apply moisturizing creams, lubricating lotions, and any makeup that contains oil content that can speed up the blocking of skin pores. If possible, choose oil-free cosmetics

 without added dyes and chemicals. During a breakout, avoid wearing foundation, powder, or blush. If you do wear makeup, wash it off at the end of the day. 
Watch what you put in your hair.

 Avoid using fragrances, oils, pomades, or gels in your hair

. Do not apply greasy hair products as they have the same effect as oil-based makeup.

If you have oily hair, shampoo daily.
Keep your hands off your face. 

Avoid touching your face or popping your cheek or chin from your hands. Not only can you spread bacteria, but you can also irritate the already inflamed facial skin. 

Do not squeeze pimples since the acne is more likely to become worse, while also increasing scarring. 
Stay out of the sun.

 The sun's ultraviolet rays can increase 

inflammation

 and redness and can cause post-inflammatory hyperpigmentation. 
Exercise daily.

 Regular 

exercise

 is good for your skin. When you exercise, avoid wearing clothing that rubs on your skin as it may cause irritation. Shower or bathe right after the exercise session.
Stress.

Avoid taking too much stress as it elevates hormone levels like cortisol and adrenaline, which can make acne worse.
Home remedies to reduce Acne:
1. Cinnamon & honey
: 
Mix two tablespoons of honey and one teaspoon of cinnamon and mix them to form a paste for smooth application on the affected area. 
2. Raw papaya fruit
:
It is a natural acne remedy for the removal of dead skin cells, keeping it soft and healthy. Papaya also contains the enzyme papain, which reduces inflammation. Take mashed papaya and add honey, lemon juice, and sandalwood powder to it and make a smooth paste. Wash off with water after 15 minutes.
3. Turmeric
:
Mix ¼ teaspoon of turmeric powder with two teaspoons of coconut oil. Mix them well and apply the mixture to your face. Wash with cold water after 15 minutes. 
4. Tomatoes
:
Tomatoes are naturally rich in antioxidants and vitamins C and A. Slice a small tomato in half. Rub the opened half over the skin where you have redness and inflammation Apply twice a day for getting results.
5. Sea salt mixture :
Sea salt mixed with honey can help in drying out pimples and absorbing the excess oil. Apply the mixture to your face and let it dry.
6. Banana peel
:
It contains lutein, one of the most potent antioxidants which decrease swelling and inflammation and help skin cells grow. Make a blend of banana peel, oatmeal, and sugar until you get a smooth mixture. Apply for 10 minutes before washing it off. 
7. Aloe vera gel
:
Aloe vera gel has antibacterial properties that reduce redness and swelling. To use aloe vera for acne, simply cut open a fresh aloe leaf and apply it directly to your face. You can also make a mask by mixing aloe vera and honey and applying it on your face for 15 minutes before washing it off. 
Soaked or cooked oats can be used as a face mask, which can reduce inflammation and redness. Make a mixture of oatmeal and water and apply it to your face for 15 minutes. 
Apart from the above-mentioned tips, it is also important to consume a healthy, and balanced diet to keep acne at bay! A balanced diet that can potentially reduce acne includes consuming foods that are high in omega-3 fatty acids while limiting dairy products (particularly whey protein supplements) and refined foods. 
Adding vitamins to your diet such as Zinc, Vitamins A, C, and E to your diet may also assist in the treatment of acne. Adequate hydration is also crucial for skin health, so aim to drink at least 8-10 glasses of water every day. Overall, a balanced diet with a focus on nutrient-dense foods can contribute to healthy skin and potentially reduce acne.
Conclusion:
In conclusion, when it comes to combating acne, incorporating the best home remedies can be highly effective. However, for comprehensive skincare support, consider adding women's multivitamin gummies, skin gummies, hair gummies, and sleep gummies to your routine. These specialized gummies provide a convenient and enjoyable way to address various aspects of skin health, nourishing your body with essential vitamins and minerals that promote clear, radiant skin. By combining the power of home remedies with targeted gummy supplements, you can enhance your skincare regimen and achieve the healthy, blemish-free complexion you desire.



FAQs


Can hormonal imbalances or changes lead to acne breakouts?

Yes, hormonal imbalances or changes can contribute to acne breakouts.


How does regular exercise contribute to reducing acne breakouts?

Regular exercise can reduce acne breakouts by improving circulation, reducing stress, and promoting overall skin health.


What are the Top foods to get rid of acne and glowing skin?

Top foods for acne-free and glowing skin include fruits, vegetables, whole grains, nuts, and foods rich in omega-3 fatty acids.


How does diet and nutrition impact the occurrence of acne?

Diet and nutrition can influence acne occurrence by affecting hormone levels, inflammation, and skin health


Is there any summer skincare routine that can be support to reduce acne?

A summer skincare routine for acne may include gentle cleansing, oil-free products, exfoliation, and sunscreen protection.


How does sun exposure affect acne, and what precautions should be taken?

Sun exposure can initially improve acne but can lead to long-term damage and increased risk of breakouts; precautions include using oil-free sunscreen and limiting sun exposure


Can hyaluronic acid help with acne prone skin?

Hyaluronic acid can be beneficial for acne-prone skin by providing lightweight hydration without clogging pores.